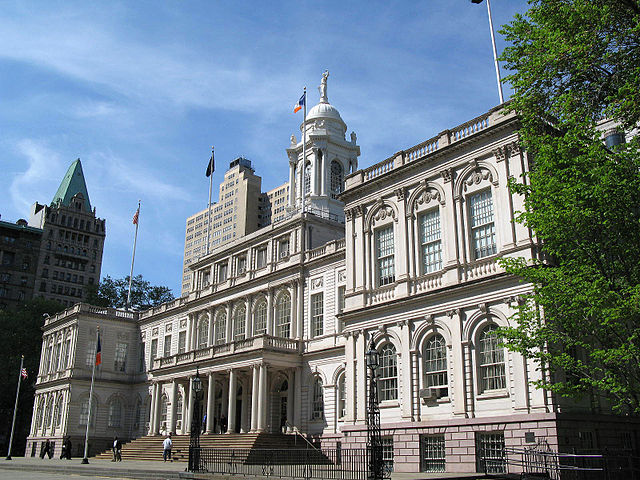 New York City Hall
---
What to watch for this week in New York politics:
With both the Republican National Convention and Democratic National Convention now over, the presidential race hits the final three-month stretch to Election Day, November 8. The first debate in scheduled for September 26. While New York was front-and-center at both conventions because the two presidential candidates call the state home, a great deal of attention will now shift to the most consequential swing states, such as Ohio, Pennsylvania, and Florida. Still, Republicans are saying that they think Democratic strongholds like New York could be in play this year due to the unique nature of the Donald Trump candidacy.
As for New York city and state politics, Mayor Bill de Blasio begins August with work to do in terms of the popular narrative around his leadership of the city and with several investigations hanging over his administration and campaigns. De Blasio has been out of town for most of the past two weeks - on vacation in Italy and then at the DNC in Philadelphia - and will now dig back into the community outreach and promotion efforts he'll need in order to improve his standing among New Yorkers. De Blasio starts the week with a press conference celebrating gains New York City students made on this past school year's standardized tests for grades 3-8 (scores were released Friday afternoon) - see below for details.
De Blasio is continuing to deal with fallout and criticism around the removal of deed restrictions on a property on the Lower East Side, which is becoming high-end condos after it had been previously restricted to a non-profit health-care facility. Last week saw more information released after the city's Law Department relented to the city's Department of Investigation, which had said that the Law Department had withheld key documents from the DOI. This week starts with Comptroller Scott Stringer releasing the results of his own investigation - see below for details.
Gov. Andrew Cuomo has no public events on his Monday schedule.
Overall, it looks like another relatively slow summer week - the City Council has no public hearings again (committee hearings will resume next week, with a full-body Stated Meeting scheduled for August 18) - but there are several events to be aware of. See our day-by-day rundown below.
***Do you have events or topics for us to include in an upcoming Week Ahead in New York Politics?
e-mail Gotham Gazette editor Ben Max: This email address is being protected from spambots. You need JavaScript enabled to view it.***
The run of the week in detail:
Monday
On Monday at 10:30 a.m., Gotham Gazette's Ben Max will appear on WNYC's The Brian Lehrer Show to discuss the New York angles to the Republican and Democratic conventions.
Also at 10:30 a.m. Monday, Assembly Member Michael Blake and community leaders will hold a press conference at 1 Police Plaza: "On Saturday, July 30, 2016, Assemblymember Michael Blake of the 79th District in the Bronx was involved in a confrontation with New York Police Department officers. Assemblymember Blake states that officers used excessive force against him while he was trying to diffuse a tense situation between police and members of the community. Assemblymember Blake wants to provide his account of the unjust incident and demand transparency and action from the police department."
At 11 a.m. Monday, Mayor de Blasio and schools Chancellor Carmen Fariña will host a press conference at Tweed Courthouse to discuss New York City students' scores on the most recent state tests, for the 2015-2016 school year.
"On Monday, August 1, at 12:30 PM, New York City Comptroller Scott M. Stringer will hold a press conference at the David N. Dinkins Municipal Building in Lower Manhattan to release an investigative report on the sale of two deed restrictions governing the property located at 45 Rivington Street in Manhattan."
Tuesday
On Tuesday at 8 a.m. at the New School, City and State will present "On Transportation," a forum bringing together industry professionals to discuss the future of New York transportation policy and infrastructure. Key speakers will include Matthew J. Driscoll, Commissioner of the New York State Department of Transportation, Council Member Ydanis Rodriguez, Chair of the Council's Committee on Transportation, Senator Leroy Comrie, and State Assembly Members Robert Rodriguez and David I. Weprin.
At 11 a.m. Tuesday at Brooklyn Borough Hall, BP Eric Adams will host the New York City Smart Gun Symposium, "the largest-to-date gathering on advancing smart gun technology." The event is co-sponsored by Washington Ceasefire and New Yorkers Against Gun Violence, and will include New Jersey Senate Majority Leader Loretta Weinberg and former Bureau of Alcohol, Tobacco, Firearms and Explosives (ATF) officer David Chipman. Discussion will center around the latest advancements in smart gun technology and their potential role in reducing gun violence nationwide. Public Advocate Letitia James will give remarks.
At 12:30 p.m. Tuesday in Manhattan, Gov. Cuomo will make an announcement.
On Tuesday at 1 p.m. in Manhattan, "Chancellor Fariña will attend a professional development session for "SEP Jr.," which is the first school-wide elementary school computer science program in New York City and will launch in schools this fall."
At 2 p.m. Tuesday in Manhattan, "Mayor de Blasio will deliver remarks at the annual New York State Financial Control Board meeting."
At 6 p.m. Tuesday, the Brooklyn Borough Board will hold its monthly meeting.
Events will be held all around the city Tuesday to mark America's National Night Out Against Crime. Elected officials all over the city will be participating in community events involving local precincts.
Wednesday
A At 9:30 a.m. Wednesday in Queens, Borough President Melinda Katz and District Attorney Richard Brown will host a forum on hate crimes in partnership with the NYC Commission on Human Rights and NYPD Hate Crimes Task Force. Discussion will center around "the role of law enforcement when a hate crime occurs and how we work to protect the community."
At 10 a.m. Wednesday in Albany, the state Assembly Committee on Economic Development, Job Creation, Commerce and Industry will hold an oversight hearing to review the implementation of the FY17 budget and its impact on the state's economic development agencies and programs.
Thursday
On Thursday evening Brooklyn, Comptroller Scott Stringer will host a town hall meeting, according to Brooklyn Eagle, which reports the event will be "at the New York Aquarium Education Hall at Surf Avenue and West Eighth Street in Coney Island," that Stringer is holding it "in partnership with U.S. Rep. Hakeem Jeffries, state Sen. Diane Savino, Assemblymember Pamela Harris and Councilmembers Chaim Deutsch and Mark Treyger," and that it "is open to all, but will focus on issues of concern to residents of Southern Brooklyn, according to the Comptroller's Office." Doors open at 6:30 p.m.
Friday and the weekend
Nothing on the calendar as of the start of the week for the end of the week.
***
Have events or topics for us to include in an upcoming Week Ahead in New York Politics? E-mail Gotham Gazette executive editor Ben Max any time: This email address is being protected from spambots. You need JavaScript enabled to view it. (please use "For Week Ahead" as email subject).
***
by Amanda Sherwin and Ben Max
@GothamGazette