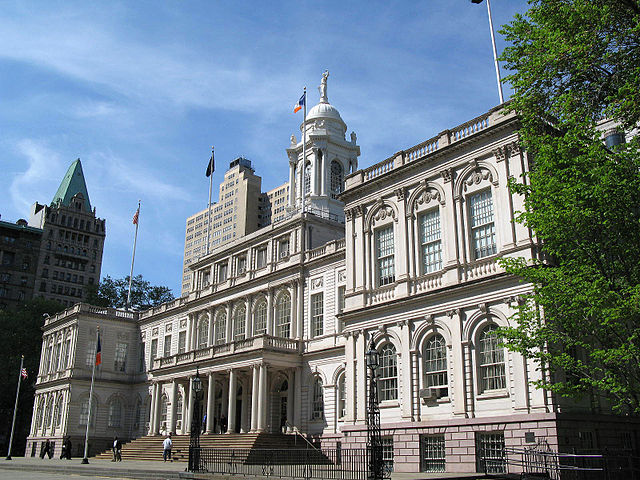 New York City Hall
---
At the onset, it appears to be a relatively quiet week ahead in New York politics, at least in terms of hearings and events scheduled. Mayor Bill de Blasio is out of town for the week, heading to "family engagements" with his wife, son, and daughter in several New England states. And, the City Council has no committee or full-body hearings this week - it doesn't have any scheduled until after Labor Day.
Governor Andrew Cuomo does have an active public schedule Monday. After releasing a schedule with no events on Sunday evening, the Governor's Office sent out an updated schedule Monday morning that has Cuomo in New York City and Suffolk County. At 11 a.m. the governor will deliver remarks at the NYS AFL-CIO 33rd Constitutional Convention in Manhattan. At 1:35 p.m. Cuomo will make an announcement at IBEW Local 25 in Hauppauge.
Neither Comptroller Scott Stringer nor Public Advocate Letitia James has any public events scheduled for Monday. City Council Speaker Melissa Mark-Viverito did not release a public schedule for Monday as of 7:30 a.m. Monday.
Topics to watch this week that heated up last week have a housing focus: debate over the resuscitation of the 421-a affordable housing tax incentive program per state law and questions about specific rezonings that fall within city parameters. Gov. Cuomo is reportedly working through a new 421-a deal with real estate developers and the building trades unions - the expiration of 421-a was one key aspect of the dissolution of Cuomo and de Blasio's relationship. Meanwhile, de Blasio and specific City Council members were involved in some conentious back-and-forth this past week as two Council members are opposing rezonings that de Blasio favors - each would allow greater density through a specific housing development, but would come with new guarantees of affordable units therein.
Like the City Council, the state Legislature is quiet this week, but the Assembly and Senate are gearing up for water quality oversight hearings that will take place toward the end of the month and into September. The town of Hoosick Falls has been at the center of controversy due to poisoned water there and the state's slow response in warning and helping local residents. But, there are other places where the health of the water is being questioned and after a long delay, both houses of the Legislature decided to hold hearings.
As for this week, there are a few events on the calendar - see our day-by-day rundown below.
***Do you have events or topics for us to include in an upcoming Week Ahead in New York Politics?
e-mail Gotham Gazette editor Ben Max: This email address is being protected from spambots. You need JavaScript enabled to view it.***
The run of the week in detail:
Monday
At 10 a.m. on Monday, the Department of Consumer Affairs will hold a public hearing on a new proposed rule. The DCA is proposing a change to the "Fair Wages for New Yorkers Act," which would mandate "certain companies that receive at least one million dollars of financial assistance from the City of New York to pay their employees no less than a living wage."
On Monday at 11:30 a.m., "Queens Borough President Melinda Katz, Council Majority Leader Jimmy Van Bramer, Queens Borough Parks Commissioner Dorothy Lewandowski and Community Board 2 will announce $3 million in funding for renovations at Hart Playground in Woodside. This money will provide upgrades to the play structures, benches, grass, restrooms, and other facilities at the popular playground."
Tuesday
On Tuesday at noon in Long Island City, City Council "Majority Leader Jimmy Van Bramer, Building Trades Council President Gary LaBarbera, and workers from the Building Trades Unions will rally outside of the G&M Realty site to protest a broken promise by G&M Realty, the site owner, to build using union workers. During the ULURP process, in exchange for the ability to build 400 additional units, G&M Realty agreed to several major community givebacks, including a commitment to build and staff the site with one hundred percent union labor. G&M Realty has since reneged on the agreement."
On Tuesday at 5:30 p.m. the New York City Department of Education will hold a meeting of the Panel for Educational Policy Contracts Committee.
Wednesday
Wednesday is the deadline for change of address requests for those planning to vote in the New York state and local primaries on September 13.
At 10 a.m. Wednesday, the New York City Planning Commission will hold its biweekly public meeting.
On Wednesday at 5 p.m. outside the A-train station in Far Rockaway, "State Senator James Sanders Jr. will host a press conference (D-Rochdale Village, Far Rockaway) [to] announce that $12.94 million in state funding has been allocated for transportation improvements to Far Rockaway. This money was set aside in the 2016 budget for a multi-year state transportation plan agreed upon by Senator Sanders along with his colleagues in the legislature and Governor Cuomo."
At 6 p.m. Wednesday, the New York City Department of Education will hold a meeting of the Panel for Educational Policy at Prospect Heights High School.
Thursday
From 11 a.m. to 2 p.m. Thursday, State Senator James Sanders Jr. is hosting a "Foreclosure Forum" at Calvary Baptist Church in Jamaica, Queens, to educate homeowners about issues related to foreclosures.
Nothing on our radar for Friday as of Monday evening.
Saturday
"Brooklyn District Attorney Ken Thompson today announced that his office, together with the New York City Police Department, is hosting a Gun Buyback event this coming Saturday to help people dispose of unwanted guns that they possess in exchange for cash. No questions will be asked and no ID required from those who turn in their guns." Clarendon Road Church in Flatbush, 10 a.m. to 4 p.m.
***
Have events or topics for us to include in an upcoming Week Ahead in New York Politics? E-mail Gotham Gazette executive editor Ben Max any time: This email address is being protected from spambots. You need JavaScript enabled to view it. (please use "For Week Ahead" as email subject).
***
by Libby Wetzler and Ben Max
@GothamGazette