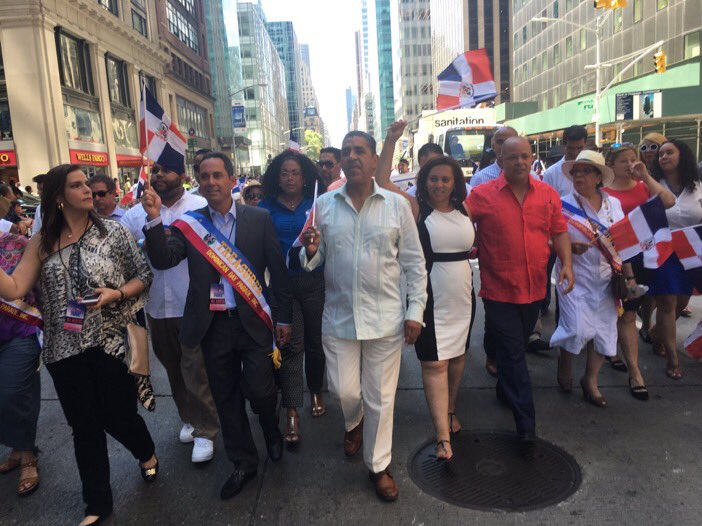 Espaillat, center, & Alcantara, right of center (photo: @Espaillat4NY)
---
Marisol Alcantara, a labor organizer who ran a successful insurgent campaign for district leader in 2010, is seen by many in her Uptown district as a liberal firebrand. As Alcantara now pursues election to the New York State Senate, she is also fighting a proxy war for Senator Adriano Espaillat, who is about to be elected to Congress and Alcantara hopes to replace. The hotly contested Democratic primary for Espaillat's Senate seat is becoming a test of his power and that of his top allies.
Alcantara's candidacy is also backed by the Senate Independent Democratic Conference, or IDC, which she has pledged to join if elected, a scenario that may enable Senate Republicans to keep control of the chamber in a year when mainline Democrats believe they have the best chance to take power and see all major parts of state government run by the party.
In other words, the race to replace Espaillat, along with several Senate races around the state, could have significant implication for billions of dollars in state budget money and major policies of all kinds - these decisions are currently made among Gov. Andrew Cuomo, a Democrat, the Democratic leader of the state Assembly, and the Republican leader of the state Senate, with some input from the IDC.
On Tuesday, Alcantara was endorsed by Bronx Borough President Ruben Diaz Jr. who is an ally of IDC head Jeff Klein, senator from the Bronx, and of Cuomo, who has encouraged the IDC's ruling coalition arrangement with Senate Republicans in the past.
"From organizing voter registration drives, to helping tenants facing eviction navigate city bureaucracy, to standing with workers on the picket line, to passionately advocating for education funding, Marisol Alcantara has spent her career fighting for the issues that New Yorkers care about," Diaz Jr. said in a press release.
According to five sources involved in the race, Espaillat is flexing his new-found muscle after his Democratic primary win to replace retiring Rep. Charles Rangel in Congress. Espaillat, set to become the first Dominican-American elected to Congress during a formality of a November general election, has called in favors and is lobbying other electeds to back Alcantara. In the state Senate primary set for September 13, she is facing former City Council Member Robert Jackson; Micah Lasher, former chief of staff to Attorney General Eric Schneiderman; and Luis Tejada, a community activist.
The 31st Senate District runs from the Upper Manhattan neighborhoods of Inwood and Washington Heights, down the West Side to Hell's Kitchen.
"This is a lady who stands on her own two feet," Espaillat said of Alcantara last week as she received the endorsement of the Transit Workers Union Local 100. "I listen to her and I know that we will not always agree, because she is her own person, as she should be, because leadership is about that."
Jackson, who has been running since February, is allied with Assembly Member Keith Wright, who Espaillat defeated in the Congressional primary. Jackson challenged Espaillat for his Senate seat two years ago, winning about 43 percent of the vote, when Espaillat was losing to Rangel for the second cycle in a row.
Lasher, who has been running since April, is a first-time candidate but is known as an expert political strategist and has deep political connections to many top city and state politicians, such as Schneiderman and city Comptroller Scott Stringer.
There is concern in Espaillat's camp that a Jackson or Lasher victory could create a ready-made primary challenger for Espaillat two years from now, when it is assumed he'll be seeking re-election to Congress. Neither Lasher's nor Jackson's campaign returned requests for comment.
In efforts to elect Alcantara, the candidate, Espaillat, and others also hope to tap into enthusiasm in the Dominican and larger Hispanic communities over Espaillat's congressional victory. Meanwhile, Alcantara has received the financial backing of the IDC which is looking to expand its membership before negotiating a deal to control the Senate with either the Democrats or Republicans.
City Council Member Ydanis Rodriguez switched his endorsement from Lasher to Alcantara when Alcantara declared her candidacy on July 20. It also appears Alcantara has picked up labor endorsements that were expected by Jackson and Lasher, one of which is that of Transit Workers Union Local 100.
Espaillat is featured heavily in Alcantara mailers that are funded by the IDC. Espaillat also recorded a robocall for Alcantara. "As an immigrant to our country just like me, Marisol Alcantara knows the importance of standing up for those without a voice," Espaillat says on the call before asking voters to "make history" with him again by electing Alcantara. Alcantara immigrated from the Dominican Republic when she was a child.
While in the Senate, Espaillat has been a member of the mainline Democrat conference, not the IDC.
"Marisol is a longtime labor and community activist who's worked closely with elected officials, faith leaders, and non-profits across the district to fight for tenants, seniors, immigrants and working families," said Jonathan Davis, a spokesperson for Alcantara, in a statement. "Voters know how hard she'll fight to strengthen tenant protection laws, increase education funding, pass the DREAM Act, fix New York's broken campaign finance system, and protect our environment and parks. It's no surprise she's built such a diverse and impressive coalition in a short amount of time, and she's only getting started."
Both Lasher and Jackson have criticized Alcantara for aligning herself with the IDC. Mainline Senate Democrats worry that Alcantara will simply serve to strengthen Klein's hand when it comes time to negotiate a governing deal. They note that while some major liberal issues have passed the Senate under Republican and IDC control, like a minimum wage increase and paid family leave, other major issues like criminal justice reform, the DREAM Act and ethics reform have foundered.
Klein, in an interview with Gotham Gazette earlier this summer, said, "I worked extremely well this year with Senator John Flanagan and yes, this session we were able to work well with [Democratic Minority Leader] Andrea Stewart-Cousins -- it is a much better relationship, but I think the Republican Conference has been even better and a lot of credit has to go to the relationship with Senator Flanagan, again."
Alcantara defended her alliance with the IDC in a statement released last week: "I witnessed an increase in the minimum wage twice, paid family leave, and Universal Pre-K for NYC–all possible because of the IDC's influence. When I am elected I look forward to going to Albany to continue to push for progressive legislation critical to the people of the 31st district." She added that she will remain an independent voice for "tenants and families" throughout her district, where rent regulation and affordable housing are top concerns.
Sources within Alcantara's camp insist she will be a vocal proponent of liberal issues and likely clash with Senate Republicans regardless of which conference she sits with, while noting it is likely that the IDC will caucus with Democrats as Republicans are facing the potential negative impact a Trump candidacy may have on turnout.
Alcantara and her allies dismiss criticism from Lasher and Jackson and point to their histories as evidence that they have worked across party lines. Jackson voted in favor of extending term limits in 2008 when then Mayor Michael Bloomberg wanted to run for a third term. Lasher worked as a top state government lobbyist for Bloomberg and also served as executive director of pro-charter school group StudentsFirstNY, a group that has worked to defeat Democrats.
Jackson's major endorsements include powerful unions the United Federation of Teachers and DC37, and former Mayor David Dinkins. Lasher is backed by Attorney General Schneiderman, Reps. Hakeem Jeffries and Jerry Nadler, Comptroller Stringer and State Sens. Jose Peralta and Jose Serrano.
A win by Alcantara wouldn't just give the IDC more leverage during negotiations this fall, it would also add diversity to its ranks as the conference is currently made up of only white members, four men and one woman. They've come under heavy criticism for taking a seat at the negotiating table with Gov. Andrew Cuomo while mainline Senate Democrats - who are represented by Sen. Andrea Stewart-Cousins, a black woman, and represent the majority of city residents - are excluded.