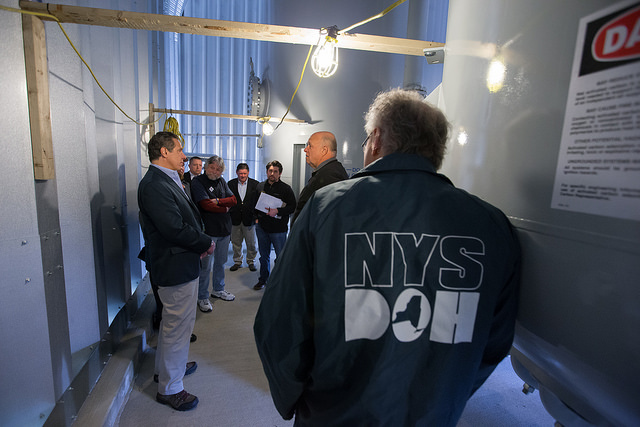 photos via The Governor's Office on Flickr
---
After months of refusal and delay, the state Legislature is set to begin a series of hearings on drinking water contamination in New York. It became clear many months ago that the water in Hoosick Fall had been contaminated by a chemical known as PFOA and the first of three scheduled hearings will take place Tuesday in the village.
Tuesday's hearing is a joint one by two state Senate committees, health and environmental conservation. The other two hearings are set to be joint Senate and Assembly hearings; they are scheduled for September 7 in Albany and September 12 on Long Island.
The hearings, especially the first one, are expected to deal with how the administration of Gov. Andrew Cuomo responded to reports that the water in Hoosick Falls was contaminated and why it took so long to notify residents of the threat; as well as examining how to prevent and respond to future contamination.
On the legislative hearings website, Tuesday's Senate hearing in Hoosick Falls is titled "Drinking Water Contramination," while the Sept. 7 and 12 joint hearings are titled "Water Quality and Contamination."
Assembly Democrats, who hold that chamber's majority, announced in February that they would hold such hearings in April but they never materialized. The Assembly announced in early July that it would hold hearings in early September.
Republicans in the Senate majority stood steadfast against hearings when they were first proposed last December. Public pressure mounted all legislative session and in July the Senate announced it would hold hearings, six months after the plight of the residents of the small town came into public focus.
Senate Majority Leader John Flanagan announced his conference would hold hearings "in an effort to explore the sources of water contamination, examine state and federal oversight issues, and determine how we can prevent this from happening in the future."
In his statement on the hearings, Assembly Speaker Carl Heastie said, "Recent reports of water contamination in municipalities across the state have highlighted the need for a thorough review of measures to ensure clean and healthy water in our communities. Ensuring a safe water supply for our children and families is a top priority for us."
After announcing intentions to hold hearings, the two houses subsequently said they would hold the two joint hearings.
After months of advocacy, pressure, outrage, and denial, it is unclear what exactly the hearings will look like and what would make them successful.
Here are five important things to watch:
1. Are all the stakeholders present?
Advocates warn that there won't be a full accounting of how the pollution in Hoosick Falls went unidentified and then was left unacted on for months without the presence of all stakeholders.
"They all have to be there from the polluters to the regulators; Honeywell, the EPA and DEC; we need them all there to figure out who knew what happened when and what went wrong," said Liz Moran of Environmental Advocates of New York, referring to the company believed to be responsible for poisoning the Hoosick Falls water and the federal and state environmental agencies.
The Cuomo administration has put significant blame on the federal Environmental Protection Agency for not having adopted uniform standards for the impact of PFOA and pushed back heavily on assertions that it was slow to respond to the problem. How much the Cuomo administration will participate in the hearings and how open it will be remain to be seen.
Tuesday's Hoosick Falls hearing begins at 10:30 a.m. and is expected to go all day and into the evening, with members of the public testifying both by appointment and on a walk-in basis later in the day.
According to the August 12 Senate majority press advisory about the hearing, Senate Health Committee Chair Kemp Hannon and Senate Environmental Conservation Committee Chair Tom O'Mara will lead the hearing; they'll be joined by Senator Kathy Marchione, who represents the Hoosick Falls area, and other senators. "The purpose will be to explore the sources of water contamination, examine local, state, and federal oversight issues, and hear from experts, local residents, and others on what can be done to assist affected communities and mitigate future incidents."
2. Will hearings lead to a plan?
During this year's legislative session, while fallout from Hoosick Falls was fresh and media was focused heavily on the issue, the Legislature passed one bill that had anything to do with the contamination, and passing that bill was no simple task. The legislation extended the time victims of environmental contamination have to sue polluters.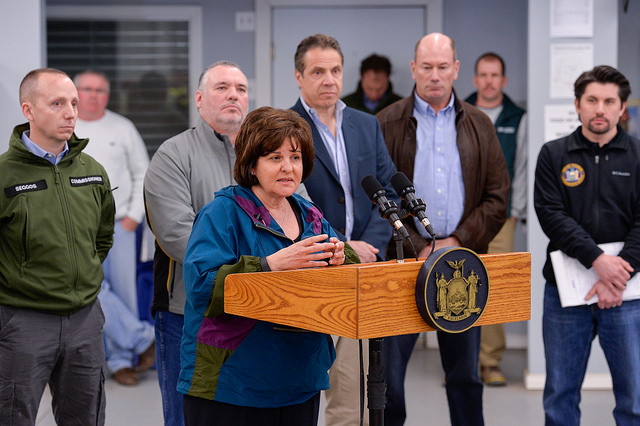 The bill appeared set to pass until late in session when Marchione (pictured), a Republican who represents Hoosick Falls, introduced a pro-business amendment that would have ensured that the bill did not become law. After outcry from her constituents she reversed herself and the bill passed both houses of the Legislature.
In May the EPA released new standards for safe PFOA levels in drinking water that are significantly lower than its 2009 standards. Wells in Suffolk County have been shown to be over the EPA's recommended limits at the impacted communities have taken action. Meanwhile, more communities are grappling with lead found in their drinking water supply and it is clear that the state needs a plan of action.
Environmental groups say the Legislature will need to move to actually prevent these kinds of incidents and prepare the state to respond quickly before the public is impacted. "We need a plan for the rest of the state," said Moran. "Anything less than that would count as failure."
3. Is there enough political will?
A number of legislators and many Hoosick Falls residents believe that the Legislature stalled on holding hearings knowing that they would anger the Cuomo administration. The Assembly scheduled hearings for April, right around the time the budget was due, and they never came to fruition.
At the time Republican Assemblymember Steve McLaughlin, who represents Hoosick Falls, told Gotham Gazette he was concerned the hearings were being used as a bargaining chip in budget negotiations. "I told them in February: 'Don't use my constituents as leverage,' and it looks like that is exactly what happened," McLaughlin told Gotham Gazette in late April not long after the new budget was finalized.
It will now be up to the Legislature to probe the Cuomo administration's response and perhaps delve where the administration would rather they didn't. The administration has repeatedly stated they took proper action but, as reported by Politico New York, documents show they resisted the EPA's calls for action.
In June, Cuomo defended his administration. "I don't know how the state could have been more aggressive or what else we could have possibly done," the governor told reporters, according to State of Politics. "We did the testing, we installed filters on every home that needed them, we added filters in buildings frankly that didn't need them just to make people more comfortable. I don't think we could have been more aggressive."
Shaun Francis, a Democrat who is challenging Marchione for her seat, said he is concerned that Senate Republicans won't want to fully explore the response to Hoosick Falls. "They were the last ones on board for hearings and my fear is they are going to try to paper over the failures," Francis told Gotham Gazette last month. "It's hard to believe people sounding the alarm bells didn't let Marchione know."
4. Will the two houses be able to work together?
The Democrat-controlled Assembly and Republican-controlled Senate are diametrically opposed on a number of issues, but advocates hope the they can find a way to get on the same page as voters have become increasingly aware of potential water contamination and the state's inadequate response.
Republicans have traditionally been opposed to increased regulations on businesses so the issue could become a flashpoint.
A number of Assembly Members have voiced concerns about underfunding the Department of Environmental Conservation (DEC), and they may push for increased staffing, something that would make their union allies happy.
Each house may also have different considerations when it comes to relationships with the Cuomo administration. Senate Republicans have been close to Cuomo since he took office, with the governor doing little to help his fellow Democrats win seats in that house. They also helped Cuomo on a number of thorny issues in recent budgets. Meanwhile, Heastie has clashed with Cuomo on the governor's treatment of Mayor Bill de Blasio and various New York City issues.
Cuomo has had harsh words for the Legislature on a few occasions in recent weeks.
5. Will election-year concerns come into play?
All 213 seats of the state Legislature are on the ballot this year -- 150 Assembly and 63 Senate. Voters are evaluating the effectiveness and responsiveness of their local elected officials and the function of state government as a whole.
Both houses of the Legislature put off hearings for months and only gave in after intense protest from Hoosick Falls residents and environmentalists, as well as calls from members of Congress like Democratic Senators Kirsten Gillibrand and Charles Schumer, as well as Republican Rep. Chris Gibson.
Gillibrand held an emotional hearing in Hoosick Falls where she heard from residents who described learning they had been poisoned by their own drinking water.
Now both state legislative houses will have to examine whether the laws they put into place over the years were inadequate. Senate Republicans will have to assess how to confront the issue given that Marchione faces a general election challenge from an opponent who is running principally on the notion that government failed the district.
Many expect legislators to present the issue as one that caught everyone by surprise and must be acted on quickly now that everyone's eyes are open to it. Environmentalists and Hoosick Falls residents are unlikely to accept that response.
"Clean drinking water is now on the forefront of voters' minds," said Travis Proulx of Environmental Advocates of New York. "It is something everyone takes for granted until people get sick. People assume the government will protect them and they are finding out that wasn't the case. Water quality has entered the political realm in a way that we haven't seen in modern New York politics."
Moran said she thinks that after feeling the pressure from Hoosick Falls residents at the end of legislative session, legislators got the message that not only did hearings have to happen, but they have to produce results. "Kathy Marchione felt the voters' wrath after she amended her bill. I hope everyone is taking this very seriously," Moran said. "There are very high expectations in Hoosick Falls for what these hearings will deliver. New York voters have high expectations."