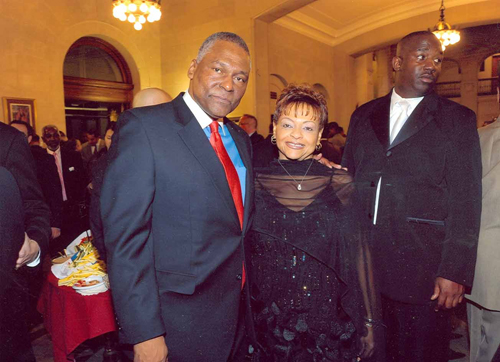 Keith Wright and Inez Dickens (photo via Wright's Assembly page)
---
Before Assemblymember Keith Wright had conceded to Sen. Adriano Espaillat in their congressional race, speculation had already begun about which seat Wright would seek next if not victorious. Wright eliminated one option when he pledged in the heat of the race to replace retiring Rep. Charles Rangel that he would not seek reelection to the Assembly seat he has held since 1992. Wright challenged Espaillat to do the same as the state senator had repeatedly run for Congress only to return to the state Senate. Espaillat ignored the challenge.
On congressional primary day in June, Espaillat claimed a narrow victory, leaving Wright calling for a recount, but soon community leaders brought pressure on Wright to move on and accept defeat, which he did. No political observer believed the pledge would keep Wright, a close ally of Gov. Andrew Cuomo and one of the state's most powerful Democrats and most prolific fundraisers, from seeking public office again.
Now that state legislative primaries are over, another Wright ally, City Council Member Inez Dickens, appears set to replace him in the Assembly. She ran unopposed among Democrats for Wright's seat, raising a few eyebrows given that seats being vacated often attract multiple candidates.
While initial rumors focused on Wright running for the State Senate or Dickens' City Council seat, The New York Post recently reported that Wright associate Charlie King is trying to gauge reaction and garner support for a Wright mayoral bid. Wright's office didn't do much to downplay the possibility of a challenge to fellow Democrat Bill de Blasio, who is poised to run for re-election in 2017.
Although Wright wasn't made available for an interview, spokesperson Emma Forbes sent a statement to Gotham Gazette implicitly confirming his interest in the mayoralty.
"Keith's always been an advocate for all New Yorkers, and especially for Communities of Color," Forbes wrote. "I think that when you look around today and see many shared concerns and challenges left unaddressed, it makes you consider the role you have in fixing things in government, be it appointed or elected, city or state, big or small."
Dan Levitan, spokesperson for de Blasio's campaign, responded with the same statement he gave to The Post: "Under Mayor de Blasio, Crime just hit another all-time low, jobs are at record highs, the City is building and preserving affordable housing at a record pace, while graduation rates and test scores continue to improve. We are happy to match that record against anyone."
As chair of the Manhattan County Democrats, Wright wields significant power and influence, and many observers believe he could easily clear the Democratic field in a special election to replace Dickens in the City Council. And if he wasn't able to intimidate or convince all other potential candidates from running, Wright has access to the forces he would need to quickly raise money and marshall overwhelming turnout for the special election, which would likely take place in March. Wright has brought his power to bear on past elections; in some cases he has been accused of unfairly influencing certain contests.
While a mayoral run is probably less likely than a City Council one, the speculation does not end there. Wright is also touted as a possible replacement to Sen. Bill Perkins, who in such a scenario would run for and win Dickens' Council seat, leaving his seat open for Wright. Perkins did not return calls for comment.
Concerning speculation about Wright's legislative ambitions, Forbes said in a statement, "All options remain on the table, and the Assemblyman is carefully considering the best way to continue positively impacting the community that he loves."
Council Member Dickens is on board if Wright decides to run to replace her. "I will support him if he decides to run," Dickens told Gotham Gazette in an interview. "I have not publically stated that, but I would be very interested in supporting him. He has done a phenomenal job in the Assembly."
Dickens said that she knows Wright is weighing his options and that he has not made a decision yet. She told Gotham Gazette that she had no deal in place with Wright to clear the field for either of their seats or to swap positions. "I did not in anyway have a deal with him other than to ask him if he was going to seek this seat and he said "no," so I ran for it."
Dickens noted that she will be term-limited out of the Council at the end of next year. She speculated that she faced no Democratic challengers for Wright's seat - which is centered in Harlem and represents almost exclusively Democrats - because of a number of factors, including the trips Assembly members must make to Albany, the last-minute nature of the opening, and what she said was insufficient pay for state legislators.
"We're asking young people to go to college, get degrees, have bills they have to pay for it after they come out of school, have a family, have children that they have to take care of properly, and then tell them they have to live on $79,000 a year. The idea of free public service is over," Dickens told Gotham Gazette.
At this point in the process it appears there are a variety of contenders considering a run Dickens' Council seat. As of July, four candidates had registered with the city Campaign Finance Board. One of those registered candidates, Charles Cooper, a businessman from Harlem, told Gotham Gazette that he expects a crowded field.
"This is a Democracy and I welcome everyone. I am going to focus on uniting the community," Cooper said. Asked if he was concerned about the prospect of Wright entering the race, Cooper said he respects Wright, but that it wouldn't impact his plans.
Other registered candidates include Marvin Holland, an organizer for the Transportation Workers United union; Donald Fields, a businessman and advocate; and Shanette M. Gray. Fields is the only registered candidate to report any fundraising, but he'd raised $165 as of July.
A number of other names are being bandied about as potential candidates. They include Clyde Williams, who also ran to replace Rangel this Spring; Afua Atta-Mensah, a lawyer and former district leader candidate; and Sen. Perkins' chief of staff Cordell Cleare.
When Dickens officially wins the Assembly seat in November, she'll be set to replace Wright come January, and the machinations for a special City Council election will begin.
Espaillat and his allies are paying close attention to Wright's moves as they hope to curtail any major challenges to his newly-won seat before they happen. Espaillat will be up for re-election in 2018.
A number of Wright's allies insist he is still weighing whether to enter the private sector and spending time with his family, They say there is no bigger master plan at this point. To launch a campaign for any of the seats being mentioned, Wright would need to kick his fundraising apparatus into high gear quickly, although it would likely be far easier for him to raise the funds needed for a Council or state Senate run than a mayoral bid.
Wright's Assembly campaign committee filed "no activity" statements with the state Board of Elections in January and July. Wright raised a total of $934,138 for his congressional bid, compared to Espaillat's $628,000. There is little doubt among political experts that Wright could secure the cash he needs to run a well-financed legislative campaign.
"I don't know really know what Keith's plans are at this point," Dickens told Gotham Gazette during the September 14 interview at City Hall. "He had very difficult race, outraised all of his challengers, and it was a was fight to the finish. Keith worked very hard and it's difficult for any of us when you lose, so he's needed time to think and space to be with his family, who suffered a lot."