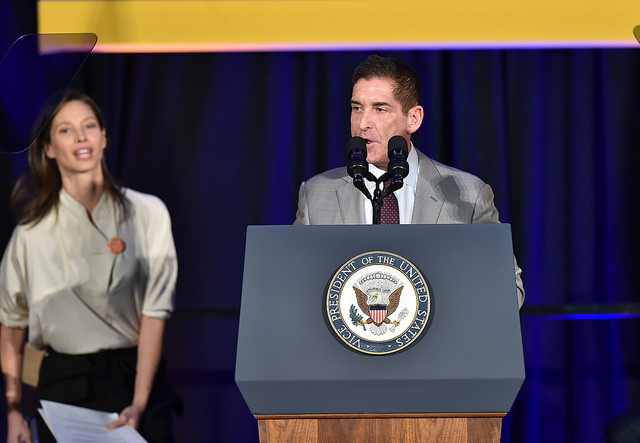 IDC leader Sen. Jeff Klein (photo via The Governor's Office on Flickr)
---
As the Independent Democratic Conference of the State Senate prepares to cut a power-sharing deal, its hand has been bolstered by two new accounts, one of which has already paid dividends. The IDC, led by Senator Jeff Klein of the Bronx, has a new campaign committee that allows spending in races of interest and a party housekeeping account allows the IDC to raise unlimited cash to spend on party building, headquarters, and staffing expenses.
Currently five members including Klein, the conference, which has aligned with Republicans and may do so again after November's elections, is set to add a sixth member. Thanks in part to the spending of its new campaign committee, the IDC bolstered the candidacy of Marisol Alcantara, who won a crowded September 13 primary to replace Senator Adriano Espaillat, who is headed to Congress. Alcantara has pledged to sit with the IDC when she takes office in January. Recent filings show the IDC spent over $97,000 on ads and other support for Alcantara.
While the New York political world has focused on Alcantara readying to join the IDC's ranks and the spending of the new campaign committee, it is the party housekeeping account that could allow the IDC to establish itself as a more permanent fixture in state politics.
The rules governing housekeeping accounts have been criticized by a host of reform-minded politicians, good government groups, and even the defunct Moreland Commission on Public Corruption, set up and prematurely disbanded by Gov. Andrew Cuomo. Housekeeping accounts tend to take in massive amounts of cash from limited liability corporations, or LLCs, allowing corporations and the wealthy outsize influence on the party apparatus. And, groups like Common Cause/NY have found that housekeeping accounts routinely violate restrictions that forbid them from spending on individual races.
Senator Klein himself has vowed that he wants to enact major reforms - he has called for banning outside income for legislators and instituting campaign finance reform. Klein has repeatedly touted that the IDC is the only conference to have signed on to "The Clean Conscience Pledge" pushed by good government groups that calls for closing the LLC loophole, limiting outside income, and making budget spending more transparent. The IDC has also repeatedly introduced "The Integrity in Elections Act" that establishes public financing of campaigns while limiting certain kinds of transfers between political committees and puts limits on independent expenditure campaigns.
Yet, the IDC has had a power-sharing agreement with Senate Republicans, who are steadfastly against campaign finance reform, closing the LLC loophole, and other reform measures. With the establishment of the campaign committee and housekeeping account, the IDC appears set to advance itself through the existing system.
Questions remain whether the creation of the committee and account are actually legal and those questions won't likely be answered unless someone challenges them in court. Two parties that could do that - mainline Senate Democrats and Senate Republicans - don't want to anger the IDC before it chooses who to caucus with and may not even want to anger the IDC afterwards, with future alliances in mind. Balance of power in the 63-seat state Senate is almost evenly split and there are a handful of swing districts around the state being decided upon in November. The IDC could provide a definitive bloc in chamber control.
Both the Senate Independent Campaign Committee and the housekeeping account were created in cooperation with the Independence Party, which has a limited electoral profile but does maintain a ballot line and its endorsement is sought after in many races. As of April 1, there were 475,566 New Yorkers registered to vote with the Independence Party, according to the state Board of Elections, many of whom have likely mistaken it for registering as an "independent," or party-unaffiliated voter.
Campaign committees can take over $100,000 from single donors and distribute unlimited amounts to their candidates' campaigns. This has allowed donors to skirt lower limits on direct contributions to candidate campaigns (and has landed Mayor Bill de Blasio and his associates under investigation from their 2014 efforts to swing the state Senate to Democrats).
"I really want to use this campaign committee as a vehicle for change," Klein told Gotham Gazette during an interview in July, noting that he wanted to "elect new IDC members." The IDC has positioned itself as a conference with appeal to the middle class and homeowners, backing a number of tax cuts and initiatives while also supporting charter schools. Short of Alcantara, its members are from more suburban communities. The IDC has also championed some progressive causes like paid family leave and tends to seize on headline-grabbing, hot-button issues, recently backing, for example, legislation designed to protect young Pokemon players from sex offenders.
Richard Fife, the campaign manager for Robert Jackson, who came in third place in the race to replace Espaillat, questioned the legality of the IDC's spending on behalf of Alcantara. "We have these laws that we abide by and they found tricks," Fife told The Daily News.
While the benefits of the IDC campaign committee is glaringly obvious, it has yet to be revealed what kind of role the housekeeping account will have.
According to state law, a party housekeeping account can be used for party building, paying staff, and promoting the party and its issues. It can't spend on individual candidates or races.
However, one prominent New York election lawyer and a Democratic Party insider told Gotham Gazette they believe the IDC's housekeeping account can't spend to promote itself because the IDC is not actually a registered party -- its members all run on the Democratic ballot line.
The attorney also told Gotham Gazette that he believes the creation of the committee and the account could be easily challenged in court by anyone who takes issue with their creation. "No one has pushed back," the lawyer said, "it will stand until someone challenges it in court."
Both the lawyer and the Democrat, who requested anonymity to avoid getting personally involved in the complicated politics at play, framed the creation of the housekeeping account as being "creative" with the law. Klein has promised that he supports reforming the state's campaign finance laws.
It will remain unclear for months what the housekeeping account is spending on because state law only requires housekeeping accounts to file their spending with the state Board of Elections in January and July. Gotham Gazette asked IDC spokesperson Candice Giove to disclose what the party has spent on and would be spending on, but she declined.
"The SICC housekeeping account will be used for housekeeping expenses in accordance with New York State election law," said a spokesperson for the Senate Independence Campaign Committee.
Lawrence Mandelker, a lawyer representing the SICC, told Gotham Gazette that he felt legal concern with the creation of the committee is "Totally just noise-making," and that he didn't expect the committee and housekeeping account to be challenged in court. "Everything we did was totally researched, and complies with the letter of the law," Mandelker said.
Pushed further for information on what the housekeeping account could be used for, Mandelker replied, "The Independence Party did this. We didn't create it, the Independence Party did it, you should talk to them."
The only disclosed contributor to the SICC housekeeping account at this point is the IDC's political action committee, The IDC Initiative, which gave two donations totaling $699,424 on August 16.
Independence Party Chair Frank MacKay did not respond to requests for comment.
Democratic Board of Elections Co-Chair Douglas Kellner told Gotham Gazette that although the BOE has yet to issue a formal opinion of the IDC's use of a campaign committee and a housekeeping account, he personally sees nothing wrong with it. "If the Independence Party is saying it is their party, then I'm not aware how it would violate state statute."
It is unlikely Democrats or Republicans will challenge the creation of the SICC and the SICC housekeeping account until after the IDC concludes its bi-annual negotiations and announces which conference it will empower. Even then, there may be no challenge.
Klein has spent this summer improving his negotiating position by electing Alcantara, spending at least $97,000 through the SICC on ads and polling in the process, according to the SICC's 11-day pre-primary filing.
In aiding Alcantara, Klein has also cemented his alliance with Espaillat, who is himself building a powerful coalition and could prove a useful ally to the IDC in the future.
The SICC's spending and addition of Alcantara may also go a ways toward quieting critics who have charged that the currently all-white conference has been effectively nullifying the votes of hundreds of thousands of diverse Democratic voters.
In the end, the housekeeping account may prove just as vital of a role but short of voluntary early disclosure by the IDC, voters won't know until January.
A Common Cause/NY report from 2013, "Life of The Party," detailed how housekeeping accounts have historically been used to benefit candidates, in direct conflict with state law. ""Non-campaign" soft money housekeeping expenditures regularly peak in the months prior to an election indicating that much of the spending is campaign related," the report reads. "The election season spikes in housekeeping expenses are correlated to sharp increases in spending on advertising and mass-mailings, as well as hiring of political consultants."