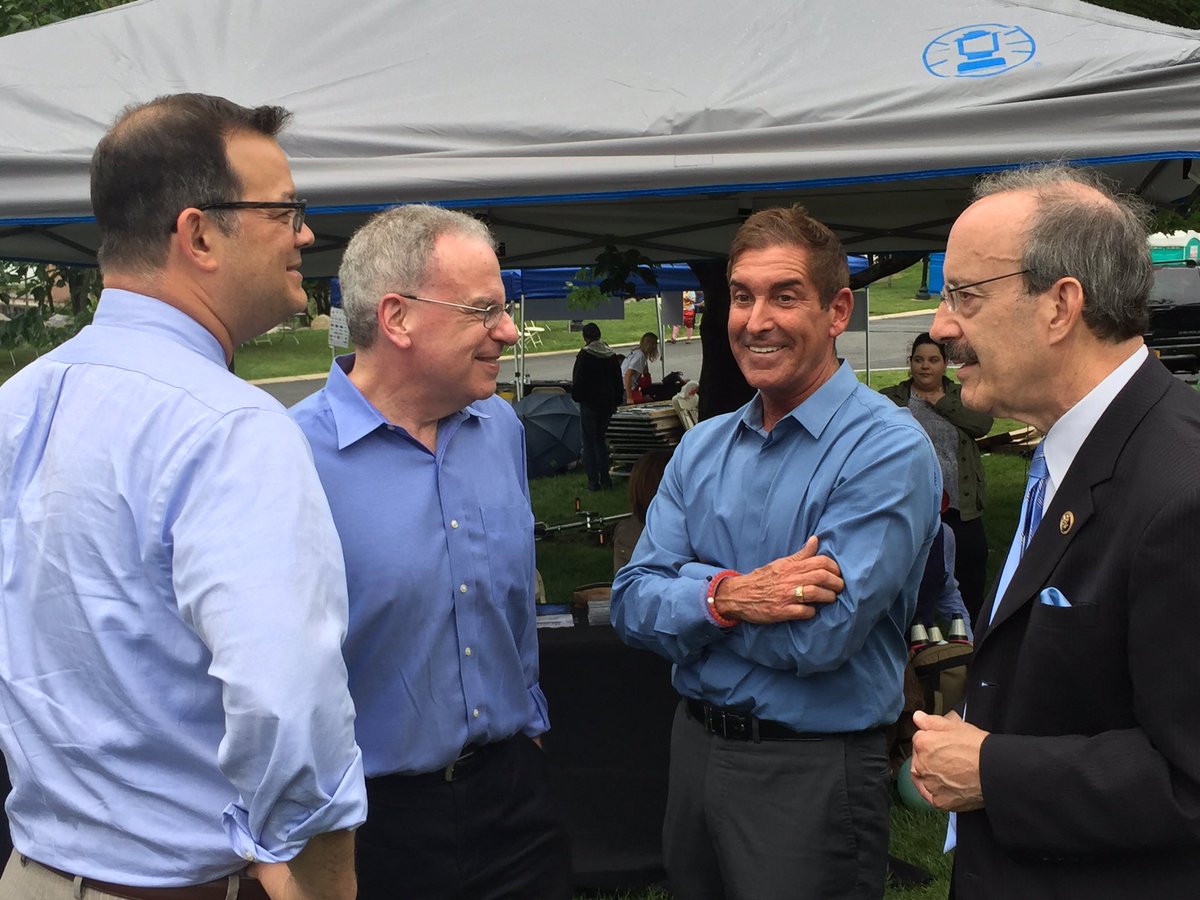 State Sen. Jeff Klein, center-right & other Bronx electeds (@RepEliotEngle)
---
In January 2011, State Senator Jeff Klein declared himself leader of a group of four breakaway Democrats who were united in their dissatisfaction with the recent dysfunction of their conference's leadership. They created the Independent Democratic Conference, or IDC, despite the fact that Klein had been deputy leader of the Senate Democrats and was in control of the New York State Democratic Senate Campaign Committee during the 2010 elections, all through the now legendary strife and controversy that was part of Democrats' brief control of the Senate.
Since then, Klein has allied IDC with Senate Republicans, thereby winning himself a seat at the budget negotiating table, larger offices and increased staff funding for his members, and a political forcefield that protects him and his allies from criticism hurled by Republicans or Democrats, lest he side decide to ally with the other side.
This year, Klein has increased the IDC's power with new fundraising and campaign spending tools and an incoming member, Marisol Alcantara, who won a crowded Uptown primary in some part thanks to the financial support of the IDC. When the dust settles after November's elections, Klein is likely to be in prime bargaining position as mainline Democrats and Senate Republicans seek a ruling coalition deal with the IDC.
Lost in the shuffle of these power dynamics, which can have immense consequence for the people of New York, is the story of how Klein managed to turn a disastrous run at the top of the Senate Democrats' power structure into a position that has allowed him to play kingmaker every two years and become, after overcoming a serious primary challenger in 2014, virtually untouchable politically.
"Breaking away from this dysfunctional conference gave him a voice," said Douglas Muzzio, professor of political science at Baruch College, who added that the move appears to have indefinitely altered power dynamics in state government. "He can use corruption and dysfunction as much as he likes but it doesn't mask the fact that it was a bald face power move. He can couch it in principle, but it was still about power," said Muzzio.
In 2009, after winning a majority for the first time in decades, a number of Democrats including Sen. Ruben Diaz Sr. and then Sens. Carl Kruger and Pedro Espada agreed only to vote for then Sen. Malcolm Smith as leader in exchange for certain perks and leadership positions. Only a few months after the year's legislative session started, the fragile agreement was destroyed as Espada and then Sen. Hiram Monserrate bolted to join Senate Republicans, launching a hostile coup on the Senate floor.
The Senate was paralyzed for months until Espada and Monserrate were lured back to the Democratic fold. After the incident, then Sen. John Sampson took over as Senate leader. (Most of the players involved - Krueger, Espada, Smith, Monserrate, and Sampson - are no longer in the Senate, having been removed from office on corruption charges unrelated to the Senate coup.)
Republicans won back the majority through the 2010 elections. In 2012 their fortunes took a turn with Democrats picking up seats, but Klein struck a deal alternating the title of temporary President of the Senate with Skelos. In 2014, Senate Republicans won a number of seats and Klein again pledged to work with them. He did so after undercutting his Democratic primary opponent by pledging to work with Democrats if they picked up enough seats to form a governing coalition.
To many, Klein looked like a voice of reason when he created and fortified the IDC. "Who would want to go back to chaotic Democratic control?" asked his supporters. This is a line of reasoning Klein and his allies have used repeatedly as they have continued to ally themselves with Republicans. This year Klein is set to determine who controls the Senate again.
"Jeff was so above it all," laughed one Democratic Senator. "No, Jeff was one of the guys calling the shots at the time. In fact he was the guy in charge of calling all the shots for the DSCC."
Candice GIove, spokesperson for Klein and the IDC, declined to make Klein available for an interview. She also refused to take questions from Gotham Gazette about the history of the IDC.
Klein, from the Bronx, was first elected to the Senate in 2005 after serving nearly nine years in the Assembly. He maintains the IDC's power thanks to years of legislative redistricting that has helped Senate Republicans draw lines that favor their incumbents. The 2010 redistricting process saw the creation of a 63rd Senate seat that benefited Republicans and further concentrated Democratic voters in urban districts.
The Senate is now nearly split down the middle in terms of party control. Republicans currently hold 31 seats - one shy of an outright majority - and Sen. Simcha Felder, a Democrat from Brooklyn, conferences with them. Republicans also have a deal with the IDC, which currently holds five seats. Alcantara is expected to join them in the fall, making six in the IDC and taking one seat away from mainline Democrats, who currently have 26 members (there is one vacant seat, likely to be filled by a Democrat). Democrats are expected to pick up seats this year, as they have in every modern presidential election year - though the questions are if they do and how many.
The Assembly is made up of a Democratic super-majority. The Governorship has been controlled by Democrats since former Gov. Eliot Spitzer won in a landslide in 2006, replacing Republican Gov. George Pataki, who had served three terms. Gov. Andrew Cuomo has sought to strike a balance between progressive social policy and conservative fiscal ideas. Many believe Cuomo has blessed the IDC's alliance with Senate Republicans.
After the 2008 elections Klein became a major figure in the Senate Democratic Conference, serving as deputy majority leader and head of the Democratic Senate Campaign Committee. Klein not only had say in policy-making, but was responsible for deciding which candidates and races to back with Democratic cash.
Klein certainly wasn't above jockeying for power and influence during the 2009 coup. He met with various Democrats and Republicans in an attempt to create an alternate governing structure in the Senate; one that would do away with the need for Espada and put Klein at the helm. Those negotiations failed. Klein floated the idea of a new bipartisan governing coalition in a press release at the time and has previously discussed those attempts with members of the media.
In 2010 Klein faced an uphill battle in maintaining his power and influence with the Democratic Conference - his ties with many members were frayed. Things were so bad during the coup that at more than one point conference meetings nearly broke into physical altercations. On top of the distrust and dislike Klein faced from fellow Democrats, as head of the DSCC, he was also entrusted with building the Democratic majority.
Many Democrats and political observers believe Klein used his position as head of the DSCC to try to marshal enough supporters to make himself Democratic Leader. The DSCC spent heavily on a number of races in 2010, far more than many Democrats thought was reasonable. Money poured into districts held by entrenched Republican incumbents many believed unwinnable for Democrats. In perhaps the most extreme example, the DSCC spent over $500,000 supporting Sue Savage's unsuccessful attempt to unseat Sen. Hugh Farley.
Spending was also increased in districts where the DSCC was playing defense, futilely trying to protect vulnerable suburban Democrats from Republican challengers. They lost seats on Long Island held by more moderate Klein-minded Democrats and one belonging to former Sen. Darrel Aubertine in the North Country. The DSCC spent over $1 million on the Aubertine race.
Democrats lost control of the Senate and the DSCC was left nearly $3 million in debt. It took them until 2014 to pay it off.
"Jeff left us at the bottom of a pit of debt," another Democratic Senator told Gotham Gazette, speaking on the condition of anonymity. "He was spending like crazy on races we had no chance of winning. All those expenditures were approved by Jeff."
After Klein left the conference, Democrats put the erratic spending on his shoulders. However, it appears to many that Sampson was also able to authorize expenditures. Klein told The TImes Union in January 2011 that the Democratic caucus was distracting from the issues by focusing on who was to blame for the DSCC spending. "This is exactly why I formed an independent caucus," he said. "They continue to talk trash about me as an attempt to distract from the real issues."
Eventually, more than a dozen Democrats signed promissory notes, personally agreeing to make good on portions of the debt wracked up by the DSCC, in order to secure $2 million in loans to restore the organization's solvency. Klein wasn't one of them.
While 2010 was a generally terrible year for Klein and Senate Democrats, it had some silver linings. Espada was defeated in a primary by Sen. Gustavo Rivera, who ran on a reform platform (and did not have the support of the DSCC). Sen. Eric Schneiderman, now attorney general, successfully led a movement to oust Monserrate from the chamber after Monserrate was convicted of a misdemeanor for dragging his girlfriend down a hallway. Her face had been slashed in an earlier altercation.
Democrats had slowly begun to deal with their corruption and dysfunction problems, even as Sampson, who would later be be convicted on corruption charges, led the conference.
On December 20, 2010, Sampson appointed newly-elected Queens Sen. Mike Gianaris as head of the DSCC. Klein had lost his source of power in the conference to a younger rival.
Less than a month later Klein announced the creation of the IDC.
It began as Klein, Sens. Diane Savino, David Carlucci, and David Valesky.
In December 2012, the group celebrated the addition of a new member. In some ways Klein was putting the band back together when he invited Malcolm Smith to join the IDC. Smith was the first member of color for the conference. Then Queens Assemblymember Tony Avella told The Queens Chronicle at the time that the move was a "power grab" and "unfortunate because it defeats the will of the people who voted in favor of having the Democrats control the Senate."
Avella joined the IDC in February 2014 - but not before Smith was charged with bribery and corruption for using state funds to buy his way onto the Republican ballot line in an attempt to run for Mayor of New York City. The IDC booted Smith after the charges became public in April 2013.
In the Summer of 2014 Klein and Avella faced tough primaries backed by left-leaning and abor advocates and, at least initially, by Senate Democrats. Behind the scenes Mayor Bill de Blasio negotiated with Klein on conditions of a deal where Klein would co-lead the Democrats, assuming the party won enough seats to make the deal plausible. Gov. Andrew Cuomo and Klein announced that the IDC would create such a governing coalition.
"We are not rejoining the Democratic Conference because clearly the IDC will live on and the IDC will remain intact, but what we are saying is the IDC is going into the next legislative session six months from now ready to fight for the core Democratic policies that are left undone," Klein told the Daily News on June 24, 2014.
Democrats and advocates pulled back their support for the challengers to Klein and Avella - former City Council Member Oliver Koppell and former City Comptroller John Liu, respectively. The coast was clear for the IDC.
In November, Republicans gained the backing of newly elected Sen. Felder, a nominal Democrat, while picking up Republican seats, and the IDC-Democratic alliance became a moot point.
There were major issues at play. For example, over the past few years Democrats unsuccessfully tried to pass through the Senate the entire 10-point Women's Equality Agenda and a version of the DREAM Act. They blamed Klein for empowering Republicans who oppose codifying abortion rights and who have campaigned for years against the DREAM Act. Klein and his allies repeatedly pointed to members of the Democratic Conference who are not pro-choice and who don't support the DREAM Act.
It is during issue fights like these when advocates have complained that the IDC is subverting the will of hundreds of thousands of Democratic voters from across New York City by empowering Republicans and stifling the influence of nearly 30 elected Democrats for the empowerment of five members, all of whom are white. Short of the impending addition of Alcantara, who is Hispanic and will represent Washington Heights and other Uptown neighborhoods, all IDC members have been from more suburban areas of the city or its outskirts.
"The IDC going with the Republicans counters the demography of the state, it nullifies the power of the Democrats in the Assembly, but Albany remains dysfunctional," said Muzzio, summarizing results of the IDC and its power-sharing agreements.
In May 2015, then Republican Majority Leader Dean Skelos, the man Klein repeatedly cut deals with to form a governing coalition, was indicted on multiple corruption counts. The trial that followed contained a series of wiretapped phone conversations between Skelos and his son, the contents of which were enough to make even the hardened denizens of the Capitol blush.
"I heard you left a handprint on somebody's ass," Adam Skelos said to his father over the phone on December 22, 2014, the same day the elder Skelos informed Klein that he wanted to continue their working relationship. Dean Skelos paused, seeming to process the comment. After realizing his son was talking about Klein and that Republicans had more leverage over him, the elder Skelos told his son that Klein would retain the title of co-leader despite Republican victories in 2014 that made the alliance technically unnecessary, and pointed to how useful the IDC could prove to be in 2016. The younger Skelos scoffed at the idea, but Dean assured him: "I'm going to control everything," he said. "He's going to get very little. Believe me. Very little. Everybody's going to know."
The elder Skelos then went on to explain how he would use Klein to "Keep them separate and fighting and hating each other. That's what's worked for the last six years."
Despite the turmoil in both houses following the 2016 convictions of Skelos and former Assembly Speaker Sheldon Silver, a Democrat, on multiple corruption charges, it would prove to be the most important year in the IDC's brief history.
The IDC continued to push Cuomo and Senate Republicans on paid family leave through 2015 and into 2016. This year, Cuomo picked up the issue despite having previously dismissed it while also suddenly championing a $15 minimum wage. By the end of session the IDC was able to claim they were instrumental in passing major progressive legislation. This summer, Klein paired with the Independence Party to create a campaign committee that allowed the IDC to pour nearly $100,000 into the Democratic primary to replace Sen. Adriano Espaillat.
That investment paid off as the IDC's candidate, Alcantara, won a narrow victory over former City Council Member Robert Jackson and Micah Lasher, former chief of staff to Attorney General Schneiderman.
Alcantara told Politico New York that her main focus will be passing the DREAM Act. She's also indicated that she didn't review the politics involved in the creation of the IDC before she said she would join it. The IDC has faced significant blame for effectively blocking the DREAM Act by allying with Republicans. The bill was brought to a vote in the Senate in 2014 -- it failed by two votes. At the time, Klein had say over which bills came to the floor and many saw the move as a way to neutralize the issue for the year.
Meanwhile, many Senate Republicans have used the DREAM Act as a lightning rod against Democrats in their districts. It is unlikely the DREAM Act has a real chance of becoming law if Klein chooses to empower the Republican Conference next session. Alcantara, a former union organizer, has promised that she will continue to be progressive as a legislator.
Many insiders wonder how Klein can possibly work with Senate Democrats come 2017. Over the last six years, by most accounts, Senate Democrats have cleaned up their act. Members like Kruger, Sampson, Espada, Monserrate, and Smith have all left the chamber one way or another. Sen. Gianaris, who still runs the SDCC, has been talking a lot lately about negotiating with Klein in anticipation of Democratic successes in November. The mainline Democrats also posed no primary challenger to Klein or any IDC member.
Klein has toned down talk about Democrats being dysfunctional this past year, but he's given no strong indication he favors a reunion with them.
In a July interview with Gotham Gazette, Klein gave an indication of his allegiances, speaking highly of Republican Senate President John Flanagan. "I worked extremely well this year with Senator John Flanagan and yes, this session we were able to work well with [Democratic Minority Leader] Andrea Stewart-Cousins - it is a much better relationship," Klein said, "but I think the Republican Conference has been even better and a lot of credit has to go to the relationship with Senator Flanagan, again."