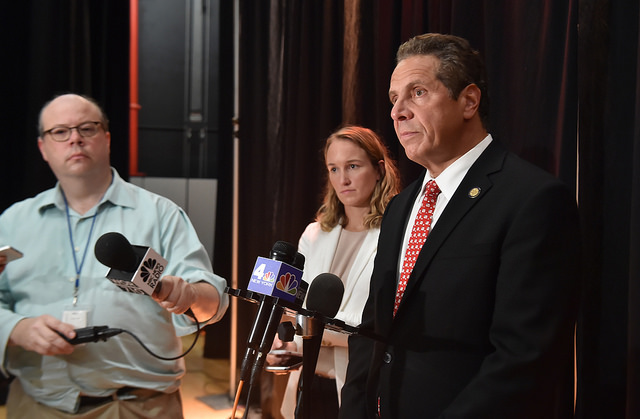 Gov. Cuomo (photo: Kevin P. Coughlin/Governor's Office)
---
A day after United States Attorney Preet Bharara unveiled a myriad of corruption charges against two of his closest allies and some of his biggest donors related to their abuse of the state's economic development programs, Gov. Andrew Cuomo traveled to Buffalo to announce he was expanding the program that sparked Bharara's investigation.
Cuomo publicly acknowledged the "truly disappointing" allegations and told the gathered crowd that his administration plans to learn from revelations about bid-rigging and bribery schemes. He also promised not to "miss a beat" and pledged his administration will "redouble our efforts" on economic development projects in Buffalo and Western New York.
What exactly Cuomo has learned and what he and his administration actually plan to do about the alleged corruption - which was uncovered by reporters and watchdogs over a year ago and outlined by Bharara last week - remains largely unclear. The lack of clarity is especially stark given the amount of time the administration has had to formulate a response to problems and change protocols.
On Friday, Cuomo announced that the Empire State Development Corporation would take over a portfolio of projects previously overseen by SUNY Polytechnic President Alain Kaloyeros, who was suspended without pay after he was charged Thursday in two separate bid-rigging investigations (one by Bharara and one by Attorney General Eric Schneiderman).
"We are today going to take that portfolio of responsibility, those projects, transfer them all to the Empire State Development Corporation, which is run by a fellow named Howard Zemsky is his name, and he'll take over management of that immediately," Cuomo said on Friday.
Asked if the governor's announcement would end the use of nonprofits under SUNY Poly to administer economic development projects, Cuomo spokesperson Dani Lever told Gotham Gazette that "ESDC will oversee all economic development projects."
Cuomo said this week that Zemsky will formulate new procedures and oversight mechanisms to be unveiled in January during the governor's State of the State Address. Cuomo is also expected to debut a new phase of the Buffalo Billion in the same speech.
On Friday, Cuomo also cited a report from Bart Schwartz, a lawyer retained by the governor in April after it became public that Bharara had subpoenaed a number of Cuomo officials and allies as part of his Buffalo Billion probe.
"We engaged an organization headed by a former prosecutor to review our entire procurement system. We have that report. It recommends changes to the procurement system," Cuomo said on Friday of Schwartz's investigation. "We accept all the changes to the procurement system and we are going to be instituting them immediately to make sure whatever can be done to protect the taxpayer dollars is going to be done."
However, the Cuomo administration has not made Schwartz's report public. Cuomo announced that the "independent" investigation came to a conclusion on the same day Bharara unveiled related charges, in an apparent attempt at moving the conversation from the charges toward reforms. The governor said earlier this year that he wouldn't have a problem releasing Schwartz's report, but that it may not be made public depending on whether Bharara's office approved its release.
Bharara's office declined to comment on whether its representatives had spoken to Schwartz or the Cuomo administration about the report.
Schwartz's office declined to comment on whether the report will be made public or how it will be implemented.
The Cuomo administration failed to return requests for comment about whether the report will be made public and what kind of changes will be made to the state's economic development programs to reduce corruption risk. Representatives for Cuomo also failed to respond to a question about whether Schwartz looked into, or continues to investigate, malfeasance in the state's economic development programs.
When Bharara announced the charges at a Thursday news conference, he said that his investigation is "ongoing." Bharara said that Cuomo was not implicated in the criminal complaint, but would not comment about whether the governor is an ongoing target. On Wednesday, Cuomo told reporters that he was not interviewed by Bharara's office and that he did not expect to testify in Percoco's trial, if there is one.
David Friedfel, director of state studies for the Citizens Budget Commission, said CBC welcomes the handover of state projects to Empire State Development Corp. "We certainly think the move to the ESDC is a good idea. In general we take the view that if you can't do what you want to do with economic development through a government entity you should not be able to do it or be allowed to create a non-government entity to do it," he said.
While ESDC does appear to have stricter contracting rules in place than SUNY Poly and its nonprofits, in the end both are controlled by Cuomo.
And ESDC didn't go untouched by the recently revealed criminal charges, which were brought against nine people and showed a system lacking oversight. One of the charges against Cuomo's close friend and former top aide Joseph Percoco is that he took a $35,000 bribe to get ESDC to select a company for a project it didn't technically qualify for.
Watchdogs believe the state used SUNY Poly and the nonprofits it oversees, like Fort Schuyler Management, in an end-run around standard state contracting protocols and to reduce public scrutiny, in part to fast track expensive projects. On Wednesday, Cuomo repeatedly blamed the alleged corruption on that same system, which he has done nothing to reform. He told reporters on Wednesday that the system "had worked fine for 15 years. In retrospect I did not revisit their procurement system because they're a separate branch, they're a separate agency," Cuomo said, appearing to reference SUNY Poly. "We will do just that," he promised of such a reexamination.
Cuomo said on Friday in Buffalo that Zemsky will "learn from what happened and to see how we can improve the system to make sure that it never happens again."
The idea that there isn't already a blueprint on the table on how to avoid the pitfalls connected to the administration's use of nonprofits to administer economic development programs is laughable to many groups that have been calling for drastic changes for years and warning of corruption.
"Right now all we have are vague, undefined reforms wrapped in secrecy," said John Kaehny of Reinvent Albany, a group that has followed economic development projects closely. "The questions we have about the administration's approach remain the same as the questions we had last year."
While Cuomo plans to wait until January to unveil his changes to the state's economic development procurement system, a number of watchdog groups have been clear for over a year on what changes needed to occur to better prevent corruption. Comptroller Thomas DiNapoli has also complained that Cuomo and the Legislature stripped him of his ability to review contracts at SUNY, something watchdogs have echoed. State legislative leaders have said little about the issue.
In a letter dated September 23, 2015, several groups, including CBC, Reinvent Albany, Citizens Union, Fiscal Policy Institute, and the New York Public Interest Research Group, called on Cuomo to increase accountability and transparency surrounding economic development projects. The groups asked Cuomo to consider "making one state agency the sole negotiator and implementer of state subsidy deals with public review and input, and ending the use of state controlled non-profit groups and the state university system in the contract award process."
In a letter dated December 23, 2015, some of the same groups called on the state to implement a "database of deals" to allow for greater transparency and give New Yorkers a better idea of whether businesses that receive subsidies, like SolarCity, are actually keeping their promises to the state on deliverables like jobs.
Wall Street's faith in SolarCity has been shaken in recent months and the company has altered the timeline for what it will produce. Meanwhile, the state paused a payment to the company this week that would allow it to purchase factory equipment it needs for its Riverbend Plant. The state has repeatedly skipped scheduled payments to SolarCity this year, as reported by Politico New York.
Friedfel said that CBC would prefer to see the state stick to economic development programs where businesses are forced to deliver on their promises before they see payment from the state. "Our view, taken apart from the criminal charges, is that economic development should be done with set metrics that are accomplished ahead of time the state makes any payments," he said. "The state should only spend after promises are delivered on."
Note: Gotham Gazette is an independent publication of Citizens Union Foundation, sister organization of Citizens Union.