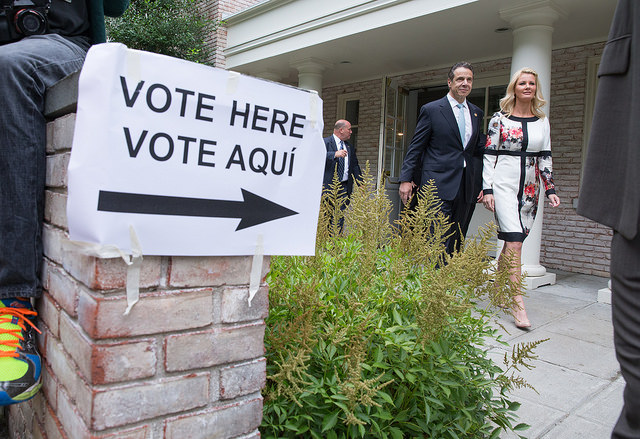 (photo via The Governor's Office)
---
The numbers are bad again, additional proof that New Yorkers don't pay much attention to local elections or make voting in them a priority. There were several hotly contested state legislative party primary elections on September 13, even a few for open seats, yet the best an individual New York City-based Assembly or Senate district did was 20% participation among active eligible voters.
The winner of this unglamorous prize was Assembly District 65, Sheldon Silver's old seat, where short-term incumbent Alice Cancel was defeated in the Democratic primary by Yuh-Line Niou. Of 43,094 active eligible Democrats in the Lower Manhattan district, 8,880 votes were cast, equal to 20.61%.
Niou was one of three challengers to unseat New York City incumbents this primary cycle.
Another, all the way Uptown in Inwood and nearby areas, saw long-term incumbent Assemblymember Guillermo Linares defeated in the Democratic primary by Carmen De La Rosa. There are 57,053 active eligible Democrats in AD72 and 8,511 voted (4,485 for De La Rosa), for 14.91% turnout.
In Queens' AD30, long-time Assemblymember Margaret Markey lost to Brian Barnwell in a Democratic primary that saw 8.72% turnout -- Barnwell won the primary, and thus the seat, with 1,710 votes to Markey's 1,082. There are 32,162 active registered Democratic voters in the district.
All three of these seats, like in most New York City districts, are overwhelmingly Democratic, so the primary winner is all but certain to win the November 8 general election. Sometimes there isn't even a general election opponent on the ballot.
The 150-seat state Assembly is dominated by New York City Democrats, whereas the 63-seat state Senate is almost split between Democrats and Republicans. This November's elections look like they will again go a long way to determining which party controls the Senate. New York City-based races are rarely competitive in November, though there are a few city districts where Republicans hold seats or can show well.
In most cases, though, the real action is in the Democratic primary. Yet, very few people vote. General elections for Mayor of New York City or Governor of New York have recently seen record low turnout. New York ranks near the bottom of all 50 states when it comes to turnout. The 2016 primary numbers closely track their 2014 and 2012 predecessors.
Some blame New York's antiquated voter registration, voting, and election laws - there is a long list of voting reforms that New York could pass given the political will: things like same-day voter registration and early voting, among others. There is also the fact that New York does things like scheduling three different primary days, which happened this year: an April presidential primary, a June congressional primary, and the September state legislative primaries. There are also issues related to one-party control, which may depress voter engagement, especially in the heaviest Democratic or Republican strongholds, like much of New York City.
Yet even the strength of Democrats in New York City could mean more robust primary contests. While several candidates may run, turnout remains quite low.
In the September contests for seats currently open or opening up due to retirement, the numbers were in the same ballpark as the three races listed above where incumbents lost.
In the lone currently empty state Senate seat, five Democrats jumped into the race to replace for Senator Ruth Hassell-Thompson, who resigned for a job in Gov. Andrew Cuomo's administration. The district is mostly in the Bronx, but stretches into Westchester and is home to 123,140 active registered Democrats (Senate districts are a lot larger than Assembly districts.) With 9.44% turnout, Jamaal Bailey won the primary with 6,938 votes. No other candidate cracked 2,000 votes.
For a state Senate seat opening up Uptown, SD31, currently held by Senator Adriano Espaillat, who is heading to Congress, a crowded primary field yielded 18.46% turnout among active registered Democrats. There were 25,937 votes cast by 140,387 active registered voters in the district. Marisol Alcantara won a very close race with 8,469 votes -- about a third of the 25, 937 votes cast. Runner-up Micah Lasher received 8,175 votes.
There are three New York City-based Assembly seats already vacant or being vacated -- AD33 in Queens and AD44 and AD56 in Brooklyn. Respectively, these primaries saw 10.12%, 16.29%, and 12.11% turnout among active registered Democrats. The primaries were won by Clyde Vanel, Robert Carroll, and Tremaine Wright, respectively.
In a variety of other primaries in which incumbents were being challenged, turnout was in the same neighborhood, though often lower than the aforementioned numbers. In a couple of Bronx districts, turnout was around 7% of active registered Democrats. A few saw around 15% turnout, topped by the unsuccessful challenge from Kate Cucco to Assemblymember Pamela Harris in Brooklyn's Assembly District 46, which saw 16.54% turnout.
Voter turnout for the November general election is expected to be much higher given the draw of the Presidential race. State Assembly members and Senators with nominal general election competition and those who won crowded open-seat primaries will receive thousands more votes than they did in competitive primaries because more voters will head to the polls to vote for President and select candidates down the ballot.
Research performed by Brendan Birth.
Note: numbers have been updated since publish to reflect absentee ballots and final Board of Elections certified results.