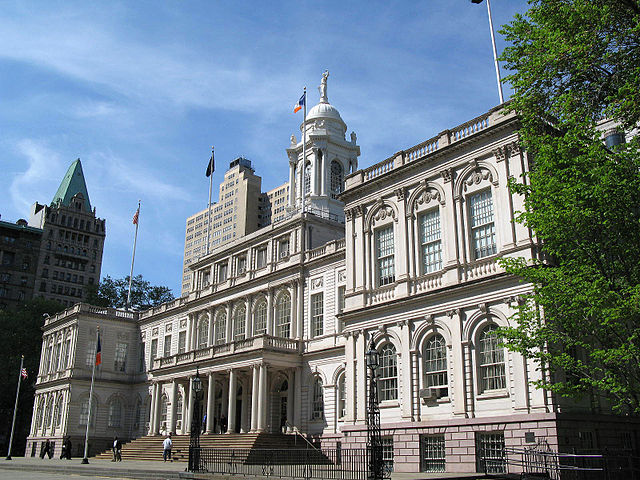 New York City Hall
---
What to watch for this week in New York politics:
This week begins with great attention on the Presidential race as we're within a month of the November 8 election and the candidates faced off in their second of three scheduled debates Sunday evening. The debate came in the wake of much turmoil in the Republican Party and the campaign of nominee Donald Trump, whose lewd comments about women and boasts of unwanted touching and sexual assault surfaced toward the end of last week. Democratic nominee Hillary Clinton's advantage in the polls, both nationally and in key swing states, had been improving after the first debate and its fallout, even before the release of the tapes of Trump from several years ago.
By some accounts Trump performed well during Sunday's debate, but he also made comments troubling to many, including that if he were President he would look to put Clinton in jail for her use of a private email server. After a number of prominent Republicans rescinded their endorsements of Trump on Friday and Saturday, GOP leaders continued to grapple with the nominee on Monday, with House Speaker Paul Ryan - who had disinvited Trump from what was supposed to be a joint weekend appearance in Wisconsin - reportedly telling House members to do what they need to do to win their districts and saying he would not be publicly defending Trump.
In New York, this Friday is the last day to register to vote in November - in the Presidential race and others that will be on the ballot, such as state legislative and congressional races.
Mayor Bill de Blasio and his wife, Chirlane McCray, traveled to Detroit Sunday to campaign for Clinton. They returned to New York City on Monday and de Blasio marched in the Columbus Day Parade in Manhattan, as did Gov. Andrew Cuomo and a number of other city and state officials.
One highlight of the week ahead: on Friday, de Blasio is scheduled to give a speech at the Association for a Better New York - details below.
It may be a somewhat quiet political week given the Monday Columbus Day holiday and Yom Kippur, which begins at sundown Tuesday. Still there are several interesting events happening, including both de Blasio's ABNY speech and one by new NYPD Commissioner James O'Neill on Tuesday morning, also at ABNY, and several City Council hearings, including a full-body Stated Meeting on Thursday -- details of those and more below.
***Do you have events or topics for us to include in an upcoming Week Ahead in New York Politics?
e-mail Gotham Gazette editor Ben Max: This email address is being protected from spambots. You need JavaScript enabled to view it.***
The run of the week in detail:
Monday
Monday is Columbus Day.
City Council Speaker Melissa Mark-Viverito will appear on NY1's Inside City Hall Monday evening at 7 and 10 p.m.
Tuesday
Tuesday marks exactly four weeks from the Presidential election and others taking place Nov. 8.
At 8 a.m. Tuesday, the Association for a Better New York will host a breakfast with new NYPD Commissioner James O'Neill to "discuss the NYPD's efforts to address public safety and quality of life conditions, and share his overall vision for a better and safer New York." Public Advocate Letitia James will be among those in attendance.
On Tuesday at 1 p.m. Mayor de Blasio and Police Commissioner O'Neill will deliver remarks at the NYPD Swearing-In Ceremony of 700 new officers. In the evening, the Mayor will appear on Fusion's AMERICA with Jorge Ramos at 10 p.m.
At 4 p.m. Tuesday, Public Advocate James will participate in a conversation with youth leaders for National Coming Out Day at The LGBT Center in Manhattan. And in the evening, James will attend the Parkash Tenant Coalition Meeting in the Bronx.
The city's Board of Correction will hold a meeting at 9 a.m. Tuesday.
At the City Council on Tuesday: at 10 a.m., the Committee on Cultural Affairs, Libraries and International Intergroup Relations will discuss a "resolution declaring support for Muslim communities, affirming the religious pluralism of the United States, and urging all residents to stand together for peace and understanding."
At 10 a.m. Tuesday, the Mayor's Office of Immigrant Affairs and government officials at various levels will hold a press conference to announce a new IDNYC pop-up location on Roosevelt Island, at the Roosevelt Island Senior Center. Assistant Immigrant Affairs Commissioner Kavita Pawria-Sanchez, Council Member Ben Kallos, Congresswoman Carolyn Maloney, Manhattan Borough President Gale Brewer, Senator José Serrano, and Assembly Member Rebecca Seawright will all be present.
Wednesday
On Wednesday at 6:30 p.m., the New York City Civilian Complaint Review Board will hold a board meeting.
Thursday
At the City Council on Thursday:
The Committee on Finance will meet at 10 a.m. to discuss "a Local Law to amend the administrative code of the city of New York, in relation to authorizing an increase in the amount to be expended annually in eight business improvement districts and two special assessment districts."
The City Council will hold a stated meeting at 1:30 p.m. As usual, this will be prefaced by a press conference led by City Council Speaker Melissa Mark-Viverito.
On Thursday, there will be a public hearing for the NYPD's body camera program.
At noon Thursday, the Manhattan Institute will hold a forum on disagreements over "fundamentally opposing constitutional traditions" -- the "living document" view and the "originalist" view. Randy Barnett, the Carmack Waterhouse Professor of Legal Theory at Georgetown University, will be the featured speaker.
On Thursday at noon, "The U.S. Conference of Mayors, in partnership with the NYU Wagner Graduate School for Public Service, will host a bipartisan discussion with mayors and the presidential campaigns on why infrastructure in U.S. cities is key to both economic security and public safety, and to urge a stronger federal partnership with cities." A discussion will be moderated by NY1's Errol Louis: "USCM President Oklahoma City Mayor Mick Cornett, USCM Vice President New Orleans Mayor Mitch Landrieu, USCM Second Vice President Columbia, SC Mayor Stephen Benjamin, USCM Past President Baltimore Mayor Stephanie Rawlings-Blake and USCM Advisory Board Member Albuquerque Mayor Richard J. Berry, will engage in an interactive question-and-answer session with surrogates representing both the Trump and Clinton campaigns who will present their candidates' views on infrastructure."
On Thursday at 4 p.m. at Medgar Evers College, a "Why She Ran" event encouraging women to run for public office and to work in government, hosted by the City Council's Women's Caucus, led by Council Members Laurie Cumbo, Inez Barron, and Darlene Mealy. Lieutenant Governor Kathy Hochul will give remarks.
At 6:30 p.m. Thursday, Baruch College's Robert Zicklin Center for Corporate Integrity and Corporate Communication International (CCI) will co-host "Ads, Money and Politics: The Impact of Citizens United on the 2016 Election." This event will look at the consequential Citizens United Supreme Court Case in 2010 and how the decision is influencing the current election.
At 6:30 p.m. Thursday, the Brooklyn Historical Society will hold "100 Years of Planned Parenthood: Born in Brooklyn, Building for the Future." Alex Sanger (Chair of the International Planned Parenthood Council and grandson of Margaret Sanger, the co-founder of the first birth control clinic in the U.S.), Imani Gandy (Senior Legal Analyst at Rewire News and co-host of This Week in Blackness Prime), and Professor Lynn Roberts (CUNY School of Public Health) will be the panelists. Amy Goodman of Democracy Now! will moderate the discussion.
Friday and the weekend
Friday is the last day to register to vote for the November general election. Find information on voter registration at NYC Votes' register to vote page.
At 8 a.m. Friday, the Association for a Better New York will host Mayor Bill de Blasio for a breakfast speech. De Blasio will discuss the his Equity and Excellence education agenda.
***
Have events or topics for us to include in an upcoming Week Ahead in New York Politics? E-mail Gotham Gazette executive editor Ben Max any time: This email address is being protected from spambots. You need JavaScript enabled to view it. (please use "For Week Ahead" as email subject).
***
by Brendan Birth and Ben Max
@GothamGazette