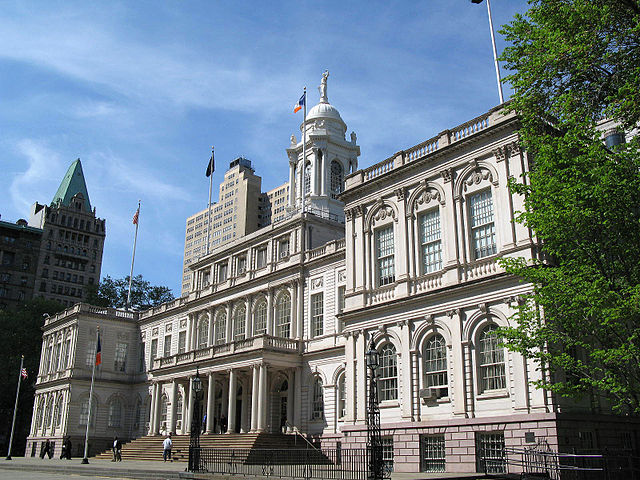 New York City Hall
---
What to watch for this week in New York politics:
Tuesday marks three weeks until Election Day and Wednesday night the third and final Presidential debate between Hillary Clinton and Donald Trump is scheduled to occur. Don't forget, a variety of key New York congressional and state legislative races are also in the home stretch -- November 8 is Election Day.
Mayor Bill de Blasio did more campaigning for Clinton this weekend, in Dayton, Ohio. The mayor traveled there after giving remarks at the funeral for Brooklyn District Attorney Ken Thompson -- many other New York elected officials, including Gov. Andrew Cuomo, also paid their respects to Thompson and his loved ones on Saturday.
On Sunday, activists, advocates, and a variety of New York elected officials gathered at City Hall as Planned Parenthood Federation of America and Planned Parenthood of New York City began to "celebrate turning 100 Years Strong with a press conference to commemorate the opening of the first clinic by Margaret Sanger in 1916 in Brooklyn." Participating public officials included First Lady Chirlane McCray; Comptroller Scott Stringer; City Council Speaker Melissa Mark-Viverito; Public Advocate Tish James; Attorney General Eric Schneiderman; and others.
For this week, there's a great deal happening all over the city, with many events to be aware of -- see our day-by-day rundown below.
***Do you have events or topics for us to include in an upcoming Week Ahead in New York Politics?
e-mail Gotham Gazette editor Ben Max: This email address is being protected from spambots. You need JavaScript enabled to view it.***
The run of the week in detail:
Monday
The New York State Board of Regents will hold its monthly meeting on Monday and Tuesday.
Mayor de Blasio is participating in three events Monday, all of which are closed to the press: according to his public schedule, he "will deliver remarks at the 2016 NYSNA Biennial Conference," then "deliver remarks at a reception celebrating the life of Elizabeth Rohatyn," and, "In the evening, the Mayor and First Lady will host a dinner to benefit the Gracie Mansion Conservancy."
At noon on Monday at City Hall, "Congresswoman Gabrielle Giffords and Captain Mark Kelly, the Co-Founders of the gun violence prevention organization Americans for Responsible Solutions PAC, will join Speaker Melissa Mark-Viverito, State Assemblymember Brian Kavanagh, and other city and state leaders for a press conference as part of Congresswoman Giffords' and Captain Kelly's 2016 Vocal Majority Tour, a 14-state, 42-day national bus tour that stretches until Election Day." The event "will focus on urging the vocal majority of New Yorkers who support responsible change to help keep guns out of the wrong to vote to stop gun violence in this election." Also set to participate are Comptroller Scott Stringer; First Lady of New York City Chirlane McCray; Manhattan District Attorney Cy Vance; State Senator Andrea Stewart-Cousins; Manhattan Borough President Gale Brewer; and other local elected officials and leaders.
The NYC Planning Commission will hold a Special Meeting and Review Session at 1 p.m. Monday.
On Monday, Governor Cuomo will headline a fundraiser for State Senator Todd Kaminsky, who is running for re-election, according to Politico New York.
At 6 p.m. Monday, State Senator Liz Krueger will hold a free screening of "Connie Cook: A Documentary." This documentary focuses on a Republican Assemblymember who helped legalize abortion in New York. After the screening, there will be "a discussion with the film's director, Sue Perlgut, and guests from prominent women's rights groups about what Connie's message means for us today."
At 6:30 p.m. Monday, New America, ProPublica, and Discovery will sponsor "a discussion on the commodification of water and what's at stake for a secure water supply, secure economy, and secure environment."
Tuesday
Tuesday marks three weeks until Election Day.
At 8 a.m. Tuesday, the Center for an Urban Future will hold a "policy symposium on the future of middle income jobs in New York City." This event will be held at Civic Hall and feature Maria Torres-Springer (President and CEO, New York City Economic Development Corporation), John Alschuler (Chairman, HR&A Advisors), Colvin Grannum (President, Bedford Stuyvesant Restoration Corp.), Andrew Kimball (CEO, Industry City), and Julie Samuels (Executive Director, Tech:NYC).
On Tuesday at 10:30 a.m. "Mayor de Blasio will deliver remarks at a groundbreaking ceremony for a new office building, One Vanderbilt Avenue, which will include $220 million in local transit upgrades." At 4 p.m., "the Mayor will hold public hearings for, and sign, seven pieces of legislation into law – Intros. 899-A, 1014-A, 1064-A, 1144-A, 1183-A, in relation to increasing reporting and transparency around programs and services for inmates; and Intros. 1277-A and 642-A, in relation to aligning the City of New York's energy code with recent amendments to the 2016 New York state energy code and ratio of biodiesel in heating oil, respectively."
At 1 p.m. Tuesday, the New York State Commission on Legislative, Judicial, and Executive Compensation will hold a public hearing and meeting at NYU Law School.
At 6 p.m. Tuesday, the Brennan Center for Justice will host a book talk with former New York City Public Advocate Mark Green. Green wrote Bright, Infinite Future: A Generational Memoir on the Progressive Rise, which discusses "how tidal trends from the '60s to '16 — both political and demographic — will affect the outcome of this election." The event is co-sponsored by the Brennan Center, Citizens Union, Common Cause New York, and New York Public Interest Research Group.
At 6 p.m. Tuesday, the Brennan Center for Justice will hold a book talk with MSNBC's Zachary Roth on the quieting of voices of people of color, students, and other disadvantaged groups through means such as gerrymandering and Supreme Court Decisions.
On Tuesday at 6:30 p.m., City & State NY will host its annual "40 Under 40" awards, given to "exceptional individuals working in NYC government, advocacy, media, and more" (list of honorees). New York City Council Member Dan Garodnick will give opening remarks.
Wednesday
At the City Council on Wednesday:
The Subcommittee on Zoning and Franchises will meet at 9:30 a.m.
The Committee on Fire and Criminal Justice Services will meet at 10 a.m.
The Subcommittee on Landmarks, Siting, and Maritime Uses will meet at 11 a.m.
The Committee on Education will meet at 1 p.m. for oversight on bullying, harassment, and discrimination in the public schools; there will be a particular focus on LGBT students and other vulnerable students.
The Committee on Environmental Protection will meet at 1 p.m. to discuss "a Local Law to amend the administrative code of the city of New York, in relation to the sale of nonwoven disposable products."
The Subcommittee on Planning, Dispositions, and Concessions will meet at 1 p.m.
At 8 a.m. Wednesday, Crain's New York Business will hold an entertainment summit which discusses a recent tax break and its potential impacts for the film and television industries. Former United States Senator Chris Dodd will deliver the opening keynote address. Julie Menin, Commissioner of the Mayor's Office of Media and Entertainment, will be among those participating in the panel discussion.
The NYC Planning Commission will hold a Public Meeting at 10 a.m. on Wednesday.
At 10 a.m. Wednesday, Cornell Tech will hold a press briefing to discuss the progress on the institution's new campus on Roosevelt Island. This event will be held at Cornell Tech at the Google Building. Founding Dean Dan Huttenlocher and several others will participate.
At noon Wednesday, the Manhattan Institute will host Barry Latzer, Professor Emeritus at the John Jay College of Criminal Justice and the CUNY Graduate Center, to talk about the rise and fall of violent crime in the United States, and how America can prevent a continuation in the 2015 rise in violent crimes.
At noon Wednesday, the New York City Bar will have a Public Affairs Luncheon on "Money, Politics, and Public Policy." Former New York State Assemblymember G. Oliver Koppell will discuss "the dominance of fundraising in politics and how that affects the political arena."
At 3 p.m. Wednesday, the Center for Community and Ethnic Media at CUNY Journalism School will hold a Q&A session with Steven Banks, the Commissioner of the NYC Department of Social Services. NY1's and CUNY J-School's Errol Louis will moderate.
On Wednesday at 3:30 p.m., "thousands of teachers will rally in Foley Square to call on Mayor Bill de Blasio to support growing the charter sector to 200,000 students by 2020," per Families for Excellent Schools.
At 4 p.m. Wednesday, the CUNY Urban Food Policy Institute will hold "Beyond the Kale: Urban Agriculture and Social Justice Activism in New York City."
On Wednesday at 6 p.m., NAACP President and CEO Cornell Brooks will speak at NYU. This event will be a "conversation on issues including voting rights, Black Lives Matter, youth and education, and how leaders can work across public and private sectors to solve society's problems."
A public meeting of the NYC Panel for Educational Policy will be held at 6 p.m. on Wednesday at the Michael J. Petrides School on Staten Island.
The third and final Presidential Debate between Hillary Clinton and Donald Trump is scheduled for 9 p.m. Wednesday. This debate will be hosted by the University of Nevada at Las Vegas, and it will be moderated by Chris Wallace of Fox News.
Thursday
At the City Council on Thursday:
The Committee on Cultural Affairs, Libraries and International Intergroup Relations will meet at 10 a.m. to discuss oversight of Percent for Art, and to discuss three amendments to the New York City Charter.
The Committee on Health will meet at 10 a.m. to discuss "a Local Law to amend the administrative code of the city of New York, in relation to prohibiting the display of wild or exotic animals for public entertainment or amusement."
The Committee on Recovery and Resiliency will meet at 10 a.m. to discuss oversight on the finances of the Build it Back Program.
The Committee on Land Use will meet at 11 a.m.
The Committee on Rules, Privileges, and Elections will meet at 1 p.m. to get advice and consent for the appointment of someone to the New York City Art Commission.
The Committee on Parks and Recreation will meet at 1 p.m. to discuss three proposed laws related to tree maintenance and tree removal.
The Committee on Economic Development will meet at 1 p.m. to discuss oversight on "the economic impact of the Hunts Point Cooperative Market." The committee will also discuss "a Local Law to amend the administrative code of the city of New York, in relation to requiring the department of small business services to report violations concerning public wholesale markets."
On Thursday at 8 a.m., former New York City Council Speaker Christine Quinn will speak at the Association for a Better New York. She will speak about some of the recent work she has done at Women in Need (WIN), where she is President and CEO.
At 8:30 a.m. Thursday, Lower Manhattan HQ will host a breakfast panel discussion on "Women's Rights in Policy and Politics." The event will be moderated by Jessica Lappin (Alliance for Downtown NY President), and the panelists are Congressional Rep. Carolyn Maloney, Lieutenant Governor Kathy Hochul, Brette McSweeney (Executive Director of Eleanor's Legacy), and Vivien Labaton (Co-founder of the Make it Work Campaign).
The NYC Campaign Finance Board will have a board meeting at 10 a.m. on Thursday.
On Thursday, the 71st Annual Alfred E. Smith Memorial Foundation Dinner will be held at the Waldorf-Astoria in Manhattan. Presidential Candidates Hillary Clinton and Donald Trump will both be at this dinner. The Mayor, Governor, and other current and former elected officials usually attend.
Friday and the Weekend
At the City Council on Friday:
The Committee on Public Safety will meet at 10 a.m. to examine the New York City Civilian Complaint Review Board.
The Committee on Immigration will meet at 10 a.m. for oversight of "coordinating multi-agency support for immigrant families."
Starting at 8 a.m. on Friday, City & State NY and NYU's Robert Wagner Graduate School of Public Service will co-host "Government Ethics: A New Study." The goal of this conference is to "explore how public officials, corporations, attorneys, lobbyists, nonprofits, and the public can work to create incentives, policies and programs that help with navigating through the ethical dilemmas and the conflicts of interest that cause problems in our interactions with state and city government." Manhattan District Attorney Cyrus R. Vance, Jr. and former New York Lieutenant Governor Richard Ravitch will be among the speakers at this conference.
"Councilman Eric Ulrich is organizing a public demonstration on the steps of City Hall to protest Mayor de Blasio's failed homeless policies. The protest will take place Friday, October 21, at 10:00 am. Community leaders and other elected officials are invited to attend."
At noon Friday, the Manhattan Institute will have Edward Coward, the Co-founder of Bain Capital, discuss "The Upside Of Inequality: How Good Intentions Undermine The Middle Class."
***
Have events or topics for us to include in an upcoming Week Ahead in New York Politics? E-mail Gotham Gazette executive editor Ben Max any time: This email address is being protected from spambots. You need JavaScript enabled to view it. (please use "For Week Ahead" as email subject).
***
by Brendan Birth and Ben Max
@GothamGazette