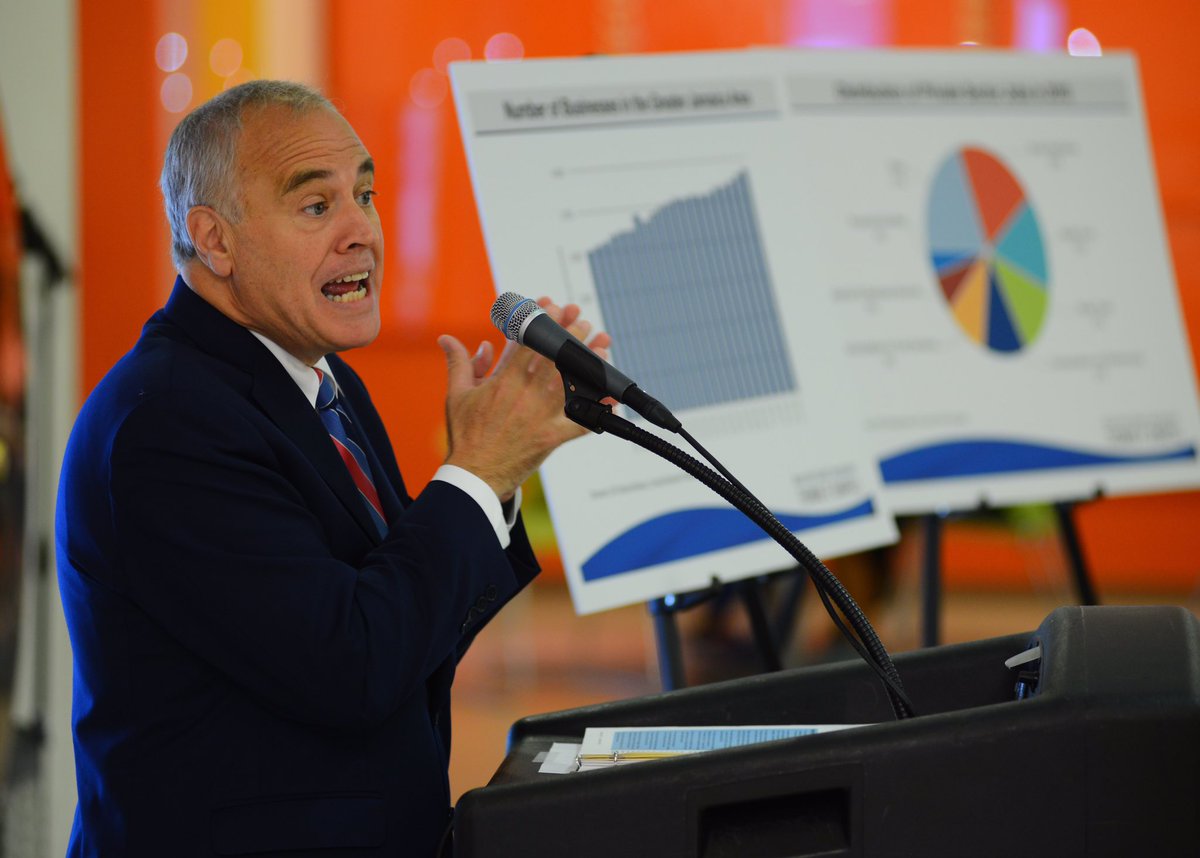 Comptroller DiNapoli (photo: @NYSComptroller)
---
Comptroller Tom Dinapoli is not interested in pointing fingers at any of his fellow elected officials when it comes to the massive scheme alleged to have corrupted major state economic development programs under the noses of Governor Andrew Cuomo and state legislators.
In the wake of corruption charges brought against nine individuals by U.S. Attorney Preet Bharara, DiNapoli was given multiple opportunities Friday during a radio interview, but he declined to criticize either Cuomo or the Legislature. Speaking with host Susan Arbetter on The Capitol Pressroom, DiNapoli instead called for greater oversight through his office of the large state contracts that had been awarded by SUNY Polytechnic and two affiliated nonprofits as part of Cuomo's Buffalo Billion program and other state efforts to boost the economies of central and western New York.
Calling the bribery and bid-rigging allegations "very troubling," DiNapoli said that the situation "seems to speak to a systemic failure, as to not having adequate checks and balances." But asked by Arbetter if Cuomo helped create the system that was so ripe for abuse, DiNapoli demurred. After pausing and searching for his words, DiNapoli said, "I don't know that it's productive to, you know, finger-point at the governor."
The comptroller repeatedly said that the system lacked oversight and accountability, but excused the mindset behind its creation, saying that communities needed help and that he understood the desire for efficiency in moving money to projects meant to stimulate local economies that had not recovered from the Great Recession. His office, he said, is designed to approve contracts and is incorrectly known for slowing down the process -- when his office does slow something down, DiNapoli said, it is for good reason.
In September, Bharara brought charges against former Cuomo aides, prominent developers who were generous Cuomo campaign donors, and the now former head of SUNY Poly, Alain Kaloyeros, on whom Cuomo heaped praise and responsibility over years.
When Arbetter pressed DiNapoli on Cuomo and the Legislature enabling SUNY Poly and the system that appears to have been abused by what the comptroller called "a web" of stakeholders, DiNapoli again struggled to find his answer, then said, "From my perspective there was not adequate oversight in the way the process was set up, both with SUNY Poly and with the use of Fuller Road or Fort Schuyler, these nonprofits that were set up." He pointed to the fact that the Comptroller's oversight of construction contracts was diminished in 2011 and called for it to be restored.
Later in the interview, Arbetter asked DiNapoli why the Legislature, which he was once part of as an Assembly member, had been so quiet about the questionable system at play. DiNapoli began answering by saying officials were trying to help downtrodden communities, that there was consensus "we need to do more."
"There is a hopeful expectation that it's all going to be handled in the right way," DiNapoli said of the mindset when a key priority is established by state government. Arbetter asked, "So lawmakers don't want to get in the way?" To which DiNapoli said, "Well, unless there's a reason to. In fairness, you did have the hearing that the economic development committee had in the Assembly and some fireworks came out of that."
DiNapoli was referring to a recent hearing that came well after media reports of the federal investigation into the Buffalo Billion and years after flags were raised by watchdogs about the system at hand.
After Arbetter pushed back further, DiNapoli conceded, "Well, I think clearly that there's more that could have been done, more questions asked...Clearly the lesson of this is that you can't just trust that it's all going to be handled in the right way."
"I think the Legislature does have to play a more effective role in oversight," DiNapoli said. DiNapoli's office did not provide further comment when asked on Sunday to clarify why the comptroller was hesitant to more directly hold anyone accountable.
When Cuomo and the Legislature stripped power from the Comptroller in 2011, they left the independent auditor's office on the sidelines as hundreds of millions of tax dollars flowed to developers and other corporations through SUNY Poly. It was this cash flow, the opaque contracting process, and the state's loose campaign finance laws that helped allow former Cuomo aides Joseph Percoco and Todd Howe to manipulate the system for their means, according to Bharara's allegations.
While DiNapoli has called for restoration of all contract vetting powers before, he, like legislative leaders, has largely been quiet as Cuomo and others have revved up economic development programming through a system some watchdogs have long warned can too easily be taken advantage of by nefarious actors.
A careful, serious elected official who is well-regarded by many across the state, DiNapoli, a Democrat like Cuomo, is not one to throw verbal bombs or pursue headlines. Not necessarily media shy, DiNapoli is, however, inclined to let his audit and contract oversight work do the talking.
Recently, DiNapoli was on the receiving end of Cuomo vitriol when the comptroller released audits of other Cuomo economic stimulus programs, calling into question their efficacy. In turn, Cuomo called audits "opinion" and said that DiNapoli needed to "educate himself," referring to him as "the Assemblymember" in an apparent effort to undermine him further.

DiNapoli responded in typical fashion -- by downplaying conflict and pointing to the content rather than escalating the back-and-forth. An astute headline from Politico New York read, "Cuomo thunders, and DiNapoli shrugs." It is unsurprising that DiNapoli took the path he did on Arbetter's show, pointing toward the future and needed changes, rather than laying direct blame with the governor or legislative leaders for past mistakes.
In May, DiNapoli did announce a series of proposed "reforms to state fiscal practices" that he led with a call for restrictions on "'backdoor spending' by public authorities" and requirements for "more comprehensive public authority disclosure." In a press release, DiNapoli's office said that "public authorities are not subject to the same checks and balances that apply to state agencies, resulting in hundreds of millions of dollars being spent annually with limited oversight."
The proposals also came after news reports of the federal investigation into Cuomo's economic development programming.
Earlier in May, DiNapoli had released his analysis of the recently-passed state budget for Fiscal Year 2017. His office wrote, "the budget expands on actions in recent years that have blurred both fiscal and operational distinctions among state agencies and public authorities."
Cuomo paid DiNapoli's May suggestions and analysis little public mind, but did announce plans for procurement reform in the wake of the September charges brought by Bharara. The day after the U.S. attorney outlined the criminal complaint, Cuomo said in Buffalo that the revitalization of the city would not miss a beat, but that he was immediately moving power from SUNY Poly to the Empire State Development Corp. Cuomo also said that he had received recommendations from a private investigator he had hired and that he was accepting all of them -- but he declined to make them public.
On Thursday budget and government watchdog groups called on state legislative leaders to "hold emergency oversight hearings on the allegations by the U.S. Attorney of the largest bid-rigging scandals in state history." A coalition including Reinvent Albany, Citizens Union, NYPIRG, Citizens Budget Commission, and others said that the public deserves more information about how "more than a billion dollars in state contracts were rigged and what reforms will be implemented to address this huge and systemic failure."
Asked by Arbetter about the call for such hearings, DiNapoli said no one should rush to do anything, that it is important for all the best minds to get together and figure out the path ahead. Noting that state legislators are focused on their impending elections next month, he said that if they want to hold hearings toward the end of the year, that would be "their prerogative."
The watchdog groups on Thursday also laid out "five clean contracting reforms" including that all state funds be awarded through "competitive and transparent contracting" and empowering "the comptroller to review and approve all state contracts over $250k." Additionally, they called on the state to enact "pay to play" laws as are found in 19 states and New York City that would limit what entities with state business can donate to political campaigns.
DiNapoli appears to be largely on the same page. The comptroller has not been aggressive about publicly pushing his reforms, though -- while he gave a speech in May to outline his proposals, he has not, for example, called a press conference to put more public pressure on lawmakers to act.
When asked by Arbetter what he could have done differently to protect against the type of corruption alleged by Bharara, DiNapoli said he could have been more aggressive, but focused more on his "limited authority."
"I would hope the Legislature would look at our role, restore what's been taken away...perhaps some areas where our role can be strengthened," he said. When Arbetter asked if he's going to be more aggressive, DiNapoli paused and said, "We will certainly be more vigilant."
Note: Gotham Gazette is an independent publication of Citizens Union Foundation, sister organization of Citizens Union.