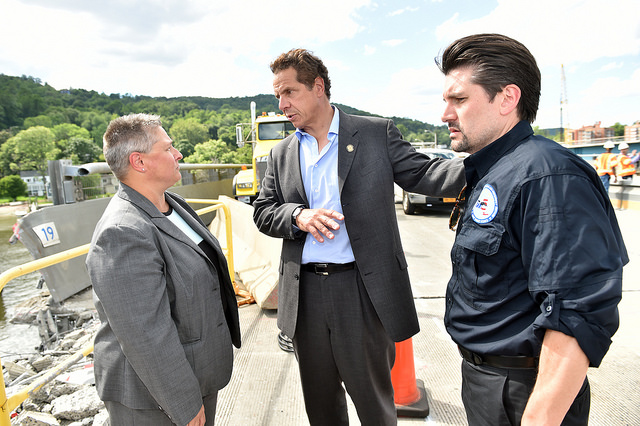 Jim Malatras, right, with Gov. Cuomo, center (Kevin P. Coughlin/Governor's Office)
---
Jim Malatras, director of state operations for the Cuomo administration, has walled himself off from healthcare issues as he prepares to leave his post early next year to join the Healthcare Association of New York State as its new chief operating officer. Precautions, including guidance from a state ethics panel, are being taken so that Malatras will avoid conflicts of interest as he continues working for Cuomo for the next several months before moving into a top role with one of the state's most powerful lobbying entities.
Politico New York first reported that Malatras will be resigning soon after the Governor's next State of the State address, in January. Known as a policy wonk, Malatras started his public career in 2001 working for Assembly Member Richard Brodsky. In 2007, he joined the office of Andrew Cuomo, then-Attorney General of New York State. He has been by Cuomo's side since, save for a one-year stint as vice chancellor for policy and chief of staff at the State University of New York from 2013 to 2014. For the last two years, he has held his current position as state operations director.
In August, Malatras was approached by the Healthcare Association for its top managerial position, as current COO Richard Cook is resigning, according to HANYS. The association is one of the state's largest trade groups and represents about 550 hospitals, nursing homes, and health care facilities. It is a $30-million operation, part for-profit and part nonprofit, which employs more than 200 people. The group also has a large lobbying presence in Albany. "The COO is the chief management role at the organization," said Darren Dopp, senior vice president of corporate communications at HANYS. "It's not a lobbying role, it's not a political role. It's a purely management position."
Considering the scope of healthcare issues in New York State and Malatras' position as essentially the overseer of all state agencies, the move provokes a number of questions about conflicts or the appearance of conflicts of interest. These are questions that the Cuomo administration says are being accounted for as Malatras continues to work for the governor.
"If you include federal aid, healthcare is the biggest part of the state budget," said Bill Hammond, director of health policy at the Empire Center for Public Policy. "Even without federal aid, it's the second biggest behind school aid." Hammond pointed out that healthcare has "receded as a political fight" in Albany in the last few years after having been one of the major sticking points that led to budget delays in the past.
Still, there are key healthcare and hospitals-related issues facing the state. Medicaid funding levels for the city through the state budget became a sticking point this past budget season. Hammond pointed out that the Healthcare Reform Act is due to expire on December 31, 2017 and he expects that the governor will address it either in his State of the State or the next budget. Surcharges under the act bring in millions of dollars for the state and large amounts of that funding are funneled to hospitals. The act will likely be extended, as it has been in the past.
Another issue is permanent guarantee funds, which insulate healthcare providers if insurance companies go bankrupt. These funds were the subject of much debate this year following the closure of Health Republic Insurance of New York State. Hammond also said a perennial issue in Albany is whether the legislature should establish nurse staffing ratios. A "sleeper issue," he said, for the state could be New York City Health + Hospitals, the city's municipal health care system which is currently being overhauled to compensate for massive deficits. "At some point, there might be a push for the state Legislature to do something," Hammond said.
Malatras has put measures in place to avoid any possible conflicts. Before even receiving an official offer from HANYS, he filed two written notifications recusing himself from all healthcare matters on August 11 and August 18. He then sought guidance from the Joint Commission on Public Ethics on the prospective job. In an informal advisory on August 26 and a supplemental informal opinion on September 12, copies of which were provided to Gotham Gazette by the Cuomo administration, JCOPE approved of the precautions that Malatras has taken and informed him of the restrictions he will face with his new employer.
"Jim has been an invaluable member of this administration and spearheaded many of the Governor's key initiatives – such as the tax cap, Clean Energy Standard and college loan forgiveness – which have improved the lives of New Yorkers and will ensure a better a brighter future for this state," said Abbey Fashouer, deputy press secretary for the governor, in a statement to Gotham Gazette.
"Per state ethics laws, Jim informed Counsel's Office upon being approached for his new position as well as sought, received, and followed guidance from JCOPE regarding his ongoing duties to avoid conflicts in post-state employment," Fashouer continued. "He intends to abide by those ongoing ethical obligations to avoid even the appearance of a conflict both as he concludes his work with the Executive Chamber and in the private sector."
Blair Horner, executive director of the New York Public Interest Research Group, praised Malatras' foresight. "That's why JCOPE exists," he said, "and it sounds like the correct steps for the administration to have taken."
As per the Public Officers Law, Malatras will face a two-year bar against appearing before a state agency or receiving any compensation for services related to cases before his former agency. Since he was employed by the executive branch, the two-year bar applies more broadly to all state agencies. He also faces a lifetime ban against providing services that would involve any matter that he directly oversaw or was personally involved in while in state government.
Hammond, describing Malatras as "a sharp guy" and "very capable and intelligent," also said he was glad that Malatras has tried to preempt any conflicts in his work going forward. "Taking those precautions in and of itself doesn't necessarily solve the problem," he said, "but it's a sign of good faith that he's acknowledged the issue and taken steps to address it."
The governor's office did not make Malatras available for an interview for this article.
Dick Dadey, executive director of Citizens Union, a government watchdog organization, said Malatras will no doubt be constrained by the state's laws. "However, having a top administration official within a large organization like [HANYS] does provide the association with the unique perspective on the governor's thinking and the decisions that will be made over the next couple of years," Dadey said.
Dadey lauded Malatras as a principled public servant but warned of the tough scrutiny he will face in his transition into the private sector. "[Malatras'] last couple of months in government will be examined closely," he said, "to ensure that he acts with his usual integrity in handling of matters that affect the healthcare industry. He's a good guy with a strong compass and I'm sure that will guide him in how he exits state government service successfully and with integrity."
Note: Gotham Gazette is an independent publication of Citizens Union Foundation, sister organization of Citizens Union.