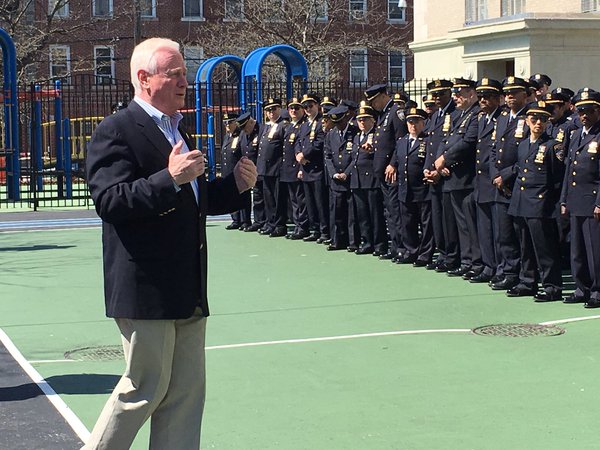 Sen. Marty Golden (photo: @NYPDAuxilary)
---
With a great deal on the line for New York City, Democrats are trying to flip the State Senate and a handful of races across the state will make the difference. One Brooklyn district has a significant Democratic voter registration advantage and an incumbent Republican, yet no one is challenging Senator Martin Golden. In 2012, a Democratic challenger won 42% of the vote against Golden.
In the overwhelmingly Blue state of New York, and an even Bluer New York City, a Democratic challenge to an incumbent Republican in a presidential election year would seem to be a no-brainer. But in the 22nd State Senate district in Southern Brooklyn, Democrats have failed to put forward a candidate to run against Golden, a long-serving senator, the only Republican senator from the borough, and one of only two in the entire city.
Golden, a former NYPD officer and New York City Council member, has represented the district for nearly 14 years. He has a strong base of support and has defeated recent challengers despite a heavy enrollment advantage for Democrats in the district. As of April, the district has 27,599 active registered Republican voters, 66,990 Democrats, and 31,756 unaffiliated voters across Bay Ridge, Fort Hamilton, Dyker Heights, parts of Bensonhurst, Gravesend, Sheepshead Bay, Manhattan Beach and Marine Park.
Although Golden faced challenges in the last two cycles, 2014 and 2012, he wasn't too surprised that he has no Democratic opponent this year. "I'm sure they wanted to spend their money wisely," he said of the Democratic Party, "to try to take over the Senate and look for better opportunities across the state."
That confidence seems to stem from an ability to work well with all his colleagues, including those across the aisle. "It's not about Republican or Democrat, it's about what we can do," he said. "I work across party lines to deliver resources to our county and our city and that's one of the reasons I'm running unchallenged."
A self-proclaimed "economic development nut," his main focus once he is reelected will be creating jobs for his district while reducing the tax burden on constituents, he said. His other priorities include education, transportation, public safety and seniors.
For the Democrats, the odds of posing a strong challenge to Golden were better this time around than they have been in years. At the state level, the party has seen renewed hope of taking back the Senate from Republicans, who do not have outright numerical dominance of the chamber but retain control by partnering with the Independent Democratic Conference, a breakaway faction of Democrats. One other Democrat, Simcha Felder from Brooklyn, also caucuses with the Republicans. With the presidential election this year, more Democrats are expected to turn out on Election Day, and Democratic presidential nominee Hillary Clinton's strong approval ratings in the state have buoyed other New York Democrats, who hope to leverage that enthusiasm into down ballot races.
Golden, an avowed supporter of Republican presidential nominee Donald Trump, brushed aside any concern that the Democrats could indeed succeed. "The Senate Democrats are definitely not taking over the majority," he said. "Between the Independent Democratic Conference and elected Republicans, we'll have a good number and a majority to carry forward our agenda."
Local Democrats disagree and believe that the party should have offered up a challenge to the incumbent. "I definitely think it's a missed opportunity," said Jamie Kemmerer, a member of the Bay Ridge Democrats political club who unsuccessfully ran against Golden in 2014. "You could reasonably expect Republican turnout to go down based on the last couple of weeks of the cycle," Kemmerer added, in apparent reference to Republican nominee Donald Trump's fall in the polls.
When Kemmerer initially ran two years ago, he expected he would run again this year, having built some name and face recognition. But, after his wife gave birth to their second son shortly after the 2014 election, he decided it would be "too much to put the family through." Personal reasons aside, he also admitted that running against Golden is an uphill battle given the way the district lines are drawn. "The reality is it's a very gerrymandered district," he said. "It will be very difficult for anyone to win until the lines are redrawn."
A South Brooklyn political operative, who spoke on the condition of anonymity, presented the same reasoning. "For the past several election cycles Golden has won re-election thanks to a wretchedly gerrymandered district," the operative said, insisting that Golden's numbers have actually been dwindling in southern parts of the district but he has won because of support in Marine Park, Gerritsen Beach and Midwood. "So while his power is becoming more and more of an eroding mirage, the fear of real estate developers coming in and dropping a few million to bury any challenger has made some candidates think twice. But electorally, Marty is definitely vulnerable, no doubt about it. His days are numbered and I think he knows it. South Brooklyn is a markedly different place than it was in 1998 when Marty was first elected to the Council."
Past election results do, however, indicate that the district will continue to vote Republican. "Regardless of what enrollment numbers show, the vote pattern shows that voters in the area have supported Republicans," said Steven Romalewski, director of CUNY Graduate Center's mapping service, which tracks and charts voting patterns (see district map below). "I wouldn't be surprised that the redistricting effort had something to do with it."
In the April presidential primary, the district largely favored Trump over other Republican contenders, and mostly voted for Senator Bernie Sanders over Clinton. Both were closed party primaries, though, which excluded the district's sizable unaffiliated pool of voters.
A key element of Democratic reticence seems to be the lack of support from the Democratic political machinery. There hasn't been a concerted effort by Kings County Democrats to challenge Golden and even in years past, local contenders have received little in the way of institutional support. This year would likely have been no different, particularly since Mayor Bill de Blasio, who attempted to sway Senate elections for Democrats in 2014, has taken a step back from state legislative races following controversy over his previous involvement. But even in 2014, de Blasio and others gave almost no help to Kemmerer in his bid to unseat Golden.
With a Democratic Governor and a large Democratic majority in the state Assembly, Democrats would have full control of state government if they were to win the Senate. Whichever mainline conference has more seats is still expected to have to make a coalition deal with the Independent Democratic Conference between November's elections and the start of the new legislative session in January.
The last competitive challenge Golden faced was in 2012 when Andrew Gounardes, another member of the Bay Ridge Democrats, did better than Kemmerer would subsequently do. But Gounardes, who now works in the Brooklyn Borough President's office, was outspent and outmatched. Gounardes received 42.3 percent of votes in 2012 against 57.7 percent for Golden; in 2014, Kemmerer garnered 29.3 percent while Golden won with 64.9 percent.
"For many years, the worst kept secret was the sweetheart deal made to protect Marty Golden from any serious Democratic challengers," said the political operative from Brooklyn. "This deal was strictly enforced by [former Brooklyn Democratic party chair] Vito Lopez. Andrew Gounardes in 2012 was the first year the Democrats were given the green light to run a real candidate against Marty. The fact that Gounardes defeated Marty in Bay Ridge and gave him the race of his life shows why that sweetheart deal was so important to keeping Marty in power for so long. It is much different now and County is not protecting Marty anymore but they aren't exactly drafting or recruiting challengers either."
Another political operative who spoke on the condition of anonymity echoed that view. "It'd be great if we had a Democratic Party committed to electing Democrats, if we had local officials who supported those efforts," the second operative said. "It's a really winnable seat if you look at the numbers and enrollment, it's winnable if you have the right support and resources."