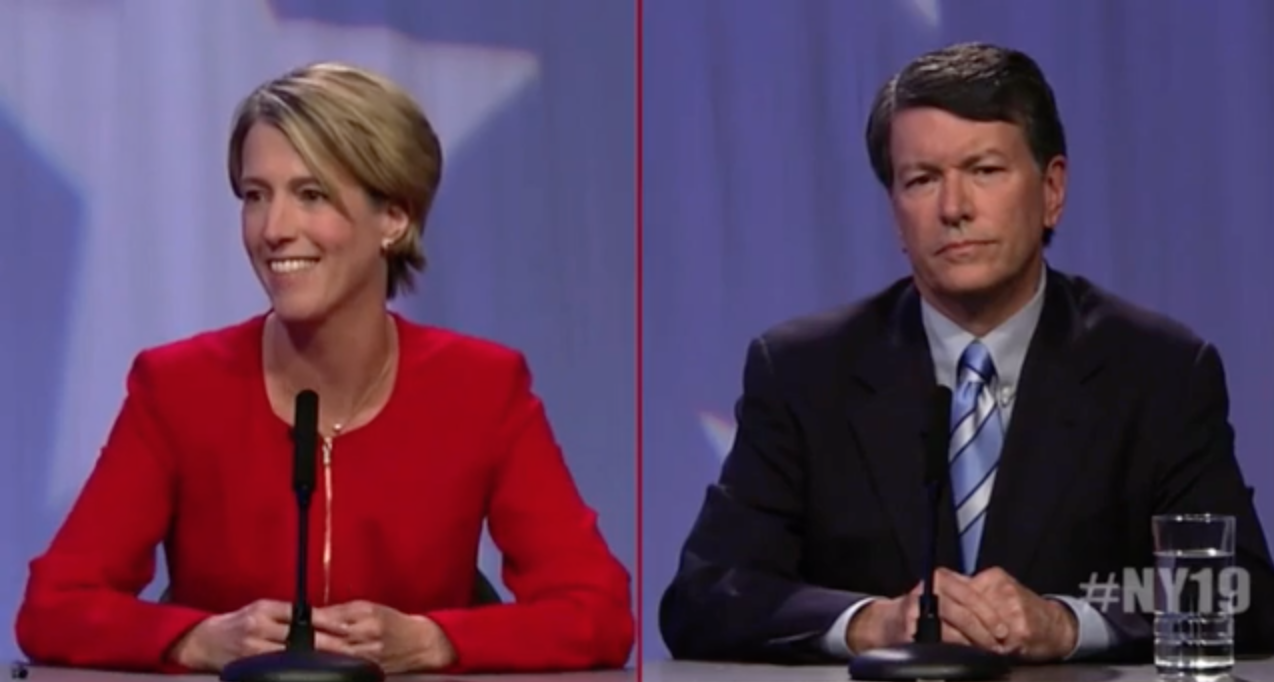 Zephyr Teachout (D), left, & John Faso (R), debate in NY19
---
As Election Day draws near, presidential candidates Donald Trump and Hillary Clinton have debated three times and are in the home stretch of the campaign -- as are Libertarian candidate Gary Johnson and Green Party candidate Jill Stein. This election has shaped up to be like none other. When another round of revelations about Trump's past recently emerged, in the forms of a tape of Trump bragging about unwanted sexual touching and new sexual assault allegations against him, which he has denied, Republican House Speaker Paul Ryan said he was re-focusing efforts toward winning Congressional elections, and away from the presidential race.
As Ryan and many others have indicated, there is in fact a great deal more on the line November 8 than the Presidency -- Republicans currently hold majorities in both houses of Congress, and many state houses. Democrats are hoping that not only does Hillary Clinton's lead in the polls translate to victory for her, but that they are able to pick up enough seats to at least swing the U.S. Senate, if not the House of Representatives, too. Even President Barack Obama, enjoying high popularity as an outgoing president, is escalating his efforts to flip or hold swing districts by taping television ads and robocalls for several Democratic candidates and endorsing 30 more House candidates this week. Republicans are trying to hold on to their majorities in similar fashion.
There are currently 46 Democrats in the Senate -- including two independents who caucus with Democrats -- and 54 Republicans. Thirty-four of the 100 Senate seats on the ballot this year across the country (Senators serve staggered six-year terms). There are six Senate contests considered toss-ups where Democrats are likely to gain seats, while Republicans will likely win one currently Democratic seat, according to entities like Cook Political Report and Rothenberg Political Report, among others.
All of the House of Representatives' 435 seats are up for election, as they are every two years. Democrats currently hold 188 seats to Republicans' 247. There are dozens of swing districts, including several in New York, and Democrats are poised to pick up a number of seats, though few think it will be enough to take the majority.
In New York, there are several swing House districts that will factor into the final equation. Also in New York, Republican leadership of the state Senate is at stake, and there are a handful of swing districts where the votes will determine whether Republicans or mainline Democrats have the upper hand in negotiating a coalition government with the Senate's Independent Democratic Caucus.
While the entire New York State Legislature -- all 63 Senate and 150 Assembly seats -- and every House seat is up for election, one of the state's two U.S. Senate seats is also on the ballot: Senator Charles Schumer, a Democrat, is seeking reelection, facing Republican Wendy Long. The state Senate is New York Republicans' only stronghold in statewide government, as all six statewide elected positions (Governor, Lieutenant Governor, Comptroller, Attorney General, and two U.S. Senators) are all held by Democrats. The state Assembly is overwhelmingly Democratic.
GOP candidates, including New Yorkers running for the House and state Senate, are largely on the defensive this cycle as many struggle to stay out of the shadow of Trump, whose candidacy has been marred by scandals, a lack of message discipline, and infighting with Republican establishment leaders. Many Republicans are conflicted over how they should associate themselves with Trump: whether to condemn some of his remarks and behavior and revoke any endorsement, but risk losing support from their voting base, or to support party nominee for President and risk losing some moderate Republicans, swing voters, and independents.
The U.S. House has been under Republican majority 18 of the last 22 years, and in order to flip it, Democrats need to win 30 additional seats while holding on to the ones they currently control. The New York state Senate has a somewhat similar story: Republicans have controlled the chamber for most of several decades. It is not completely clear how many added seats mainline Democrats need to win because of the six-member IDC and Sen. Simcha Felder, a Democrat who caucuses with Republicans. The margin is only one or two seats at this time.
As Gotham Gazette recently reported, mainline Democrats and the IDC have improved their relationship and may soon be discussing a partnership -- much will depend on the power offered to IDC leader Jeff Klein.
As they attempt to swing seats, Democrats have their eyes particularly trained on Long Island, where Gov. Andrew Cuomo, a Democrat, campaigned for Senate candidates this week; the Capital Region, and the Hudson Valley. In several cases, sitting Republicans are vacating their seats or Republican incumbents are uniquely vulnerable. When it comes to House races in New York, it is a similar story: regions closest to Democrat-heavy New York City are home to swing districts, while many Upstate communities are Republican strongholds.
Within New York City, there were quite a few competitive party primaries as Democrats faced off, but the general election features largely non-contests -- in many instances, there is no or only a token Republican on the ballot. The same goes for congressional seats representing New York City.
But, there are major New York City interests at stake in races outside the city: both for the state Senate and the U.S. House, not to mention the Presidency. New York City effort and money is flowing into races across the state, while some New Yorkers also make calls and knock on doors in swing states for their favorite presidential candidate.
Below, a list of key swing races for the House and the state Senate in New York, with additional resources for more information:
Congressional District 19 - Zephyr Teachout (D), John Faso (R)
The race for the mid-Hudson Valley's 19th congressional district is arguably the most high-profile congressional race in New York this election cycle. In a race to replace retiring Rep. Chris Gibson, a Republican, the contest is between former gubernatorial candidate, campaign finance reform advocate, and Fordham Law professor Zephyr Teachout, a Democrat, and former minority leader of the state Assembly and also a former candidate for governor, John Faso, a Republican.
Teachout, who challenged Gov. Andrew Cuomo in the 2014 Democratic gubernatorial primary, is among other progressive congressional candidates endorsed by Senator Bernie Sanders. She has recently gained the support of President Obama as well. Faso boasts the support of Rep. Gibson, a major endorsement due to Gibson's popularity.
Outside money has been flowing into this race, like others, with much of it attacking Teachout. Faso has sought to portray her as a carpetbagger with ultra-liberal New York City values while Teachout attaches Faso to trickle-down economics and a broken campaign finance system. A final televised debate on Monday night displayed sharp disagreements over trade agreements (though they both reject the Trans-Pacific Partnership), large financial institutions, property taxes, water contamination, Hudson River anchorages, and rebuilding infrastructure covering local, state, and national issues.
The race is neck-and-neck, according to a Siena poll released September 27, which showed Faso at 43 percent to Teachout's 42 percent, with a margin of error of +/- 3.8%, and many voters still undecided.
For more on the race in Congressional District 19:
John Faso and Zephyr Teachout air differences in congressional race - The Troy Record
Candidates debate on Time Warner Cable - Monday October 24, TWC
Upstate, a 'Classic Boxers' Match' That Is Virtually Tied - The New York Times
National House profile rises as Faso, Teachout vie - Albany Times Union
Spending in Faso-Teachout House race tops $8.5 million - Poughkeepsie Journal
Congressional District 24 - John Katko (R), Colleen Deacon (D)
Colleen Deacon, a Democrat and former regional director for Senator Kirsten Gillibrand, is challenging incumbent Rep. John Katko, a first-term Republican, in New York's 24th congressional district representing all of Cayuga, Onondaga, and Wayne counties, and the western part of Oswego County. While Katko had a seemingly insurmountable lead of 19 points heading into the last few weeks of the election, the district, which includes Syracuse, is relatively Democratic, and opposition to Trump could push Deacon to a come-from-behind victory, according to The New York Times.
Katko positions himself as a "strong and independent leader" championing national security, job growth, and an end to Common Core in public schools, according to his campaign website. Deacon appeals to voters as someone who "understands the struggles of Central New Yorkers," advocating for ending the gender wage gap, pushing for comprehensive family leave, and addressing the opioid crisis, according to her site.
Deacon is among other House candidates whose received an endorsement from President Obama this week. Emily's List and other progressive political action groups are emailing their supporters to solicit donations for Deacon's campaign as well. According to Politico, the Democratic Party is also taking advantage of a legal loophole to direct millions of extra dollars to congressional candidates, including Deacon, bypassing usual limits on coordinated spending between parties and candidates.
For more on the race in Congressional District 24:
Live Q&A today with Rep. John Katko on race for Congress - Syracuse.com
Dems use loophole to pump millions into fight for the House - Politico
Poll: John Katko opens 19-point lead over Colleen Deacon in race for Congress - Syracuse.com
Katko Leads Deacon 53-34% Five Weeks Out - Siena College Poll
Congressional District 3 - Jack Martins (R), Tom Suozzi (D)
Republican State Senator Jack Martins has been a rising star in the state Legislature. He's been expected to move up in GOP leadership, though he has gone against the wishes of his party by running to replace retiring Rep. Steve Israel, a Democrat, in District 3 on Long Island. The move by Martins creates a void in the state Senate, where Republicans are desperately trying to maintain their majority. New York's 3rd Congressional District is also seen as a swing district, as with most of Long Island.
Roll Call reports that the National Republican Congressional Committee has revoked funding for Martins' campaign amid public polling numbers showing the Republican candidate losing big: Siena College has Martins' down by 16 points in a poll released on October 8. Democratic nominee Tom Suozzi, a former Nassau County executive, appears headed toward victory -- and he has just received an endorsement from President Barack Obama -- but anything can happen.
The candidates have agreed on the need to combat political gridlock in Washington through bipartisanship, with both candidates touting their records for doing so. While the candidates have also agreed on a need for more gun control and support for the state of Israel, they've differed over healthcare and immigration reform.
For more on the race in Congressional District 3:
Suozzi battles Martin in final stretch for Israel's seat - Times Ledger
GOP Poll Shows Tight Race in New York District NRCC Has Abandoned - Roll Call
NY Senate GOP wants Martins to bypass congressional run - New York Daily News
Tom Suozzi leads Jack Martins by 16: Newsday poll - The Island Now
Trump Could Tip Key Races for State Senate Control - Gotham Gazette
Senate Republicans Face Departures with Battle for Control Looming - Gotham Gazette
Congressional District 1 - Lee Zeldin (R), Anna Throne-Holst (D)
Long Island Rep. Lee Zeldin, a Republican, is facing Democratic challenger Anna Throne-Holst in the race for New York's 1st Congressional District seat. Zeldin, who is in his first two-year term, holds a sizeable lead, 53 to 38 percent, according to a Newsday/Siena College poll released October 8.
Environmental concerns over protecting the vulnerable East End of Long Island from rising sea levels and storms like Hurricane Sandy have become topics of debate for the two candidates. Throne-Holst wants to make gun control an issue as well, having hosted a separate forum specifically focusing on the topic and releasing a related television ad. The candidates have also differentiated themselves over the Affordable Care Act and creating a path to citizenship for immigrants. The two candidates held a heated forum answering questions about environmental protection, gun violence, and Donald Trump, whom Zeldin supports.
Emily's List and other progressive political action groups are emailing their supporters to solicit donations for Throne-Holst's campaign, having identified the district as a place where Democrats can flip a seat. Though Throne-Holst is not included in the list of House candidates whom President Obama has endorsed.
For more on the race in Congressional District 1:
Zeldin leads Throne-Holst in 1st District, Newsday poll shows - Newsday
Congressional Candidates Show Their Environmental Stripes - East End Beacon
Congressional candidate hosts forum on gun violence - News 12 Long Island
Not Hillary and Donald, It's Anna and Lee - East Hampton Star
Congressional District 21 - Elise Stefanik (R), Mike Derrick (D), Matt Funiciello (G)
A partisan poll conducted earlier this month on behalf of the National Republican Congressional Committee shows first-term Rep. Elise Stefanik leading her Democratic challenger Mike Derrick 54 to 29 percent in the race for New York's 21st Congressional District. Still, the top House Republican Super PAC and other conservative groups have continued to invest hundreds of thousands of dollars into Stefanik's campaign, according to Politico, suggesting concern about the race and the need to keep the seat Red.
Stefanik, Derrick, and Green Party candidate Matt Funiciello shared a debate stage in early October. Key issues in the district include improving the economy and services for veterans, along with how to protect the district and the nation from the threats of terrorism. The candidates have also contrasted over trade, specifically Stefanik's support of the Trade Promotion Authority bill, which gives the president "fast-track" authority to negotiate trade deals like the Trans-Pacific Partnership, and which Stefanik supported with her vote in Congress.
For more on the race in Congressional District 21:
New York's Elise Stefanik Holds Wide Lead in GOP Poll - Roll Call
NY-21: TWC News North Country Debate Showdown - NY-21 TWC News
Republicans rush to build firewall to save the House - Politico
GOP territory may lift Stefanik - Albany Times Union
Congressional District 22 - Kim Myers (D), Claudia Tenney (R), Martin Babinec (Reform)
Republican Rep. Richard Hanna is retiring in central New York's 22nd Congressional District, opening the seat for three candidates to compete: Republican State Assemblymember Claudia Tenney, Democrat and minority leader of the Broome County Legislature Kim Myers, and a wealthy business entrepreneur, Martin Babinec, who won the Reform Party primary as a write-in candidate and has successfully petitioned to run as the Upstate Jobs Party candidate.
The race for District 22 has been deemed one of the most competitive congressional elections in the nation by Cook Political Report.
Progressive groups are buoying Myers' campaign, having identified the district as a place where Democrats can flip a seat. According to a Time Warner Cable/Siena College poll released September 29, Tenney sits on a modest lead in the three-way race, with 35 percent to Myers' 30 percent. Tenney is fighting a significant fundraising deficit, having raised $606,902 through September 30, compared with $1.4 million raised by Myers, and Babinec has put in $2.2 million of his own wealth. Still, the Upstate seat is in Republican hands and voters may keep it that way.
For more on the race in Congressional District 22:
22nd Congressional Debate in Hamilton - Oneida Daily Dispatch
Poll: Claudia Tenney leads in 3-way congressional race - Democrat & Chronicle
Money flows into 3-way race for Congress - Pressconnects
Oneida County Leaders Endorse Kim Myers - Madison County Courier
State's top leaders endorse Kim Myers for Congress - Madison County Courier
STATE SENATE RACES TO WATCH
State Senate District 7 - Elaine Phillips (R), Adam Haber (D)
Republican State Senator Jack Martins decided to run for a seat in Congress despite the advice of fellow Senate Republicans, who asked Martins to stay in the state Legislature to protect their narrow majority. Now, Republican Elaine Phillips and Democrat Adam Haber are in a tight race for the open Long Island seat. Democrats outnumber Republicans in the district and Haber has out-raised Phillips, though Republicans hope Martins' popularity will help carry the election in their favor -- he previously defeated Haber in the 2014 election by roughly 13 percent of the vote.
Wall Street and the financial crisis has become a hot item of debate, with both candidates attempting to connect the other to major financial institutions in a negative light. Anti-semitism has also come up, with Haber depicted in Fiddler on the Roof garb in an attack ad from an outside group. For his part, Haber released an ad in late September campaigning for environmental protection, improving local education, and bringing down property taxes.
Gov. Andrew Cuomo endorsed Haber and campaigned for him on Long Island on Monday. Phillips, meanwhile, has received several important endorsements including from nonpartisan environmental group League of Conservation Voters. As is the case with other Republican candidates on Long Island, which is naturally vulnerable to sea level rise, storms, and flooding, Phillips departs from party lines about the environment since a far majority of voters on Long Island believe in climate change and its threats.
For more on the race in State Senate District 7:
Trump Could Tip Key Races for State Senate Control - Gotham Gazette
Candidates challenge each other's ties to Wall Street, financial crisis - New York Daily News
Phillips says race could determine control of Senate, influence of suburbs - The Island Now
Candidates clashed on their respective records in service at forum - The Island Now
Haber Decries Ad Depicting Him As Fiddler On The Roof - Talking Points Memo
Adam Haber releases new ad; Elaine Phillips touts endorsements - Newsday
Senate Republicans Face Departures with Battle for Control Looming - Gotham Gazette
State Senate District 49 – Jim Tedisco (R), Chad Putman (D)
Republican State Senator Hugh Farley decided to retire from the state Senate after serving voters in Schenectady and Saratoga counties since 1977 -- nearly 40 years. Farley tapped veteran GOP Assemblymember Jim Tedisco to replace him, while Democratic nominee Chad Putman declared his candidacy prior to the news of Farley stepping down. Putman has his work cut out for him: he's never held public office, Republicans outnumber Democrats in the district, and Tedisco has major advantages of name recognition as an outspoken Assembly member and the support of a well-liked incumbent. Both candidates have focused on fighting corruption in Albany and been critical of Common Core education standards.
For more on the race in State Senate District 49:
Capital Region Republicans reject Trump comments, but not candidacy - The Daily Gazette
GOP, Democrats eye key races for control of New York Senate - The Saratogian
SD49 candidates weigh in on the Albany corruption case - The Daily Gazette
SD49 candidates criticise common core standards - The Daily Gazette
Trump Could Tip Key Races for State Senate Control - Gotham Gazette
Senate Republicans Face Departures with Battle for Control Looming - Gotham Gazette
State Senate District 39 – Bill Larkin (R), Chris Eachus (D)
Democrat Chris Eachus overcame a spending deficit to come within three percentage points of defeating incumbent Republican State Senator Bill Larkin in 2012, though much has changed since then. Larkin has been under attack for taking two state pensions; writing a letter of support for former Senate Majority Leader Dean Skelos during his trial (Skelos was convicted on corruption changes); and controversy over a criminal investigation into the treasurer of his campaign committee. With Democratic voter enrollment in Orange County on the rise, Democrats are hoping this is the year to unseat Larkin, who has served 13 terms, but it won't be easy.
Larkin appears to be in hiding -- he has skipped three joint appearances in just the last two weeks, according to the Times-Herald Record, including two debates and a candidates' forum held by a local law enforcement group. Eachus hasn't been able to readily differentiate his own ethics standards, as the New York Daily News reports that the Democratic candidate failed to disclose $200,000 of outside income last year.
For more on the race in State Senate District 39:
Orange Co. Legislator Eachus again seeks to unseat state Sen. Larkin - Times Herald-Record
State Senate candidate calls for government reforms - Times Herald-Record
Trump Could Tip Key Races for State Senate Control - Gotham Gazette
Senate Republicans Face Departures with Battle for Control Looming - Gotham Gazette
State Senate District 9 - Todd Kaminsky (D), Chris McGrath (R)
Democratic State Senator Todd Kaminsky won his seat in the state Senate in a special election to replace Skelos in April, securing the only Democratically-held seat on Long Island. Now Kaminsky must again face Republican candidate Chris McGrath. Democrats are hoping the higher turnout for a presidential election cycle and Kaminsky's popularity as a former federal prosecutor and Assembly member will be enough to again carry the election. Gov. Cuomo also campaigned with Kaminsky on Monday, praising his work to root out corruption.
For more on the race in State Senate District 9:
Cuomo endorses Kaminsky, Haber in state Senate runs - Newsday
Sen. Todd Kaminsky to run first TV ad in re-election campaign - Newsday
Trump Could Tip Key Races for State Senate Control - Gotham Gazette
State Senate District 46 – George Amedore (R), Sara Niccoli (D)
Incumbent Republican State Senator George Amedore lost his seat in the state senate in 2012 by a margin of only 18 votes to Democrat Cecilia Tkaczyk. Amedore won the seat back in 2014 by a wider margin. Now, he faces another tough re-election bid against Democratic nominee Sara Niccoli, a local government official, political activist, and sheep farmer with significant name recognition around the Capital Region, for a challenger.
At a debate this week, the two candidates agreed on the need for ethics reform in state government, but differed in how to address the issue. While Amedore called for term limits and a forfeiture of public pensions for officials convicted in corruption cases, Niccoli said campaign contributions are the root of the issue, calling out her competitor's ties to real estate developers, according to the Daily Freeman.
For more on the race in State Senate District 46:
Sen. George Amedore, R-Rotterdam, faces a challenge from Sara Niccoli - The Saratogian
SD46 included in another rundown of races to watch - City & State New York
Trump Could Tip Key Races for State Senate Control - Gotham Gazette
State Senate District 43 – Kathy Marchione (R), Shaun Francis (D)
Incumbent Republican State Senator and proud National Rifle Association member Kathy Marchione faces a general election contest from retired professional baseball umpire and labor organizer Shaun Francis. Francis has won support from notable Democrats like U.S. Senator Chuck Schumer, who is also up for re-election, and fellow Democratic candidate for Congress Zephyr Teachout who is sharing office space with Francis in Hudson. Marchione is an embattled incumbent who has taken a lot of heat over her handling of the water quality crisis in Hoosick Falls, but she does hold the significant advantage of name recognition.
For more on the race in State Senate District 43:
Trump Could Tip Key Races for State Senate Control - Gotham Gazette
GOP, Democrats eye key races for control of New York Senate - The Saratogian
State Senate hopeful Francis earns Schumer endorsement - The Troy Record
Teachout, Francis open new Hudson campaign office - The Register-Star
Francis presses Marchione on Trump at candidate forum - Albany Times Union
State Senate District 37 – George Latimer (D), Julie Killian (R)
Incumbent Democratic State Senator George Latimer fended off a Republican challenger in 2014, winning that general election by 5 percent of the vote. Now he is facing Republican challenger Julie Killian in the contest for the lower Hudson Valley's 37th District which encompases parts of Sound Shore, Eastchester, Yonkers and Bedford. Independents and minor party voters could play a role in deciding the contest, as they make up a significant number of voters in the district. Democrats have an enrollment advantage over Republicans in the district and Latimer's campaign has substantially outraised Killian, though Killian is actually outspending Latimer.
Despite the Democratic advantage, the race has been characterized by accusations, such as a television ad for Killian that blames Latimer for ignoring women who've been sexually abused in Albany. The two candidates have made multiple appearances to debate one another, most recently on October 21, at which the candidates differentiated themselves over items like the state's tax cap, which limits the amount local property taxes can be raised each year.
For more on the race in State Senate District 37:
37th NYS Senate district seat hotly contested race in Westchester - News 12 Westchester
Latimer, Killian face off in heated Senate race - The Journal News
Cuomo fundraises for Senate Dems, including Sen. George Latimer - PressConnects (Gannett)
SD37 included in a races to watch article - City & State New York
State Senate District 40 – Terrence Murphy (R), Ali Boak (D)
First-term State Senator Terrence Murphy, a Republican, faces Democratic nominee Ali Boak in the Hudson Valley's District 40. Democrats benefit from a slight enrollment advantage in the district, though that hasn't stopped Republicans from winning the seat in the last two election cycles. Republicans are spending big campaign dollars to keep Murphy securely in his seat. The Lower Hudson Valley Journal News identified five key issues where the candidates differentiate themselves: ethics reform, term limits for state legislators, control over the state senate, the opioid crisis, and the expansion of the Spectra pipeline.
For more on the race in State Senate District 40:
Ali Boak Calls On Terrence Murphy To 'Dump Trump' - Yorktown Daily Voice
40th state Senate race: Murphy vs. Boak - The Journal News
Senate GOP transferred $142,000 to Terrence Murphy's campaign - PressConnects (Gannett)
Sen. Terrence Murphy of Yorktown is running for a second term - Poughkeepsie Journal
State Senate District 41 – Sue Serino (R), Terry Gipson (D)
The Hudson Valley has become a battleground for state Senate elections as well as congressional races and State Senate District 41 in Putnam and Dutchess counties is no exception. Republican State Senator Sue Serino, who is serving her first term in office, will face a re-match of the 2014 election against Democratic challenger Terry Gipson -- Serino won that election by less than 5 percent of the vote. Though the last time around Gipson had the incumbency advantage, having won the seat in 2012 through a three-candidate field with the Conservative Party abandoning veteran state Senator Steve Saland, a Republican, over his support for same-sex marriage. Serino and Gipson have had their fair share of disagreements over issues including ethics in campaign finance and Common Core.
For more on the race in State Senate District 41:
Serino, Gipson disagree on Presidential race, ethics and Common Core - Poughkeepsie Journal
Gipson Seeks To Tie Serino With Trump In State Senate Race - Daily Voice
Senate Reps pump $180,000 into Sen. Sue Serino's re-election bid - PressConnects (Gannett)
Dutchess County will see a replay of the 2014 race for the 41st District - Poughkeepsie Journal
Serino, Gipson debate SD41 issues at Dutchess Chamber breakfast - Daily Freeman
State Senate District 5 – Carl Marcellino (R), James Gaughran (D)
Incumbent Republican state Senator Carl Marcellino has been representing Long Island residents in the state Senate since 1995. This year he faces a notable Democratic challenger, James Gaughran, a Suffolk County water commissioner who lost a race for Nassau County Comptroller in 2014. It's been rumored by Politico, Newsday and others that Gov. Andrew Cuomo has sent $11,000 to Gaughran and will endorse the candidate in the District 5 race later this week as he is campaigning for other candidates on Long Island.
Gaughran has gone after Marcellino over his record in the state Senate, specifically his vote against the Child Victims Act, which would eliminate the statute of limitations for cases of child sexual abuse and allow a one-year window for victims to revive old civil cases, according to the New York Daily News. More recently, Marcellino and other Long Island Republicans are coming under fire from their opponents for their association with Nassau County Executive Ed Mangano and Oyster Bay Supervisor John Venditto, who were recently arrested on federal corruption charges.
For more on the race in State Senate District 5:
Cuomo endorses Kaminsky, Haber in state Senate runs - Newsday
State Sen. Reps hold up child-sex abuse victims bill slammed by Dems - New York Daily News
Ed Mangano's corruption case is bad news for Republicans - New York Post
State Senate District 6 – Kemp Hannon (R), Ryan Cronin (D)
The race in Long Island's District 6 is a rematch of the 2012 contest, in which state Senator Kemp Hannon, incumbent Republican first elected in 1989, defeated Democrat Ryan Cronin by fewer than 5,000 votes. Conservative interest groups are spending a lot of money to protect the seat. The New York Daily News reported that the Greater New York Hospital Association has formed a Super PAC that has spent nearly $200,000 on mail, digital ads, phone calls and campaign management supporting Hannon, who is the chair of the Senate Health Committee. As the case with other races on Long Island, Cronin has been critical of Hannon for being associated with Nassau County Executive Ed Mangano and Oyster Bay Supervisor John Venditto, recently arrested on corruption charges.
Though Republicans are using another politician to bash their opponents: New York City Mayor Bill de Blasio, a Democrat. According to the New York Post, Hannon produced a mailer using Cronin's face and a stack of $100 bills peeking out of a suit coat's breast pocket that paints the Democratic challenger as a crony for de Blasio. Though connecting Cronin to de Blasio hasn't kept the mayor's political rival, Gov. Andrew Cuomo, from contributing money to help Cronin, and the governor is expected to endorse the Democratic candidate as he campaigns throughout Long Island this week.
For more on the race in State Senate District 6:
Cuomo endorses Kaminsky, Haber in state Senate runs - Newsday
Ed Mangano's corruption case is bad news for Republicans - New York Post
GOP campaigns on unpopular de Blasio in battle for state Senate - New York Post
Group that fought Lavern's Law spends big on GOP senator who helped - New York Daily News