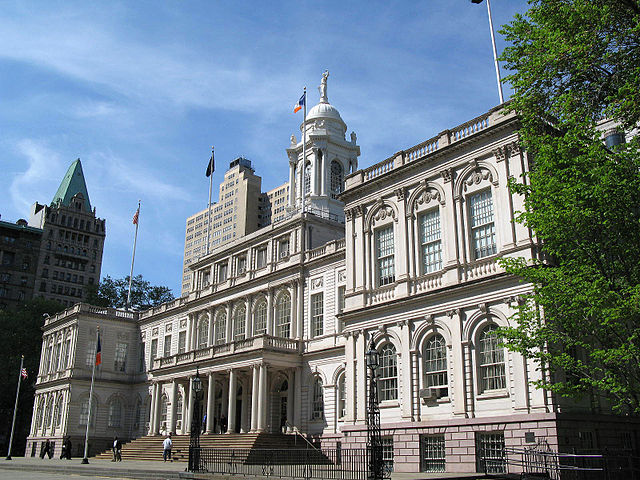 New York City Hall
---
What to watch for this week in New York politics:
While there's a lot happening in city politics, we're also on the verge of one week until Election Day. The presidential race continues to be turbulent and New York-centric in many ways. Watch as Hillary Clinton and Donald Trump campaign across key battleground states leading up to Election Day, at which point both will hold election night events in Manhattan.
Meanwhile, there are a variety of other races in New York -- one Senate race, in which Senator Charles Schumer is expected to cruise to re-election; many House races -- some of which will help determine if the Democrats can pick up seats and near or take the majority; and all of the state Legislature: 150 Assembly seats, 63 state Senate seats. Read our rundown of key New York races to watch in both the House and the state Senate, where Democrats are also hoping to pick up seats that will give them a chance at the majority.
Gov. Andrew Cuomo made additional endorsements of Democratic candidates in New York over the weekend, including for George Latimer for State Senate and Tom Suozzi for Congress.
Mayor Bill de Blasio has stayed out of New York races, only campaigning for Hillary Clinton for President -- he did so again on Sunday in Pittsburgh, Pennsylvania. Before that, on Saturday, de Blasio marked the four year anniversary of Superstorm Sandy on Staten Island. De Blasio begins his week with four public events, including a morning radio appearance and an evening TV appearance -- see below for details (the TV appearance, on NY1, is de Blasio's first of a new weekly segment, "Mondays with the Mayor,").
There are a number of interesting events to be aware of this week, from panel discussion to City Council hearings. See below for the day-by-day rundown.
***Do you have events or topics for us to include in an upcoming Week Ahead in New York Politics?
e-mail Gotham Gazette editor Ben Max: This email address is being protected from spambots. You need JavaScript enabled to view it.***
The run of the week in detail:
Monday
Monday is Halloween.
Mayor de Blasio has four public events on his Monday schedule:
At 8:05 a.m., Mayor de Blasio will appear live on 710 WOR.
At 4 p.m., "the Mayor will hold public hearings for, and sign, ten pieces of legislation - Intros. 251-A, 551-A, 552-A, requiring the creation of an additional City form to include voluntary and anonymous questions around gender, sexuality, language spoken, ancestry and ethnic origin; Intro 1011-A, in relation to mandating that whenever a food service worker is displaced due to a change in ownership or a transfer of contract, the new owner or contractor must retain the worker for 90 days; Intros. 1160-A, 1163-A and 1165-A, in relation to energy benchmarking, lighting retrofitting, and sub-metering requirements for mid-size buildings; Intros. 728-B and 959-B, in relation to reporting on the NYPD Patrol Guide and hate crime statistics; and Intro. 1282, in relation to authorizing an increase to annual assessment and spending in eight business improvement districts and two special assessment districts."
At 6 p.m., "the Mayor and First Lady Chirlane McCray will march in the Park Slope Halloween Parade."
And, during the 7 p.m. hour, Mayor de Blasio will appear on NY1's Inside City Hall in a taped appearance.
At the City Council on Monday:
The Committee on General Welfare will meet at 10 a.m. to discuss oversight on "child abuse cases and the various city touchpoints for families." City Council Speaker Melissa Mark-Viverito will deliver opening remarks, per her public schedule.
The Committee on Housing and Buildings will meet at 10 a.m. to discuss several proposed laws. Ahead of this hearing, City Council Members Dan Garodnick, Jumaane Williams, Ben Kallos, and possibly others, will be participating in a press conference on the steps of City Hall with members of Stabilizing NYC, Stand for Tenant Safety, and the Coalition Against Predatory Equity in support of the bills being heard, which are aimed at reducing tenant harassment and stopping predatory equity.
At 11 a.m. Monday City Council Members Margaret Chin and Daniel Dromm, with "Arab American, Asian Pacific Islander, Indo-Carribean, Latino, and LGBTQ community leaders will gather at the steps of City Hall...to celebrate the data equity legislation that Mayor de Blasio will sign into law later that day. The three bills, Intros 251-A (Dromm), 551-A (Chin), 552-A (Dromm), allow New Yorkers to accurately identify their race, ethnicity, gender identity and sexual orientation on many important city forms...these bills will help ensure that city agencies are equipped to meet the needs of all New Yorkers...ensuring that everyone is counted and that City services reach people who need them the most."
At 11 a.m. Monday, Gov. Cuomo and many others will attend the funeral of New York State Trooper Timothy Pratt, in South Glens Falls.
At 1 p.m. on Monday, the NYC Department of City Planning will hold a review session.
At 1:15 p.m. Monday, Comptroller Scott Stringer will make an announcement on minority and women-owned businesses.
At 4 p.m., Mark-Viverito will attend the La Marqueta Halloween event.
At 4:30 p.m. Monday at the Claremont Neighborhood Center in the Bronx, "Borough President Ruben Diaz Jr. will host youth of all ages as they enjoy an evening of fun, music, candy and haunted festivities at his annual Pumpkinfest & Halloween Spooktacular!"
Tuesday
Tuesday is one week until Election Day.
At 8 a.m. Tuesday, "City & State's Borough 50 Series will recognize top 50 community leaders from Queens at a breakfast."
At 8 a.m. Tuesday, Crain's New York will hold "Crain's 2016 New York City Summit: Getting Ready for 9 Million New Yorkers." Mayor de Blasio will deliver keynote remarks. The summit will include several panels: on housing, moderated by Kathryn Wylde of Partnership for New York City; on jobs, including Gregg Bishop, commissioner of the city's Department of Small Business Services; and on transportation, including MTA Chair Thomas Prendergast and city Department of Transportation commissioner Polly Trottenberg and moderated by Richard Ravitch.
At noon Tuesday at 1 Police Plaza, "the Mayor and Police Commissioner O'Neill will host a press conference to discuss crime statistics...After, the Mayor will join the NYPD for a coordination group tabletop exercise for the 2016 TCS New York City Marathon."
At the City Council on Tuesday:
The Subcommittee on Zoning and Franchises will meet at 9:30 a.m.
The Subcommittee on Landmarks, Public Siting and Maritime Uses will meet at 11 a.m.
The Subcommittee on Planning, Dispositions and Concessions will meet at 1 p.m.
The Committee on Small Business will meet at 2 p.m. for a tour of The Pfizer Building in Brooklyn.
On Tuesday at 12:30 p.m., Comptroller Scott Stringer will host a roundtable with minority and women-owned business leaders, at Compulink Technologies Inc. on West 39th Street.
At 1:30 p.m. Tuesday, the New York City Board of Elections will hold its Commissioners' Meeting.
At 3:30 p.m. Tuesday, "Brooklyn Borough President Eric L. Adams will unveil more than half a million dollars in new investments from Brooklyn Borough Hall's Fiscal Year 2017 budget to advance public safety and community-police relations in the borough. He will make the announcement at the New York City Police Department (NYPD)'s 90th Precinct Station House in Williamsburg, home to an innovative partnership that offers an alternative to suspension for local students facing school disciplinary action through mentorship and tutoring from police officers; this program, NYC Together, is receiving funding from Borough President Adams to outfit a multimedia learning center for use inside the precinct."
At 5:30 p.m. Tuesday, the New York City Voter Assistance Advisory Committee (VAAC) will hold a public meeting.
At 6 p.m. Tuesday, there will be a hearing on the de Blasio administration's proposed changes to the deed restriction removal process, as announced: to "add a new Chapter 16 to Title 43 of the Rules of the City of New York, setting forth review procedures for the modification or removal of certain deed restrictions." The hearing will take place at 125 Worth Street. Manhattan Borough President Gale Brewer is among those who will testify.
At 6 p.m. Tuesday, ABNY Young Professionals and Tech:NYC will co-host "New Approaches Towards Public Safety: A Conversation on Community Policing." Deborah Archer (New York Law School Professor of Law and Co-Director of the Impact Center for Public Interest Law), City Council Member Jumaane Williams, Elizabeth Glazer (Director of the Mayor's Office of Criminal Justice), and Jose Lopez (Organizing Director at Make the Road New York) will participate.
At 6:30 p.m. Tuesday, schools Chancellor Carmen Fariña will attend a town hall meeting of District 23's Community Education Council, at Brooklyn Collegiate.
On Tuesday at 6:45 p.m., Public Advocate Letitia James will attend the "5th Avenue Key Food Community Meeting" in Brooklyn.
Wednesday
At the City Council on Wednesday: The Committee on Public Safety will meet at 10 a.m. discuss several proposed laws which would modify the Nuisance Abatement Law.
At 10 a.m. on Wednesday, the NYC Planning Commission will hold a public meeting.
At 5:30 p.m. Wednesday, the Johns Hopkins Institute for Education Policy will hold "The Future of Charter Schools on their 25th Anniversary." On the anniversary of the first charter school law being passed in Minnesota, the speakers will discuss the future of charters. Expert panelists will speak with Dr. David Steiner, executive director, Johns Hopkins Institute for Education Policy.
At 6 p.m. Wednesday, Columbia University's School of International and Public Affairs (SIPA) will hold "Domestic Policy in the 2016 Presidential Election: What's at Stake?" Discussion will "reflect on the stakes of the election from the perspectives of criminal justice, energy, education, social welfare and urban policy, and what Clinton and Trump administrations might do differently in each of these domains." Panelists will include Professor Patricia Culligan; Professor Jeffrey Fagan; Professor Ester R. Fuchs; Professor Jeffrey Henig; Michael A. Nutter, former Mayor of Philadelphia; and David N. Dinkins, SIPA professor and former Mayor of New York City. The event will be moderated by Professor Alexander Hertel-Fernandez.
At 6:30 p.m. Wednesday, the Brooklyn Historical Society will hold "Breaking the Segregated Schools Cycle."
At 7 p.m. Wednesday, there will be "A Public Summit for The Future of Penn Station," hosted at The Museum of the City of New York, co-hosted as well by The Transit Museum and Untapped Cities. This discussion "will seek to move beyond criticizing the current station and focus on identifying elements of a successful long-term vision."
Thursday
At the City Council on Thursday: The Committee on Land Use will meet at 11 a.m.
On Thursday, there will be a ribbon-cutting ceremony "to mark the opening of a legal clinic for pro se litigants that is being staffed by the New York Legal Assistance Group."
At 8 a.m. Thursday, the Manhattan Chamber of Commerce will have its "Best in the Business Awards Breakfast." This event "celebrates the business leaders in New York City, who have built outstanding businesses - contributing to the economy and community as well." This event "celebrates the business leaders in New York City, who have built outstanding businesses - contributing to the economy and community as well." Kathryn Wylde of Partnership for New York City; Hank Williams of Platform; Maisha Walker of Message Medium; Infor; and Uber are the honorees.
On Thursday at 6:30 p.m., Brooklyn Borough President Eric Adams will host a New York City Housing Authority (NYCHA) Town Hall to discuss a variety of NYCHA-related issues.
On Thursday at 6:30 p.m., the Yale Alumni Nonprofit Alliance and the Gray Panthers of NYC will hold a forum on "Ageism and Why it Matters." There will be a "conversation about the pervasive effects of "ageism" in our personal AND work lives."
Friday and the weekend
At 8:30 a.m. on Friday, the New York City Food Policy Center will host a discussion of "The Power of Community Gardens in New York City." This event is meant for participants to "learn about community gardens and their role in community and economic development; discuss the intersection between race, food, and social justice; and gain an increased understanding of the state of community gardens in NYC." The panelists include Bill Losasso (Director of GreenThumb), Aziz Dehkan (Executive Director of the New York City Community Garden Coalition), Steve Frillmann (Executive Director of Green Guerillas), and Lenny Librizzi (Director of Green Infrastructure at GrowNYC).
This is GOTV - get out the vote - weekend for Tuesday's elections. People across New York and the rest of the country will be knocking on doors, making calls, handing out flyers, and more in order to see their preferred candidate(s) win on Election Day.
***
Have events or topics for us to include in an upcoming Week Ahead in New York Politics? E-mail Gotham Gazette executive editor Ben Max any time: This email address is being protected from spambots. You need JavaScript enabled to view it. (please use "For Week Ahead" as email subject).
***
by Brendan Birth and Ben Max
@GothamGazette