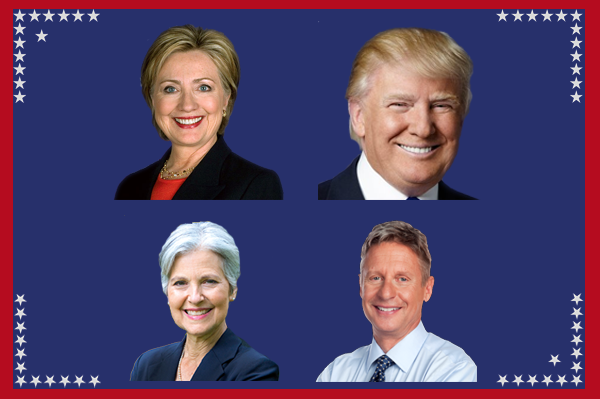 Click here to see the full list
Vice President
Vice President




Tim Kaine of Virginia. U.S. Senator, former Governor of Virginia, former Mayor of Richmond.
Vice President




Mike Pence of Indiana. Governor of Indiana, former member of the United States House of Represenatatives, where he was a leader of the Tea Party movement.
Vice President




William Weld of Massachusetts. Former Republican governor of Massachusetts 1991, former U.S. Senate candidate.
Vice President




Ajamu Baraka of Georgia. Human rights activist, founding executive director of the U.S. Human Rights Network.
Bio
Bio




Hillary Clinton, born in 1947, is most notable for serving as First Lady of the United States (1993-2001), a United States Senator from New York (2001-2009), and the United States Secretary of State from 2009 to 2013. She's known for, among other things, her push for national health care reform in 1993-1994 as First Lady.
Bio




Donald Trump, born in 1946, is a businessman, real estate mogul, and television personality. He has built further on the buisness empire started by his father and made a national name for his real estate and casino businesses, and as the host of The Apprentice.
Bio




Gary Johnson, born in 1953, founded what became one of the largest construction companies in New Mexico. Former governor of New Mexico, winning his longshot 1994 bid, serving two terms. Has long-favored small government. Also ran for President as the Libertarian Party nominee in 2012. He got 0.99% of the national vote that year.
Bio




Jill Stein, born in 1950, is a physician and activist whose biggest focus has been environmental and health issues. She was the Green Party Candidate for Governor of Massachusetts in 2002 and 2010, and the Green Party Candidate for President in 2012. She received 0.36% of the national vote that year.
Campaign Websites
Jobs
Jobs




Clinton wants to invest in infrastructure to bolster the economy, including in clean energy. She is also focused on modernizing the economy through manufacturing and technology. She advocates for an increase in the minimum wage to $12 an hour nationally, with room for states to go higher, and she wants equal pay for equal work.
Jobs




Trump believes that lower taxes and less regulation, as a whole, will bolster the economy. He believes the U.S. has agreed to bad trade deals, which he promises to renegotiate, that have led to lost American jobs to countries like Mexico and China. He promised to keep companies in the U.S. and to make American manufacturing great again.
Jobs




Johnson generally favors less regulation, though any regulation which reigns in harmful actors will stay, he says. He also believes that out-of-control spending has hurt the U.S. economy, and that this spending needs to be reigned in. He believes smaller and less government will allow the economy to flourish.
Jobs




Stein believes in "living-wage jobs for every American who needs work." Government would be the last resort employer under this plan. She also believes in a $15 minimum wage and the breaking up of banks that are "too big to fail." Key to Stein's, and the Green Party's, platform is a "Green New Deal," which aims to create jobs through the building of clean energy infrastructure, so that America relies on 100% clean energy by 2030.
Taxes
Taxes




"Hillary will implement a "fair share surcharge" on multi-millionaires and billionaires." She will also fight for measures like the Buffett Rule, so that wealthier individuals pay their fair share of taxes, she says. She also looks to close up any loopholes which benefit Wall Street, cut taxes for small businesses, and "provide tax relief to working families from the rising costs they face." A Clinton Administration will look to tax high-frequency trading on Wall Street.
Taxes




Trump believes lower taxes will help the economy. In particular, he believes that business taxes are too high, and that they need to be lowered so that they are competitive with the rest of the world. He believes that a simplified tax system will help. Like many Democrats, Trump believes in closing the carried interest loophole.
Taxes




Johnson proposes getting rid of tax loopholes, as well as double taxes on small businesses. He favors "the replacement of all income and payroll taxes with a single consumption tax that determines your tax burden by how much you spend, not how much you earn."
Taxes




Stein wants Wall Street corporations to pay their fair share in taxes. Also believes in a tax on companies that pollute. She believes in higher taxes for the wealthy, and lower taxes for the poor and middle class.
National Debt
National Debt




"From the Democratic Party Platform: ""We believe that by making those at the top and the largest corporations pay their fair share we can pay for ambitious progressive investments that create good-paying jobs and offer security to working families without adding to the debt."""
National Debt




"You never have to default because you print the money," Trump said at one time. He has also suggested at times that borrowing is not a problem and that the U.S. could renegotiate its debt.
National Debt




Johnson plans to veto any bill which results in deficit spending. He also touts his record of vetoing many bills as governor of New Mexico, vetos he said helped balance New Mexico's budget.
National Debt




Stein said on her campaign website in 2012 that she would reduce "the budget deficit by restoring full employment, cutting the bloated military budget, and cutting private health insurance waste."
Trade
Trade




Clinton has moved in her support for trade deals, and has a new rubric for them, saying they must provide jobs for Americans, not sacrifice U.S. security, and be good for American national and international priorities. She supported NAFTA in the past, but admits to troubling outcomes for American jobs, and after supporting the Trans-Pacific Partnership as it was in development, she has come out against the version put forward by the Obama Administration. On trade, she says she's held deals to "the same test. Will they create jobs in America? Will they raise incomes in America? And are they good for our national security?"
Trade




Trump has campaigned vocally against NAFTA, other past trade deals, and TPP. His vews on trade and the United States is best reflected in what he said at the Republican National Convention--"Americanism, not globalism, will be our credo."
Trade




Johnson generally supports NAFTA, TPP, and any other free trade agreements. He believes that any jobs lost to NAFTA while he was Governor of New Mexico were jobs that New Mexico didn't want anyway.
Trade




Stein believes that NAFTA and other similar agreements takes away jobs, hurts wages, and overall has negative economic impacts on Americans. She wants to "enact fair trade laws that benefits local workers and communities."
Immigration
Immigration




There are two major facets to Clinton's immigration plan: protect families and provide a pathway to citizenship. She says that comprehensive immigration reform is desperately needed.
Immigration




Trump promises no amnesty to undocumented immigrants and promises mass deportations, though at times he has appeared to soften some of his stances. His major campaign promise is to end illegal immigration and to institute "extreme vetting" of individuals, especially refugees, seeking entrance into the country. He talks about having a secure border and promises to build a wall along the southern border that he promises Mexico will pay for. He has also questioned birthright citizenship.
Immigration




Johnson desn't believe that immigration is as simple as building a wall. "We should focus on creating a more efficient system of providing work visas, conducting background checks, and incentivizing non-citizens to pay their taxes, obtain proof of employment, and otherwise assimilate with our diverse society," his website says.
Immigration




"Create a welcoming path to citizenship for immigrants" is posted on Stein's website. Past policy positions also indicates that she is not in favor of the mass deportation of people which has happened under President Obama and promised to a greater degree by Trump.
Health Care
Health Care




Clinton wants to defend, tweak, and expand, but not repeal, Obamacare. She praises how many more people have become insured, but she wants to get costs down.
Health Care




Trump promises to repeal Obamacare, and replace it with something far better. He says health care companies must be allowed to sell policies across state lines. He also wants transparency with health care costs and providers, and to "allow individuals to fully deduct health insurance premium payments from their tax returns under the current tax system." He argues for increased competitive, not government regulation of health care. Trump has also said that everyone deserves health care.
Health Care




Generally speaking, Johnson is in favor of repealing Obamacare. He believes that free market competition will do the best job of covering health care for people.
Health Care




Stein believes in a Medicare for All system.
The Environment
The Environment




Clinton will encourage clean energy: "Launch a $60 billion Clean Energy Challenge to partner with states, cities, and rural communities to cut carbon pollution and expand clean energy, including for low-income families." "Invest in clean energy infrastructure, innovation, manufacturing and workforce development to make the U.S. economy more competitive and create good-paying jobs and careers."
The Environment




Trump does not discuss the environment much. He has called climate change a hoax. And, he believes that the Environmental Protection Agency has too many regulations.
The Environment




Johnson places emphasis on protection of National Parks and wants the Environmental Protection Agency to "focus on its true mission." He also believes in regulations to protect from pollutors, but also believes that the government meddles too much in deciding which companies determine the future of clean energy.
The Environment




Stein and the Green Party are, historically, especially focused on the environment. The Green New Deal looks to have the U.S. be on 100% clean energy by 2030. Stein wants to end use of fossil fuels and any support thereof. She places a special emphasis on protecting ecosystems, and strengthening environmental justice laws.
Foreign Policy
Foreign Policy




Clinton believes that the United States should defend its allies, push for diplomacy whenever possible, and be firm but not overaggressive with rivals such as China, Russia, and Iran. She is known as an interventionist, but has also spent time negotiating peace deals as Secretary of State. Her vote in favor of the Iraq War as a U.S. Senator is one that she has long been criticized for and has herself called a mistake.
Foreign Policy




Trump has an "America First" foreign policy, based on protecting the interests of the United States above all else, not meddling in other countries' affairs, protecting American security and jobs, seemingly no matter what it takes to do so. Trump has promised an aggressive approach with Mexico and illegal immigration, China and currency manipulation, and the Middle East and wars in the region. Trump has been criticized and questioned for an apparent coziness with Vladimir Putin of Russia, which he has denied.
Foreign Policy




Johnson believes that the U.S. meddles too much in foreign affairs and wars, and that needs to stop. He believes in fixing the problems that exist at home, while at the same time building relationships with allies abroad. Johnson has struggled with discussing foreign affairs on the campaign trail.
Foreign Policy




Stein wants to focus on diplomacy whenever possible, but also the punishment of abusers of human rights. Those human rights abusers include Egypt, Saudi Arabia, and Israel, she says.
Combatting ISIS
ISIS




Clinton looks to support counter-terrorism law enformcement with the tools they need, and an increase of the airstrike campaign against ISIS in the Middle East. She has called for an "intelligence surge" to help the U.S. in its efforts against ISIS and other foreign threats.
ISIS




Generally speaking, Trump calls for a very aggressive military approach to ISIS, at times using expletives to explain his plan to bomb its forces and strongholds. He has repeatedly called for destroying oil fields that ISIS may have access to. But it is unclear to what extent he will pursue these strategies because he has not released as many plans regarding ISIS. Trump says U.S. leaders are foolish in telegraphing their military plans and that he will not divulge his. He has repeatedly insulted both U.S. political and military leaders.
ISIS




Johnson believes that the "meddling" of past administrations, Republican and Democrat, have created the monster that is ISIS. He has not shown a particular adeptness at discussing foreign affairs or presenting a plan to help eliminate threats from ISIS.
ISIS




Stein says little about ISIS, but overall she is calling for the U.S. to not be engaged in war and foreign intervention.
Gun Control
Gun Control




Clinton has made gun control a focus of her campaign; calling for expanding background checks, and keeping "guns out of the hands of domestic abusers, other violent criminals, and the severely mentally ill." Clinton has said she believes in the Second Amendment and responsible gun ownership, but that she wants to do more to keep guns out of the wrong hands.
Gun Control




Trump is pro-gun ownership and has promised to defend the Second Amendment. He believes that current gun regulations are a failure, and that background checks need to be fixed because it seems like criminals don't go through background checks.
Gun Control




Johnson does not believe in increasing gun regulations. He is of the mind that if you take guns away only outlaws and criminals will have guns.
Gun Control




Stein believes that the ownership of guns should be regulated for the sake of public safety.
Justice Reform
Justice Reform




Clinton supports legislation to end any form of racial profiling. She wants law enforcement to focus on violent crimes and not petty ones like possession of marijuana. National guidelines should be brought in on use of force, she says, and body cameras should be provided to every police department in the United States. She has regularly spoken about the need to improve community-police relationships and about incidents of police brutality against people of color. And, she believes in ending the use of private prisons.
Justice Reform




Trump calls himself the "Law and Order candidate," though as to what that means in terms of policy is unclear, though he has advocated for a robust stop-and-frisk policy nationwide based on what he sees as its success in New York City. Trump often talks about the need to support and respect police.
Justice Reform




Johnson believes that all unnecessary laws should be taken out so that not as many things are criminalized. He also believes that there should be an end to the "War on Drugs."
Justice Reform




Stein wants to end police brutality and de-militarize the police. She, like Johnson, wants to end the War on Drugs. She also proposes that drug addictions are treated like a health problem, not a criminal one.
Education
Education




Clinton supports the Common Core learning standards. She also believes in universal pre-kindergarten, college education that is debt free, and free tuition at all community colleges. She also looks to end overly punitive policies against students at schools and has discussed doing more for English Language Learners.
Education




Trump rejects Common Core and believes that education decisions, as a whole, should be left up to states. He therefore wants to completely abolish the Department of Education.
Education




Johnson rejects Common Core and believes that education decisions should be left to the states. He also wants to abolish the Department of Education because he believes that the federal government has no right to be involved with education decisions.
Education




Stein is not supportive of Common Core or standardized testing (and thinks curricula should be designed by educators). She prefers evaluation of teachers done by fellow professionals. She supports tuition-free, and debt-free, education through all four years of college.
LGBTQ Rights
LGBTQ Rights




Clinton pushes for full rights for LGBTQ people, in the United States and around the world. Clinton has 'evolved' fairly quickly on related issues, like marriage equality.
LGBTQ Rights




Trump vows to protect LGBTQ citizens and has had several particularly significant moments, including at the Republican National Convention, around promoting and protecting LGBTQ rights. He has not stated personal support for same-sex marriage, but says that it is the law of the land and that it should be protected as such.
LGBTQ Rights




Johnson believes that the government should not be in the business of telling people who to marry. He therefore does not look to restrict same-sex marriage, and in fact he cites this non-government interference idea as a major reason why he supported same-sex marriage before many liberals did the same.
LGBTQ Rights




Stein says that she will seek to end all forms of discrimination against the LGBTQ community.
Abortion
Abortion




Clinton looks to protect the reproductive rights of all women and protecting a woman's right to choose to have an abortion. She is also proud of her endorsement from Planned Parenthood.
Abortion




Trump calls himself "pro-life" and at times has called for the defunding of Planned Parenthood. However he has at times touted a number of services that Planned Parenthood provides, and earlier in his life he considered himself "pro-choice." He has explained an 'evolution' on the issue. Trump has said that if he appoints several Supreme Court justices it is likely that Roe v. Wade is overturned.
Abortion




Johnson believes that abortion is a deeply personal choice, and that as such the governnment should not be in the business of deciding who does or does not get abortions.
Abortion




Stein views reproductive freedom as a key facet of tackling women's rights issues. She also wants to expand access to the "morning after" pill.
Supreme Court Vacancies
Supreme Court Vacancies




The Supreme Court, in Clinton's eyes, should help protect women's rights and LGBTQ rights, and overturn the Citizens United case. She has not committed to renominate President Obama's SCOTUS pick, Merrick Garland, for the currently vacant seat.
Supreme Court Vacancies




Trump has stressed that the Supreme Court must protect the Second Amendment in particular, as it would be under threat, he says, if Clinton is elected President. Trump's SCOTUS nominees would be pro-life and more conservative in nature, he has said, pointing to recently-deceased Justice Antonin Scalia as a model.
Supreme Court Vacancies




Johnson would use potential nominees' positions on cases such as Kelo v. City of New London (a 2005 case on the issue of eminent domain) and others related to key issues for Libertarians to determine who he might nominate to the SCOTUS.
Supreme Court Vacancies




Stein would nominate justices to the SCOTUS who would overturn Citizens United and help restrict the flow of corporate money into politics.
Campaign Finance Reform
Campaign Finance Reform




Clinton supports an overturn of Citizens United to limit the impact of money in politics. She also wants legislation which will "require outside groups to publicly disclose significant political spending." Her other piece of suggested reform is to start a "small-donor matching system for presidential and congressional elections to give small donors greater influence."
Campaign Finance Reform




Trump has described Political Action Committees (PACs) as a "horrible thing" because he feels that PACs lack transparency. Trump has also claimed that politicians do favors for donors, citing his own experience as a donor. He does not promote, though, public financing of campaigns.
Campaign Finance Reform




Johnson believes that spending in campaigns, including from unions and corporations, is perfectly allowable. Any restrictions on campaign finance would be a limit to free speech, in Johnson's opinion.
Campaign Finance Reform




Stein wants an overturn of the 2010 Citizens United Supreme Court case. She believes that corporations should not be allowed to fund political campaigns, but believes that there should instead be public funding of campaigns.
Feedback? Email Ben at
This email address is being protected from spambots. You need JavaScript enabled to view it.