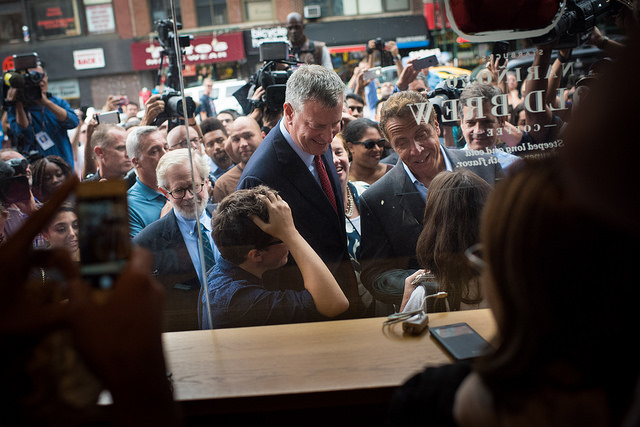 Cuomo & de Blasio in Chelsea (photo: Michael Appleton/Mayor's Office)
---
In typical fashion, Gov. Andrew Cuomo and Mayor Bill de Blasio are saying a lot of the same things, but doing so nowhere near each other and without mentioning the other.
In a role reversal from 2014, during the current election season Cuomo is actively pushing for Democrats to win key swing seats and take control of the State Senate, Republicans' last bastion of power in statewide government, while de Blasio is on the sideline.
But if you listen closely, Cuomo and de Blasio -- two Democrats engaged in a long-running, well-publicized feud -- have pointed to several of the same reasons why they want to see Democratic control of the Senate.
De Blasio, whose unsuccessful 2014 efforts to swing the Senate are under law enforcement investigation because of the campaign financing tactics used, has this year kept his public campaign activity limited to stumping for Hillary Clinton for President. But he has repeatedly said he wants to see Democrats take the state Senate majority here in New York, even predicting it will happen, and during a Monday evening appearance on NY1's Inside City Hall, he explained his top reasons why.
Asked what is at stake by host Errol Louis, de Blasio listed "public financing of elections – campaign finance reform" and "electoral reform" including same-day registration and early voting; as well as more New York City-focused issues like "proper extension of mayoral control of education" and "the program that supports affordable housing – 421-a...updated and reformed."
It's certainly more likely that the items on de Blasio's wish list will become reality if Democrats control both houses of the state Legislature -- they already hold a sizeable majority in the Assembly. And all are items Cuomo has championed to some degree, whether in his State of the State policy proposals or during public remarks, including, in some cases, on the stump over the last ten days. There have been ongoing questions about Cuomo's commitment on certain topics: how much he has pushed for campaign finance reform, for example, and whether he has really gone to bat for a longer extension of mayoral control of schools than the one-year given to de Blasio each of the past two Albany sessions.
Cuomo and de Blasio have battled over 421-a, each with his own vision for an updated property tax abatement program for real estate developers who create affordable units in certain projects. In June 2015, it was the first one-year extension of mayoral control and Cuomo's lack of support for de Blasio's proposed 421-a reboot that largely prompted the mayor's now infamous outburst against Cuomo.
During his campaign appearances of late, Cuomo has endorsed several Senate candidates and highlighted why he believes it's important for Democrats to control the chamber. The governor has largely been on Long Island, where key Senate swing seats will influence which party, mainline Democrats or Republicans, has the advantage in negotiating a power-sharing agreement with the six-member Independent Democratic Conference (IDC). It wouldn't make sense for him to mention mayoral control or 421-a, and he hasn't -- though Senate Republicans have openly questioned why Cuomo would want to allow de Blasio's liberal agenda to flourish in Albany through a Democratic Senate.
What Cuomo pointed to on Long Island and in a Queens appearance are government ethics and campaign finance reform, both of which will only happen, he has said, if Democrats control the Senate. While citing "a government that is working, [with] a lot to be proud of," the governor also said "there's more to do" and pointed to the "Dream Act...criminal justice reform, Raise the Age, a campaign finance system that actually works...and probably most important, a real ethics package that cleans up the corruption in Albany once and for all."
All of the above are policies that de Blasio supports.
"These are all issues that the governor has championed for years and will continue to fight for in the next legislative session," said Dani Lever, a spokesperson for Gov. Cuomo, in a statement. A spokesperson for de Blasio did not respond to a request for comment on the priorities that the governor has laid out.
Additional evidence of Cuomo's priorities can be seen in the survey he's asked prospective endorsees to fill out. First reported by the Daily News, the full extent of the survey was reported this week by Politico New York: it seeks to help ensure that candidates looking for support from Cuomo are committed to protecting some of the governor's signature accomplishments of the past several years -- Cuomo took office in 2011 -- like paid family leave, the Buffalo Billion, and a 2 percent property tax cap; and the pursuit of additional goals, like closing the LLC loophole, public campaign financing, and raising the age of adult criminal responsibility.
Even though their years-long power struggle continues, Cuomo and de Blasio have been sounding more and more alike on policy, especially since the governor has tacked left over the past year, pursuing and passing a major minimum wage hike, paid family leave, and other policies more friendly to de Blasio allies in labor, even the teachers unions that the governor has previously warred with.
Still, the two biggest figures in New York politics rarely make public appearances together, including when it would seem to make sense and give them an opportunity to show their shared constituents a united front. While the two did tour the site of the September bombing in Chelsea, they still held separate media briefings. Also in September, Cuomo and de Blasio held separate events in New York City, just days apart, to celebrate the same expansion of pension benefits to injured firefighters. The list goes on.
As Election Day draws nearer, the prospect of a Democratic takeover of the state Senate is again providing opportunity to see how much Cuomo and de Blasio seem to agree on -- and the void between them that persists. What might the Cuomo-de Blasio dynamic look like if Democrats do win control of the chamber? We may soon find out.