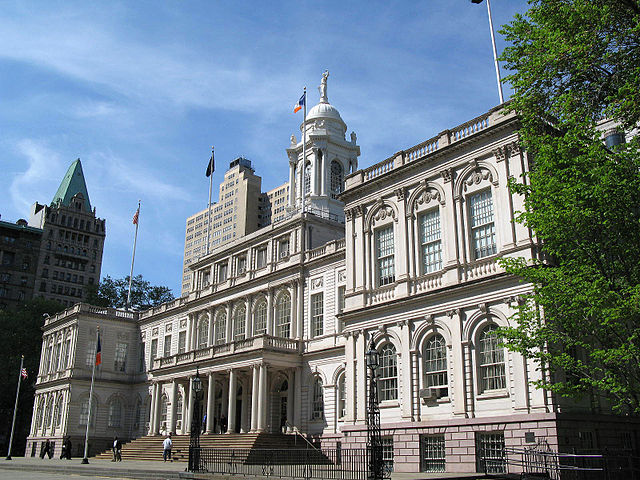 New York City Hall
---
What to watch for this week in New York politics:
TUESDAY is ELECTION DAY. New Yorkers will vote for President, one U.S. Senate seat, all U.S. House seats, every seat in the state Legislature (63 Senate, 150 Assembly), and for some judgeships. Use the Gotham Gazette-WNYC Election Guide to see which races you'll be voting on or for more information about key races.
Also, use the Gotham Gazette guide to the Presidential candidates' issue stances to prepare to vote for the 45th President of the United States. Either Democrat Hillary Clinton or Republican Donald Trump will be that next President. Libertarian Gary Johnson and Green Jill Stein are the other two candidates in our guide and likely to receive significant portions of the vote.
Along with Sunday's New York City marathon, the weekend was a get-out-the-vote sprint ahead of Election Day. Gov. Andrew Cuomo, Mayor Bill de Blasio, and many other New York officials were out campaigning. Cuomo led a three-stop get-out-the-vote tour boosting Hillary Clinton in Buffalo, Westchester, and Long Island. After kicking off the marathon on Staten Island Sunday, de Blasio spoke at five Brooklyn churches to promote Clinton (de Blasio also made a Sunday evening appearance at the Thomas Jefferson Club 61st Annual Dinner Dance in Brooklyn). There were also several phone banks and other efforts organized by the Clinton campaign and New York Democratic elected officials over the weekend.
On Monday, de Blasio will hold a press conference and appear on NY1's Inside City Hall in his official capacity, while also campaigning for Clinton. At 10:30 a.m. in Times Square "de Blasio, Police Commissioner James P. O'Neill and Special Agent in Charge of the U.S. Secret Service David Beach will host a press conference to discuss Election Day security preparations."
The mayor will hold four get-out-the-vote rallies at city colleges Monday: 12:45 p.m. at Medgar Evers College in Brooklyn; 2 p.m. at LaGuardia Community College in Queens; 3 p.m.at Baruch College in Manhattan; and 4p.m. at Hostos Community College in the Bronx. On Tuesday, he's on a five-borough GOTV tour -- see below for those details.
As for non-election items to watch for this week: there are several political events scheduled, see our day-by-day rundown below. One highlight is the final meeting of the commission that is deciding on raises for state-level elected and appointed officials, which will take place Thursday. The commission is due to make its recommendations by Nov. 15. After that, state lawmakers can let the recommendations take effect for next year or vote down the recommendations.
Another highlight this week is that Friday is Veterans Day.
***Do you have events or topics for us to include in an upcoming Week Ahead in New York Politics?
e-mail Gotham Gazette editor Ben Max: This email address is being protected from spambots. You need JavaScript enabled to view it.***
The run of the week in detail:
Monday
At the City Council on Monday: at noon, the Committee on Contracts will meet to discuss two things: oversight of and proposed laws for reforming the VENDEX system, and a proposed law for "requiring information about city contracts and contractors to be available online for public access."
At 11 a.m.Monday, State Senator James Sanders, Jr. will hold a press conference celebrating the enactment of the Missing Adults Law. State Assembly Member Charles Barron and Dr. Arnita Fowler from Missing Persons Advocates will also be at the press conference.
At 6 p.m. Monday in East Harlem, City Council Speaker Melissa Mark-Viverito will host a "Melissa Meet Up" at 12 Vecinas Video Exhibition. "'Melissa Meet Ups' are an opportunity for New Yorkers to meet with Speaker Mark-Viverito one-on-one. [Monday] the Speaker will host the exhibit "12 Vecinas" by Marisol Plard Narváez."
At 6:30 p.m. Monday, Civic Hall will host "Unequal from Birth: The Case for Universal Child Care." This event will "examine how public investment in high-quality, early childhood programs can create a better care infrastructure for today's families and for a stronger, safer society." Brigid Schulte, the Director of Better Life Lab at New America and author of Overwhelmed: Work, Love, and Play When No One Has the Time; Fabienne Doucet, Associate Professor of Early Childhood Education and Program Leader, Childhood Education, New York University; Alice Proujansky, a documentary photographer covering women and labor; Nina Drange, an Economist and Research Fellow at Statistics Norway; and Humberto Cruz, a Program Officer at Right to Play will be among the participants.
Tuesday
Tuesday is Election Day. Polls in New York City open at 6 a.m. and close at 9 p.m. Use the Gotham Gazette-WNYC Election Guide here. Consult the Gotham Gazette presidential candidates policy comparisons guide here.
"Mayor Bill de Blasio to GOTV with Five-Borough-Blitz for Hillary Clinton on Election Day," according to the Clinton campaign: 7:45 a.m. in Queens; at 9:30 a.m., Mayor de Blasio casts his ballot with supporters in Park Slope at the Brooklyn Public Library, Park Slope Branch; 10:15 a.m. GOTV at entrance of Fulton Mall in Brooklyn; noon on Staten Island; 2 p.m. in Manhattan on 125th Street between Adam Clayton Powell Boulevard and Malcolm X Boulevard; and 4:30 p.m. in the Bronx, E Fordham Rd & Grand Concourse.
Wednesday
At noon Wednesday, the Association for a Better New York will have a "Post-Election Analysis Luncheon." The moderator will be Mitchell Moss (Director, Rudin Center for Transportation), and the panelists are Congressman Hakeem Jeffries, political strategist Susan Del Percio, Jefrey Pollock of Global Strategy Group, and Robert George of the New York Daily News Editorial Board.
At 1 p.m. Wednesday, the NYC Board of Correction will hold a special meeting.
At 6:30 p.m. Wednesday, the NYC Civilian Complaint Review Board will hold a board meeting.
At 6:30 p.m. Wednesday, Civic Hall will host "Democracy Restored: Reinventing our Politics to Fix the Inequality Crisis." This event will "evaluate the economic policies of the past eight years and what the next Administration can do to turn today's "New Gilded Age" into a more responsive, inclusive economy." The participants will include K. Sabeel Rahman, an Assistant Professor of Law at Brooklyn Law School, a Fellow at New America, and the author of Democracy Against Domination; Dorian Warren, a Contributor at MSNBC and a Fellow at the Roosevelt Institute; and Daniel Altschuler, the Managing Director at Make the Road Action and the Director of Civic Engagement and Research at Make the Road New York.
Thursday
Thursday at 9 a.m., the New York City Industrial Development Agency (NYCIDA) will hold a Board of Directors Meeting.
Starting at 11:30 a.m., "Parents, teachers and community members will walk to Governor Cuomo's regional office in New York City Thursday to deliver a package of invoices for education funding that advocates say is 10 years overdue to local schools. The delivery of invoices marks 30 days since the "#EdWalk for CFE" arrived in Albany after a 150-mile trek from New York City to demand that Governor Cuomo and state legislators commit to fully funding public schools according to the Campaign for Fiscal Equity (CFE) lawsuit. This year is the 10th anniversary of the final court ruling on the Campaign for Fiscal Equity lawsuit, but schools continue to be funded below the CFE requirements. To comply with the CFE ruling, New York State owes an additional $3.9 billion in educational funding for school districts statewide."
On Thursday at 1 p.m., the New York State Commission on Legislative, Judicial, & Executive Compensation will meet.
On Thursday at 5 p.m., New York Law School will hold "The Presidential Election and the Muslim Community: Charting a Path Forward." The panelists include Nisha Agarwal, Commissioner of the Mayor's Office of Immigrant Affairs; Debbie Almontaser of the Muslim Community Network; and Sadiq Reza, professor at New York Law School.
On Thursday at 6 p.m., State Senator Daniel Squadron will hold a Community Town Hall. This event promises to be a "follow up to Senator Squadron's Community Convention, at which many neighborhood issues were discussed -- including parks, healthcare, development, quality of life, and buses and subways."
On Thursday at 7 p.m. the Brooklyn Historical Society will hold "The Darker Side of Reproductive History." This panel will look at, among other things, "birth control experiments gone wrong and forced sterilizations." The panelists will include Linda Gordon, NYU Professor of History, and author of Woman's Body, Woman's Right: The History of Birth Control in America; Adam Cohen, author of Imbeciles: The Supreme Court, American Eugenics, and the Sterilization of Carrie Buck; Iris Lopez, professor and author of Matters of Choice: Puerto Rican Women's Struggle for Reproductive Freedom; and Jessica Gonzalez-Rojas, Executive Director of the National Latina Institute for Reproductive Health. Irin Carmon, an MSNBC reporter and co-author of Notorious RBG: The Life and Times of Ruth Bader Ginsburg, will be the moderator.
Friday and the weekend
Friday is Veterans Day. Leading up to and on Friday there will be a variety of Veterans Day events this week.
***
Have events or topics for us to include in an upcoming Week Ahead in New York Politics? E-mail Gotham Gazette executive editor Ben Max any time: This email address is being protected from spambots. You need JavaScript enabled to view it. (please use "For Week Ahead" as email subject).
***
by Brendan Birth and Ben Max
@GothamGazette