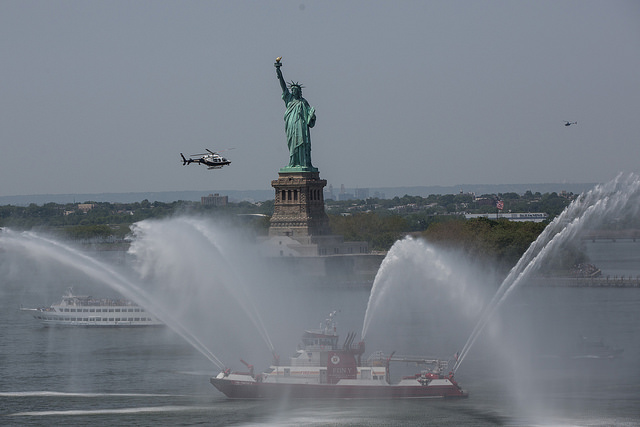 (photo: Mayor's Office on Flickr)
---
Either Hillary Clinton or Donald Trump will be the next President of the United States. When we know which of the two New Yorkers will be number 45 depends on how the vote unfolds. Both candidates will be in New York City on election night: Clinton holding her event at the Javits Center, Trump holding his at the New York Hilton.
The potential historic significance of the Presidential vote should not be overlooked: Hillary Clinton could become the first woman elected President of the United States. For his part, Trump is attempting to complete an almost unfathomable outsider run through to the White House. A political novice best known as a celebrity television personality and real estate mogul, Trump defeated a variety of more traditionally qualified opponents in the Republican primary, has broken many norms of American democratic politics, and run a type of campaign never before seen in this country.
Though there has been some fluctuation, Clinton has maintained a solid lead in the polls, both nationally and in key swing states that will help determine the all-important Electoral College results. Still, this has been an election like no other, and no one is sure what will happen Tuesday.
But beyond the winner of the Presidential race, there are several key things to watch for on Election Day 2016 in New York:
1. CONGRESSIONAL CONTROL
Along with the Presidential race, there are key contests -- some in New York -- to see which party controls the U.S. Senate and House of Representatives, both of which currently have Republican majorities.
There is a far slimmer margin in the Senate (four seats) and it's basically a toss-up as to whether Democrats will swing enough seats to take a majority. If they are able to, New York Senator Charles Schumer is set to become Majority Leader. Schumer is up for re-election this year and being challenged by Republican Wendy Long. He is expected to cruise to victory.
Meanwhile, there are several House seats in New York that Republicans are trying to keep in order to maintain their healthy majority in the lower house. One of the most hotly-contested races in New York and the country is in New York's 19th Congressional District, where Republican John Faso and Democrat Zephyr Teachout vie to replace retiring Rep. Chris Gibson, a Republican. The race, like others, but to a larger degree, has seen a huge influx of money from special interests and the national parties.
The results of the Presidential election and party control in Congress will mean a great deal for the country, and for New York City and State, especially when it comes to federal policy and funding decisions -- particularly regarding infrastructure, immigration, health care, and more.
2. STATE SENATE CONTROL
Also in New York, all the seats of the state Legislature are on the ballot: 63 Senate seats, 150 Assembly seats. Control of the state Senate, Republicans' last statewide stronghold, is on the line.
The complicated state Senate math includes about two dozen members of each mainline party, a Democrat who caucuses with Republicans, and a caucus of breakaway Democrats that is set to grow from five to seven. That breakaway group, the Independent Democratic Conference, or IDC, will likely be again able to dictate terms of a coalition power-sharing agreement with one of the mainline conferences. The IDC has been aligned with Republicans for the past several years, but once the Election Day dust clears with a handful of swing seats decided, negotiations will again ramp up. Like with swing seats for the House, the state Senate variables on are Long Island and in the Hudson Valley, as well as a couple of upstate seats.
3. TURNOUT
While across the country more than 43 million people have already voted, according to NBC News analysis of early voting data, another 85 million or so will vote on Election Day.
In 2012, about 129 million total votes were cast in the presidential election. It was 131 million in 2008, when Barack Obama was first elected.
In New York, there were 7.1 million votes cast in the 2012 presidential election, 2.5 million of which were cast in New York City. Across the state, Obama received about 4.5 million votes to Mitt Romney's 2.5 million, sending the state's 29 electoral votes for Obama (270 electoral votes are required to win; Obama won 332). In New York City, Obama received about 1.95 million votes to Romney's 400,000.
As of November 1, 2016, the state Board of Elections reports that there are 11.5 million registered active voters in New York; 4.5 million of them in New York City. There are 5.7 million active registered Democrats in the state, 2.7 million Republicans, 2.5 million unaffiliated (or "independent") voters, and about 700,000 other active registered voters affiliated with other parties.
Hillary Clinton, a Democrat like Obama, is expected to easily win the state, and overwhelmingly win New York City. How the vote will shake out across the country is less clear in some places, especially this year's swing states like Pennsylvania, Florida, Nevada, North Carolina, New Hampshire, and a few others. Most projections favor Clinton to win the popular and, more importantly, Electoral College. But, turnout is key, and it is not clear whether Clinton's ground game and candidacy have whipped up the participation she will need in those key states, or whether Trump's candidacy has activated enough independents, conservatives, and previously inactive voters to take him over the top.
There's little mystery in New York, though it will be interesting to see what the margin outside New York City looks like and whether there is significant ticket-splitting by Republicans who don't vote for Trump but do vote for their local representatives in the House or state Legislature.
4. ELECTION ADMINISTRATION & SECURITY
Problems with the New York City Board of Elections are rampant and well-documented. City Comptroller Scott Stringer is auditing the agency, which is actually governed by state law, something Mayor Bill de Blasio has been regularly lamenting over the past year, especially when the BOE improperly removed tens of thousands of Brooklyn voters from the rolls.
De Blasio said last week that he has full faith in the "integrity" of the process and results, but not in the administration or "efficiency" of the voting process across the city's 1,205 polling places and at BOE headquarters.
The federal Justice Department announced Monday "that its Civil Rights Division plans to deploy more than 500 personnel to 67 jurisdictions in 28 states for the Nov. 8, 2016, general election." Included among those are both Queens County and Kings County in New York City.
"Although state and local governments have primary responsibility for administering elections, the Civil Rights Division is charged with enforcing the federal voting rights laws that protect the rights of all citizens to access the ballot on Election Day," reads the DOJ announcement.
Along with general BOE incompetence, there are also concerns about voter intimidation as this fraught, violent presidential campaign comes toward an end. And, there are concerns about the possibility of a terror or cyber attack. On Monday, de Blasio and NYPD officials, including Commissioner James O'Neill, held a press briefing to discuss security measures. The NYPD is on high alert given Election Day and the fact that both Clinton and Trump will be in Manhattan Tuesday evening.
There will be more than 5,000 NYPD officers on patrol Tuesday.
"[W]e know that the eyes of the world will be on New York City," de Blasio said Monday, about Election Day. "We have an obligation, not only to the people of this city, but to this country to make sure that tomorrow, all through the day, and particularly tomorrow night, goes smoothly and goes well. So we have extraordinary resources in place to do that and we'll be working very closely with our federal partners."
As for a cyber threat, NYPD Deputy Commissioner John Miller said Monday, "Working with DoITT – the City's IT overarching agency – as well as with the FBI and their cyber team, as well as with the NYPD and our cyber people, we have done a survey of the key systems that would affect the City's ability to respond in emergency [inaudible], as well as systems that have to do with moving information around the election. And we're very confident that we're in a good position to declare those systems operating properly, free of any intrusions, and our ability to monitor those things."
5. IS THE END THE END?
Even after all of his shocking statements and maneuvers, Donald Trump sent shockwaves throughout the country, even the world, when he said at the third Presidential debate that he may not accept the results of the election. "I will look at it at the time...I'll keep you in suspense," Trump told moderator Chris Wallace of Fox News and all those watching, many with mouth agape.
And since, Trump has increased his claims of a "rigged" election, casting doubt about how he might react if he is not declared the winner on Tuesday evening. Trump has talked about voter fraud, which studies have shown to be virtually nonexistent, and his belief that the media has been in out to get him. If Trump does lose and even if he does decide not to openly challenge the validity of the results, no one knows what his "concession" speech might sound like.
If Trump shocks the world, it is all-but-certain that Clinton would concede without calling into question the democratic process, local vote-counters, or any other factors. And, there is of course the off chance of a repeat of the 2000 election between Al Gore and George W. Bush, where a Florida recount was started after there was no clear winner on Election Night, though polls have not indicated that the results have much chance of being that close.