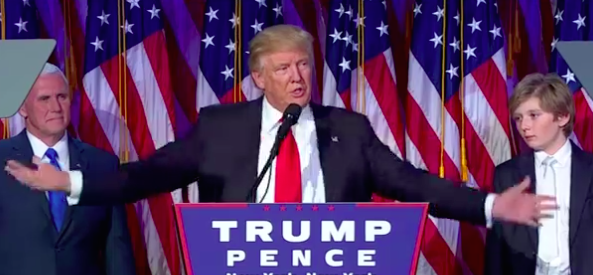 President-Elect Donald Trump
---
On a huge Election Day for Republicans, Donald Trump won the presidential election, the GOP kept control of both houses of Congress, and, here in New York, Republicans have increased their margin in the state Senate, the party's last stronghold of statewide power.
With a stunning show of support across the country, Trump and his vice presidential running mate Mike Pence won more states than expected and Trump will become the 45th President of the United States. Reports came in around 2:40 a.m. that Hillary Clinton had called Trump to concede, and soon after, Trump took the stage at the New York Hilton to declare victory.
It was less than an hour after Clinton campaign chair John Podesta said that several states were "too close to call," that the campaign was going to see every vote counted, and that it would have more to say on Wednesday.
But as more votes came in, the Associated Press called the race for Trump and reports came in of Clinton's call. Trump called for unity and promised to be a President for all Americans. He repeated campaign promises of investment in infrastructure and jobs for Americans. He did not mention several of his other promises from the campaign trail, like building a wall on the Mexican border and getting Mexico to pay for it, nor did he use disparaging nicknames for his opponent or lash out at critics, as he had throughout the primary and general elections. Trump did not threaten key pieces of the U.S. Constitution as he had over the course of his campaign.
The President-elect spoke calmly and graciously, thanking many members of his team for their work and support, and he thanked Hillary Clinton for her service to the country. There is a great deal of uncertainty about how he will handle the transition of power and the Presidency once inaugurated on January 20, 2017. He is the first person ever elected U.S. President with no government or military experience.
The popular vote count is very close, and Clinton could very well win that but lose the Electoral College and thus the presidency. Trump pulled out a variety of swing states, including Florida, Pennsylvania, Ohio, and North Carolina.
Financial markets in the U.S. and around the world tumbled as Trump's win became more apparent.
In the U.S. Senate, where Republicans held a 54-46 advantage coming into the elections, during which 34 Senate seats were being voting on, Republicans appear to have lost just one seat, in Illinois. However, as of 3 a.m., there were two races still not called. It appears likely that the Senate split will be 53-47 or 52-48. New York Senator Charles Schumer, a Democrat who won reelection easily, is on track to become Senate Minority Leader.
Republicans will also maintain control of the House of Representatives, where all 435 seats were on the ballot and the GOP came into the elections with a 247-188 advantage. Democrats appear to be picking up a handful of seats to slightly narrow that gap.
Here in New York, congressional races contributed to those House results. Despite several hotly contested races, mostly on Long Island and the Hudson Valley, the New York delegation to the House will remain the same in terms of party representation. In the most watched race in the state, if not the country, Republican John Faso defeated Democrat Zephyr Teachout to replace retiring GOP Rep. Chris Gibson.
In the race to replace retiring Democratic Rep. Steve Israel, Democrat Tom Suozzi has defeated Republican Jack Martins. Other Congressional results include wins for Republicans Lee Zeldin, Peter King, Dan Donovan, Elise Stefanik, Claudia Tenney, Thomas Reed, John Katko, and Chris Collins; and for Democrats Kathleen Rice, Gregory Meeks, Grace Meng, Nydia Velazquez, Hakeem Jeffries, Yvette Clarke, Jerrold Nadler, Carolyn Maloney, Adriano Espaillat, Joe Crowley, Jose Serrano, Eliot Engel, Sean Patrick Maloney, Paul Tonko, Louise Slaughter, and Brian Higgins.
All of the seats in the New York State Legislature were also on the ballot this year: 63 Senate seats and 150 Assembly seats. Democrats will maintain a healthy majority in the Assembly. The Senate math is more complicated, but Republicans appear to have ensured they will have at least a bare majority of 32, including Senator Simcha Felder, a Democrat who caucuses with the GOP. As of 3 a.m. there were two races too close to call, though, which will influence the final margin and could give the GOP more cushion: Republican Sen. Michael Venditto and Democratic challenger John Brooks and Republican Sen. Carl Marcellino and Democratic challenger James Gaughran are locked in tight battles, both on Long Island.
There is another key piece to the state Senate puzzle, of course: the soon-to-be seven-member Independent Democratic Conference and the GOP are likely to continue to align in a power-sharing coalition. Senate Majority Leader John Flanagan indicated in an Election Night press statement that the GOP-IDC partnership would continue in 2017. It is not immediately clear what this means for the Albany agendas laid out by Mayor Bill de Blasio and Gov. Andrew Cuomo as they discussed what they hoped to see next year if Democrats took the chamber.
Note: this story has been updated with additional information.