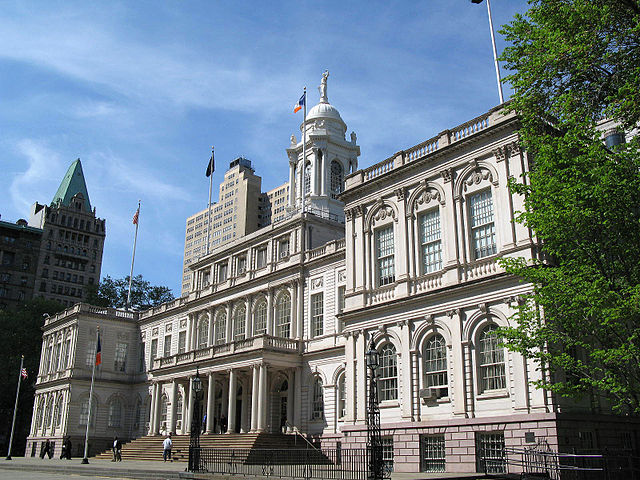 New York City Hall
---
What to watch for this week in New York politics:
Members of the media, people in politics, and many others continue to explain Donald Trump's surprising victory in the Presidential race, and to monitor his transition efforts. There are many questions about the presidential race and the path ahead.
New York leaders, mostly disappointed Democrats, regrouped in Puerto Rico this weekend for the annual SOMOS conference. Mayor Bill de Blasio was there on Saturday night, giving remarks meant to reassure his like-minded colleagues that New York will continue on its more liberal path, including by protecting and welcoming immigrants. Gov. Andrew Cuomo has also sought to convey the message that New York will fight a President Trump on any efforts that would undermine the state as a home to immigrants and liberal social values. Both de Blasio and Cuomo have said they are ready to work with Trump on things like infrastructure, but that they are ready to oppose him if he tries to execute certain campaign promises, like mass deportations.
De Blasio begins his week with two media appearances and two other events on his public schedule -- see details below.
In other events to watch this week, the City Council has a busy week of hearings, including one of its two full-body Stated meetings of the month, at which new bills are introduced and bills that have passed through a committee are voted on by the full Council. And the state commission on executive, legislative, and judicial compensation is due to hold its final meeting and make its recommendations. Additionally, Public Advocate Letitia James gives a policy address at New York Law School and Citizens Union and other organizations host a symposium on voter turnout in New York. See below for details and much more.
***Do you have events or topics for us to include in an upcoming Week Ahead in New York Politics?
e-mail Gotham Gazette editor Ben Max: This email address is being protected from spambots. You need JavaScript enabled to view it.***
The run of the week in detail:
Monday
On Monday at 9:40 a.m., Mayor de Blasio will appear live on Hot 97 radio. Later, the Mayor will host a closed-press roundtable with clergy and faith leaders. At about 7 p.m., the Mayor will appear live on NY1's Inside City Hall. "After, the Mayor will deliver remarks at the Cities Thrive 2016 Reception," at 8 p.m. at Gracie Mansion.
At the City Council on Monday:
At 10 a.m., the Committee on Fire and Criminal Justice Services will hold an oversight hearing "examining the implementation of Nunez Settlement in city jails." The committee will also discuss a proposed law on "the investigating, reviewing, studying, and auditing of and making of recommendations relating to the operations, policies, programs and practices of the department of correction by the commissioner of the department of investigation."
At 1 p.m., the Committee on Waterfronts will meet for an update on Governor's Island.
On Monday and Tuesday, the New York State Board of Regents will be holding its monthly meeting.
At 8:30 a.m. Monday, the New York City Food Policy Center will hold a "Food and Health Technology Breakfast Seminar." This event "will discuss the intersection and rising interest in food and health technology, learn about recent innovations in food technology for health, and gain a better understanding of how technology can work to improve consumers' understanding of healthy foods."
At 11 a.m. Monday, Comptroller Scott Stringer will deliver remarks and accept an award at the Annual Meeting of the 47th Street Business Improvement District.
At noon Monday, Crain's New York Business will host its annual "Hall of Fame" luncheon. This event will honor "those who have transformed the city in both their professional work and in their civic and philanthropic activities."
At noon Monday, Healthy Food for Upper Manhattan will hold "Youth Participation and Leadership in Upper Manhattan's Healthy Food Movement." There will be "a panel discussion about youth food justice programs that empower youth to make positive changes in Upper Manhattan's food environment."
At 1 p.m. Monday, the City Planning Commission will hold a review session.
At 2 p.m. Monday at Brooklyn Borough Hall, "Borough President Adams will welcome to Brooklyn a delegation of leaders from Guizhou Province, an area home to nearly 35 million people in southwestern China, as part of a fact-finding mission about local government; Brooklyn is home to one of the largest overseas Chinese populations outside of China, and Borough President Adams has established sister city agreements with the Chaoyang district of Beijing and Yiwu." At 6 p.m., "Borough President Adams will celebrate the accomplishments of local student chefs that have won a cook-off competition, organized by Mapping Basilicata and the New York State Restaurant Association (NYSRA), which will grant culinary scholarships to study and train in the Italian region of Basilicata."
At 4:30 p.m. Monday, Manhattan District Attorney Cy Vance ; Department of Investigation Commissioner Mark Peters; and the Consul General of Mexico, Ambassador Diego Gómez Pickering will hold an event which focuses on construction safety and training. This event will be at the Consulate General of Mexico in New York.
At 6 p.m. Monday, the New York League of Conservation Voters will hold its 2016 New York City Cocktail Party. New York State Assembly Speaker Carl Heastie will be the keynote speaker.
Tuesday
Governor Cuomo is making three announcements on Tuesday: at 10 a.m. at Schorr Family Firehouse in Johnson City; at 12:15 p.m. at Vanguard Collegiate High School in Rochester; and at 1:30 p.m. at Charter Communications in Henrietta.
At the City Council on Tuesday:
At 10 a.m., the Committee on Governmental operations will hold an oversight hearing on the 2016 Mayor's Management Report.
At 10 a.m., the Committee on Transportation will hold an oversight hearing on "making cycling and walking safer and more efficient," and to discuss several proposed laws.
At 1 p.m., the Committee on Veterans and the Committee on Higher Education will hold a joint oversight hearing on veterans in the CUNY system, and to discuss a proposed law "to establish a task force on affordability, admissions, and graduation rates at the City University of New York."
At 1 p.m., the Committee on Technology will hold an oversight hearing on LinkNYC.
On Tuesday at 8:30 a.m., the Vera Institute of Justice will host "Public Housing Access: A Convening on Innovative Reentry Practices." This event "will include discussions on the importance of public housing for people with conviction histories, lessons from the field, best practices, and opportunities for changes in policy."
On Tuesday at 8:45 a.m., "Cities, Data, And Mobility: The NYC Experience", hosted by the Rudin Center at New York University. The event will include remarks by Meera Joshi, Commissioner and Chair, New York City Taxi and Limousine Commission and a panel discussion, moderated by Mitchell L. Moss, Director, NYU Rudin Center, including Gale Brewer, Manhattan Borough President; Cordell Schachter, Chief Technology Officer, New York City Department of Transportation; Sree Sreenivasan, Chief Digital Officer, City of New York; and Anthony Townsend, Founder, Bits and Atoms.
On Tuesday at 9 a.m., the city Board of Corrections will hold a public meeting.
On Tuesday at 9:30 a.m., City Council Members Carlos Menchaca, Antonio Reynoso, and Brad Lander will hold a press conference on the steps of City Hall to support a bill on bicycle safety.
At 11:30 a.m. Tuesday, "Mayor de Blasio and First Lady Chirlane McCray will deliver remarks at the Cities Thrive Conference. The Conference, which is hosted by the First Lady, brings together leaders from across the nation to discuss mental health."
At 1 p.m. on Tuesday, Public Advocate Tish James will hold a conference call to discuss "bad labor practices and real estate investing by Deutsche Bank and the Qatar Islamic Bank that have exposed investor assets and put workers at serious risk."
On Tuesday at 5 p.m., the New York City Bar Association will hold "A New President, A New Approach to Criminal Justice Reform." Speakers will include Helen P. O'Reilly, Chair of the Program Committee and Task Force on Mass Incarceration; Carter Burwell, Deputy Chief Counsel to Senator John Cornyn (R-TX); Roscoe Jones, Senior Counsel to Senator Cory Booker (D-NJ); Nick Turner, President, Vera Institute; Molly Gill, Legislative Affairs Director, Families Against Mandatory Minimums; Gabriel Sayegh, Co-Founder & Co-Director, Katal Center for Health, Equity, and Justice; and Soffiyah Elijah, Executive Director, Alliance of Families for Justice will be the panelists.
At 5 p.m. Tuesday, TWU Local 100, the transit workers union, will hold "a massive rally" and release its contract demands as it negotiates with the MTA ahead of contract expiration January 15. The rally will occur outside MTA headquarters in Manhattan, and both Public Advocate Letitia James and Comptroller Scott Stringer are expected to speak.
At 6 p.m. Tuesday, New York University's Steinhardt School of Culture, Education, and Human Development will hold "Community Schools in New York City: Lessons from the Field." Panelists are Christopher Caruso, Executive Director for Community Schools, Office of Community Schools, NYC Department of Education; Maritza Arroyo, Vice President, Education, United Way of NYC; and Mark Rush, Executive Director of Principal Pipeline Strategy, NYC Department of Education.
At 6 p.m. Tuesday, State Senator Daniel Squadron will hold a Community Town Hall.
At 6:30 p.m. Tuesday, City Council Member Mark Levine will host a "Post Election Community Conversation." This election is meant to be a conversation on the concerns that have been raised by the election of Donald Trump.
On Tuesday evening, New Yorkers Against Gun Violence will hold its annual benefit. Actor and comedian Richard Kind will be the host, and artist Yoko Ono and City Council Member Jumaane Williams will receive awards from NYAGV.
Wednesday
At the City Council on Wednesday:
The Committee on Finance will meet at 10 a.m.
There will be a Stated Meeting at 1:30 p.m. As usual, there will be a 12:30 p.m. pre-stated press conference led by City Council Speaker Melissa Mark-Viverito.
On Wednesday at 8:30 a.m., the United Federation of Teachers will have a conference on the future of public schools in New York City. Dale Russakoff, author of "The Prize" about corporate reform efforts in Newark, N.J.; David Kirp, author of "Improbable Scholars" on the Union City, N.J. schools; Aaron Pallas, Columbia University; Amy Stuart Wells, a school integration and diversity expert; and Anastasia Raczek of City Connects will be among the speakers at the conference.
At 10 a.m. Wednesday, the City Planning Commission will hold a public meeting.
At 6 p.m. Wednesday, the Panel for Education Policy will hold a public meeting.
At 6:30 p.m. Wednesday, City Council Member Rafael Espinal will host a town hall in his district with Housing Preservation & Development "to inform the community on how to apply for affordable housing through housing connect."
Thursday
At the City Council on Thursday:
At 10 a.m. the Committee on Parks and Recreation will meet for "an overview of the Department of Parks and Recreations' Partnership for Parks Program."
At 10 a.m., the Committee on Health and the Committee on General Welfare will hold a joint hearing on "Part 1: Medical Health Services in the DHS Shelter System," and to discuss a proposed law "to amend the administrative code of the city of New York, requiring in relation to requiring information on health services in shelters."
At 10 a.m., the Committees on Immigration and Consumer Affairs will hold a joint hearing to discuss a proposed law that will "amend the administrative code of the city of New York, in relation to preventing the unauthorized practice of immigration law."
The Committee on Governmental Operations will meet at 1 p.m. for an oversight hearing on the "assessment of NYC's language access services," and to discuss a proposed law that will "amend the New York City Charter, in relation to improving access to city services for limited English proficient individuals."
The Committee on Aging will meet at 1 p.m. for an oversight hearing on the Department for the Aging's core services.
At 9 a.m. Thursday, "City & State's Borough 50 Series will recognize top 50 community leaders from Brooklyn at a breakfast." This event will recognize fifty powerful community leaders in the Borough of Brooklyn.
At 9 a.m. Thursday, the CUNY Urban Food Policy Institute will hold "Urban Food Policy Forum: Immigrants and Food Access." Panelists will be Sam Solomon, Deputy Director of Policy at the New York City Mayor's Office of Immigrant Affairs​​​​​​​; Els de Graauw, Assistant Professor of Political Science at Baruch College, the City University of New York; and Jessica Hughson-Andrade, MPA, Director, Benefits Access, Metropolitan Council on Jewish Poverty.
"The next public meeting of the New York City Campaign Finance Board will be held on Thursday, November 17, at 10:00 AM."
On Thursday at 6 p.m., the Alliance for a Quality of Education will celebrate its Champions of Education. Betty A. Rosa, Chancellor of the New York State Board of Regents; and Fred Frelow, Senior Program Officer of the Ford Foundation will be honored this year.
On Thursday at 7 p.m., the September 11, 2001 Memorial will hold "Covering Catastrophe: Reporting on 9/11." At this event, Kristen Shaughnessy (NY1), Maggie Haberman (CNN and The New York Times), and Deepti Hajela (Associated Press) will examine the challenges covering September 11, 2001 and how coverage of the terrorist attacks changed the way future acts of terror were covered by the media.
Friday and the weekend
At 8:15 a.m. Friday, Public Advocate Letitia James will speak at the CityLaw Breakfast at New York Law School.
At 9 a.m. Friday, Citizens Union and partners will host "The Only Way Is Up: A Citywide Discussion to Boost Voter Turnout in New York." This half-day conference will include a variety of speakers and discussion sessions about New York voter turnout and how to increase engagement and participation.
At 11 a.m. Saturday, the National Organization for Women will hold its New York Annual Conference. It will be a "celebration of breaking barriers and setting a new feminist agenda." This agenda includes the ending of child marriage, the election of women leaders, and the issue of rape.
***
Have events or topics for us to include in an upcoming Week Ahead in New York Politics? E-mail Gotham Gazette executive editor Ben Max any time: This email address is being protected from spambots. You need JavaScript enabled to view it. (please use "For Week Ahead" as email subject).
***
by Brendan Birth and Ben Max
@GothamGazette
Note: Gotham Gazette is an independent publication of Citizens Union Foundation, sister organization of Citizens Union.