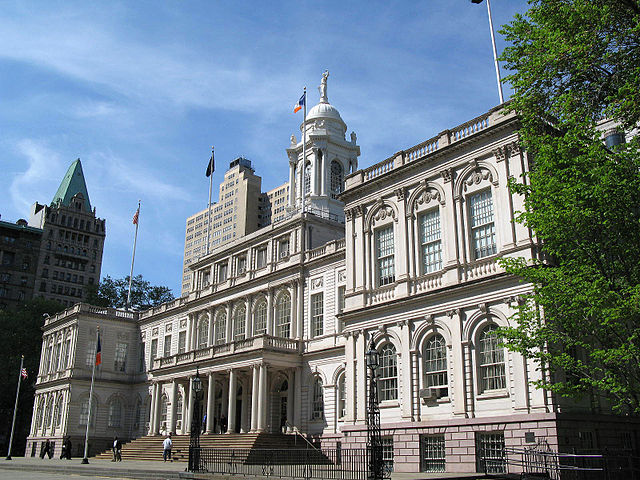 New York City Hall
---
What to watch for this week in New York politics:
Will there be a special session in Albany before the end of the year? That's one question we're looking for an answer to as the week begins. Time is running low for one to occur before the holidays at the end of the month. Governor Andrew Cuomo has said he wants to hold one to deal with a variety of issues, including pay raises for legislators and executive branch employees and other reforms to the legislator position, plus 421-a and more.
Meanwhile, here in the city, Mayor Bill de Blasio continues to move his reelection campaign along. On Sunday de Blasio spoke at Parkchester Baptist Church in the Bronx and received the re-election endorsement of Assemblymember Luis Sepulveda, the first state-level endorsement of the mayor's reelection campaign, which has kicked off with several union endorsements and the backing of former Mayor David Dinkins and Brooklyn Borough President Eric Adams.
On Sunday afternoon, in his official capacity as mayor, de Blasio delivered remarks at the New York Progressive Action Network Conference. De Blasio begins his week with three public events Monday -- see below for details.
Also Sunday, U.S. Senator Kirsten Gillibrand, with faith leaders, announced "a new push for additional federal anti-terror funding to help safeguard civil, religious and community institutions." Gillibrand cited the NYPD reporting a 30 percent jump in hate crimes throughout the city in 2016, and her office said she "will call for additional funding in the Fiscal Year (FY) 2017 Homeland Security appropriations bill for the Urban Area Security Initiative (UASI) Non-Profit Security Grant Program (NSGP). This additional funding would help ensure the protection of non-profit facilities and places of worship from potential threats. The Senate is currently debating the measure and is set to vote on it next week."
This week, we're watching for news out of Albany on a special session and much more. As always, there's a great deal happening all over the city, with many events to be aware of -- see our day-by-day rundown below.
***Do you have events or topics for us to include in an upcoming Week Ahead in New York Politics?
e-mail Gotham Gazette editor Ben Max: This email address is being protected from spambots. You need JavaScript enabled to view it.***
The run of the week in detail:
Monday
On Monday, Mayor de Blasio has three public events: at 10 a.m. at the First Precinct, "de Blasio and Police Commissioner James P. O'Neill will host a press conference to discuss crime statistics." "In the evening, the Mayor will appear on NY1's Inside City Hall...Later the Mayor will deliver remarks at the Brooklyn Bar Association's Annual Dinner." The mayor is also hosting "a meeting with the Executive Committee of the New York Conference of Mayors at Gracie Mansion" that is closed to the press and public.
At the City Council on Monday:
The Subcommittee on Zoning and Franchises will meet at 9 a.m.
The Committee on Immigration will meet at 10 a.m. to discuss a resolution "calling upon the Secretary of the Department of Homeland Security to grant Haiti a new designation for Temporary Protected Status to provide temporary immigration relief to eligible Haitian nationals in the United States, as well as to stop the detention and repatriation of Haitian nationals ineligible for immigration relief, in the wake of Hurricane Matthew."
The Committee on Land Use will meet at 11 a.m.
The Committee on Governmental Operations will meet at 1 p.m. to discuss a proposed law around deed restrictions and deed restriction removals.
The Committee on Women's Issues, the Committee on Contracts, and the Committee on Small Business will hold a joint oversight hearing at 1 p.m. on "the City's efforts to expand contracting with minority and women-owned businesses."
The Committee on Waterfronts will meet at 1 p.m. for an oversight hearing on improving boater safety in the City's waterways.
The Committee on Education will meet at 1:30 p.m. to discuss proposed laws which will require the New York City Department of Education to report information on computer science education programs and Career and Technical Education programs.
At 8 a.m. Monday, the Association for a Better New York will have a breakfast with William C. Dudley, President of the Federal Reserve Bank of New York. Dudley "will present a macroeconomic outlook and what it means for New York."
At 10 a.m. Monday in Albany, the New York State Assembly Standing Committee on Education will hold a public hearing "to examine and study existing and new ways to support and improve the academic success of English Language Learner students in New York State's school districts."
On Monday at 10 a.m., "New York City Council Member Andy King and Schools Chancellor Carmen Farina will visit all schools on Evander Childs High School campus."
At 10:30 a.m. Monday near Trump Tower, City Council Transportation Chair Ydanis Rodriguez "will call on President-Elect Donald Trump to move his transition headquarters out of New York City to ease traffic congestion in midtown Manhattan."
At 4 p.m. Monday at York College, there will be a public hearing on the MTA's proposed fare hikes.
On Monday at 5:30 p.m., the New York City Council will hold an event for World AIDS Day at City Hall.
On Monday at 6:30 p.m., New York Council Member Julissa Ferreras-Copeland, the Mayor's Community Affairs Unit, and the Legal Aid Society will host a "Know Your Rights Forum" in Corona. This event will be an "informational forum about immigration concerns under the Trump Administration" where "families in Corona--one of the largest immigrant communities in New York City--will be able to ask questions and receive resources from City agencies."
Tuesday
"On Tuesday, Mayor de Blasio will hold public hearings for and sign 17 pieces of legislation – Intros. 738-A, 1079-A, 1088-A, 1090-A, 1093-A, 1094-A, 1098-A, 1100-A, 1101 and 1102, in relation to gas safety; Intro. 1124-A, in relation to establishing an electric vehicle charging station pilot program; Intro. 1183-A, in relation to establishing a task force on affordability, admissions and graduation rates at the City University of New York; Intro 1228-B, in relation to amending the New York City charter to review the operations, policies, programs and practices of the Department of Correction; Intro. 300-A, in relation to the removal of snow and ice from fire hydrants; Intro. 1147-A, in relation to establishing an office of crime victim services; and Intros. 1213-A and 1214-A, in relation to services provided to NYCHA residents, including the jobs-plus program."
"In the evening, the Mayor and First Lady Chirlane McCray will attend The Nation Institute's 50th Anniversary Gala Dinner."
At the City Council on Tuesday: The City Council will hold a Stated Meeting at 1:30 p.m. This will be prefaced by the usual pre-stated press conference hosted by Council Speaker Melissa Mark-Viverito.
"The New York City Council on Tuesday will introduce a package of laws that would improve jobs in the fast food industry and other retail jobs, providing more regular schedules and access to more hours for workers so they can plan their lives and support their families. The council is also introducing a first-of-its-kind bill that would enable fast food workers to set up a non-profit organization in order to advocate for themselves and their families and improve their communities." Council members, workers led by 32BJ SEIU, and advocates will rally at 10 a.m. at City Hall.
On Tuesday, Stroock, Stroock, and Lavan will host a forum called "Can Media Actions Impair Justice?" The panel will explore the view held by some that "justice—in civil and criminal cases—may be under serious attack by today's news, editorial and internet coverage." The forum will include Judge Alvin K. Hellerstein, Senior Judge, United States District Court for the Southern District of New York; Justice John M. Leventhal, Associate Justice, Appellate Division of the Supreme Court of the State of New York Second Judicial Department; William K. Rashbaum, Reporter at the New York Times; and Judge Shira A. Scheindlin (Ret.), Stroock Of Counsel. Robert Abrams, former New York State Attorney General and Chair of Stroock's Government Relations Practice Group; and Joel Cohen, former Special Prosecutor and Stroock Of Counsel, will be the moderators of the forum.
On Tuesday at 8:30 a.m., the Brooklyn Chamber of Commerce will host a breakfast with NYPD Commissioner James O'Neill.
At 11 a.m. Tuesday in Albany, "Attorney General Eric T. Schneiderman will release a report on voting rights across New York State, detailing the results of his inquiry into the unprecedented level of voting complaints regarding the April 2016 presidential primary, and outlining a comprehensive set of reforms to address these issues."
At noon Tuesday, the New York City Bar Association will have a luncheon with NYPD Commissioner James O'Neill. The NYPD Commissioner will "discuss the NYPD's efforts to address and improve public safety and quality-of-life conditions" and also "share his vision of joining police and community resources to achieve these goals."
At noon Tuesday, the Brennan Center for Justice will have a film screening of "Rikers," a documentary. After the screening, there will be a panel discussion on "the crisis of incarceration in America through the stories of those who've been imprisoned" at Rikers, including panelists Dr. Ernest Drucker, Professor, NYU College of Global Public Health and author, A Plague of Prisons: The Epidemiology of Mass Incarceration in America; Lauren-Brooke "LB" Eisen, Senior Counsel, Brennan Center for Justice at NYU School of Law; and Glenn E. Martin, Founder and President, JustLeadershipUSA, national leader and criminal justice reform advocate.
On Tuesday at 5:30 p.m., NYC Votes will hold a public hearing on the 2016 elections. NYC Votes is inviting people to "share your voting story, listen to the testimonies of other voters and to help NYC Votes improve its voter outreach and education."
At 6 p.m. Tuesday, the Association for a Better New York Young Professionals will continue its "What's On Tap?" series with City Council Member Ritchie Torres. Torres "will share his experiences in public service and civic leadership, his current priorities for the City Council, and his thoughts on what's next for New York post-election."
At 6 p.m. Tuesday, Baruch College will hold "Trump's First 100 Days: What Will He Actually Do?" Speakers include Baruch President Mitchel B. Wallerstein on Defense/National Security, Professor Els de Graauw on Immigration Policy, Professor Hector Cordero-Guzmán on Workforce Issues, Professor Judith Kafka on K-12 Education, Clinical Professor Jeffrey Apfel on Higher Education, Professor John Casey on The Landscape for Nonprofits/Civil Society, Professor Dahlia Remler on Health Care Policy, Professor Tom Halper on The Court & Appointments, Professor Eric Gander on The Court & The First Amendment, and Professor David Jones on Congress.
At 6:30 p.m. Tuesday, the New York City Bar Association will hold "An Evening with Judge Margo K. Brodie, United States District Court Judge, EDNY." Brodie will "share reflections on her career path, advice on how to navigate the legal profession, and the responsibilities and benefits of being an active member of the profession."
Wednesday
At the City Council on Wednesday: The Committee on Health will meet at 1 p.m. to discuss proposed laws that deal with the reporting of HPV vaccination rates, the use of long-acting reversible contraceptives, and maternal mortality.
On Wednesday, the New York City Housing Conference will hold its 43rd Annual Awards Program and "Keys to Opportunity" conference. New York City Council Speaker Melissa Mark-Viverito will be the keynote speaker. Honorees will include Shola Olatoye, CEO of NYCHA. Panel discussions will include a "Federal Policy Update," "Connecting Services to Housing," "Planning for Year-15," "Winning Strategies For Community Engagement," "How to Make Housing Healthier," and "City & State Financing Programs." Panelists will include City Council Members Donovan Richards and Jumaane Williams and Bronx Borough President Ruben Diaz Jr.
Thursday
At the City Council on Thursday:
The Committee on Veterans and the Committee on Finance will hold a joint meeting at 1 p.m. to discuss a proposed law that would deal with the alternative exemption for veterans.
The Committee on Economic Development will meet at 1 p.m.
The Committee on Higher Education will meet at 1 p.m. for an oversight hearing on the New York City Council Merit-Based Scholarship Program.
On Thursday at 3 p.m., the Center for Community and Ethnic Media at CUNY Journalism School will release a new research study: "NYC's Ethnic Media in the Digital Age," from Matthew Matsaganis, Ph.D. Associate Professor, University at Albany, State University of New York.
On Thursday at 6:30 p.m., the Museum of the City of New York will hold "Zoning at New Heights: Supertalls and the Accidental Skyline." This event will "consider whether or not the zoning regulations that were created to tame towers during the rise of the skyscraper in the early 20th century have kept pace with the evolving skyline." John Cetra, AIA, Founding Principal, Cetra Ruddy; Raphaël Fischler, Associate Professor at the School of Urban Planning, McGill ; Terrence O'Neal, Chair of the Land Use and Waterfront Committee, Community Board 6; Michael T. Sillerman, Partner, Kramer Levin Naftalis & Frankel LLP; and Carol Willis, Founding Director of the The Skyscraper Museum will be the panelists. Edith Hsu-Chen from the NYC Department of City Planning Director for Manhattan will be the moderator.
On Thursday at 6:30 p.m., New York City Council Member Dan Garodnick will host "A Call To Action: Advancing NY Values from Your House to the White House." At this event, people will "learn how over the next four years we can advance and preserve the values that make New York City great." This event is co-sponsored by Congresswoman Carolyn Maloney, Borough President Gale Brewer, Senator Liz Krueger, and Assembly Member Dan Quart. The event will include a panel discussion and an advocacy resource fair, with groups like Planned Parenthood NYC, the New York Civil Liberties Union, Make The Road New York, The Anti-Violence Project, Big Brothers Big Sisters, the Anti-Defamation League, Coalition for the Homeless, and the New York Immigration Coalition. Panelists will include Rashida Richardson, New York Civil Liberties Union; Daniel Altschuler, Make the Road New York; Elizabeth Adams, Planned Parenthood of NYC; and Yasmin Safdie,The Anti-Violence Project.
Friday and the weekend
Nothing on our radar for Friday or the weekend as of the start of the week. Among things that could be on the docket: Mayor Bill de Blasio is likely to make his weekly appearance on WNYC's The Brian Lehrer Show on Friday morning.
***
Have events or topics for us to include in an upcoming Week Ahead in New York Politics? E-mail Gotham Gazette executive editor Ben Max any time: This email address is being protected from spambots. You need JavaScript enabled to view it. (please use "For Week Ahead" as email subject).
***
by Brendan Birth and Ben Max
@GothamGazette