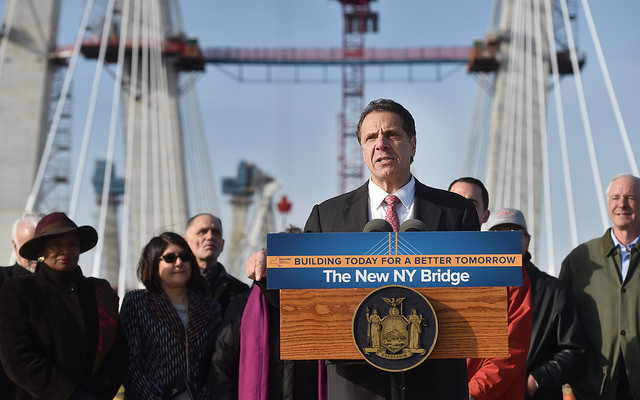 Gov. Cuomo (photo: The Governor's Office on flickr)
---
In the wake of the financial collapse and the Great Recession, New York City and State officials began to rake in enormous sums of money from settlements with major banking institutions.
Because New York is the major financial industry hub of the world, local officials have jurisdiction over these institutions, and thus related fines, forfeitures, and restitutions. In deals made outside of the budgetary process, New York officials like the Attorney General, and Manhattan District Attorney, and the U.S. Attorney for the Southern District of New York have accrued billions of dollars from settlements.
Where this money goes and how it gets spent are often mysteries. The procedure for allocating settlement money is opaque, and inconsistent across government entities. When asked, U.S. Attorney Preet Bharara's office did not explain its process for distributing settlement monies. The offices of Attorney General Eric Schneiderman and Manhattan District Attorney Cy Vance did provide some details to Gotham Gazette.
In the early stages of a typical process, parties involved in the investigation confer to determine possible settlement terms. Negotiations take place behind closed doors, with ample room for flexibility.
When settlements are reached, there are often many vagaries. A 2013 J.P. Morgan settlement with the Department of Justice, for example, used broad language like "permissible purposes for allocation of the funds include, but are not limited to" and funds can be spent "to otherwise promote the interests of the investing public."
Settlement terms typically stipulate direct consumer relief—offered by the banks themselves to affected parties—along with a cash component for investigators. This money is then usually used at the discretion of the settling investigator, such as the Manhattan District Attorney's office. It can be used to fulfill political promises, bolster pet initiatives, or create new priorities. It can also give an unfunded agenda new life.
Cash is, of course, highly prized, and officials may contest who has jurisdiction over settlement money, which is often split among parties. In the past, Shneiderman and New York Gov. Andrew Cuomo have sparred over such collections.
Government entities at times hire their own third-party monitors to oversee usage and efficacy of settlement spending, bringing into question whether there are sufficient, independent checks to prevent settlement sums from becoming political slush funds.
Using settlement funds, prominent officials have recently invested in specific sectors: Vance has invested in criminal justice reform, Schneiderman in housing programs, and Cuomo in infrastructure.
Cuomo's has been the most contested of officials who have had settlement monies to spend. The money at Cuomo's disposal has come from a combination of settlements with the Department of Financial Services, which Cuomo established in 2011, and some see as an effort to supercede work typically done by other government entities, like the Attorney General (while Cuomo is a former Attorney General, he is known to be territorial and has not had a terribly cooperative working relationship with Schneiderman).
With billions of dollars at his disposal, Cuomo created the Dedicated Infrastructure Investment Fund (DIIF) in the fiscal year 2015-16 Enacted Budget. The DIIF is a capital projects fund for nonrecurring expenditures, residing in the broader General Fund.
The DIIF has allowed the governor to bolster weaker tax collections and reallocate money at will, spending on both capital and noncapital purposes. The DIIF is structured to allow maximum flexibility with minimal oversight, garnering criticism from State Comptroller Tom DiNapoli, among others.
Settlement money has been a huge boon to Cuomo's ambitions for the state. He has spent billions toward his $100 billion infrastructure agenda, which includes a new Tappan Zee Bridge, airport upgrades, and much more.
Billion-dollar investments in the Thruway Stabilization Program, Upstate Revitalization Initiative, and Javits Convention Center Expansion have also provoked questions, especially as the governor's oversight of his Buffalo Billion economic development project has been inadequate, leading to multiple indictments of parties involved.
Each major official who has secured significant settlement funds has charted his own path, investing in a chosen agenda.
Manhattan DA Vance
From 2009 to 2016, the Manhattan District Attorney's Office has collected roughly $12 billion in settlements, with $3 billion going to city and state treasuries, and around $807 million remaining under the DA office's control, according to an October Citizens Budget Committee report.
Settlement terms have stipulated that this money go to criminal justice projects, leading Vance to form the Criminal Justice Investment Fund. He has used money to both plug budget gaps and fund new projects like a John Jay College of Criminal Justice institute designed to educate prosecutors.
"It's a once in a generation opportunity," Vance said at an October Citizen's Budget Committee event.
According to Vance's office, all funds have been deposited into accounts registered with the city Department of Finance, subject to audit by the city Comptroller. Some are directed by federal guidelines through the Equitable Sharing Program, by which the Department of Justice distributes forfeitures to the law enforcement agency involved in the investigation.
The DA has chosen the CUNY Institute for State and Local Governance to develop funding recommendations and monitor progress.
Vance's office says settlement resources are funding transformative initiatives. Maggie Wolk, director of planning and management for Vance, told Gotham Gazette that the money will support a "21st century crime-fighting" agenda. Rather than innovative projects, initial settlement money was used to cover existing needs, such as NYCHA security, like exterior lighting upgrades, which are seen as key to fighting crime.
Other funds from Vance have strengthened safety nets: in-prison education, at-risk youth diversion programs, and the Mayor's Task Force On Behavioral Health and Criminal Justice. Vance's office is also funding a national program to reduce the sexual assault backlog by testing rape kits across the country.
The DA's most innovative project is the Global Cyber Alliance (GCA). Created in 2015, the GCA is a coalition of more than 120 global partners who collaborate to develop risk solutions for reducing terror, cyber, and financial crimes. Vance is in regular contact with the commissioner of the London police for this project. A November symposium at the Federal Reserve Bank of New York––hosted by Vance––included the U.S. Secretary of Homeland Security Jeh Johnson, and former NYPD Commissioner Bill Bratton.
The GCA is the type of initiative that might not exist without settlement funds, but that Vance is able to invest in significantly. Because of the autonomy of district attorney offices and Vance's Manhattan jurisdiction, he has been in prime position to recover funds and determine how he wants to spend them.
In November 2015, The New York Times reported on Vance's windfall, highlighting his investments in reducing the sexual assault backlog, the GCA, and the John Jay College of Criminal Justice. The piece also raised the question of the amount of oversight involved in these expenditures -- a common theme among top officials who all-of-a-sudden came to control billions of discretionary dollars.
Attorney General Schneiderman
Attorney General Schneiderman's office says it has collected $5 billion since the financial crisis, using available cash to create programs to support those affected by the mortgage crisis.
"These programs have already provided unprecedented assistance to homeowners and communities across the state," Schneiderman said in a statement to Gotham Gazette, referring to programs protecting homeowners at risk of foreclosure and communities struggling with vacant and blighted homes.
Schneiderman's first settlement was in 2012, when 49 states, along with the federal government, reached a $25 billion agreement with some of the nation's biggest mortgage servicers: Ally/GMAC, Bank of America, Citi JPMorgan Chase, and Wells Fargo.
From the settlement, the Attorney General's office received $135 million -- a sum, according to Citizens Budget Commission's David Friedfel, "relatively small in comparison to overall amounts." Schneiderman has faced challenges in getting or keeping settlement money as Cuomo has encroached.
One of Schneiderman's first ventures using settlement funds was the 2012 launch of the Homeowner Protection Program, which provides homeowners with mortgage assistance, including housing counseling and legal services. A December press release details that the Attorney General planned to add another $20 million to his existing $100 million investment in the program.
Another initiative, the Mortgage Assistance Program, created in 2014, provides loans to homeowners at risk of foreclosure. A May 2016 press release reported that the Attorney General has distributed $18 million in loans to preserve $153 million of property value.
Schneiderman has also funded a series of long-ignored land banks: nonprofit organizations that acquire, rebuild, or demolish vacant, abandoned, or foreclosed properties. This investment came in the wake of a 27% increase in vacant and distressed properties between 2000 and 2010, according to the AG's office. Schneiderman initially allocated $12.5 million, and later another $33 million.
A November 2016 report from the AG's office says that in the past three years, ten land banks have reclaimed approximately 2,000 properties, returned 700, and demolished 400, saving $19 million in property value. That month, the AG announced an additional $20 million in funding.
Like Vance, Schneiderman selected his own oversight committee, tapping Enterprise Community Partners to conduct regular reporting on his uses of settlement monies.
Questions remain about the process of dividing funds among parties relevant to an investigation. Schneiderman's office provided a vague picture of negotiations with settling parties, Cuomo's office, and other offices like the Department of Justice.
Once terms are determined, money is sent back to the state where it becomes the decision-making jurisdiction of the Legislature and Governor. At this point, the Attorney General is removed from proceedings.
The early stage of negotiations can prove contentious; in January 2014, New Yorkers caught a glimpse of this infighting.
In a landmark $13 billion deal with JPMorgan Chase, Schneiderman negotiated terms that gave him control over a $613 million sum. Cuomo argued that all the money should go into the state treasury. After a public feud, the two reached a deal where Schneiderman diverted $81.5 million to Cuomo, to be used specifically for housing programs.
A New York Times editorial placed blame on Cuomo, calling the exchange an "unnecessary fight."
Governor Cuomo
According to a November update from state Comptroller DiNapoli, New York has received or is expected to receive approximately $9 billion in settlement funds from the beginning of state fiscal year 2014-15 through the middle of state fiscal year 2016-17, which is the current one and ends March 31.
According to the same update, in fiscal year 2015-16, settlement revenues were 3.7% of State Operating Funds.
Then there's Cuomo's Dedicated Infrastructure Investment Fund (DIIF), which, as of the fiscal 2016-17 enacted state budget, was appropriated almost $7.4 billion. The DIIF is an opaque capital projects fund for nonrecurring expenditures.
In his update, the comptroller said appropriation language is "broadly worded" to provide "significant flexibility." These "mostly unrestricted" funds can be used for non-capital expenses and even transferred back into the General Fund in case of economic downturn or other needs.
Through the middle of fiscal 2016-17, roughly $1.6 billion has been used for noncapital expenses, according to the comptroller's update.
"The public at large doesn't know what the government is spending their money on," said David Friedfel of Citizens Budget Commission, a nonpartisan, nonprofit watchdog. "The appropriations language essentially says that they can use the money for whatever they want."
E.J. McMahon, research director at the Empire Center for Public Policy, feels the same. "It's basically a grab-bag of different projects that are meant to be politically appealing as much as anything."
Governor Cuomo is using settlement dollars to compensate for tax collections that have seen a decline of $1.3 billion in fiscal 2016-17 over the year before, with personal income tax collections down 3% in the same period year-over-year, according to the comptroller's update. The state fiscal year begins April 1. Cuomo will be outlining his proposed fiscal 2017-18 budget in January.
In a November press release, DiNapoli further questioned Cuomo's actions. "The use of settlement resources for ongoing spending and to boost the state's bottom line may be obscuring New York's true fiscal position, and leaving uncertainty for the commitments already made," DiNapoli said.
Both Friedfel and McMahon noted that settlement funds could have been used to pay down long-term debt, which is $63 billion, according to a March 2016 Comptroller report. "One of the other acceptable uses other than debt reduction would've been to take another big chunk of it and put it in reserve. But he didn't do that either," McMahon said of Cuomo. "He's having his cake and eating it too."
Projects
The fiscal 2016-2017 Enacted Budget Financial Plan details that $2 billion is going to the Thruway Stabilization Program. According to the governor's office, around one third of this money will go to supporting core infrastructure, and two thirds to the construction of the new Tappan Zee Bridge.
The Tappan Zee replacement (the New NY Bridge) has been a longstanding Cuomo initiative that the governor is, in part, staking his legacy on. Some believe more of the Thruway money should have been spent on less-sexy existing infrastructure.
Friedfel and McMahon took issue with this allocation, which each called a "blank check" to the Thruway Authority. The governor's office denied this was the case.
McMahon argues that the Thruway should not have been the highest priority, citing that the Metropolitan Transit Authority (MTA) only received $250 million to open a Metro-North link in Penn Station.
"The Thruway is not to the rest of the state as the MTA is to downstate," McMahon explained. "There's no comparison."
The governor has also dedicated $1.7 billion of settlement funds to the Upstate Revitalization Initiative (URI) to incentivize economic development.
In this initiative, Regional Economic Development Councils––public-private partnerships made up of local experts and stakeholders––submit development plans to a committee including the New York Secretary of State. Those deemed to have the strongest plans receive a total of $500 million to enact their projects.
In supporting the investment, a representative of the governor's office cited a drop in unemployment since URI's institution.
"New York's fiscal discipline under Governor Cuomo has made it possible to dedicate these unplanned settlement dollars to capital projects that will have a huge economic impact," said Morris Peters at the State Division of the Budget. Cuomo has staked much of his tenure on restoring fiscal sanity to the capital, including a 2 percent cap on annual spending increases in the operating budget.
Experts have concerns about the potential return for taxpayers from URI and other economic development investments made by Cuomo, and recent corruption indictments of eight Cuomo aides, associates, and donors have raised additional oversight questions.
The governor's website states that the URI is "modeled after the success of the Buffalo Billion Initiative," which is at the center of the corruption scheme including bid-rigging and kickbacks.
The third largest DIIF investment is a high-profile Jacob Javits Center expansion on Manhattan's west side, to be reimbursed by bond proceeds issued in fiscal years 2020 and 2021. The governor claims that the expansion will generate 4,000 full-time jobs, 2,000 part-time jobs, and $393 million in new economic activity, annually.
A January 2016 press release stated that the center will be paid for "within existing resources."
According to Friedfel of CBC, the expansion loan did not even exist in Cuomo's executive budget, but later appeared in the adopted budget, raising more questions about how windfall dollars are distributed behind closed doors.
Note: this article has been corrected to remove mention of Comptroller Tom DiNapoli from among those offices that have won bank settlements.