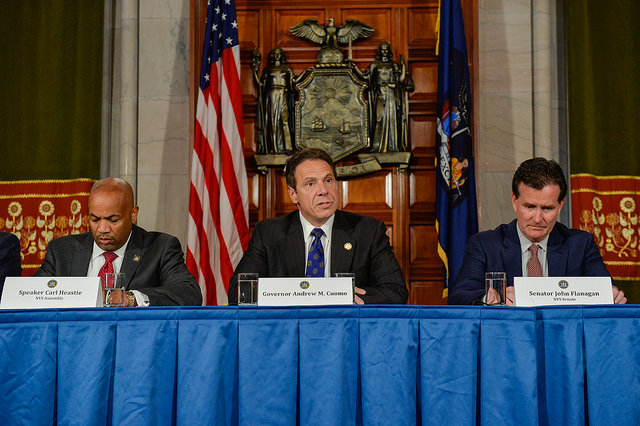 Heastie, Cuomo, Flanagan
---
Several themes loomed as the New York State Legislature held its first day of its new session on Wednesday in Albany. The 2017 legislative calendar, and with it the 2017-2018 Legislature, began oaths of office and speeches by party leaders in both the state Senate and Assembly. The tone was set, priorities were announced or reaffirmed, tensions were evident, and the jog toward the next state budget -- due by April 1 -- began.
The most important remarks were delivered by the two majority leaders: Assembly Speaker Carl Heastie, a Bronx Democrat, and Senate President John Flanagan, a Long Island Republican, who laid out their respective agendas for the coming year. Importantly, Flanagan in particular made clear that the Legislature has bones to pick with Governor Andrew Cuomo, who was not in Albany Wednesday, but in New York City, where he was making yet another infrastructure announcement, the second plank of his 2017 State of the State Agenda.
The prologue to Wednesday was a set of late 2016 dynamics that set the stage for what could be a volatile 2017: fraught negotiations between state lawmakers and Cuomo over a potential pay increase and special legislative session; the November election of President-elect Donald Trump; and news that the Independent Democratic Conference (IDC) -- a breakaway group of Senate Democrats -- would continue to caucus with Republicans, who maintained their own slim majority in the chamber thanks to the elections and Brooklyn Senator Simcha Felder, a nominal Democrat who caucuses with the GOP.
On specific policy matters, higher education affordability became a central issue of the first session day following Cuomo's surprise Tuesday announcement of a proposal to make public college tuition-free for students from New York families earning less than $125,000 per year. Cuomo launched the Excelsior Scholarship plan -- his first State of the State proposal -- in Queens with former presidential candidate Senator Bernie Sanders, garnering national headlines, and forcing legislators to respond. Many want to know more about the potential costs and funding plan -- Cuomo's Executive Budget is due by January 17.
Leaders and Priorities
In his opening remarks on the Assembly floor, Heastie, who was re-elected Speaker with 99 votes, over 41 for Minority Leader Brian Kolb, emphasized the importance of investing in education, such as fulfilling the state's campaign for fiscal equity obligation, expanding President Barack Obama's My Brother's Keeper initiative, and the passage of the DREAM Act, which would provide college tuition assistance to undocumented immigrants. "The sad truth is that public education is under attack across the country like never before," Heastie said.
Heastie hailed Cuomo's plan to make city and state colleges tuition-free for middle- and low-income New Yorkers, noting that the Assembly had been pushing a similar education bill.
"For those of you that have been here for some time, you know that the idea of college affordability started right here in this house," said Heastie of the Assembly. "I am encouraged that the governor is making this a priority, and we look forward to working with him and the Senate to help make this a reality."
The Assembly speaker also focused on criminal justice reform, climate change, the importance of codifying Roe vs. Wade into New York law under a Trump administration, updating transportation options in Upstate New York, and New York City's affordable housing crisis.
Meanwhile, is it often is, the mood was more tense on the Senate floor. Flanagan won re-election as Senate president with 32 out of 63 votes, emblematic of the GOP's slim majority.
Mainline Democrats, still raw from the election results and caucus decisions by Felder and the seven-member IDC, addressed their Democratic colleagues bluntly and pushed back on two measures proposed by the majority, which they said were aimed at curtailing transparency in Senate proceedings. There was even a movement to make Senate Minority Leader Andrea Stewart-Cousins temporary Senate president.
Harsh criticism of Felder and the IDC continued from fellow Democrats and progressive groups, who argue that a unified Democratic Party is necessary to form a bulwark against the incoming federal administration.
Senator Michael Gianaris, a Queens Democrat, made the case for electing Stewart-Cousins as temporary president, noting her long record of accomplishments and her distinction as the first female state legislative leader in either chamber. "I ask my colleagues to consider making history today, and she already has done so by being the first female legislative leader in New York State," Gianaris said. "Today, we have the opportunity to make her the first female majority leader in either chamber."
Stewart-Cousins called for unity among Democrats in her opening remarks. "I look at a chamber of 32 Democrats and 31 Republicans, yet once again we are denied our rightful place leading the Senate," she said. "Democrats must be true to their values especially in the atmosphere we are going to be facing. Democrats should be united!"
In other telling signs of Senate dynamics, IDC Deputy Leader David Valesky moved to nominate IDC Leader Jeff Klein as temporary president, and Republican Senator John DeFrancisco, in his endorsement of Flanagan for the role, compared Flanagan to Stewart-Cousins, saying that under the Republican lawmaker's leadership, more women than ever have been brought into the Senate.
Transparency Attack
Gianaris also took several jabs at the IDC as he peppered Senate Ethics Committee Chair Thomas D. Croci with questions over a proposed amendment that would have an equal number from each of the two major political parties appointed to the committee. Gianaris questioned how the bipartisan committee would be selected when IDC members have aligned themselves with Republicans.
"Will the minority leader get to appoint the same amount as the majority coalition? Or is the language somehow imbalanced?" said Gianaris.
Croci, a Republican from Long Island, responded that the committee would be split equally by party affiliation and that the rule was intended to clarify the role of the committee as it relates to a similar committee in the Assembly chamber.
"There was some confusion last year about the role of our committee and that of the committee in the Assembly. What we are trying to do is create parity with the Assembly chamber," Croci said, adding that "some things should transcend politics."
In another testy exchange, Senator Brad Hoylman, a Manhattan Democrat, challenged DeFrancisco on a resolution to ban cell phone usage on the Senate chamber floor (the ban would include prohibition on taking photos or filming without explicit permission, thus limiting members of the media from doing their jobs). DeFrancisco maintained that filming "upset the decorum in the chamber," while Hoylman repeatedly challenged DeFrancisco to cite an example in which cell phone usage disrupted proceedings and called it infringement on free speech rights.
Senator Felder stood up and started filming the exchange, prompting applause, and several legislators walked out, muttering things like "I can't listen to this." Senate Democratic Communications Director Mike Murphy slammed the "Trump-style" resolution, noting its similarities to a bill passed in Washington penalizing lawmakers who film or take photos on the U.S. Senate floor, which moved after a Democratic sit-in over gun regulation.
"Under the Republicans, the State Senate has repeatedly rushed important votes through in the middle of the night, away from public scrutiny," Murphy said. "This new rule will continue the GOP pattern of avoiding transparency and concealing their actions from New Yorkers. The people have a right to know what is happening in their Senate Chamber." The resolution was passed by voice vote.
In her remarks, Stewart-Cousins laid out a wide-ranging progressive agenda for the coming year including raising the age of adult criminal responsibility and expanding universal pre-kindergarten. She addressed Klein and Flanagan directly, saying, "Senator Flanagan and Senator Klein, the Democratic Conference stands ready to work with you when we agree and we will not be shy when we disagree."
Flanagan, in a somewhat more casual speech, emphasized economic development and job creation as way to address some of the social and economic policy issues raised by Stewart-Cousins. He also made a point to praise the Assembly speaker, calling Heastie a "gentleman" and a "class act."
Flanagan suggested that fed-up lawmakers step up their pressure on Cuomo this year, urging his fellow legislators to "ask tough questions" on the progress of economic initiatives like Start-Up NY and Regional Economic Development Councils. Cuomo's record on job creation and use of government subsidies has been questioned, including with regard to a major corruption scandal in the governor's signature economic development program.
"It's very simple, the legislative power of the state is vested in the Senate and the Assembly," Flanagan said. "Not the attorney general, not the controller, and not the governor."
The majority leader vowed to "stand up for the independence of this body," suggesting that the Senate may act as a greater check on the governor's power in the coming year. He was met with a standing applause.
Resisting A Trump Administration
The uncertainty surrounding President-elect Donald Trump -- particularly his promise to repeal the Affordable Care Act, known as Obamacare, a move that could jeopardize insurance coverage for 2.8 million New Yorkers -- loomed in both chambers, and both Democratic leaders vowed resistance to the incoming administration.
"Last November's election taught us many lessons. Among them, that the road to progress is never easy. But I promise New Yorkers that the Assembly Majority will never allow this state to go backward," said Heastie.
In the Senate, Stewart-Cousins said, "Many in this great progressive state of New York look to Washington and the new Trump administration with grave concern. The national Republican Party has made it clear that they are looking at rolling back so many hard-won victories for the working men and women of New York."
As he has mostly done over the past two years, Flanagan ignored Trump on Wednesday. Though he did express support for the president-elect around the time of the Republican National Convention, Flanagan has mostly steered away from promoting Trump or his policies.
IDC Priorities for 2017
On the Senate floor Wednesday, Klein revealed the IDC's priorities for the coming year, including "Raise the Age," providing incentives aimed at keeping manufacturing in New York, and an education affordability plan. IDC priorities are often key to budget and legislative negotiations as Senate Republicans have to be willing to allow Klein's crew space given its role in bolstering the GOP majority.
In contrast to the governor's proposal to provide scholarships to middle- to low-income New Yorkers at public universities, the IDC plan involves the expansion of the state's tuition assistance program, raising income eligibility limits from $80,000 to $200,000, and making funding available to all, including undocumented immigrant students.
In its agenda for 2017, the group also proposed $11.1 million in funding for immigrant legal services, and the creation of a Home Stability Support program in New York City, which would help keep homeless or near-homeless people in permanent housing.
New Members Sworn In
Several new lawmakers were sworn in this week. The Senate Democrats welcomed Jamaal Bailey from Senate District 36, which includes Mount Vernon and parts of the Bronx, and John Brooks from Senate District 8 on Long Island. On the Republican side, new members include Christopher L. Jacobs of Erie County; Elaine Phillips of Long Island; former Assemblymember James Tedisco, representing Fulton and Hamilton counties and parts of Herkimer, Schenectady and Saratoga; and Ontario County's Pam Helming.
The 150-seat Assembly welcomed 18 new members in January, including several Democrats from the New York City area. Tremaine Wright now represents the 65th Assembly, representing Crown Heights and Bed-Stuy, and Bobby Carroll, Brooklyn's 44th District.
From Lower Manhattan, Yuh-Line Niou accepted her 65th Assembly District seat, which had been occupied by former Assembly Speaker Sheldon Silver from 1977 to 2016. After losing to Silver ally Alice Cancel in a special election last year, Niou unseated the short-term incumbent by a narrow margin in a crowded field, becoming the first Asian-American to represent Chinatown or any part of Manhattan in the state Legislature.
Brian Barnwell accepted the 30th Assembly District seat, Clyde Vanel assumed his seat representing the 33rd District, and Stacey C. Pheffer Amato assumed her 23rd Assembly District seat, all in Queens. Pheffer's mother, Queens County Clerk Audrey Pheffer, previously held the same Assembly seat, making them the first mother and daughter to hold the same seat in the New York State Legislature.
Representing parts of Upper Manhattan, former City Council Member from Harlem Inez Dickens took Keith Wright's vacated 70th District seat, and Carmen De La Rosa, former chief of staff to City Council Member Ydanis Rodriguez, assumed the 72nd District seat.
The Legislature is gone from Albany until next week, when session will resume Monday and Tuesday, just as Cuomo tours the state Monday through Wednesday to give six State of the State addresses.