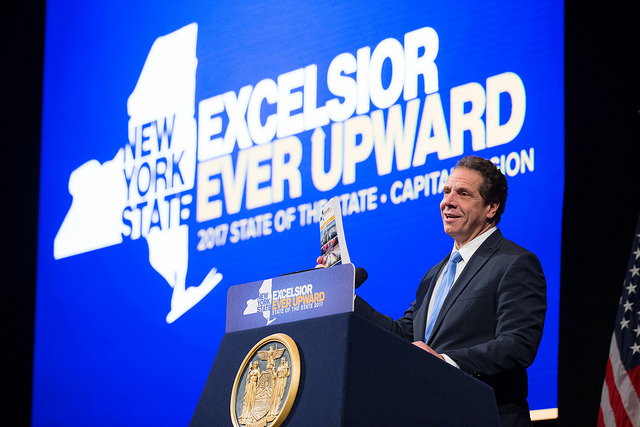 Gov. Cuomo (photo: Governor's Office via flickr)
---
Governor Andrew Cuomo concluded his three-day, six-stop State of the State tour in Albany Wednesday, though not at the State Capitol, where he and previous governors have typically held a single event. In contrast to previous addresses, most state legislators were not in attendance to hear the governor lay out his agenda for the year.
Throughout the week, Cuomo released 35 proposals, many of them aimed at lifting the middle class, including tuition-free city and state college for students under a $125,000 income threshold, jobs and infrastructure investment, and an expanded child care tax credit. The governor outlined voting reforms to encourage more New Yorkers to cast ballots, and, as he toured the state, made a wide variety of region and city-specific proposals.
The governor culminated his junket with the capital region speech, at SUNY Albany, during which he outlined his 2017 government ethics agenda. An ambitious ten-point plan that comes in response to "a series of breaches of the trust" in Albany, Cuomo said. "It has happened in the legislature, both houses, it's happened in the state comptroller's office, it's happened in my own office," the governor acknowledged. He said the measures, if enacted, would "restore the public trust."
Last year saw the two former legislative majority leaders convicted on public corruption charges, followed by the arrest of eight people -- aides of and donors to Cuomo -- in an alleged corruption scheme of bribery, kickbacks, and bid-rigging.
Cuomo spent the first three-quarters of his Albany address rehashing themes from his previous speeches, such as the need to address "middle class anger" and his focus on correcting inequities between Upstate and New York City through major government investment. He also outlined capital region-related proposals like an expanded nature trail, legalizing ride-hailing apps, and water infrastructure investment.
The governor then explained the need for a more ethical and trustworthy government by saying, "We have been doing historic work at the state level – the government is doing more than ever before – but imagine what we could do if we had the complete confidence of the people. If we had that confidence, there is nothing we couldn't do – and I am not going to stop until I get there."
After noting that there have been ethics measures passed four years in a row and acknowledging their insufficiency, Cuomo repeated many of his proposed reforms from 2016, including closing the LLC loophole, enacting term limits, and instituting restrictions on outside income for state lawmakers -- all of which have been bucked by the Legislature, especially Senate Republicans. Cuomo proposals for term limits, outside income restrictions, and making the job of state legislator full-time would require state constitutional amendments.
The governor and state legislators start the year on bad terms after a commission to enact pay raises for legislators fell apart when the governor's appointees refused to back raises without corresponding reforms like outside-income limits.
On Wednesday, Cuomo also proposed adding the Legislature to Freedom of Information Law transparency, increased oversight of the state's procurement process, requiring local elected officials to file financial disclosures, and expanding the State Inspector General's authority to SUNY and CUNY not-for-profits, and creating new Inspectors General for the Port Authority and the State Education Department.
"As public servants, we earn the trust of the people we serve, and we can only do as much as that trust allows us to do. Unfortunately, in Albany there has been a series of breaches in the trust," he said. "We have to say to the people of this state, we get it, people will do bad things — that is the nature of humanity — but we are going to have as many precautions as possible."
Government reform advocates, some legislators, and Attorney General Eric Schneiderman have been focused on changes to help prevent corruption, not just punish it or add disclosure, as a number recently passed ethics reforms have done. Cuomo's ten-point plan hits many notes that reform groups and reform-minded elected officials have been calling for. Whether there is a path to enactment is unclear.
"It's nice to see the governor articulate his continued commitment to ethics reform, but he has to change his approach if he really wants to get this done," said Dick Dadey, executive director of government reform organization Citizens Union. "We've grown weary of his words and need to see more forceful action in trying new strategies to get this done," Dadey added. "If he really wants to clean up Albany, then he needs to do something else like hold up the budget or play hardball in a way he hasn't before."
Blair Horner of NYPIRG, another reform leader, has been calling on Cuomo to take his ethics message to the people, like Cuomo did in travelling the state and holding rallies to promote a minimum wage increase that passed last year. The governor's office did not respond when Gotham Gazette asked what Cuomo planned to do to ensure his reform proposals are passed.
"It's not hard to come up with good proposals, it's hard to come up with good laws," Horner told Gotham Gazette in response to the governor's speech and ethics agenda. "Whether or not there is a good ethics hinges almost entirely on what the governor does -- he has to engage the public. Good ethics deals are not the result of secret negotiations at the Capitol. What comes out of that are half measures with loopholes and it's not clear to me what the governor wants to do. He's never taken the fight into the public domain."
The relationship between Cuomo and state legislators frayed in recent weeks as talks over a special session and a potential pay raise for lawmakers fell through toward at the end of last year, when lawmakers balked at the governor's attempt to trade the pay bump for his reform package. Some have of speculated that this falling out, along with Cuomo's interest in running for president in 2020, are reasons Cuomo took his address on the road this year.
At his Albany speech, Cuomo said the tailored State of the State addresses were intended to speak directly "to the people" in every region of New York.
Last year, in the wake of the corruption scandals by which Sheldon Silver and Dean Skelos were found guilty of violating federal laws, Cuomo also focused part of his State of the State address on restoring the public's trust in government, emphasizing numerous ethics reforms he hoped to pass in the coming year. His 2016 agenda included setting limits on campaign expenditures, the closure the LLC Loophole, increased funding for a state ethics regulator, JCOPE, and term and income limits for lawmakers.
The governor also vowed to convene a commission to create a blueprint for a Constitutional Convention -- an opportunity to make significant changes to the state constitution, including enacting ethics reforms -- in the event that in November of this year, New Yorkers vote in favor of holding one. It was another plan that failed to materialize as the money Cuomo proposed to fund the commission did not make it into the budget. The governor has said the only way to close the LLC loophole, which allows for virtually unlimited corporate campaign donations, appears to be through a constitutional convention.
While most of the campaign finance reforms proposed by Cuomo last year did not pass both legislative chambers, nor did he push aggressively for them, Albany lawmakers did pass a series of disclosure requirements aimed at increasing transparency for Super PACs and nonprofits. The measures, rushed through at the end of the legislative session, were criticized for doing little to address the actual sources of corruption in state government.
This year begins with Cuomo weathering a new scandal, even closer to home, as three of his former top aides and several major donors have been indicted for alleged behavior related to the governor's economic development programs.
What Cuomo does next, if anything, to push his ethics reform plan is anybody's guess. The governor will soon release his Executive Budget proposal and then, as the Legislature holds a series of budget hearings, he will negotiate with legislative leaders before a budget is passed. The new state fiscal year begins April 1.
For the capital region, Cuomo proposed on Wednesday to complete the Empire State Trail, a 750-mile pathway for biking and hiking that would connect the Erie Canalway and the Hudson River Valley Greenway, by 2020; a brand new airport for Plattsburgh, New York, which he suggested would transform the city into a "transportation hub," and vowed to address the region's failing pipes and invest $2 billion into clean water infrastructure across the state. Finally, he pledged to protect New Yorkers from out-of-controls drug costs and repeated earlier calls to enable ride-hailing services, like Uber and Lyft, in Upstate New York.
In reaction to Cuomo's ethics agenda, Senate Minority Leader Andrea Stewart-Cousins noted that Senate Democrats have been fruitlessly pushing for similar reforms for some time. "There have been no stauncher advocates for ethics reform than the Senate Democrats," she said in a statement. "Clearly, ethics reforms will only take place if all Democratic Senators unite to form a functional majority. New York voters supported a Democratic Senate Majority and deserve an ethical and trustworthy state government."
Other top Albany officials, including Attorney General Schneiderman -- who pushed last year for a wide ranging ethics reform package to address Albany corruption -- Comptroller Tom DiNapoli, and Assembly Speaker Carl Heastie withheld comment on the governor's proposed reforms saying they are still under review. Senate Majority Leader John Flanagan's office did not respond to a request for comment. As NYPIRG's Horner pointed out about Cuomo's 2017 ethics agenda, it does not include restoring audit powers previously stripped from the Comptroller or additional corruption-investigating powers for the Attorney General, two items many have been calling for, but Cuomo continues to resist.
[Read: A Cheat Sheet to Governor Cuomo's 2017 State of the State Proposals]
Note: Gotham Gazette is an independent publication of Citizens Union Foundation, sister organization of Citizens Union.
Note: this article has been updated with comment from Blair Horner of NYPIRG.