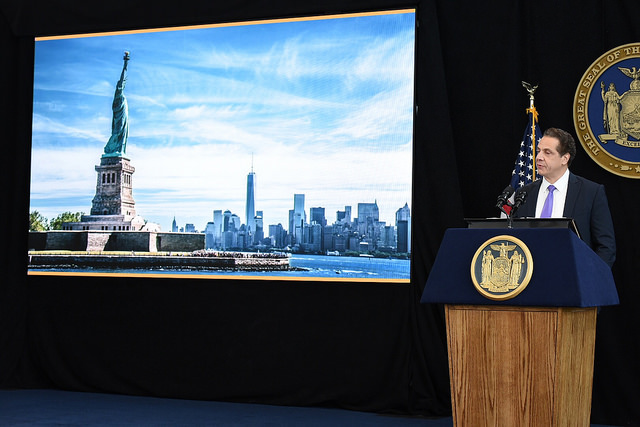 Gov. Cuomo (photo: The Governor's Office on flickr)
---
As part of his 2017 policy agenda, Governor Andrew Cuomo announced on Sunday a plan to ban bad actors from the financial services industry. Cuomo's proposal would empower a state agency, the Department of Financial Services, with the authority to mete out such punishment to those deemed to have violated the public trust.
However, when he launched his three-day, six-event State of the State tour in New York City on Monday morning, just a few blocks from Wall Street, home to the country's financial industry giants, Cuomo made no mention of the proposal, which his Sunday press release said would "better help prevent situations like the one seen recently at Wells Fargo."
Cuomo's 2017 agenda has been defined by an overarching focus on addressing "middle class anger" stemming from economic anxiety and a lack of inclusion in the state's overall economic recovery since the Great Recession. In his New York City speech he alluded to perpetrators whose behavior led to that economic downturn, Wall Street bankers and insurance companies responsible for the subprime mortgage crisis.
"In the recession of 2007 the middle class saw their hard earned equity in their homes stolen," Cuomo said from 1 World Trade Center. "Nearly half the homes of our middle class are not yet back to their pre-recession value. Just think of it. That home equity was their life's work, their security blanket, the payment for their daughter's wedding, it was their business loan, and their child's college tuition. It was taken through no fault of their own. But they never got it back and no one even went to jail. Justice was never done. And that is not the American way."
The sixth plank from Cuomo's 2017 policy agenda seeks to address that broader issue by giving the state Superintendent of Financial Services the ability to ban individuals from working in the banking and insurance industries in New York if they are found guilty of egregious wrongdoing.
That the governor didn't bring it up in his roughly 45-minute speech appears to be an odd omission, given the location of the speech and the fact that parts of it were specifically tailored to New York City. The governor's entire 2017 agenda does contain 149 proposals, though only 19 had been made public by the end of his two speeches on Monday. Cuomo did not mention every region-specific proposal at its relevant stop on his tour. The governor's office told Gotham Gazette there is nothing to the fact that Cuomo did not discuss the proposal during his New York City speech.
"Under Governor Cuomo's leadership, New York has made great strides in establishing a strong financial regulator and protecting consumers from unscrupulous practices," said Abbey Fashouer, a spokesperson for the governor, in an email. "By banning bad actors from the financial services industry, we are taking another major step forward that will ensure that those who seek to defraud the hardworking people of New York are held accountable."
The proposal is indeed an aggressive move to regulate the financial services industry and would give the Department of Financial Services (DFS) powers that federal regulators currently possess, a move allowed under federal law. "There is no federal preemption issue," Department of Financial Services Superintendent Maria Vullo told Gotham Gazette. "National banks and financial institutions must comply with New York State law. The proposal is a New York State statute that would authorize the Department of Financial Services to pursue individuals who commit bad acts that impact New Yorkers."
How the proposal will be received by state legislators and by those it seeks to regulate remains to be seen. The governor, in the announcement of the proposal, directly referred to the "excesses and systematic abuse" in the Wells Fargo case, where employees used customer information to create fake bank accounts and inflate their figures. A Wells Fargo spokesperson declined to comment on Cuomo's proposal. Since the scandal broke in September, the bank has been attempting to make amends for its employees' misdeeds. "We also recognize that aside from the financial impact, we've broken trust with some customers and...our priority is to restore trust with our customers," Wells Fargo executive Justin Thornton told the Wall Street Journal in December.
The governor's proposal has not been fleshed out entirely and state legislative leaders have yet to weigh in. "We will review it once we see the language," said Mike Whyland, spokesperson for Democratic Assembly Speaker Carl Heastie, in an email to Gotham Gazette. Republican Senate Majority Leader John Flanagan's office did not respond to a request for comment.
Cuomo's proposal indicates a plan to expand financial services law, but without further clarity or bill language, legislators, industry representatives, advocacy groups, and others have little to go on.
"The New York Insurance Association (NYIA) will be reviewing the proposal and considering whether or not the measures outlined are an appropriate approach," said Ellen Melchionni, president of the insurance trade association, in a statement.
Cuomo created the Department of Financial Services in 2011, shortly after taking office as governor, in order to create stronger oversight of the industry, which calls New York home. Since, DFS and other state entities, like the Attorney General's office, have reached billions of dollars in settlements with financial institutions.
Marcus Stanley, policy director for Americans for Financial Reform, a nonpartisan coalition that focuses on accountability in the industry, said the governor's proposal was a "standard thing" for a state regulator. "I'm surprised they don't have it already," he said. He noted that despite numerous instances of misconduct over many years, federal regulators have tended not to use their power to ban individuals from the industry. "It's a good thing for states to step into the gap," he said. Although, he added, "It depends on whether they use [that power] and how they use it."