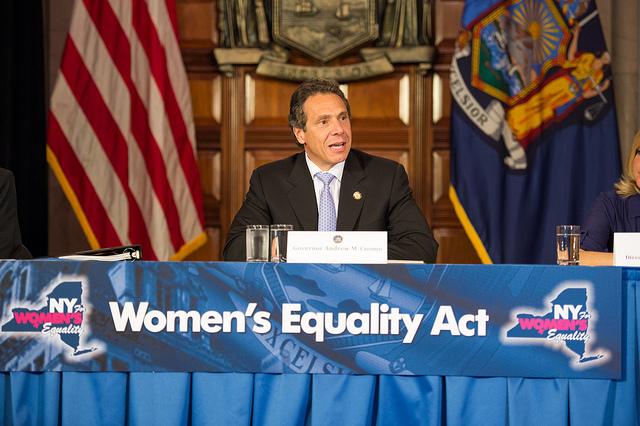 Cuomo in 2013, via The Governor's Office on flickr
---
With President Donald Trump taking office and Congressional Republicans chipping away at the Affordable Care Act, including a provision that guarantees cost-free birth control, New York's Democratic lawmakers are scrambling to fortify protections for women on the state level.
Citing the threat of Trump's administration, Governor Andrew Cuomo announced Saturday that he has instructed the Department of Financial Services -- which regulates insurance companies -- to require commercial insurance providers to cover contraception and "medically necessary" abortions without asking for a co-pay.
The announcement was timed to coincide with women's rights marches that took place in New York City, Washington D.C., and across the country, as well as the anniversary of the Supreme Court's Roe v. Wade decision, which despite efforts from the Democratically-controlled New York State Assembly, is not fully codified into state law. Republicans who control the state Senate have refused to pass such a law, though many abortions would be legal in New York even if the Supreme Court, bolstered by a conservative Trump appointee, were to overturn the landmark 1973 ruling. A 1970 New York law permits abortions until 24 weeks of pregnancy.
Cuomo's contraception and abortion coverage announcement came on the heels of legislation introduced by Attorney General Eric Schneiderman and passed by the Assembly earlier this month. Called the Comprehensive Contraceptive Coverage Act, the bill, which has not yet been introduced in the state Senate, would codify the co-pay-free contraception provision in the Affordable Care Act.
Cuomo's women's health push has received a lot of praise, including from Donna Lieberman, executive director of the New York Civil Liberties Union, who called the DFS regulation "an important step forward toward ensuring that women have control over their reproductive lives."
However, members of the Assembly took issue with the governor's action, saying the regulatory change lacks the permanence of a statute. "We think a law would be the strongest solution," said Michael Whyland, spokesperson for Assembly Speaker Carl Heastie.
Assembly Member Kevin Cahill, who sponsored the Assembly version of the legislation, said the DFS regulation falls "very seriously short" of the intentions of the bill's authors and decreases the likelihood of Schneiderman's bill being introduced in the Senate, which remains under GOP control.
"We are talking about the contraceptive rights that are now at risk because of actions that are being taken in Washington that could have been thoroughly protected through legislation," said Cahill, a Democrat representing Kingston. "Now the legislative path is significantly less likely because of [the governor's] action."
Cahill noted Cuomo's regulation does not include coverage for male vasectomies, which can take the onus of contraception off of women, or emergency contraception, otherwise known as the "morning-after pill." The new regulations also omit language authorizing midwives to prescribe or distribute emergency contraception and an educational component to the bill.
"He didn't consult with us at all, and to the best of my knowledge, the attorney general heard about it in a press report," Cahill told Gotham Gazette. "While it appears on its surface to be laudable, it may have actually made the situation significantly worse."
In response to Cahill's comments, a spokesperson for the governor, Abbey Fashouer, said, "The Governor is taking immediate and decisive action to secure women's reproductive rights, regardless of what happens at the federal level. To be clear, this doesn't preclude legislative action, or apparently, grandstanding. This decisive action may rob some individuals of a headline later, but it does ensure that the reproductive rights of millions of New Yorkers are protected today."
Cuomo's office also noted that vasectomies are not included in the governor's DFS regulations because they are part of the ACA, but not New York insurance law, where birth control for women is covered.
Democrats will continue to push state legislation as opposed to executive regulations since, as Trump is showing on the federal level, executive actions can be rolled back by a new executive.
While state law already mandates that contraceptives be covered without co-pays and bars insurers from denying any type of surgery -- including surgical abortions -- Cuomo's version clarifies that the law will not change if ACA is repealed. In addition, the new DFS regulation would ban charging co-payments for abortion and requires that insurers provide coverage of birth control for up to 12 months from the initial prescription.
During his campaign, Trump vowed to "repeal and replace" the ACA, otherwise known as Obamacare, and has said he would appoint a Supreme Court justice who opposes Roe v. Wade -- though he has backtracked on both positions in media interviews.
Two of Trump's first actions in the Oval Office were a vaguely worded executive order toward repeal of the ACA and another to reinstate a ban on spending for reproductive health services for organizations abroad, which is expected increase infant mortality and maternal death rates around the globe.
Toppling Roe v. Wade, which would require at least two new Supreme Court justices, is more complicated than the president has made it seem, but even if it happened, it is not likely to have as much of an impact in New York as it would in, say, South Carolina, according to a new report from the Center for Reproductive Rights. As Trump has pointed out in interviews when expressing somewhat conflicting support for overturning Roe v. Wade, "if it ever were overturned, it would go back to the states." During a 60 Minutes interview he added of women seeking abortions in states where it would then be illegal, "they'll have to go to another state."
Early this year the state Assembly also reintroduced a second bill, the Reproductive Health Act, which updates New York's law to align with Roe v. Wade. Abortion has been legal in New York since 1970, three years before the Supreme Court decision. Codifying Roe v. Wade on a state level would remove outdated criminal statutes that apply to abortion practitioners when a woman is more than 24 weeks pregnant, add language that prioritizes for the health of the mother over the fetus, and expand the list of medical professionals that could perform abortion to include 21st Century professions, such as physician's assistants.
These inconsistencies, and the criminal statutes, continue to result in many women being denied care, according to the NYCLU. Last year, Attorney General Schneiderman issued an opinion, stating that abortion be allowed after 24 weeks if the fetus is not viable or the mother's life or health is threatened, as specified by Roe v. Wade, but advocates say New York doctors are still deterred from treating women with sometimes life-threatening health conditions who are more than 24 weeks pregnant.
Though Democratic lawmakers have been pushing this bill for years, Senate Republicans have blocked the motion. In 2013, an effort by the Independent Democratic Conference -- a breakaway group of Democrats that caucuses with Republicans -- to move the bill in the Senate failed. In the 63-seat Senate, 30 Republicans and two Democrats, Ruben Diaz Sr. and Simcha Felder, voted it down. Diaz Sr. and Felder, who also caucuses with Republicans, are still in the Senate and unlikely to support the abortion protections, though Diaz Sr., a Bronx minister, may run for City Council this year and leave the Senate if victorious.
Candice Giove, the spokesperson for the IDC and its leader, Sen. Jeff Klein of the Bronx, told Gotham Gazette, "The Independent Democratic Conference is the only Senate conference whose members are 100 percent pro-choice." Giove's comment is an apparent reference to Diaz Sr. Giove did not make clear whether the IDC plans to push the Senate GOP to take up passage of stronger abortion protections into state law this year.
"We are hopeful that the IDC will support the bill and put their action behind it," Lieberman of the NYCLU said during a press conference call on Thursday morning. "We know from polling that's been done that New York is 70 to 80 percent pro-choice. New Yorkers overwhelmingly support the codification of Roe v. Wade and women's' rights."
The codification of Roe v. Wade into New York law was the tenth of ten planks in Gov. Cuomo's Women's Equality Agenda, which the governor attempted to push over several years. Cuomo said the Legislature must pass all ten planks together, but as the Senate continued to balk on the abortion provision, Democrats including Cuomo and the Assembly majority opted to pass the nine other planks, which include equal pay provisions, protections for domestic violence victims, bans on pregnancy discrimination in workplaces, and more.
Cuomo, a second-term Democrat, has been criticized for not doing enough to flip the Senate to Democratic control, and for creating in 2014 the Women's Equality Party, which appears to have been mostly an election year gimmick aimed at hurting the Working Families Party.
A spokesperson for Senate Republicans did not return a request for comment about where the conference majority stands on the abortion bill.
Another criticism of the new Cuomo regulatory directives came from Bill Hammond, director of health policy at the Empire Center for Public Policy, a conservative think tank. Hammond said the governor's move undermines the legislative process and noted that without a provision to address additional expenses incurred by insurance companies, this rule could drive up healthcare premiums.
On the Empire Center's blog, The Torch, Hammond also questioned why abortions are exempt from co-pays, but other medically necessary procedures, like childbirth, for example, are not.
"If this rule change stands, expect a parade of provider and consumer groups to seek similar consideration from DFS in the months and years ahead," he writes.
A spokesperson from DFS noted that there will be a 45-day public comment period before the regulations are finalized. The rules will go into effect 60 days later. Trump has promised a Supreme Court nominee next week, but U.S. Senate Democrats, led by New York's Charles Schumer, have pledged to fight any nominee who is not moderate.