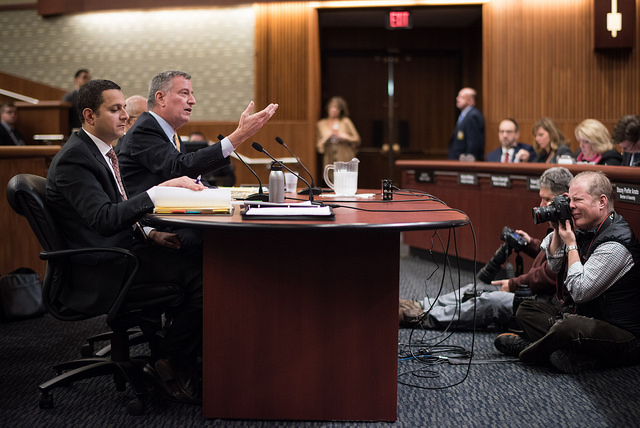 De Blasio in Albany (photo: Michael Appleton/Mayor's Office)
---
Governor Andrew Cuomo released his $152.3 billion Executive Budget plan on January 17, with funding and policy proposals that stand to have significant impact on New York City. The governor's budget is a starting point for legislative hearings and negotiations, with a fiscal year 2018 budget due by the April 1 start of the next state fiscal year.
After he and his team had some time to analyze the governor's new spending plan and policy proposals, Mayor Bill de Blasio drove to Albany Monday for his annual budget testimony in front of the joint budget committee of the state Senate and Assembly. Before answering a wide variety of questions from state legislators, de Blasio gave an opening statement, in which he presented his on-the-record response to Cuomo's executive budget plan in terms of what it means for New York City and his own agenda.
De Blasio's appearance did not have as dramatic a prelude as last year, when Cuomo had proposed nearly $1 billion in Medicaid and CUNY cost shifts to the city that angered de Blasio and became the focus of intense, ultimately successful, efforts to reverse before a state budget was passed.
This year, the mayor offered another, albeit less pointed, mixed review of the governor's budget. He praised components like the extension of the millionaires' tax, promise of tuition-free city and state college for middle-class students, voting reforms, and increased state contribution for Medicaid costs. But, de Blasio raised concerns about Cuomo's reworked 421-a proposal meant to spur affordable housing development, as well as several cost shifts totaling more than $100 million involving foster care, senior and special education services, pre-kindergarten, charter schools, and more.
"There are several cuts in the State Executive Budget that are going to have an effect on thousands and thousands of New Yorkers," de Blasio said at Monday's hearing. "These cuts include, first of all, $32.5 million through Fiscal '18 for public health programs, chipping away at the long history of State partnership in health funding in areas including disease control and emergency preparedness."
While de Blasio's testimony touched on a variety of budget related matters, the question-and-answer session that followed often veered into other categories, notably the coming city fee on takeout plastic and paper bags. There were several Cuomo proposals of great significance to New York City that were given minimal, if any, discussion at the hearing.
Cuomo's budget will not be passed through the Legislature without changes, and de Blasio's efforts to influence the adopted state budget will now largely rely on Assembly Speaker Carl Heastie, a Bronx Democrat who has been the mayor's most important Albany ally over the last two years.
As outlined, Cuomo's budget provides New York City a "net positive impact" of $279 million for the coming fiscal year, according to the governor's financial plan. In total, an additional $400 million above the current year would be sent to New York City from Albany, thanks in large part to a $294.9 million school aid bump, the state picking up some Medicaid growth costs, and $40.6 million in revenue from a proposed sales tax on internet companies, like Amazon and Etsy. These added potential investments are offset by the $100 million-plus in proposed cuts and cost shifts to a variety of city departments and initiatives, according to the mayor's estimates.
"The cost shifts were really the story for last year's budget, though it didn't really come to fruition," said David Friedfel, director of state studies at the Citizen's Budget Commission. "In comparison, this year, the governor proposed a much more benign executive proposal."
Rather, this year's issues for de Blasio are the variety of smaller cuts and cost-shifts, as well as Cuomo's 421-a proposal, another extension of mayoral control of city schools, which de Blasio hopes will be done this year through the budget, not afterward, and several other items like permission for the city to use design-build contracting.
One other key concern about Cuomo's new plan -- raised by Comptroller Scott Stringer at Monday's hearing in testimony following de Blasio's -- is that it grants the state unilateral power to change the budget mid-year in the event that federal funding shifts suddenly. For example, if President Donald Trump follows through on his threat to defund so-called sanctuary states and cities like New York.
"I would urge you, the Legislature, to reject such an approach that would bypass this body, and do tremendous harm to cities and counties throughout the State," Stringer said to legislators during his testimony. "I would also ask you to reject cost shifts for foster care, public health, and special education that single out New York City," he added.
An official from the state budget division told Gotham Gazette that such budget decision-making "flexibility" is necessary in the wake of uncertainty wrought by President Donald Trump's administration and that the ability for the executive to manage mid-year deficits has been supported by rating agencies and good governance groups. Federal funding totalling $52 billion accounts for nearly one-third of the state's anticipated operating budget, the official said.
The state official noted that the allocation of any reduction in federal support would be made uniformly across a broad set of appropriations so no program is specifically targeted.
Mayor de Blasio recently outlined his own $84.67 billion preliminary city budget for fiscal year 2018, which, for the city, begins July 1. It forecasts $14.5 billion in state grants and about $7 billion in federal grants. De Blasio did not account for potential federal cuts, saying it is too early to tell what the Trump administration and Republican-controlled Congress will do.
While legislative leaders and Gov. Cuomo will debate the mid-year adjustment proposal and all other aspects of the budget, the governor's spending and policy plans will, as always, heavily influence the final outcomes. There are significant implications for New York City on affordable housing, education, infrastructure, health care, transportation, and more. As budget hearings continue in Albany and negotiations among stakeholders including Mayor de Blasio heat up, there are eight major takeaways so far:
1. Tuition-free College
The crown jewel of Cuomo's 2017 agenda is his promise of tuition-free college for middle class New Yorkers at city and state schools. The proposal, which seeks to build on the reduced tuition and financial aid available to low-income New Yorkers to attend CUNY and SUNY schools, was the topic of Cuomo's first State of the State rollout event and of the state Legislature's first budget hearing.
The plan, which Cuomo's office projects to cost the state an additional $163 million in tuition coverage, includes undocumented immigrant students, or "Dreamers," who have been the focus of intense debates in Albany for several years. Senate Republicans, who control that chamber, have not been supportive of the Dream Act, which Cuomo's tuition proposals more-or-less incorporates into a larger plan, making undocumented students eligible for education aid.
Cuomo's proposed "Excelsior Scholarship" would provide tuition-free city and state university for students from households earning up to $125,000 a year. The proposal could incentive and help thousands more New York City students attend CUNY or SUNY tuition-free.
The joint Senate and Assembly budget hearing on higher education, which saw testimony from the CUNY and SUNY chancellors, included concerns that a proposed requirement that students take 15 credits per semester to be eligible for the Excelsior Scholarship would be too rigid.
Another critique came from CBC's Friedfel. "Essentially, the [$163 million] cost estimate is probably too low and we're apprehensive about whether the SUNY and CUNY system is prepared for the influx of students," he said.
During his testimony, De Blasio praised the scholarship program and the governor's support for the Dream Act.
"In terms of education, the City of New York certainly appreciates deeply that the new Excelsior Scholarship Program – when added to existing tuition assistance programs promises to further ease tuition costs for low-and middle-income students in our state," said de Blasio. "We are also gratified to see continued support for the Dream Act, which is particularly important at this moment in history."
2. Pre-K to 12 Education
In other education matters, the governor again proposed a three-year extension of mayoral control of city schools and is proposing a statewide school aid increase of nearly $1 billion for the 2017-18 school year. Of the $961 million aid increase Cuomo has outlined, New York City schools would receive an aid increase of $294.9 million, a percentage of new funding that is roughly in line with the city's proportion of students.
Cuomo said the $1 billion would be paid for by extending the state's "millionaire's tax" for another three years. The surcharge on the highest-earning New Yorkers, many of whom live in New York City, pulls in about $4 billion annually, and is due to expire December 31. "If you don't have the millionaire's' tax, that is a $4 billion hole," Cuomo said during his mid-January budget briefing.
At Monday's hearing, de Blasio told state legislators that mayoral control of schools should be given a multi-year extension. De Blasio has received consecutive one-year extensions of mayoral control, moves that are apparent insults to the mayor largely sought by state Senate Republicans.
De Blasio also called on the state to increase its education aid to the city further, and he cited the Campaign for Fiscal Equity settlement, the source of much debate about how much education money the state "owes" the city.
"The city is doing its part," de Blasio said Monday. "Since 2008, the city's share of education spending has increased from 49 percent to 57 percent, while the state share has declined from 41 percent to 37 percent. The state shortfall is currently $1.6 billion."
Many concerns have been raised over how state education funds are distributed. The Citizens Budget Commission, for example, is calling for reforms to the Foundation Aid formula, which it says is based on outdated data and metrics, in order ensure more funding is directed to high-need districts. The governor is looking to do away with foundation aid.
De Blasio made sure on Monday to push back against Cuomo's proposed cuts in per-child funding for the city's universal pre-kindergarten program -- a $34 million burden, according to the mayor's estimate, and shifted responsibility for some charter school costs.
"The State has made a giant leap forward of the last years in supporting pre-K. But this proposal and this proposed cut is a leap backwards and counter to all the progress that we've made with your partnership in ensuring that 70,000 four year olds had full-day high-quality pre-K program," said de Blasio. "This rate cut should not go forward."
Additionally, de Blasio said, "the State is proposing to increase and shift charter school costs it has been paying previously. The proposal strips State support away from charter schools and transfers the cost to school districts abruptly and to an exorbitant degree. For New York City alone this would mean $198.3 million less funding for our schools."
3. Millionaires' & Mansion Taxes
Gov. Cuomo says a three-year extension of the millionaire's' tax, set to expire this year, is crucial to maintaining the state's operating budget. Currently, anyone earning more than $2.1 million a year pays a state rate of 8.82 percent. If the tax is not renewed, that rate drops to 6.85 percent -- the same rate taxpayers making $40,000 contribute.
The extension of the millionaires' tax has been praised by progressives, though some, including Mayor de Blasio and Assembly Democrats, say it should go further. Last week, Assembly Speaker Carl Heastie, who says Cuomo's budget doesn't provide enough funds for education, proposed a more progressive version of the tax, introducing additional tax brackets for the mega wealthy who earn more than $5 million, $10 million, and $100 million a year.
Senate Republicans, who oppose the millionaires' tax, slammed the Assembly Democrats' proposal, arguing it will drive business owners from the state. "I want to drive people into the state," Senate Republican Majority Leader John Flanagan told The Daily News. "I think raising taxes is absolutely the wrong way to go. I think that is bad economic policy at this time and I think it will drive people who have affluence and who have companies right out of the State of New York."
In his testimony Monday, de Blasio said he not only wants to see the state expand the millionaires' tax, but that he wants an additional "mansion tax" -- a surcharge on homes sold for $2 million or more -- a plan that drew immediate scoffs from Senate Republicans.
Senator Catherine Young, a Republican from Chautauqua and Allegany Counties who chairs the Senate finance committee and co-chairs legislative budget hearings, expressed her dismay with the mayor to WCNY radio's Susan Arbetter. "It was amazing to me to hear Mayor de Blasio come in yesterday and push a new tax - a mansion tax," Young said on The Capitol Pressroom. "This has to end somewhere," she said, referring to New York taxes.
Flanagan, who met de Blasio on Monday after the mayor testified, told State of Politics that the mansion tax is "a non-starter" and that it did not come up in his conversation with de Blasio.
On the other hand, while Young told Arbetter that Senate Republicans would like to let the millionaire's tax expire, she said extension will be looked at. Flanagan has said similarly.
4. Incentivizing Affordable Housing Development
Cuomo's rebranded 421-a, called Affordable New York, is projected to spur 2,500 units per year of affordable housing in New York City. Always controversial, 421-a is a property tax exemption program that incentivizes developers to build mixed-income rental housing in some of the city's most expensive neighborhoods (Manhattan and parts of Brooklyn and Queens.) The old 421-a program, almost universally seen as flawed, expired at the end of 2015 when an extension agreement designed by de Blasio faltered after Cuomo said it was too good for developers and not good enough for labor.
The program has been in limbo since, with fits and starts of negotiation, de Blasio moving ahead with other aspects of his affordable housing plan, and Cuomo promising to do more about affordable housing.
Cuomo's new plan meets his requirements for labor provisions, more affordable units, and extended terms of both rent caps on the apartments created and the accompanying property tax break.
"It has been signed off by the real estate community and the labor unions. We call it 'Affordable New York,'" Cuomo told John Catsimatidis on his Sunday morning radio show. "It is actually in my opinion a better program than the old 421-a. This has increased the length of affordability to 40 years, and it's actually made it more affordable for people to qualify."
Critics, including the de Blasio administration, say Cuomo's proposal will cost taxpayers a lot more than a version proposed by the mayor last year. De Blasio's program from 2015 had a per-unit subsidy of $421,700 and would have produced 25,500 apartments over 10 years, while for the state's proposal, the per-unit subsidy tallies up to $544,300 and would produce 21,750 affordable apartments over 10 years, according to de Blasio administration estimates.
"In other words, more than $100,000 per-unit above the cost of our proposal with less affordable housing," de Blasio said on Monday.
The governor's office maintains that Cuomo's proposal provides more affordability for tenants and fairer wages for workers, but keeps the cost of the program from the original 2015 law largely intact. Any additional expenses are "minimal, won't occur for 26 years, and are worth it," a state budget spokesperson said.
Negotiations over the program are likely to be among the most contentious of the next several weeks before a budget deal is reached. Over several years now, 421-a has been one of the central issues at the heart of the Cuomo-de Blasio feud.
5. Indian Point Shutdown
The nuclear power plant, situated 35 miles from Manhattan on the banks of the Hudson River, has been polluting nearby waterways and sparking fears of a potential nuclear disaster for years. One nuclear reactor will be shut down by April 2020, while the other must be closed a year later, Cuomo has announced. The governor had been working on a deal to shut the plant for years, finally announcing one earlier this year as part of his State of the State rollout.
One concern with closure is finding a clean energy source to replace Indian Point. New York City and Westchester County residents account for one quarter of Indian Point's power consumers, reports the New York Times. The plant's shutdown would impact electric rates in the New York City area, though state officials said the increases would be "negligible," adding about $3 a month to bills. Westchester County official and unions expressed concern about the loss of jobs. Nearly 1,000 workers are employed full-time at the plant and about 550 are unioned. Cuomo has said all employees would be offered work elsewhere.
6. Public, Affordable & Supportive Housing
The governor's budget plan again earmarks $20 billion to create or preserve 100,000 units of affordable housing and 6,000 units of supportive housing over the next five years, beginning in 2017.
The governor said he has directed his budget director, Robert Mujica, to execute a memorandum of understanding (MOU) will legislative leaders to release nearly $2 billion in funding to advance the creation of these units. The first $2 billion of the $20 billion plan was allocated last year, but most of it has remained unspent because an MOU is needed and hasn't been signed. Cuomo said that Senate Republicans have been holding up the MOU until a new 421-a deal was in place, and Assembly Democrats are said to be pushing for more money to go toward NYCHA.
Funding Cuomo has outlined includes $3.5 billion in capital resources, $8.6 billion in State and Federal tax credits and other allocations, and $8 billion to support the operation of shelters and supportive housing units and to provide rental subsidies. Combined with a previously approved MOU for a small portion of the $2 billion, the budget appropriates additional capital resources for a variety of affordable and supportive housing investments.
This includes up to $1.4 billion for new units across the state; up to $100 million for state-approved NYCHA projects; up to $565 million for preserving affordable units and "creating a large-scale financing program that specifically supports assets like public housing authorities in upstate communities"; $100 million for Mitchell-Lama properties; up to $54 million toward homeownership aid and incentives; and up to $10 million toward continued neighborhood revitalization investments.
Affordable housing advocates and providers have been protesting the governor, calling on him to do more to release housing funds so that new projects can begin. Meanwhile, Mayor de Blasio and city housing officials have been frustrated with the slow pace at which money allocated for NYCHA repairs has been spent.
7. Transportation Infrastructure
Having just celebrated the opening of phase one of Manhattan's long-awaited 2nd Avenue subway, Gov. Cuomo announced several ongoing and new infrastructure investments for New York City. While these capital projects do not fall under the operating budget, many of them are designed to enhance transportation options for New York City residents, commuters, and tourists.
As Cuomo often likes to boast, more than $100 billion in ongoing infrastructure projects are underway across the state — including construction of a new Tappan Zee Bridge, expected to open in 2018; a new LaGuardia Airport; a new Pennsylvania Station-Farley Complex; a 1.2 million square foot expansion of the Javits Convention Center.
In addition, the governor announced plans to move forward with the following projects in the coming year:
Kennedy Airport. For the coming fiscal year, Cuomo outlines $564 million towards $1.5 billion in spending by DOT to improve the roadway congestion leading to JFK. The MTA and Port Authority will also evaluate two proposals: expanding JFK AirTrain service and exploring the possibility of creating a "one-seat" subway ride to the airport.
Penn Station. The State is investing $700 million to leverage a total of $3 billion for the transformation of the James A. Farley Post Office building into a new train hall for the station.
Long Island Railroad. The governor also plans to invest $120 million for the LIRR—to provide state-of-the-art enhancements to 16 stations and improve system connectivity.
MTA. The 2015-2019 MTA transit capital plan includes $28 billion in investments, including city and state funds, with the state continuing to contribute a larger share than the city.
Empire State Trail. One of Gov. Cuomo's favorite new proposals is to create one continuous trailway through the Hudson Valley and Adirondacks from New York City's Hudson River Greenway, which runs 11 miles along the Upper West Side of Manhattan, up to the Canadian border and along the Erie Canal from Albany to Buffalo. It would be the largest single-state multi-use trail network in the nation, attracting new tourists to explore New York's diverse landscapes and rich history, according to Cuomo, who included $53 million for phase one of the plan in his executive budget.
8. Cutting & Shifting Costs
Gov. Cuomo has proposed more than $100 million in cuts and cost shifts to New York City, primarily related to placement of foster children and special education services, according to Cuomo's 2017-2018 financial plan.
Mayor de Blasio emphasized the importance of suring up public health funding to the city, which accounts for 58 percent of Medicaid enrollees across the state.
According to Cuomo's budget proposal, New York City also stands to lose $50 million in Medicaid funding unless the de Blasio administration comes up with a plan by June 30 to produce $100 million in available federal funding (or city cutbacks) for preschool and school supportive health services, reports Politico New York.
The city would have six months to coordinate with the state's health commissioner and the Trump administration to generate the $100 million in savings, according to the executive budget. If the city does not come up with the required savings, "DOH will have the authority to reduce Medicaid Administration payments to the City," according to the budget proposal.
While Cuomo is looking to move some costs to the city and push the city to bring in more federal Medicaid dollars, on one increasingly popular measure meant to help New York City save billions, Mayor de Blasio noted a "glaring and inexplicable omission" in Cuomo's executive budget. The city is seeking state permission to use "design-build" contracting, which allows a more efficient process of hiring contractors for major infrastructure projects. It is something the state has been using more often that Cuomo regularly touts as a money and time saver.
"If the city also had access to this tool, similar benefits would be realized," de Blasio said during his Albany budget testimony. "Our capital agencies have identified $7.3 billion in projects, with around $450 million in immediate savings. If the rest of New York State has access to design-build, New York City certainly should as well as a matter of common sense."
Though design-build is widely used throughout the United States, in New York there are legislative hurdles to overcome, and the program has seen opposition from labor unions. Currently, the law only allows select state agencies to use it.
Presumably because of pushback from the Assembly, which is dominated by Democrats from New York City who feel pressure from unions, Cuomo has only favored design-build for certain state agencies and counties outside of New York City.
A spokesperson for Cuomo's office said the governor is a proponent of design-build and he is open to discussing a statewide expansion. "The governor is a strong supporter of design-build which has successfully delivered large-scale infrastructure projects, saving time on project completion and taxpayer money. In the past, there has been resistance to the expansion of design-build statewide, but we look forward to discussing it during the budget process," said Cuomo transportation spokesperson Jon Weinstein.