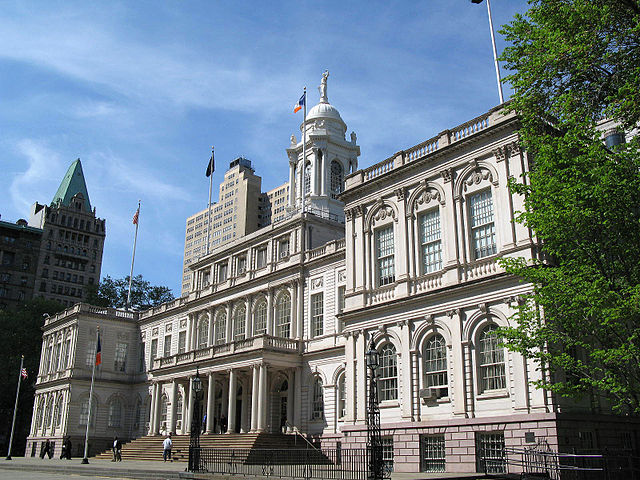 New York City Hall
---
What to watch for this week in New York politics:
As usual, the Presidents' Day week will be a slow one as both the New York City Council and the state Legislature will be on break. Over the weekend, however, elected officials were busy in Albany, as the Legislature's Black, Latino, and Asian Caucus held its annual Caucus Weekend celebration and conference. The event had a distinctly anti-Donald Trump flavor to it, with dozens of speeches critical of the new administration in Washington. New York City electeds, including Mayor Bill de Blasio and Public Advocate Letitia James, were in attendance.
In New York City on Sunday, thousands gathered at a rally led by hip-hop mogul Russell Simmons in Times Square, under the banner, "Today, I am a Muslim too," to protest President Trump's immigration policies and his executive order that sought to ban immigration from seven Muslim-majority countries. The rally was organized by the Foundation for Ethnic Understanding, and featured faith leaders and activists from the city. Mayor de Blasio also addresses the crowds.
The mayor has no events scheduled for Monday but he will make his weekly appearance at 7.pm. on NY1's Road to City Hall, hosted by anchor Errol Louis.
Even with the two main legislative bodies on a break, there are several events to be aware of this week - read our day-by-day rundown below.
***Do you have events or topics for us to include in an upcoming Week Ahead in New York Politics?
e-mail Gotham Gazette editor Ben Max: This email address is being protected from spambots. You need JavaScript enabled to view it.***
The run of the week in detail:
Monday
Schedules are largely clear for Presidents' Day.
At 7 p.m. Monday, Mayor de Blasio will appear on NY1's Road to City Hall.
Tuesday
At 8 a.m. on Tuesday, City & State NY will hold "NY State of Finance." This event will be "an educational day with the City and State's finance experts, policy leaders responsible for expense, cost, investment and fiscal challenges in government." This day will include five Power Panels on security, health care, infrastructure pension funds and nonprofits. New York City Comptroller Scott Stringer will be the Keynote Speaker.
At 10:30 a.m., Mayor de Blasio will host a press conference on "the future of the Administration for Children's Services." The mayor is expected to announce his new pick to head the agency.
At 11:15 a.m. Tuesday at City Hall, Republican mayoral candidate Paul Massey will "expose" Mayor de Blasio's "historic network of corruption" during a press conference.
At 11:30 a.m. on Tuesday, Comptroller Stringer will host a press conference "regarding major investor opposition to discriminatory Texas Bathroom Bill."
At noon Tuesday, "students and community groups including Urban Youth Collaborative (Future of Tomorrow, Make the Road New York, Sistas and Brothas United), Desis Rising Up and Moving, The Point, Girls for Gender Equity, and Rockaway Youth Task Force along with Councilmember Antonio Reynoso will convene in front of City Hall to protest the unrelenting over-policing of students of color in New York City."
At 1 p.m. Tuesday at City Hall, "Council Member Rory Lancman will hold a press conference along with representatives of lawyers organizations to identify specific actions Mayor de Blasio must take to protect Immigrant New Yorkers from possible deportation under Donald Trump, particularly treating fare evasion as a civil, rather than criminal, offense, as Councilman Lancman demanded in a letter to the Mayor on January 26, 2017." Participants will include Lancman, New York Civil Liberties Union (NYCLU), The Legal Aid Society, Brooklyn Defender Services, The Bronx Defenders, New York County Defender Services, and others.
At 1 p.m. on Tuesday, the NYC City Planning Commission will hold a review session at Spector Hall, at 22 Reade St in Manhattan.
At 5 p.m. on Tuesday, Senator George Latimer and Assemblywoman Shelley Mayer will hold a Community Budget Hearing at the Grinton I. Will Library Auditorium in Yonkers regarding the 2017-18 NYS budget.
At 7 p.m. Tuesday, Mayor de Blasio and Council Member Andrew Cohen will participate in a town hall at In-Tech Academy in the Bronx.
Public Advocate Letitia James has three events scheduled for Tuesday -
At 6:30 p.m., she will co-host "Bystander Intervention Training" with Assemblymember Daniel O'Donnell.
At 7:30 p.m. she will deliver remarks at the full board meeting of Manhattan Community Board 11.
At 9:00 p.m., she will speak at the Queens Village Civic Association general meeting.
Wednesday
At the State Assembly on Wednesday:
The Assembly Committees on Health, Aging, and Labor, and the Task Force on People with Disabilities, will meet at 11 a.m. in the Assembly Hearing Room in NYC to conduct a public hearing to "examine the growing need for home care and personal care, and to examine the obstacles to recruiting, employing, and retaining an adequate home care workforce."
At 10 a.m. on Wednesday, the NYC City Planning Commission will hold a public meeting at Spector Hall, 22 Reade St.
At 2 p.m. on Wednesday, a public hearing regarding several revocable consent notices will take place at the Department of Transportation, at 55 Water St in Manhattan.
At 6 p.m. on Wednesday, the Manhattan Institute will host "Realignment: Will America Forge a New Political Consensus," featuring George Mason University School of Law professor F.H. Buckley, Weekly Standard editor Bill Kristol, National Review editor Rich Lowry, and others. The panel will discuss whether "the inauguration of President Trump and an insurgent Republican administration marks the beginning of a fundamental political and social realignment."
At 6:30 p.m. Wednesday, NY Indivisible, the local chapter of Indivisible, in partnership with the New York Society for Ethical Culture, "will be hosting a town hall in Manhattan to discuss how the average citizen can hold elected officials accountable to protecting the freedoms outlined in the Constitution and Bill of Rights, and to support legislators at all levels of government who value country over party."
At 7:30 p.m. on Wednesday, Temple Emanu-el will host former Vice President Al Gore for a talk on the future of climate change policy.
Thursday
At 10 am on Thursday, the MTA will hold a board meeting at the MTA Boardroom, 2 Broadway, 20th Floor, Manhattan.
At 11:30 a.m. on Thursday, Bronx Borough President Ruben Diaz, Jr. will deliver his "State of the Borough Address." This will be held at John F. Kennedy High School, which is at 99 Terrace View Avenue in The Bronx. People can RSVP through this link.
At noon on Thursday, the New York City Bar will host "Over the Rainbow: Ending Mass Incarceration - Fewer Inmates and Better Prisons," featuring Pace University School of Law's David Yassky and Michael Mushlin. This event was originally scheduled for February 9 but was rescheduled due to snow.
"Gramercy Stuyvesant Independent Democrats, in coordination with Coalition for a District Alternative (CoDA), Downtown Independent Democrats, Eleanor Roosevelt Democratic Club, Manhattan Young Democrats, New York Progressive Action Network and Village Independent Democrats, will hold "Election Reform: Elections Don't Have To Be Like This!" on Thursday, February 23, 2017 at 7:30pm at the Seafarers International House located at 123 E 15th St in Manhattan." Panelists: Assemblymember Brian Kavanagh; Lourdes Rosado, Chief, Civil Rights Bureau at the Office of the Attorney General; Michael J. Ryan, Executive Director, New York City Board of Elections; Sarah Steiner, Election Lawyer; former Chair of the Election Law Committee of the New York City Bar.
Friday and the weekend
No events on our radar as of Monday, but Mayor de Blasio is expected to make his weekly Friday morning appearance on WNYC's The Brian Lehrer Show at 10 a.m.
***
Have events or topics for us to include in an upcoming Week Ahead in New York Politics? E-mail Gotham Gazette executive editor Ben Max any time: This email address is being protected from spambots. You need JavaScript enabled to view it. (please use "For Week Ahead" as email subject).
***
by Benjamin Brachfeld and Samar Khurshid