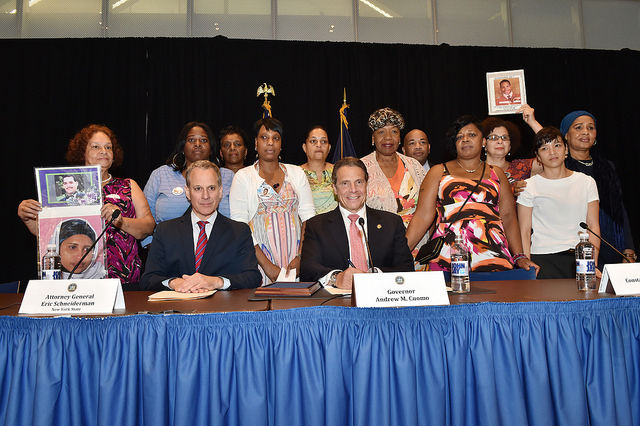 Cuomo, Schneiderman, and family members, July 2015 (photo: The Governor's Office)
---
About 19 months ago, Governor Andrew Cuomo issued an executive order that was hailed by many advocates and elected officials as a bold and unprecedented step towards police accountability.
Cuomo made Attorney General Eric Schneiderman a special prosecutor in certain cases of civilian deaths involving police officers. At the time, much of the country was focused on several high-profile examples of police killings of unarmed people, including Eric Garner in New York City.
The order aimed to have the Office of the Attorney General -- which Cuomo himself held from 2007 through 2010 -- bypass what many came to see as an inherent conflict of interest faced by district attorneys who are assigned to investigate and, when warranted, prosecute the very police officers they work alongside on a regular basis. The impetus, Cuomo said, was to restore faith in the criminal justice system.
"There's a feeling that the system of criminal justice -- the officials in criminal justice system -- are too close to law enforcement. And that closeness is a conflict," Cuomo said on July 8, 2015, when he signed the order during a special event at John Jay College in Manhattan. At the time, Cuomo was celebrated by those desperate for more police accountability. With the creation of a special prosecutor, the governor said, "the perceived conflict is removed."
The December 2014 failure of a Staten Island grand jury to indict Daniel Pantaleo, the officer who had placed Garner in a deadly chokehold, had sparked a public outcry, and Black Lives Matter protests erupted across the country, including in New York City, accelerating a national conversation on race and policing. Following the grand jury decision, Schneiderman called on the governor to grant his office jurisdiction to investigate police killings of civilians, especially those unarmed when killed.
Cuomo's acquiescence to Schneiderman's request to be named special prosecutor for police-involved deaths of unarmed civilians was somewhat unexpected, coming after the governor agreed to meet with family members of unarmed men who died in confrontations with the police — including the mothers of Garner and Ramarley Graham, both killed by NYPD officers — to discuss criminal justice reform. Though the governor had initially prefered what he called a "more nuanced" approach, such as an office of "independent special counsel," which would review cases before referring them to a special prosecutor, he vowed to put Schneiderman in the role in the event that the Legislature failed to agree to a permanent bill.
Though there was little movement in Albany for a special prosecutor beyond activism — the governor had denied or ignored earlier requests for meetings with victims' family members and no bill satisfactory to reformers had been introduced in either legislative chamber — police accountability advocates say they saw an opportunity to enlist the governor, who tends to seek issues that make him a national leader. Indeed, Cuomo said in a statement, "The justice system does not work without the trust of the people, so it was imperative that New York act to address the crisis of confidence that has been plaguing communities nationwide."
Sitting next to Schneiderman on July 8, 2015, Cuomo was surrounded by leaders of both houses and other legislators of color from both the state Senate and Assembly, all of whom vociferously praised the governor for his bold action on a matter they had placed at or near the top of their priorities.
Over the course of the year-and-a-half since Cuomo signed the order, there have been more than a dozen police-involved deaths across New York State that have warranted examination by Schneiderman's office. Nine have been determined to fall under the attorney general's jurisdiction, with mixed results.
One case, a road rage-related incident in East New York, produced an indictment of the officer involved; three were thoroughly investigated and closed without an indictment (though in each case a detailed report, along with recommendations for reforms in procedure, was issued); and five cases -- two of them related to incidents in the Bronx -- are currently open, according to Schneiderman's office.
Now, advocates and victims' families are pushing for the executive order to be written into law — both for permanence and to broaden criteria for cases that fall under the attorney general's jurisdiction. As is being seen in Washington, D.C., any order signed by one executive can be rolled back by the next.
"There are things that we'd like to tweak," said Monifa Bandele, a Vice President at Moms Rising and a member of the Steering Committee for Communities United for Police Reform, a coalition group in New York City. "Through that legislative process we can get some stronger language, broadening it, to make sure that more cases go to special prosecutor rather than fewer cases."
There remains fairly muted opposition to the order, though critics may become more vocal were there to be a more formal push to see a special prosecutor enshrined into law. Republicans who control the state Senate are unlikely to pass such a bill, part of the reason Cuomo issued the order, and in the absence of permanent legislation, has kept the executive order in place.
Insulted by the suggestion that they might be reluctant to prosecute anyone deserving, including police officers, prosecutors of both political parties, including the late Ken Thompson, a Democrat and Brooklyn's first black district attorney, criticized the order. "As the duly-elected district attorney of Brooklyn, I am more than able to thoroughly and fairly investigate any fatality of an unarmed civilian by a police officer," Thompson said, according to The Observer. In subsequent appearances, Thompson softened his position, calling Schneiderman an "outstanding public servant," but questioning whether it made sense to appoint one special prosecutor over all of New York's 62 counties.
Calling the order "gravely flawed," the state's District Attorneys Association instead proposed its own reforms to increase transparency, such as publicizing the instructions given to grand jurors, creating ways for grand jurors to issue reports on the nature of evidence, and creating an independent monitor to review proceedings where certain police-involved deaths are investigated.
At the time, Schneiderman assured critics that taking on these cases was a temporary solution necessary to restore the public's trust in law enforcement, a position his office has since reaffirmed. "We think the appointment of the attorney general as special prosecutor has been an important step, though we continue to urge the legislature to devise a permanent solution," said Amy Spitalnick, a Schneiderman spokesperson.
The ambiguous language of the executive order leaves open many questions about jurisdiction. In nearly all of the nine cases, the attorney general sought clarifying orders from the governor, authorizing the agency to move forward, and Schneiderman's office inevitably butted heads with local prosecutors over jurisdiction.
The bickering over jurisdiction has grown particularly heated in the 2016 case involving Edson Thevenin, who was fatally shot by a Troy police officer as he allegedly tried to pull away during a suspected DUI traffic stop. Schneiderman's office maintains that local prosecutors convened a grand jury without the attorney general's approval. The grand jury immunized the officer, who claimed he was being "pinned" by the car at the time of the shooting, according to reports. Schneiderman's office sued Rensselaer County District Attorney Joel Abelove for the documents involved in the case, though Abelove maintains he would have agreed to hand them over had the attorney general asked.
In a rare move, Cuomo issued an order granting Schneiderman's office the authority to investigate everything that happened in the case, including the actions of the Rensselaer County District Attorney's office -- another stinging rebuke to district attorneys, who maintain that they are capable of fairly prosecuting police officers.
Abelove's lawyer, John Bailey, says his client was told by a deputy attorney general at the crime scene that the case would not fall under the attorney general's jurisdiction, because the vehicle was considered a weapon, though he admitted there was no formal letter granting local prosecutors jurisdiction.
"They indicated it very clearly to Abelove that they would not be taking jurisdiction over the case," said Bailey. "What happened is that then somebody up the food chain decided, 'Hey, wait a minute, let's take a look at it.'"
The attorney general's office mantains that it sent Abelove a written request asking for evidence in order to help make a jurisdictional determination.
The case, as well as others and the ongoing politics surrounding the order, is reason for some that a permanent solution is needed.
For the most part, civil rights experts say Cuomo's order is more comprehensive than any legislation proposed to date. A bill proposed by former Assemblymember Keith Wright, a Democrat from Harlem, passed the Assembly 82-47, but the Senate's version, sponsored by Senate Minority Leader Andrea Stewart-Cousins, had only two co-sponsors and died in committee. The Assembly recently passed a 2017 version of the bill, sponsored by Assemblymember Nick Perry, which drew criticism from several members of the Republican minority.
Among the nine cases that the attorney general has investigated, the September grand jury indictment of an off-duty NYPD officer who shot and killed Delrawn Small in front of his wife and children in an East New York road rage incident on July 4, 2016 seems to most strongly justify the position that an outside prosecutor is necessary to obtain an indictment in police brutality cases.
Wayne Isaacs was charged with second degree murder and manslaughter in the proceedings overseen by the attorney general's office after damning video evidence contradicted Isaacs' story. Isaacs, 37, has been suspended without pay from the NYPD.
"In the absence of [permanent] legislation, the executive order is great," said Johanna Miller, advocacy director at the New York Civil Liberties Union. "It's really the gold standard for a special prosecutor bill and has broader jurisdiction than any other bills that have been introduced. That's why the families supported it, and we supported the families."
Even when there wasn't an indictment, advocates say the attorney general issued a detailed report, communicated with the families, and issued recommendations. In one of the two cases that were closed, involving Raynette Turner -- the 42-year-old woman who died in a Mount Vernon jail cell after being arrested for multiple larcenies -- the attorney general's office made recommendations to change the processing and arraignment process for arrestees, some of which were adopted by the Legislature during the last legislative session.
Like other advocates and community leaders, Loyda Colon, co-director of the Justice Committee, a coalition of families who have lost loved ones to police violence, called the executive order "an incredibly important and historic" step towards accountability. "Since the establishment of the special prosecutor, we have seen an unprecedented level of transparency regarding the investigations of police killings in New York, in stark contrast to the handling of these cases by local district attorneys," she said.
However, in another high profile case, involving Deborah Danner -- a 66-year-old emotionally disturbed Bronx woman who was fatally shot in a confrontation with an NYPD officer in October 2016 -- the attorney general's office determined that the case did not fall under its jurisdiction, prompting some critics to decry the executive order's definitions as too narrow. At the time, investigators determined that Danner was armed because of the threatening manner in which she wielded a baseball bat during the confrontation.
"Ms. Danner's death is a tragedy that never should have happened," Schneiderman said in a statement at the time. "From the moment my office received the news, our Special Investigations and Prosecutions Unit commenced a rigorous review of the evidence. I believe there is no question this case must be investigated. However, the legally empowered prosecutor must take the lead."
This leaves the case to the Bronx District Attorney, Darcel Clark. Like Schneiderman, NYPD Commissioner James O'Neill quickly said that Danner should not have died in the incident. The matter remains under review.
By contrast, Ariel Galarza, a 48-year-old emotionally disturbed Bronx man, died of a cardiac arrest after an NYPD sergeant tasered him twice. Galarza reportedly threatened police with a glass hot sauce bottle prior to the incident. The case is under investigation by Schneiderman's office.
The similarities -- and distinctions -- between the Danner and Galarza cases appear to provide additional grounds for those who want a special prosecutor to have jurisdiction over all police-involved civilian deaths, whether the deceased was armed or not.
It remains to be seen whether the 2014-2015 momentum for a permanent special prosecutor bill can be recaptured in 2017. The power dynamics in the Legislature remain unchanged since the November election, with a heavily Democratic Assembly and Republicans maintaining a slight majority in the Senate. Some elements of criminal justice reform, including raising the age of adult criminal responsibility in New York -- the state is one of only two that tries 16- and 17-year-olds as adults -- remain at the forefront of policy debates in Albany.
One issue, raised by Upstate New York lawmakers during the 2015 legislative session, was whether one prosecutor, based in New York City, should be charged with handling Upstate cases. There were more disagreements. "There were questions about credentials; there were questions about conflict of interest; and at the end of the day we did not pass a law. We did agree mutually that we would come back next year and pass a permanent law," said Cuomo at the order signing.
There has been little mention early this year of special prosecutor legislation, though. The issue was absent from Cuomo's six-part State of the State tour in January, but in his 2017 policy book, the governor has renewed his 2016 call for an office of "independent special counsel."
At the 2015 signing of the executive order, Cuomo vowed to push aggressively for permanent legislation -- something his office says is still a priority in 2017.
"We believe the executive order is serving its intended purpose, while we continue to explore opportunities to advance comprehensive criminal justice reform through the legislative process," said Abbey Fashouer, the governor's press secretary. "The governor sought comprehensive criminal justice reform, including a permanent legislative special prosecutor, and will continue to do so."
Meanwhile, Cuomo's office of special counsel proposal has been criticized by criminal justice reformers and state legislators on both sides of the aisle, with critics saying it is redundant and would undermine the power of the special prosecutor.
"If you are going to have a special prosecutor, you should have it. You should not have a special person, with no resources to decide whether you should or should not send it to a special prosecutor," said Assemblymember Joe Lentol, a Democrat who represents North Brooklyn.
As with many controversial measures in the state capital, the future of special prosecutor legislation will depend in part on whether the Independent Democratic Conference -- an eight-member breakaway faction of Senate Democrats that conferences with Republicans -- decides to prioritize the issue.
The IDC did not include the special prosecutor bill in its legislative agenda for 2017. When asked if the IDC would back permanent legislation, IDC Leader Sen. Jeffrey Klein said the attorney general has performed well in the role. "Eric Schneiderman has done an outstanding job in looking into these cases in a timely and effective manner," said Klein, who represents parts of the Bronx.
Some criminal justice experts note that even if the executive order becomes law, it would not address larger systemic issues. For example, the reality that police are sent to address situations that should be handled by social service agencies, and that many deaths that seem problematic to the public are technically legal.
Alex Vitale, a sociologist and professor at Brooklyn College, says the criminal justice system relies too heavily on people with guns, and notes that the police regularly use lower levels of unjustified force with no repercussions or accountability. "The executive order only addresses a very small number of very extreme cases," said Vitale.
Vitale has argued at length that localities need to rethink how they respond to emergency situations, such as the Danner incident, by not sending police to deal with an emotionally distressed person.
Meanwhile, as the momentum for a permanent special prosecutor may have temporarily waned since 2015, advocates say, the climate is still ripe for serious criminal justice reform.
CASES INVESTIGATED BY ATTORNEY GENERAL SCHNEIDERMAN UNDER THE SPECIAL PROSECUTOR EXECUTIVE ORDER
(July 2015 through December 2016)
Indictment Secured – Brooklyn – Delrawn Small - Off-duty NYPD officer shot and killed Small late during a traffic dispute on July 4, 2016. There is video of the incident. The AG's office secured a grand jury indictment of the officer in September on charges of Murder 2 and Manslaughter 1.
Ongoing Investigation – Bronx – Richard Gonzalez – NYPD and EMTs took Gonzalez into custody after he brandished a weapon in front of police on March 17, 2016. Gonzalez was under the influence of multiple drugs at the time and was therefore put into an ambulance, rather than a police vehicle, when taken into custody. During the ride to the hospital, Gonzales suffered cardiac arrest and died.
Ongoing Investigation – Bronx– Ariel Galarza -- An emotionally disturbed man allegedly threatened officers with a hot sauce bottle when they arrived on the scene on November 3, 2016. An NYPD sergeant used a stun guy to subdue Galarza twice. He suffered a cardiac arrest and later died at the hospital.
Ongoing Investigation – Troy – Edson Thevenin (alleged DWI) – Thevenin was pulled over for a suspected DWI on April 17, 2016. Officers say that he tried to pull away after they approached his vehicle. An officer fired shots through Thevenin's windshield, killing him. Officer claimed he was being "pinned in" at the time. AG office began investigation, but Rensselaer County DA nevertheless convened a grand jury without AG office approval, immunized the officer in question, and exonerated the officer. Everything that happened in the case, including the DA's actions, is being investigated by the AG's office.
Ongoing Investigation – Washington/Dutchess County – Warren C. Corbitt - Corbitt was traveling by motorcycle October 14, 2016 when he fatally collided with the vehicle of a state trooper who was responding to an emergency situation at a nearby school. Police say the trooper had been driving with lights and sirens on. Corbit was pronounced dead on the scene.
Ongoing Investigation – Buffalo – Wardel Davis - Davis was stopped by two officers on February 7, 2017. Police said he tried to flee and fought with officers as he was arrested. As he was handcuffed, Davis, who was unarmed appeared to be in medical distress. Police officer administered CPR on Davis and he was transfered to the hospital, where he was pronounced dead.
Closed – Report Issued / No indictment Mount Vernon - Raynette Turner - Turner died in a jail cell after being arrested for multiple larcenies in the area on Tuesday, July 28, 2015. She was taken to the hospital during her stay at the Mount Vernon police department. Shortly thereafter, she died. AG issued a detailed report and made recommendations to change the processing and arraignment process for arrestees. The Legislature adopted some of these recommendations.
Closed – Report Issued / No Indictment - Yonkers – Miguel Espinal – NYPD pursued Espinal in a high-speed chase on the Saw Mill Parkway December 8, 2015. Mr. Espinal pulled a U-turn on the parkway and drove several hundred feet against traffic. He then drove off the highway, crashed his car, and started running (there was an outstanding warrant for his arrest). An NYPD officer pursued Espinal into the woods. According to the police officer, there was a scuffle for the officer's gun, at which point the officer shot and killed Mr. Espinal. The officer was cleared of wrongdoing.
Closed – Report Issued / No indictment - Carmel (Putnam County) – Joseph Segiun (ie, Taser) – Seguin was beating his girlfriend when police arrived on November 30, 2015. He was reportedly under the influence of PCP at the time. He is said to have resisted arrest. Officers tased him several times in an attempt to restrain him. Seguin had a bad reaction and died.
Correction: An earlier version of this article mistated the number of police-involved deaths that have been investigated by the attorney general since Cuomo's executive order was issued. The article has been amended to reflect these changes.