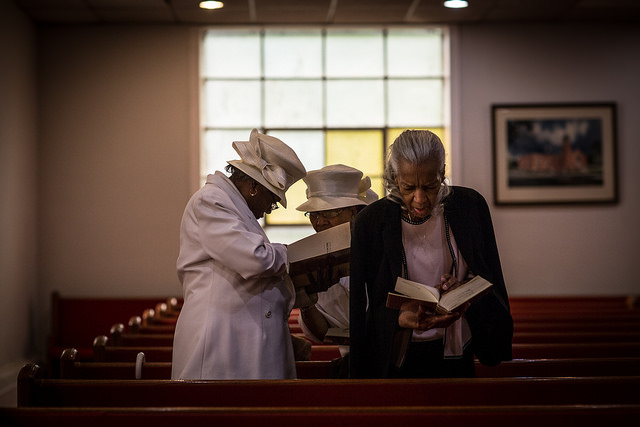 Prayer at Cavalry Baptist Church (photo: Michael Appleton/Mayor's Office)
---
As New York City battles a homelessness crisis, with 60,000 people in shelters, a statewide proposal to drastically reduce and prevent homelessness is gaining groundswell support. On Monday, dozens of faith leaders from across the state signed a letter to Governor Andrew Cuomo, calling his attention to that plan, the Home Stability Support program.
The HSS proposal, sponsored by Democratic Assembly Member Andrew Hevesi of Queens, would replace the state's existing patchwork system of rental subsidies with a single supplement for families and individuals who are homeless or in danger of becoming homeless. It would apply to those receiving public assistance and people facing evictions or homelessness because of hazardous living conditions or domestic violence.
"The problem of homelessness has reached a critical juncture," reads the letter signed by 95 faith leaders from 15 cities across the state. "The costs to our communities are unsustainable. It is time to boldly and adequately attack the preventable causes of record homelessness."
The HSS proposal would provide state funding to bridge the gap between state shelter allowances (rental supplements given to those on public assistance, which are between $264 and $447 a month depending on household size) and up to 85 percent of the household's fair market rent. It would also give local jurisdictions the option to raise that supplement to 100 percent.
"This is a hard one to oppose," said Marc Greenberg, executive director of the Interfaith Assembly on Homelessness and Housing and one of the leaders on the letter to Cuomo. "It's a choice between keeping a family in a welfare hotel for $3,500 or more a month, as opposed to paying $1,500 to $2,000 to keep them in their homes."
A spokesperson for the governor's office said they are reviewing the proposal, which has strong support in the Democratically-controlled Assembly, but a less than favorable outlook in the Republican-controlled Senate.
Mayor Bill de Blasio has expressed support for the plan, which would drastically overhaul the fight against homelessness, but has said he is not counting on its passage. He has continued to call out the state for its limited help in preventing homelessness going back several years, and pushed ahead with his own multi-pronged effort that has seen limited results -- de Blasio's combination of rental subsidies and eviction-protection efforts have helped stabilize the rise in homelessness and prevented the homeless population from hitting 70,000, which is where his office says it would be if not for its programs.
De Blasio recently outlined a new approach to sheltering homeless New Yorkers, and announced that a new, more sober goal of reducing the shelter population to about 57,500 over the next five years.
The HHS proposal, which would cost the state about $450 million a year, could be a game-changer. New York City Comptroller Scott Stringer has estimated that it could reduce the city's shelter population by 80 percent in 10 years for families with children and by 60 percent for adult families. It would also save the city $316.6 million in the same time by keeping people out of shelters.
To ease concerns about the price tag, Assembly Democrats opted to phase the program in over five years, at an initial cost of $40 million in the first year, which they included in their one-house budget resolution last week. "I see it as a no-brainer," said Assembly Member Hevesi, in a brief phone interview. "I haven't heard any objection that we couldn't counter. You're helping vulnerable people get off the streets and stay off the streets."
Hevesi said he's had productive conversations with Republican Senators about the proposal and has met with the governor to discuss it. He's optimistic about its prospects. "I think we're in a good place for now," he said.
The proposal has significant support from elected representatives and community advocates -- four of New York City's five borough presidents also announced their support this week. But, to pass the plan must meet approval from not just the state Assembly, but also Cuomo and the Senate.
Significantly, state Senator Jeff Klein, who leads the Senate Independent Democratic Conference, has announced his support for the subsidy proposal. Klein, who also recently expressed opposition to de Blasio's shelter siting plans, sees HHS as smart economically and for communities. The IDC mentioned the proposal in its own Senate budget resolution, but the Senate majority did not.
"We included it in our budget proposal and believe it's critically important to help citizens access adequate housing," said Mike Whyland, spokesperson for Assembly Speaker Carl Heastie, in an email. "That is our goal as we negotiate the final budget."
Spokespersons for the Senate majority and the IDC did not respond to requests for comment.
"The federal landscape is changing, and whatever funds we're using could be used more effectively this way," said Greenberg, of the Interfaith Assembly on Homelessness and Housing. "The governor would be wise to support this."
For the coalition of faith leaders, support for the program transcends politics as they fight the homelessness battle on the frontlines. "It cannot be politics as usual when it comes to people's lives," said Greenberg. "What the faith community is trying to do is remind lawmakers of the demands of their own faith...If you say you have faith, what does your faith challenge you to do?"