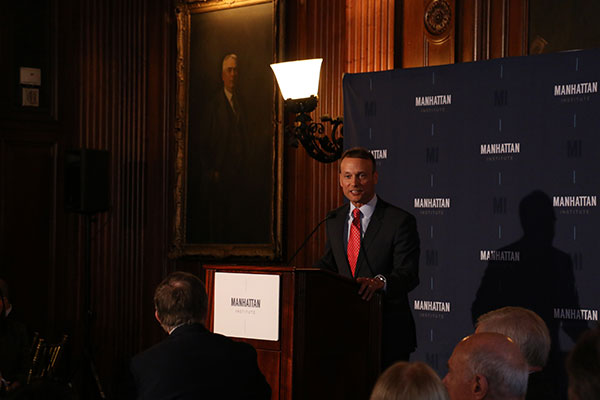 Adam Andrzejewski (photo: The Manhattan Institute)
---
Illinois-based businessman and one-time candidate for Governor of that state, Adam Andrzejewski, boasts of running the "world's largest private repository of public spending" with 3.5 billion individually captured government expenditures. Andrzejewski is the CEO and founder of OpenTheBooks.com, an online transparency tool launched by his nonpartisan, nonprofit group, aptly named American Transparency, with the stated goals of reducing waste in government spending and combatting corruption.
Speaking to a room of about 90 people at an upscale club in Midtown Manhattan, at an event hosted by the Manhattan Institute, a conservative think tank, Andrzejewski laid out his organization's mission: "Every Dime. Online. In Real Time." His pet project stems from his unsuccessful run as a Republican candidate for Governor of Illinois in 2010, when he said he ran on a platform of "forensic audits of state spending" and "aggressive transparency," which he believes resonated with voters.
Sourcing vast swathes of data through thousands of Freedom of Information Act requests each year, Andrzejewski says the website now contains nearly all federal expenditures since 2000, checkbook spending from 48 of 50 states from the last 10 years, and data on salary, pension, and vendor spending from about 60,000 municipalities.
In New York State, he said, they are close to having compiled all federal, state, and local expenditures. "We have about 90 cents on every dollar right now," Andrzejewski said.
OpenTheBooks has made news in the past, with what Andrzejewski calls "oversight reports," such as an analysis of spending on luxury art by the federal Department of Veterans Affairs; a report on the billions in public funds that go to Ivy League universities through tax benefits and other payments; and one on non-military federal agencies procuring military equipment; among others. The project also launched a mobile application, that allows users to pinpoint federal spending down to their zip code, allowing for "instant journalism," Andrzejewski says.
More recently, after President Donald Trump's threat to cut federal funding to sanctuary cities, the website analyzed the scope of those potential cuts and their possible effect on municipalities. Within the next 30 days, the nonprofit will release its latest report on cash compensation at all federal agencies.
"The amount of federal waste, fraud, corruption and taxpayer abuse is systemic, it's embedded and we do need [a] war on waste to root it out," said Andrzejewski in response to a question from one of the attendees. "We need a new arms race of federal transparency from the private sector up against government," he later said, again painting the fight in military terms.
The transparency website is not completely novel for New York, where others both in the private and public sectors have attempted to make government data, particularly about spending, publicly available and accessible. Reclaim New York, a nonprofit government transparency project, has compiled checkbook spending while the Empire Center for Public Policy, a think tank, has more than 50 data sets on the state's taxes, debt, spending, and other economic measures. State Comptroller Thomas DiNapoli's Open Book New York portal shows state spending, while in New York City, Comptroller Scott Stringer's Checkbook NYC shows city level indicators.
Andrzejewski praised those efforts (he worked with Reclaim New York on compiling New York's spending data). "Kudos to the elected officials that don't need a lawsuit but open the books by making that good government decision," he told Gotham Gazette after the formal portion of the event, a lunch centered around his presentation. But he maintained that New York is the same as other states. "It's a level playing field...New York is neither worse nor better but units of government do comply with the law, which is good news," he said.
For a man whose mission is transparency, however, Andrzejewski would not disclose his group's donors, saying only that they consist of "foundations, corporations and individuals" who may face pressure if made public. He insisted that none of the group's funding came from government sources. When asked if this was at odds with his goals, he refuted the premise. "We don't need more private sector transparency," he said. "We're demanding government transparency."