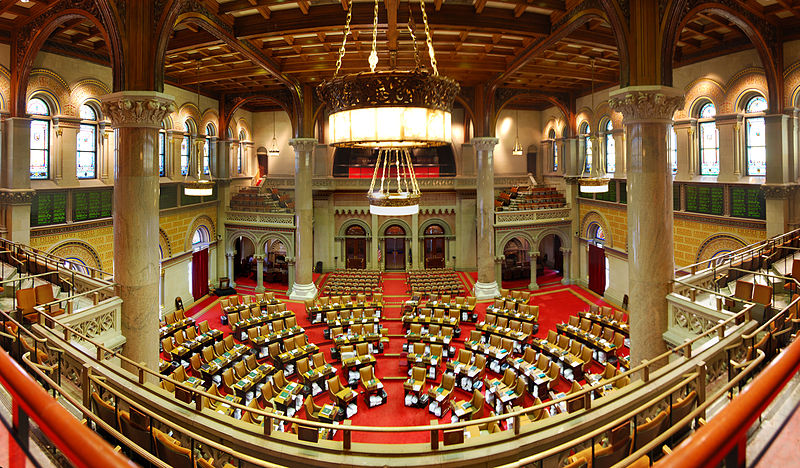 The Assembly (photo: wikicommons)
---
While legislative leaders are declaring opposition to a New York State constitutional convention, government reform organizations are trending in the other direction, with some who were wary of the idea in previous years coming out in support or considering doing so.
Leading up to the November 7 vote on whether to hold a convention, the debate is shaping up around fear of what could be taken away versus hope that the public can take a shot at democratic reform.
Republican Senate Majority Leader John Flanagan and Democratic Assembly Speaker Carl Heastie, in a joint appearance in Albany on May 9, both warned of dangers posed by deep-pocketed interests from outside the state, who could potentially derail a "people's convention."
"I understand people's desire to put it in the hands of the people to decide. But people are also subjected to campaigns," Heastie said at the event at the Albany Times Union's Hearst Media Center. "I think we should be very, very careful in exposing the constitution to the whims of someone from outside of the state who can decide to spend millions of dollars to put forward their position."
Heastie and Flanagan, of the Bronx and Long Island, respectively, suggested that the state instead continue using piecemeal constitutional amendments to update the lengthy, outdated document. Such amendments must be passed by two consecutive legislative classes, then the public via singular ballot amendment.
Similar sentiments have been expressed by Senator Jeff Klein, leader of the Independent Democratic Conference, a breakaway group of Senate Democrats that forms a ruling coalition with the GOP, and, most recently, by Senate Minority Leader Andrea Stewart-Cousins in an interview with The Daily News. On the other hand, Assembly Minority Leader Brian Kolb, an upstate Republican, has for years been an outspoken proponent of holding a convention and is the only legislative conference leader in support of a "yes" vote on this year's November ballot question as to whether New York should hold a convention to edit or rewrite its constitution.
The authors of the New York State Constitution included a provision that once every 20 years, the public would have the opportunity to completely overhaul and modernize the document. So, this Election Day, voters will vote on whether to hold a constitutional convention -- or a "con con," as it is sometimes called -- and if the referendum passes, the people will then elect delegates, who would convene to potentially rewrite, or significantly propose modifications to the state constitution. Those proposals would then go before voters as a slate of changes to be voted up or down.
While legislative leaders are expressing their fear of a con con, a growing number of government reform advocates say it's an opportunity to enact long-sought reforms that have been stagnant in the Legislature.
In March, for the first time in half a century, the League of Women Voters' New York chapter endorsed a "yes" vote for the once-in-a-generation referendum, citing electoral reforms, campaign finance reform, fair legislative redistricting, and the modernization of New York's court system as motivating factors. The League had been instrumental in the last convention, which took place in 1967, but did not produce the sweeping reforms many had hoped for, and ultimately all the proposed amendments, which were controversially presented to voters as a package deal, were voted down.
In the 1990s, the group's board had a policy that the League would not endorse another constitutional convention unless the essential changes were made to the delegate selection and convention process. Five years ago, LWV board members agreed to modify that policy; rather than automatically opposing a convention that did not meet those requirements, the board would reconvene and consider whether to support a convention while thoroughly weighing delegate election and transparency concerns.
In 1997, the last time a con con was on the ballot, most good government groups chose to remain neutral on the ballot question, focussing instead on launching educational campaigns about the pros and cons of holding a convention, and potential issues to be addressed. Only Citizens Union, one of New York's leading government reform organizations (and sister organization to Gotham Gazette's publisher, Citizens Union Foundation), has consistently backed a constitutional convention, despite what was to many a disappointing outcome from the 1967 convention.
Twenty years ago, as was the case during previous con con votes, there was some momentum to back a convention prior to the vote, and public opinion polls showed significant interest. But a last-minute ad campaign by labor unions and other interest groups ultimately dissuaded voters for voting "yes" on the ballot question.
"The campaign to defeat the convention referendum has created some of the oddest political bedfellows in recent memory. The A.F.L.-C.I.O., the Conservative Party, the Sierra Club, the National Abortion Rights Action League, legislators of both parties and Change New York, the anti-tax group, were united against the measure," wrote Richard Perez-Pena, for the New York Times, on November 5, 1997, just before the con con vote that year.
This year -- which follows a two-decade stretch that has seen dozens of elected officials leave office due to ethical or legal scandal -- there appears to be a marked shift and legislative leaders are finding themselves at odds with government reform organizations who view the convention more favorably, even those who sat out the vote in 1997.
Citizens Union is again in suppor and the League of Women Voters is not the only government reform organization reevaluating its stance. The New York State Bar Association (NYSBA), which as part of its mission seeks to raise judicial standards and reform the legal system, will discuss the issue at its upcoming House of Delegates meeting on June 17, and consider voting on whether to take a position on the ballot measure, a spokesperson has confirmed.
In February, NYSBA issued a report highlighting how a constitutional convention could streamline all aspects of New York's bafflingly complex legal system, from traffic ticket processing to child support orders.
The League of Women Voters does still hold concerns about how a convention would be implemented, but decided the potential benefits outweigh the risks.
"We're not saying this is the end-all and be-all, but we are going to try get all we want out of it. And there are risks, but it's a balancing act. We asked the question: Is it worth it that we could gain more than people think might be lost? And the state League has decided yes, that it's worth opening it up and trying to get the changes that we can't get through the Legislature now," said Laura Ladd Bierman, executive director of League of Women Voters New York.
Ladd Bierman noted that some state lawmakers recently told members of the League they would be more amenable to pushing for voting reform if the public voted in favor of a convention.
SUNY New Paltz professor Gerald Benjamin, who has been on the front lines pushing for constitutional reform for decades, said he is not surprised government reform organizations are coming around on the issue.
"Twenty years ago they made a set of decisions, so they have 20 years of experience in observing whether they have been able to achieve the reforms necessary -- they have not -- so they rightfully understand that this is the only way they are going to make progress," said Benjamin. "Twenty years have reinforced the observation that the Legislature will not make fundamental structural changes, and the reputation in New York governance has steadily declined."
Representatives from other government watchdog organizations -- including New York Public Interest Group (NYPIRG), Reinvent Albany, Common Cause, and Citizens Budget Commission -- told Gotham Gazette that they have not taken a position on the ballot question, but that the issue is being debated vigorously internally.
"I'm not sure what we will do. Twenty years ago we thought we could play the most useful role by staying neutral and offering a balanced look at the pros and cons of a convention," said NYPIRG's executive director Blair Horner. "It's possible we'll be in the same place this year."
Bill Samuels, a businessman, con con advocate, and chair of the board of EffectiveNY, a think tank, believes the chaos surrounding President Donald Trump's administration will also help fuel a "yes" vote in November.
"The same activists who were around in 1967 during the civil rights-anti war movement are still around today," he said. "When you combine that with what's happening in Washington -- if I had to sum it up: we still have a system in Albany that's still not reaching its goal. New York and California have emerged as the great stand-up states to Trump. We want to be excited, we want to have the best Legislature in the country, and we think we can! The best way to fight Trump is to move New York forward."
In the past, Governor Andrew Cuomo, a second-term Democrat, has repeatedly expressed support for a convention, suggesting a con con may be the only way to enact comprehensive campaign finance reform while Republicans who oppose a public matching system and donation limits continue to control the state Senate. While Cuomo came out in vocal support last year and attempted to insert money into the state budget for a preparatory committee, the issue was not included in his 2017 State of the State policy book nor his executive budget proposal. Cuomo's office told Gotham Gazette the governor still favors a con con, but Cuomo has not been vocal about the issue. This governor has not set aside funds to plot out a potential convention like his father, former Governor Mario Cuomo, did ahead of the 1997 vote.
During a recent meeting with The Daily News editorial board, Cuomo said he supports the idea of a convention, but "you have to find a way where the delegates do not wind up being the same legislators who you are trying to change the rules on. I have not heard a plan that does that." In this point, Cuomo echoed what a variety of other elected officials, including Mayor Bill de Blasio, have said about concerns regarding the delegate process.
Meanwhile, a 40-member coalition of con con supporters called the Committee for a Constitutional Convention has launched. The group includes many prominent public figures including former chief judge Jonathan Lippman, former lieutenant governor Stan Lundine, and former state senator Seymour Lachman. They are joined by constitutional experts like Professor Benjamin and Touro Law Center dean Patty Salkin and slew of well-known attorneys like the Brennan Center's Fritz Schwarz. Bill Samuels is a member as well.
For Citizens Union, support for a convention has only been reinforced over the last two decades. "Twenty years ago, we felt like money in politics was a problem, that effective strong oversight of public ethics was a problem, that our court system was a problem, and the balance of power between the governor and the Legislature were a problem," said Citizen Union executive director Dick Dadey. "Those problems have not gone away. In fact, they've gotten worse. Our state government is broken. Budget bills are passed in the dark of night with little time to scrutinize them, pay to play culture is thriving, and voter apathy is rising."
Opponents of a convention fear opening up the constitution could put at risk hard-won labor and environmental protections, among others. Those concerned about outside interests swaying the outcome of a convention also note that delegates are frequently people who are well-known in public life, often those who hold or previously held a public office, and point to a skewed delegate election process, which they say undermines the point of a "people's convention."
The current system allows major political parties to influence the delegate election, by grouping together a "slate" of candidates on the ballot. Further, of 204 elected delegates, 189 would be chosen from New York's 63 state Senate districts, three from each, which Democrats note are heavily gerrymandered in favor of Republican interests.
While opposition forces, led by labor unions, have already begun to spend sizeable sums of money to encourage a "no" vote, it is unclear how rising populist sentiments indicated in last year's presidential election -- especially through the campaigns of Bernie Sanders and Donald Trump -- may factor in.
If the ballot measure does pass, Ladd Bierman of LWV noted, there are many questions that must be addressed in the following legislative session. Will voters be presented with a preselected slate of delegates? Will the convention be made subject to Freedom of Information Law? Where will the convention take place? The constitution says it must take place at the Capitol on April 2, but if the convention overlaps with the legislative session, there may not be sufficient office space to host the event.
Regardless of where they stand on the ballot measure, she said, if it passes good government groups will be on the front lines pushing for a process that is as fair, transparent, and as democratic as possible.
Note: Gotham Gazette is an independent publication of Citizens Union Foundation, sister organization of Citizens Union.