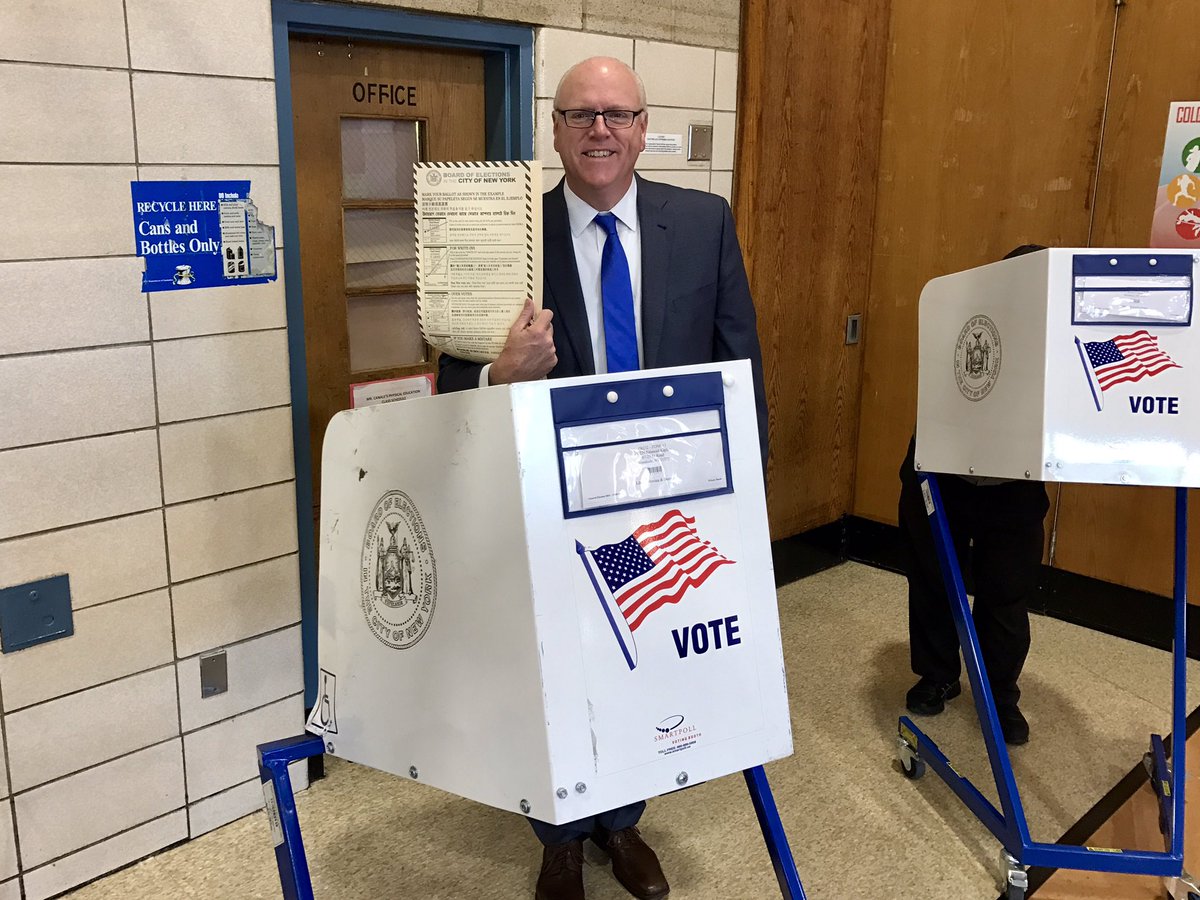 Rep. Joe Crowley photo: @JoeCrowleyNY
---
The Queens Democratic Board of Elections commissioner, who in the past has come under fire for conflicts of interest, is quickly becoming one of the highest earning recipients of Queens court patronage, Gotham Gazette has learned.
In 2014, Jose Miguel Araujo, then the newly elected BOE president, was fined $10,000 by the city's Conflicts of Interest Board (COIB) -- the maximum penalty for nepotism -- because he gave his wife Rita Patron Araujo a job as a temporary clerk between 2010 and 2012.
The fines issued against Araujo and other BOE employees followed a scathing 2013 Department of Investigation (DOI) report, which found the agency to be rife with nepotism, incompetence, and overall dysfunction.
"The imposition of the maximum legal fine on the Board's President should send a powerful message that this conduct will not be tolerated," DOI Commissioner Mark Peters said in a statement at the time of the fines.
Despite the incident, Araujo was renominated for the position by the Queens County Democratic Party and reconfirmed for a four-year term by the City Council in 2016. Since then, his law practice has become one of the top earners of Queens Court patronage doled out by the Queens Surrogate's Court and Queens Supreme Court, raising questions about his impartiality as a BOE commissioner and other conflicts of interest this outside business might present.
Before he became a commissioner, from 2005 through 2007, Araujo earned significant payments from the Queens Surrogate's Court, which settles estates of Queens residents who die without wills. The appointments required Araujo to act as a "guardian ad litem," to advocate for individuals incapacitated by age or mental illness. After Araujo joined the BOE in 2008, the appointments stopped. Several payments trickled in again in 2011, but after the 2014 COIB fine, the appointments escalated from both Surrogate's Court and also Supreme Court, which gave Araujo work as a court evaluator or counsel for guardians of incapacitated individuals.
Of the roughly $140,000 Araujo earned from Queens court appointments since 2005, half of the money -- $69,513 -- flowed to Araujo's practice in the last two years, according to records obtained from the New York State Unified Court System.
Rita Araujo, the commissioner's wife, has had financial difficulties in her past -- a records search shows she is named in 15 nonpayment eviction lawsuits by a previous landlord between 2000 and 2007 -- and Jose Araujo said during his 2014 COIB deposition that he put her on the BOE payroll to qualify her for health benefits. By 2015, the couple was able to purchase a home in Brookhaven, Suffolk County for $203,000, without a mortgage.
The couple's additional income appears to be no coincidence -- current Queens Surrogate's Court Judge Peter Kelly owes his position to Congressional Rep. Joseph Crowley, the chair of the Queens Democratic Party who nominated Kelly before he ran unopposed for a 14-year term in 2010. Kelly's sister, Ann Anzalone, is Crowley's district chief of staff and a Democratic district leader, a locally elected party official that comes with no salary but some political clout. As party chair, Crowley also appoints the Queens Democratic representative to the Board of Elections.
In most boroughs, Democratic judicial candidates are nominated by the party heads and must pass the scrutiny of an independent judicial screening panel before they make it on the ballot. In Queens, the Democratic Party does not require a screening for judges and the party's pick is rarely opposed. For half a century, Queens Democratic Party heads have successfully avoided a primary for the powerful Surrogate's Court post, but if a rogue lawyer did challenge the party's preferred candidate, it would be helpful for Crowley to have a friendly Board of Elections commissioner, were anything related to ballot petitions or other matters to arise. This is also the case for virtually all other elected offices, where the county party runs a preferred candidate, whether for seats in the City Council, state Assembly, state Senate, and so on.
The fact that Queens court appointments are notoriously handed out to a select few lawyers by judges that have the backing and support of Crowley's machine makes the arrangement particularly questionable, according to one election attorney who spoke on the condition of anonymity.
"There doesn't seem to be any reason that [Jose Miguel Araujo] should to be sitting there as a commissioner while he is getting all these appointments. No one can say getting a job as a surrogate in a particular county is unrelated to the politics of the county," said the lawyer. "They have to like you, or you're not getting that job."
The Queens judicial courts have been plagued by charges of cronyism and patronage for decades. Surrogate's and Supreme Court judges, hand-picked by party leaders, assign lucrative and easy cases to a small group of lawyers with connections to the Queens County Democratic Party machine. However, besides Araujo, no other sitting Board of Elections commissioner has been handed court appointments since being confirmed to the BOE.
John Kaehny, executive director of Reinvent Albany, a government watchdog group, said the Queens Surrogate's Courts have been used as a reward system for the party machine for too long and that it's time for the proper authorities, in this case New York State's Chief Judge Janet DiFiore, to step in. "The scandal and corruption risk around Queens Surrogate's has reached a level of outrageousness that's unacceptable," he said. "It's turned into a kind of a punchline in good government and political circles."
A Board of Elections commissioner taking payment for these court assignments may also violate the city's conflict of interest law. Chapter 68 of New York City's Charter limits the types of outside work public servants who practice law can pursue. For example, public servants may not use their city positions for "financial gain, contract, license, privilege or other private or personal advantage, direct or indirect" -- which would be the case if Araujo's influence at the BOE was the driving force behind his recent appointments -- according to a 2001 advisory opinion from COIB. They also may not represent private clients that have business dealings before the City, according to the same opinion. While Surrogate's Court and Supreme Court are state agencies, if a Surrogate's Court estate proceeding results in a property sale, that sale would be conducted by the Queens Public Administrator's Office, which is a city agency.
The Queens public administrator also has ties to the Democratic party machine. The sole counsel to Queens Public Administrator Lois Rosenblatt is Gerard Sweeney, who takes a hefty percentage of each sale referred by the courts. Sweeney -- who in the 1990s was the party's law chair, charged with ensuring party favorites wound up on the ballot while insurgents were disqualified -- no longer holds an official position in the Queens County Democratic Party, but was described in a recent Daily News article as its "most important strategist, helping guide the party's political machinations on the homefront as it jousts for influence in City Hall and Albany."
Sweeney has reportedly earned $30 million since 2006 for administering these sales referred by Surrogate's Court, according to the Daily News. Meanwhile, Rosenblatt was herself fined $3,000 earlier this month by the COIB for nepotism.
In at least one case, Araujo did represent a client who had business before the public administrator. On November 10, 2011, Araujo was appointed "guardian ad litem" in Queens Surrogate's Court for the estate of Josephine Ralton, a 92-year-old woman who had died in 2009 with no clear heirs. Eight days later, the Queens Public Administrator sold Ralton's luxury Forest Hills apartment. Araujo received a $3,000 payment from Queens Surrogate's Court for his work on the case, according to court records.
Reached by phone, Araujo first denied having received court appointments in recent years. After being reminded that in fact the bulk of his appointments occurred in 2015 and 2016, he said some of cases were done pro-bono because of his "expertise."
But court records show that only a single appointment throughout Araujo's career has ever gone unpaid - a guardianship for Dorothy Noto Lewis, a BOE employee, in April 2016. When Gotham Gazette pointed out that Araujo had in fact earned nearly $70,000 from Surrogate's Court and Supreme Court in the last two years, Araujo cited the court's rules, which limits how much one attorney can earn from court appointments in a calendar year, saying he is "capped out at a certain amount."
Araujo said he sees no potential conflicts of interest which could arise from holding the part-time but influential job as Board of Elections commissioner while also benefiting from Surrogate's appointments. "There is no conflict for me. I'm able to distinguish between the two and I'm able to recuse myself if necessary, but that hasn't happened and it hasn't been necessary," he said.
Like other BOE commissioners, Araujo's work includes voting on whether candidates are eligible for the election ballot. This often includes petition signature validation and cases of petition fraud or irregularity. Commissioners also supervise recounts and oversee numerous issues that impact the voter turnout for elections, including the viability and location of poll sites.
These calls are supposed to be impartial, but the notoriously complex system often favors the incumbent or party's prefered candidates, while outsiders -- who may be less experienced in electoral requirements or lack resources and access to select election lawyers -- are booted off the ballot.
Araujo maintains that the uptick in court appointments was merited because he is an expert in kinship cases. Meanwhile, he chose to keep his Board of Elections commissioner job, which comes with influence and a salary not to exceed $30,000 per year, according to a city listing.
As the election attorney put it, "There are many, many attorneys who could be appointed to do this job. It would be fair to say that if someone is getting these kinds of referrals from Surrogate's Court [and Supreme Court], they shouldn't be on the Board of Elections. It's not like BOE commissioners earn $250,000 a year and people are falling over themselves to get that job."
A spokesperson for Rep. Crowley, the Queens Democratic Party chair, declined to comment on the distribution of Queens court appointments.