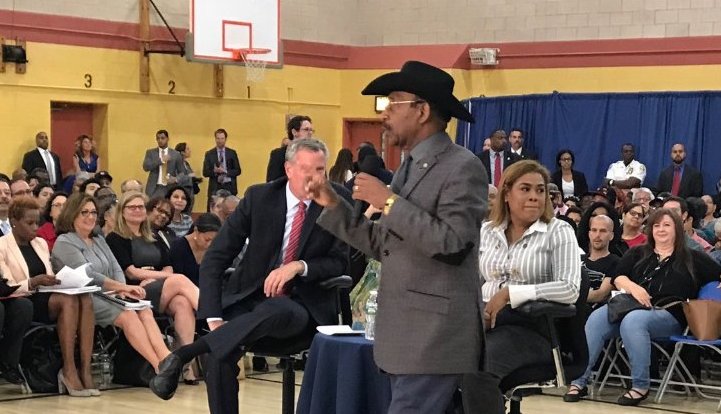 Ruben Diaz Sr. (photo: @NYPD43Pct)
---
While Democrats technically reclaimed a majority of state Senate seats through a special election Tuesday, a deeply fractured party picture remains. As different factions point fingers and call for unity, it seems likely that the headcount will drop down again by the end of the year.
Two mainline Democratic senators have announced that they are running for other offices this year. Senator George Latimer, of Westchester County's 37th District, is eying the county executive seat, while Senator Ruben Diaz Sr., representing the Bronx's 32nd District, is a candidate for a City Council seat he briefly held in 2001.
On Tuesday, real estate developer Brian Benjamin replaced Bill Perkins, who left the Senate for the City Council in February, by winning a special election for Manhattan's 30th Senate District, bringing the number of Democratic lawmakers in the 63-seat Senate to 32, a bare majority.
Benjamin's win (on top of Donald Trump's presidential victory) has amplified deep-seated divisions among Senate Democrats. Currently, the eight-member Independent Democratic Conference (IDC) forms a ruling coalition with Republicans, while a ninth nominal Democrat, Senator Simcha Felder, conferences with the Republicans. This leaves 23 mainline Democrats in the chamber, including Benjamin. The dynamics have prompted New York progressive leaders to call for breakaway Democrats to return to the fold, form a Democratic majority conference, and pass legislation that is reflective of the heavily Democratic state.
However, unity would not be possible under the current Senate rules, which list Republican Leader John Flanagan as the president of the chamber, as voted by Senate Republicans and Felder. And, before the next scheduled elections, in 2018, for all 63 Senate seats, there is a good chance that one or both of Diaz Sr. and Latimer will vacate their seat.
On Tuesday, Senate Minority Leader Andrea Stewart-Cousins sent letters to each IDC member, calling on them to realign with the Democrats. "As Donald Trump continues to propose devastating cuts to critical programs. it is more important than ever for progressive New Yorkers to unite. That is why we are asking you to join the now-23 members of the Democratic Conlèrence by pledging to only enter a coalition to lead the Senate with fellow Democrats and abandoning your coalition with Republicans," wrote Stewart-Cousins.
Also calling for Democratic unity is the Working Families Party, which organized rallies outside the district offices of IDC members on Wednesday, top officials from the Democratic National Committee, and a variety of other Democratic elected officials and activists.
But some political insiders say that these calls and letters are ultimately meaningless if the Democrats' control of 32 seats is short lived. If Diaz Sr. and Latimer win their respective races, Democrats would control 30 seats, two short of a majority stake. A Diaz Sr. or Latimer vacancy would occur as of January, leaving one or two seats empty for at least 90 days, the required window before Governor Andrew Cuomo could call a special election -- if he chooses to call one at all.
Cuomo, a second-term Democrat, is unlikely to call a special election for April, which is when budget negotiations are finalized -- which, depending on unity negotiations, could easily leave Senate Democrats out of the discussion on the final spending agreement.
Whether the governor calls a special election in May, after budget, or decides to wait out the rest of year until the regularly scheduled election, depends on a variety of factors and remains to be seen, according to veteran political consultant Hank Sheinkopf.
"It will depend on the state of play at the time," said Sheinkopf. "Why should he call a special election in January if he's got to get that budget done. What's the best way for him to get it done? We don't know yet."
Cuomo's decision may also be influenced by how active the Democratic base is in lobbying him, especially given his own 2018 reelection bid on the horizon, not to mention his possible 2020 presidential ambitions.
The odds are good for Diaz Sr. to win the City Council seat. While he faces a crowded primary, Diaz is popular in the Bronx, where his son Ruben Diaz Jr. is the borough president. He is a beloved community leader and minister at a local Pentecostal church, and his standing among his constituents is reflected by the district's Senate primary results for the last few years. In 2016, Diaz Sr. beat out his Democratic rival with 8,557 votes out of 9,648 cast, or 88.7 percent.
"The Diaz name has magic in the Bronx, he's going to be tough to beat, but in crowded primary, it's hard to predict," says Sheinkopf.
For Latimer, who is challenging incumbent Rob Astorino, a Republican seeking his third term, the path to victory is less clear. While Westchester is heavily Democratic on paper, experts say it is a classic suburban 'bellwether' county, meaning it can be turned red or blue based on the winds of influence from Washington, D.C. Astorino, who challenged Gov. Cuomo in 2014, is popular in the county, and in a typical year, Latimer would be fighting an uphill battle. But with the GOP at risk almost everywhere due to President Trump's unpopularity, Latimer's chances may continue to improve, according to insiders.
"Latimer is unique in that he has a very significant following. He served the area as an Assemblyman and he's highly regarded there. But could a Republican with the appropriate anti-Trump sentiment as part of his platform have an opportunity to make it a race? The answer is yes, it's not impossible," said Sheinkopf.
Both Diaz Sr. and Latimer would leave the Senate for better paying jobs. The County Executive position pays $160,760, up from the long-stagnant $79,500 state legislators make. As a City Council member, Diaz Sr. would also see a significant salary bump, earning $148,500.
The IDC, members of which receive financial and legislative perks as part of their partnership with the GOP, has little to gain from seeking a unity deal before November 2017, when the Diaz. Sr. and Latimer races will be decided.
In anticipation of this week's special election in Harlem, the IDC released a video, calling on all 32 Democrats -- the number required to pass legislation -- to join them in declaring their support for progressive measures like ethics and voting reform, codifying a woman's right to choose, and more. The video implies that there are Democrats who don't support the measures named, references to the socially conservative views of Diaz Sr. and Felder.
"Thirty-two is not a magic number unless there are 32 Democrats who are ready to stand up and unite on policies that combat Donald Trump. Until we achieve unity and stand up for women, immigrants, and the most vulnerable New Yorkers, all talk about a majority is nothing more than meaningless rhetoric on the part of failed leadership," said IDC spokesperson Candice Giove in a statement.
While Diaz Sr.'s more socially conservative views on issues like abortion and same-sex marriage sometimes pose a problem for fellow Democrats, his district is one of the few heavily Democratic areas of New York City where these positions are not a liability. In 2010, Diaz Sr. was challenged by a Democrat backed by LGBT groups and still won 79.4% of the vote. The senator was not primaried in 2012 or 2014.
While the Democratic Conference might welcome a more progressive replacement for Diaz Sr., the conference is at risk of losing the seat to a Democrat with loyalty to IDC leader Senator Jeffrey Klein, who also hails from the Bronx, noted Sheinkopf.
Meanwhile, Felder, the Brooklyn Democrat who caucuses with Republicans, told Gotham Gazette Wednesday that he would be "very interested in renegotiating the priorities" of his district, provided that the IDC first commit themselves to rejoining with mainline Democrats.
"The IDC represents 25 percent of the Democrats. I think it's incumbent upon them to rejoin the Democrats to try to take back the majority and not play around, trying to make believe they are any different than the Republican conference," he said, referencing a letter he sent to Senators Klein and Stewart-Cousins stating as much.
The GOP conference, which does not have without a numerical majority without Felder, is also at risk of losing members this year, which could force them to rely on the IDC for a majority in 2018. Senator Rob Ortt, a Republican from Niagara County, was indicted on charges of filing with a false instrument, and if found guilty, could eventually lose his seat. Senator Philip Boyle, of Suffolk County, was recently nominated as the Republican candidate for county sheriff, though he may face a GOP primary.
Even if the Democrats did unite, it is unclear what a coalition among mainline Democrats, the IDC, and Felder would look like, and who would lead the conference -- Klein, Stewart-Cousins, both, or someone else.
Ultimately, the only way the party will reunite during this short window, is if the governor decides to use his influence to compel party loyalty, according to Richard Brodsky, a former Assemblymember from Westchester and now a Demos scholar.
While Cuomo has signalled that he is comfortable with keeping the Senate GOP in power, Brodsky says the Working Families Party and other progressives have done a good job at publicly pressuring him to reunite the party, and may be more impactful if Cuomo pursues his rumored presidential aspirations.
"In the end, until the governor uses his influence -- which is a strong influence -- there's not going to be a resolution here," said Brodsky. "The WFP has found innovative ways to step up the pressure and the consequences for Governor Cuomo in 2020 are not, as we say in Italian, 'chopped liver.'"