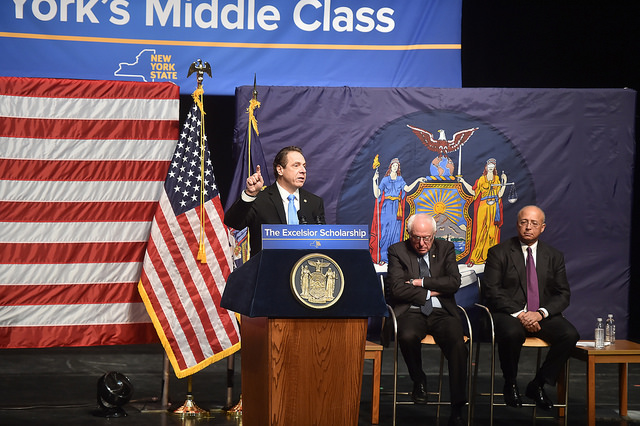 (photo: Kevin Coughlin/Governor's Office)
---
Public university administrators and college presidents enthusiastically supporting a governor's proposal to fund tuition for potential students is a situation that would normally invite little scrutiny.
That picture becomes murkier when the university's management has been a frequent target of that governor; is the focus of an expanding investigation conducted by the state's inspector general, who reports to the secretary to the governor; and the governor publicly calls for greater oversight of the university system while seeking its top officials' endorsements of his tuition subsidy proposal.
This describes the state of affairs for the state-controlled City University of New York (CUNY), which has been in the crosshairs as a former City College president and affiliated foundation are facing a federal probe and a state investigation targeting university-wide financial practices is underway.
The latter is spearheaded by Inspector General Catherine Leahy Scott, who served as Assistant Attorney General under then-Attorney General Andrew Cuomo before he was elected governor in 2010. Cuomo, a Democrat, appointed Scott to her current post in 2013, after she had served as acting Inspector General for a year. Cuomo was reelected in 2014.
After unveiling it in January alongside Senator Bernie Sanders, Cuomo spent months pushing his Excelsior Scholarship program, which would make CUNY and State University of New York (SUNY) tuition-free for many students from middle-class families. The scholarship was passed as part of a state budget deal in early April and signed that same month to great fanfare, with Cuomo extolled by Hillary Clinton.
In between, Cuomo also outlined his 2017 government ethics agenda, which included greater oversight of the CUNY and SUNY systems, and sought the endorsements of Excelsior by top CUNY and SUNY officials, including all the college presidents. As the governor negotiated with legislative leaders, Cuomo's office announced in a March press release that nearly every CUNY or SUNY president was backing the plan.
The I.G. investigation began in October 2016 after CUNY board Chair William Thompson Jr. sent a letter to Inspector General Scott following revelations about deposed City College president Lisa Coico's misuse of funds from the affiliated 21st Century Foundation, a nonprofit.
Earlier this month, Mr. Thompson, a Cuomo ally, said on City & State's Slant podcast's Slant podcast that he has thus far met with Scott about a half-dozen times, and stated that the board was looking "top-to-bottom," at the makeup of the faculty and administration. Thompson did not respond to a request for comment for this article.
In November, Scott's office took the unusual step of releasing its preliminary report; it detailed investigators' discoveries that discretionary presidential funds were being used inappropriately, oversight was lax, and significant resources were being utilized to pay for "duplicative" government lobbying.
Following the release, the governor said in a statement that he was "directing the CUNY Board to review the entire senior management at CUNY," and indicated that he intended to appoint "separate Inspector Generals for both SUNY and CUNY" who would investigate wrongdoing, including through reviewing contracts and hiring. The system saw high-level officials depart for other posts.
Then, in his Fiscal Year 2018 Executive Budget, issued in January, Cuomo included a proposal to compel CUNY to collect from each affiliated organization and nonprofit 10 percent of its annual revenue for use in "tuition assistance initiatives." The idea swiftly drew a letter from the presidents and chairs of the 11 largest foundations to the CUNY trustees, insinuating that the measure was at best a threat to the foundations' ability to raise money and at worst illegal, and asking them to make their opposition known. Ultimately, the measure did not make it into the adopted budget, finalized in April.
The governor also called for the state I.G. to have expanded oversight over the university, which was likewise not found in the final budget.
At the same time, the governor's office was working behind the scenes to whip up support for the governor's headline-generating proposal, reaching out to members of the public universities and dispatching staffers to campuses to sell presidents on the measure.
A spokesperson for the governor insisted it was only natural for university officials and college presidents to back a proposal like Excelsior, but did not answer questions about whether the governor still intended to appoint university-specific inspectors. The spokesperson would not characterize conversations between CUNY administrators and executive staff beyond stating that they were policy discussions, but called concerns raised around the push for endorsements' relationship with the push for oversight "insane" and "conspiracy theories."
"Anyone pretending a link exists between the implementation of this initiative and an independent inquiry by the inspector general is both wildly misinformed and delusional," said Abbey Fashouer, the Cuomo spokesperson, though Gotham Gazette had stressed that no specific link was being alleged and only posed questions about the timing of the endorsement overtures coinciding with calls for greater oversight and investigations.
Emails obtained by Gotham Gazette through the Freedom of Information Law indicate that the governor's staff was contacting CUNY presidents in February to request statements in support of the Excelsior program. Ultimately, except for the presidents of Baruch College and Manhattan Community College, all CUNY college presidents issued statements supporting the proposal, released all together in the mid-March announcement from the governor's office that touted "statewide Support from SUNY and CUNY Leadership."
Asked about communication between the Inspector General's office and each of the CUNY presidents, a spokesperson for the I.G.'s office said the office would not comment on an ongoing investigation.
In a January email, Kingsborough Community College president Farley Herzek thanked the governor's Brooklyn regional representative, Drew Gabriel, for visiting the campus. "I appreciate being able to discuss the Governor's proposed Excelsior opportunity. We deeply appreciate every opportunity there is to mitigate the financial challenges of attending college and the Governor's plan does just that," Herzek wrote.
He also attached a document with information on 24 different types of scholarship programs in California, and wrote that families of 40% of his students came from households with incomes less than $20,000 per year; the students had, in focus groups, said that non-tuition costs were their "greatest stressors," and often had to attend school and work at the same time.
"Since the proposed Excelsior Scholarship is a 'last dollar' type of scholarship and students are required to be enrolled in 15 credits or more we may be excluding a very large and needy population of New Yorkers," he wrote (the community college course-load requirement is lower than that for the four-year colleges), and offered to assist the governor in "moving his Excelsior Scholarship proposal forward."
Herzek's positive statements on the proposal and access to higher education generally, and his statistic about the percentage of low-income students attending his college, appear verbatim in his endorsement from the governor's press release. His concerns about the program's effectiveness were not included. Herzek did not respond to a request for comment from Gotham Gazette.
"Oversight of the Executive Branch should not be done by the Executive Branch," said Reinvent Albany Executive Director John Kaehny, referring to a university whose board is controlled by the governor being investigated by an office headed by a Cuomo appointee. Kaehny also called it inappropriate for the governor to enlist CUNY administrators' help to push a signature proposal. The concurrent timing of Cuomo's public push for oversight and private push for endorsements raises questions about the motivations provoking those endorsements of Excelsior.
Spokespeople for both the inspector general's office and the governor's office vigorously insisted that the I.G. is fully independent from any executive influence and a spokesperson for Cuomo argued that there was nothing inappropriate about the governor's dual efforts: calling for more oversight of the university systems while seeking their leaders' backing for his top 2017 proposal.
When fully phased-in, Excelsior will cover tuition to CUNY and the SUNY for students from households making up to $125,000 a year in 2019, provided they meet certain requirements. These include the stipulation that students take at least 30 credits per academic year and remain in the state after graduation for a period equaling the length of time they received the scholarship.
The program is a "last dollar" approach, meaning that it will cover the remaining tuition balance after all other scholarships and grants have been applied, and does not contribute anything towards non-tuition costs like books and housing, which often form the majority of student costs given that CUNY and SUNY already have relatively low tuition. It is meant to complement programs already in place to help students from the lowest-income families.
The stringent requirements have provoked criticism from many advocates, academics, and editorial boards, who have called it insufficient, onerous, and more. Some have also pointed out that at current funding levels, CUNY schools will likely be overwhelmed by the expected uptick in enrollment provoked by the scholarship.
Assemblymember Deborah Glick, a Manhattan Democrat and chair of the Committee on Higher Education, said that funds would have been better allocated to operating aid for CUNY, but did not think there was anything inappropriate about the governor requesting support from members of the system.
"The flip side of that is, should there be no communication between the governor and the city university while there are some particular things under review?" she said, and referenced the governor's appointment of state budget director Robert Mujica to the CUNY board, a move she called "aggressive and inappropriate," as a bigger problem.
A spokesperson for the governor's office dismissed critics of the proposal as mostly "private universities" upset that they "weren't included" in Excelsior.
In fact, in addition to the faculty union, skeptics of the program have included the CUNY Graduate Center's newspaper, the president of the SUNY Student Assembly, and SUNY's own trustees; an academic program coordinator at CUNY's Borough of Manhattan Community College offered a point-by-point evisceration of the scholarship in an op-ed for Inside Higher Ed. Several state legislators sought significant changes to Excelsior that did not occur before the program was passed. In a phone conversation, Professor Katherine Conway, chair of the CUNY Faculty Senate, said the plan "is not going to do anything for [the poorest of students.]"
To be fair, Cuomo never said it would -- he instead billed Excelsior as "tuition-free for the middle class," part of his Middle Class Recovery Act that he framed as his direct response to the anxiety shown in the 2016 presidential election. But, many critics point out that Cuomo made a mistake in making it clear he was not interested in additional help for the state's neediest students, or potential students, who often struggle, don't graduate, or don't enroll because of non-tuition costs.
Asked if the body she chairs had been privy to any conversations between the governor's staff and CUNY administrators, Conway, the chair of the faculty senate, said it had not, but added that "it isn't in our interest to confront the governor."
Spokespeople for both the Inspector General and the governor insisted that the investigation, given its focus, could not have had any bearing on CUNY leaders' decisions to enthusiastically back a pressing agenda item.
"It's an ongoing investigation and the scope has been laid out publicly," said the spokesperson for the Inspector General's office.
A spokesperson for the CUNY system said in an email that he was not aware of any conversations between a member of the governor's staff and a CUNY president or administrator that had touched on the ongoing investigation. In relation to internal conversations surrounding the program, he wrote that the Chancellor's office "has been in continuous communication with college presidents and state officials, including at the Higher Education Services Corporation, about details of the Excelsior Scholarship program that will be addressed in the regulations to be issued later this month."
But it was not simply the ongoing I.G. CUNY probe, but that the governor was publicly calling for more investigation and oversight of CUNY administration that may have added pressure to CUNY administrators and presidents to endorse the governor's signature 2017 proposal. Neither Cuomo's office nor the offices of CUNY presidents' nor the CUNY Chancellor's office would comment on this relationship.
Sources have indicated that with CUNY Chancellor James Milliken initially somewhat lukewarm to the proposal, LaGuardia Community College President Dr. Gail Mellow acted as a primary influencer in coaxing some of her CUNY colleagues to support Excelsior, helping get them to "yes" on endorsements. Both Milliken and Mellow declined to comment on the matter. Cuomo held both the Excelsior launch and celebratory bill-signing events at LaGuardia Community College.
Government observers and watchdog groups have called for oversight of the city and state university systems to be expanded under the state Comptroller, not the Inspector General, including certain contract oversight powers that were stripped by Cuomo and the Legislature in 2011.
In an email, Kaehny of Reinvent Albany said that his organization "believes that independent oversight by the Comptroller and Attorney General is far more effective than Inspector Generals appointed and controlled by the governor."