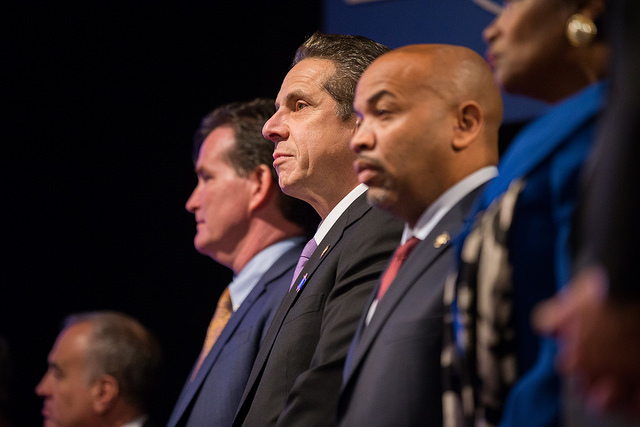 Flanagan, Cuomo, Heastie (photo: The Governor's Office)
---
With just three scheduled days left in the legislative session and the corruption trial of several close associates of Governor Andrew Cuomo for their roles in a bid-rigging scandal scheduled to commence in October, the Legislature has yet to pass any meaningful legislation to prevent such abuses of the procurement process.
State Comptroller Tom DiNapoli has introduced a comprehensive bill to address the issue, which is the basis for a Senate bill sponsored by Senator John DeFrancisco, a Syracuse Republican, and sister legislation by Assemblymember Crystal Peoples-Stokes, a Buffalo Democrat. The legislation would restore authority of the Comptroller to pre-audit all state contracts over $250,000, particularly for SUNY and CUNY affiliated non-profits, a power that was stripped in 2011.
That year, Cuomo and legislative leaders (who are now headed to jail) said that the scaling back of oversight was necessary in order to expedite approval for the governor's signature economic development initiatives. The idea that the Comptroller's contract review slows down projects is misguided, according to budget watchdogs. The Comptroller has up to 30 days to approve a contract, but on average approves contracts within six days, according to April figures provided by DiNapoli's office.
The absence of an independent oversight body appears to have cleared the way for the massive $800 million bribery scheme that took down close Cuomo associate and friend Joe Percoco, as well as then-SUNY Polytechnic President Alain Kaloyeros, who Cuomo had heaped praise and responsibility on, and several major donors to Cuomo who were awarded large contracts. The alleged scheme was uncovered by the office of then-U.S. Attorney Preet Bharara.
More recently, Bart Schwartz, head of Guidepost Solutions LLC, who was hired by Cuomo to probe the contracting process and what might have gone wrong, found significant flaws. In his review of the $417 million awarded to vendors at Buffalo's SolarCity project and other upstate initiatives, he found that at least $49 million was awarded using a "sloppy process." The Buffalo News first reported the details of Schwartz's report, which the Cuomo administration had failed to make public, but was obtained through the Freedom of Information Law (FOIL). Schwartz was paid as much as $1 million for his investigative work and the Cuomo administration has indicated that it accepted his recommendations for cleaning up contracting processes.
While DeFrancisco's bill has passed the Senate's finance committee, and the Assembly on Wednesday tweaked its version of the bill to match the Senate's, legislative leaders offered reserved endorsements of the legislation, and it has yet to be calendared for a floor vote in either house.
Both Republican Senate Majority Leader John Flanagan and Democratic Assembly Speaker Carl Heastie have said they support the restoration of pre-auditing powers to the comptroller's office, but that they are working towards a "three-way agreement" with the governor before advancing the legislation, which is backed by good government groups and many rank-and-file lawmakers.
Meanwhile, the governor has been defiant, saying that the powers should not be returned to the Comptroller. Instead, Cuomo in his 2017 policy book proposed expanding the oversight powers of the state inspector general to include procurement at CUNY and SUNY nonprofits, as well as new inspectors general, appointed by and reporting to the executive branch. In the aftermath of the scandal, Cuomo also vowed to create a chief procurement officer in the executive branch.
"The proposed legislation does not address the issue and is both burdensome and duplicative," said Cuomo's counsel, Alphonso David, in a statement to Gotham Gazette. "The vast majority of these contracts are subject to OSC [Office of the State Comptroller] post-award oversight and these measures only add significant delays and increase costs for New York taxpayers."
David's statement highlights a key difference between the governor's proposal and the "clean contracting" legislation backed by the comptroller and government reformers, which emphasizes prevention, making SUNY and CUNY projects subject to the same early scrutiny and standards as other state-funded projects, rather than after-the-fact oversight.
"The governor's proposal utterly and totally misses the point because it creates addition inspector generals who are appointed by the governor," said John Kaehny, executive director of the government reform group ReInvent Albany. "The problem...was bid-rigging; the state contracts were rigged to favor one vendor over the others, and that could have been prevented by independent, pre-contract review."
Representatives from the Reinvent Albany, New York Public Interest Group, League of Women Voters, and Citizens Budget Commission gathered at the Capitol this past Wednesday, with the blessing of other government reform groups, to call on Albany to pass the legislation -- with or without the governor's support.
"If lawmakers are at all serious about addressing the problems that happened with last year's bid-rigging scandal they need to support prevention of these crime -- and that means independent pre-contract review," said Kaehny.
They noted that the Legislature is granted power to enact legislation without the governor's support, first by passing it through both houses. If Cuomo does not then sign or veto the bill, it would automatically become law in 10 days. If the governor vetoes it, the Legislature could independently reconvene to override his veto. More than a majority, two-thirds of each house, must vote in favor in order pass legislation rejected by the governor. As a result, veto overrides are rare; the last time the Legislature successfully overrode a gubernatorial veto was in 2006, during a tumultuous budget negotiation that took place during the last year of Governor George Pataki's final term, when legislative leaders went to bat over a property tax rebate and cuts to state university funding.
Among those who floated the idea of the Legislature passing the bill without the governor's support is Senator DeFrancisco, who expressed frustration the procurement reform legislation was not calendared earlier.
"I try to advocate for it all the time. I know the governor is apoplectic against it and he'd rather have an inspector general that he can control," DeFrancisco told reporters at the Capitol on June 12. "Hopefully reason will prevail."
When asked to elaborate on the problems with the governor's proposal, DeFrancisco said, "What he wanted in the budget was to have an independent inspector general, appointed by him to review his contracts. I don't think you have to be a lawyer, you just have to be somewhat sane to realize that that's not a check and balance on anybody. He doesn't want to lose that control and have that oversight. There's no other logic why he wouldn't do it."
Speaker Heastie, in an interview with Gotham Gazette, remained coy about the possibility of passing the legislation and reconvening to override a potential gubernatorial veto.
"Those are always options, that are there but again you are asking me what you are going to do on failure, I don't like to report on failure," he said, adding that there is always "the summer" and "next session" to pass legislation.
"The end of session is a deadline, but it's not the end of the world if there is ever a need for us to do anything legislatively. We said we'll come back if the actions in Washington dictate us to come back," he said. "If we have to come back, the members will come back."
Majority Leader Flanagan expressed only slightly more enthusiasm about the idea of procurement reform. Calling the oversight measure "extraordinarily important," Flanagan said, "I expect we will have procurement reform before the end of the session, whether it's [legislation proposed by] Senator DeFrancisco or a variation of that bill, I expect we will move in that direction."
The bill has widespread support in the Legislature; minority leaders say they also support the comptroller-backed proposal, which also ends contracting for non-academic purposes by state-controlled non-profit organizations, and transfers all economic development awards to the the Empire State Development Corporation.
However, Independent Democratic Conference (IDC) Leader Senator Jeff Klein struck a different tone Thursday, saying he opposed DeFrancisco's legislation. The IDC and GOP have a power-sharing alliance in the Senate. Klein said he intends to introduce a new bill this week, which instead of restoring the comptroller's powers would appoint an independent investigator to look at claims of misconduct. When pressed, he did not clarify how this proposal differed from the governor's proposal.
"Right now the power of the comptroller is post-audit -- so what I would assume is if there is any problem in the procurement process, you'd be able to spot any problem post-audit. Then why would you need to have pre-audit ability?" said Klein. "I think what we need is a downright investigator -- someone who has the power to investigate the contracting process as it moves forward, to make sure there's no favoritism, to make sure there's no bribery."
This past week, the bill's Assembly sponsor, Peoples-Stokes, also expressed second thoughts about how the legislation could slow the approval for contracts for minority- and women-owned businesses that are awarded grants by the state's Empire State Development Corporation, or impact healthcare organizations like Roswell Park Cancer Institute, a public not-for-profit that would be subject to increased scrutiny.
"The last thing we want is processes to slow down their ability to grow...At first blush, it seems like great legislation, when you delve in there's some things that need to be tweaked," said Peoples-Stokes. "I'm grateful there's some lawyers and a team around here that can help me straighten something out. I think what happened in 2011, that maybe we should takes some looks at, but all these other things."
Earlier this year, a month after talks of a long-awaited pay raise for lawmakers turned sour, legislative leaders seemed ready to take a different approach than they are now, vowing to stand up to the executive branch.
In January, during his remarks on opening day of the 2017 session, Flanagan urged his fellow lawmakers to stand up to the governor over the economic development programs, which were marred by the alleged bid-rigging scandal and other accountability problems. Urging his fellow legislators to "ask tough questions" on the progress of economic initiatives like Start-Up NY and Regional Economic Development Councils, Flanagan cited the Legislature's power as a check on the governor.
"It's very simple, the legislative power of the state is vested in the Senate and the Assembly," Flanagan said in January. "Not the attorney general, not the controller, and not the governor."
In the budget deal passed in April, Cuomo's signature economic development and infrastructure programs were fully-funded and no new oversight measures were passed.
Another bill, sponsored by Senator Thomas Croci, a Long Island Republican, would create a searchable "database of deals," cataloguing all businesses that have been awarded state subsidies -- a system in place in six other states -- has made no headway in the Senate or Assembly.