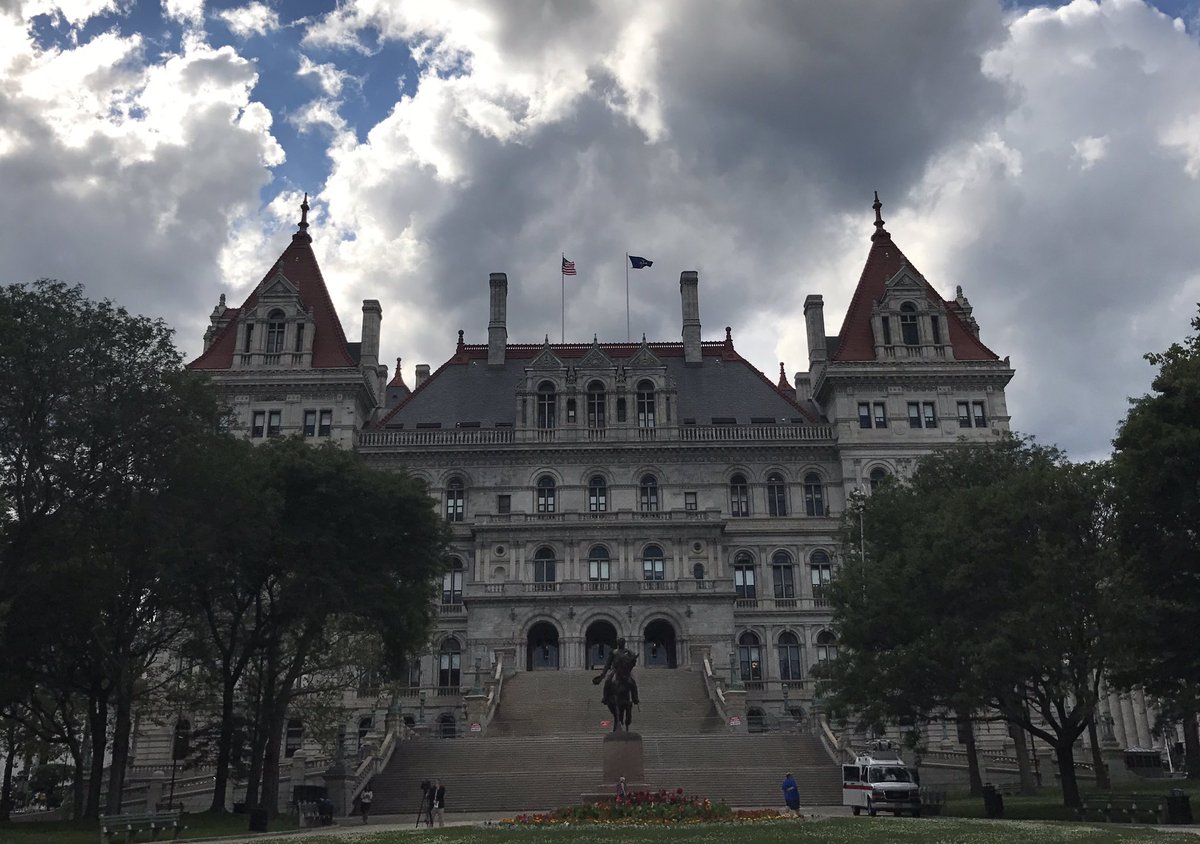 The Capitol (photo: Ben Max)
---
The lobby was packed with lobbyists. The Dunkin Donuts was humming. Food trucks lined the sunny street and appeared to be doing better than average business. Reporters were hungry for any tidbit of news.
Assembly members and Senators bounced in and out of their respective chambers, where dozens of bills were voted through with astonishing speed. Negotiations on major pieces of more contentious legislation were held behind closed doors by the four most powerful people in state government, all men.
The state Capitol building on the penultimate day of the 2017 legislative session was full of energy and exasperation.
"My bill just passed!" one Assembly member exclaimed when she recognized a friendly face. "I have to get back in to vote, my bill is coming up soon," said a senator optimistic that her legislation was about to move through the chamber. It did.
"I haven't seen the bill," legislator after legislator told waiting lobbyists looking to bend their ears and garner additional support in last-ditch efforts to see their clients' legislation pass.
"Speed cameras just passed through committee," said Mayor Bill de Blasio's transportation commissioner, in the capital to help shepherd through two administration priorities.
"I'm just ready to be done," said another Assembly member. And another. And another.
"Yes," said the Senate majority leader when asked if session would end Wednesday night as scheduled.
But, even with somewhere around 36 hours left on the clock, there was a great deal of unresolved business. When Republican Senate Majority Leader John Flanagan told reporters that he was set on session ending Wednesday, he had just emerged from a meeting with other legislative leaders -- Democratic Assembly Speaker Carl Heastie and Senate Independent Democratic Conference Leader Jeff Klein -- and Governor Andrew Cuomo, a Democrat, at which some of the outstanding, big ticket items were discussed.
After that meeting, Klein said he was hopeful the sides would all agree on a two-year extension of mayoral control of New York City schools. When Flanagan came out he declined to put a duration on any extension, saying that negotiations are ongoing. (Mayoral control is set to expire at the end of the month. De Blasio has activated the usual suspects for a push similar to each of the last two years, when he was granted just a one-year extension. City schools Chancellor Carmen Farina was in the Capitol to help the effort, ready to talk to any legislator who wanted to chat, she told reporters.)
Flanagan put another major issue off the table completely, though, when he said that the Senate would not be voting on the Child Victims Act, which would allow sexual abuse victims more leeway to bring suits against their abusers and is supported by the Assembly majority and Cuomo.
Speaking of the governor, he held a closed-door bill-signing to celebrate passage of legislation raising the age at which one can consent to marriage in New York, in an effort to modernize those regulations and outlaw "child marriage." Opting to sign the bill without members of the media, Cuomo took no questions on Tuesday.
He did, however, announce through press release a new bill to grant the Governor more control over the MTA, an end-of-session move aimed at showing he is thinking about the subway crisis that has earned Cuomo increasing scorn. The governor currently appoints six of the 14 MTA board members and the Chair, giving him de facto control. His proposal would have the Governor nominate eight of 16 board members plus the chair, who would be given a vote, giving the governor a majority of the votes, with nine.
The governor's proposal, which may very well pass with almost no public review, came the day after state Senator Michael Gianaris announced his own MTA rescue plan, a bill that would, in part, institute a three-year "millionaire's tax" on "those in the MTA region" to fund emergency repairs -- "a temporary surge of dedicated revenue" -- and create an emergency manager position at the MTA.
"Somebody had to do something," Gianaris told Gotham Gazette on Tuesday at the Capitol. "Someone had to get a real conversation going."