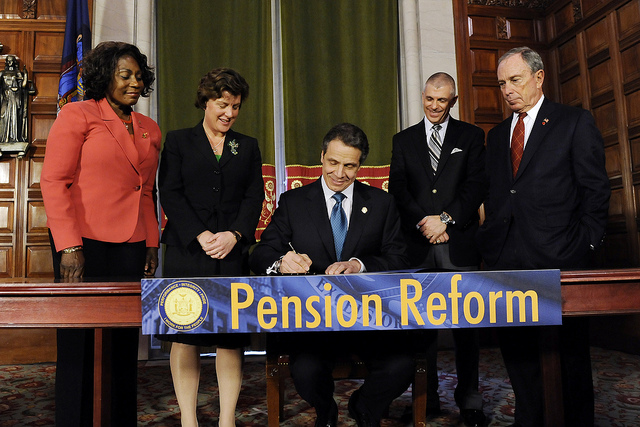 (photo: The Governor's Office)
---
As the dust settles on the scheduled legislative session in Albany and subsequent "extraordinary session" called by Governor Andrew Cuomo, much of the focus has been on the extension of mayoral control of city schools, finally passed Thursday after serious brinkmanship. There has also been plenty of talk centered on what didn't happen: procurement, ethics, and electoral reform, the Child Victims Act, and more.
The Citizens Budget Commission (CBC), a fiscal watchdog, is also calling for scrutiny of other items that did pass, though with little fanfare. Specifically, CBC is pointing to 26 bills that it calls "benefit sweeteners," enhancements of public benefits that it estimates will cost state and local governments at least $34 million by the end of fiscal year 2018. In fact, in order to pass an extension of mayoral control of city schools, legislators and the governor also agreed on one public benefit enhancement that will increase disability pensions for certain uniformed workers.
While that pension "sweetener" clearly has the governor's blessing, according to Dave Friedfel, CBC's director of state studies, the organization will send a letter to Cuomo urging him to veto about 10 of the other 26. This includes urging a veto of a "sweetener" that "clarifies eligible beneficiaries of New York City sanitation workers pension benefits, and provides a special accidental death benefit to the beneficiaries," according to the bill summary, which is estimated to cost $8.9 million in immediate past service and then $6.8 million per year starting in fiscal year 2018, leading to an instant increase of $15.7 million in employer costs for New York City, the most of any of the bills identified.
Fourteen of the bills relate to reforms of death and disability pensions, mostly expanding eligibility criteria for various benefits to different classes of uniformed personnel, including firefighters, court officers, parole officers, and emergency medical service providers. Seven bills relate to expansions of pension benefits, one to health insurance, and three to miscellaneous topics, like repealing the retirement age of 60 for Garden City police officers.
CBC's criteria is whether bills enhance benefits "without providing enhanced services to taxpayers or off-setting savings." The watchdog, a nonpartisan nonprofit organization, had been tracking 130 such bills throughout the session, most of which did not pass. For those that did, the attention is now on Cuomo to be judicious, CBC says.
Friedfel stressed that the discussion anchored around "whether these types of issues need to be addressed through a benefit enhancement," and not on whether they were valid issues.
For example, several bills that were introduced, including one that passed, would extend leave for public employees to receive cancer screening. "Certainly we're not advocating that people go without those screenings...but it's unnecessary for the state's taxpayers to grant additionally for those things," said Friedfel, adding that some bills had not been requested by localities or employers but the state was unilaterally imposing extra costs.
"Benefit enhancements should be part of the contractual negotiating process," he said, referring to collective bargaining between government and labor unions.
CBC's discrete cost estimates per bill range from effectively zero to $15.7 million, for sanitation worker disability bill, in the first year. Thirteen of the bills did not have CBC estimates; of these, 10 had been passed with no fiscal note.
Maria Doulis, vice president of CBC, said in an email that the session brought "a greater volume of bills passed by the Legislature, but the bills themselves are not very costly when compared to some measures that have been floated and even passed in years past. That is encouraging."
In response to questions over whether the governor intended to veto any of the bills or disputed the fiscal impacts outlined by CBC, Cuomo spokesperson Abbey Fashouer said in an email, "We haven't seen the report or reviewed and analyzed all of the bills passed by the Legislature, but priority number one is protecting New York taxpayers."
When the special legislative session was called, reports suggested that Cuomo would seek additional agreements on enhanced disability benefits.
Ultimately, the bill passed by the Legislature Thursday allowed "certain uniformed members of public retirements systems" -- including NYPD officers, FDNY firefighters and other city employees -- to receive accidental disability benefits even if they're not eligible for a "normal service retirement benefit" and do so "despite being disapproved from receiving a federal social security disability pension."
The expected cost of this provision would be $8.9 million in fiscal year 2018, then inch up to $12.5 by fiscal year 2022, for a total of about $55 million in those five years, paid for by New York City. Friedfel said the measure "didn't need to be done in a special session" but it wasn't "something we're objecting to."
At a press conference Thursday afternoon in Albany, Cuomo said of the $55 million estimate, "I don't even think we're going to get to the 55, frankly. I think the actual need will be below that."
At his own press conference at City Hall, Mayor Bill de Blasio reacted to the legislation passed in Albany, celebrating the extension of mayoral control. The mayor said he thought the intent of the pension portion of the bill "was to be considerate to our uniformed officers who stay on the job beyond the minimum number of years, and to respect their reality, particularly if they become disabled." He stated no objection to it.
"I'm always sensitive to adding to pension burdens, because that's a big long-term issue, but this was a modest cost and a fair concept," he said in response to a question from Gotham Gazette.
Cuomo has in the past shown willingness to veto bills passed by the Legislature that would add to the financial burdens related to benefits. He twice vetoed a bill allowing honorably discharged military veterans who had transitioned to the public sector to purchase three years of public pension credit before finally signing it last year, once the Legislature had appropriated funds. He also vetoed nine separate pension "sweeteners" last year.
One of Cuomo's first major legislative initiatives was reforming the largesse of the state pension system, a reform that will save the state an estimated $80 billion over 30 years. Doulis called it "one of the Governor's early and most significant fiscal accomplishments" and said he had been "pretty good about holding the line and rejecting most sweeteners."