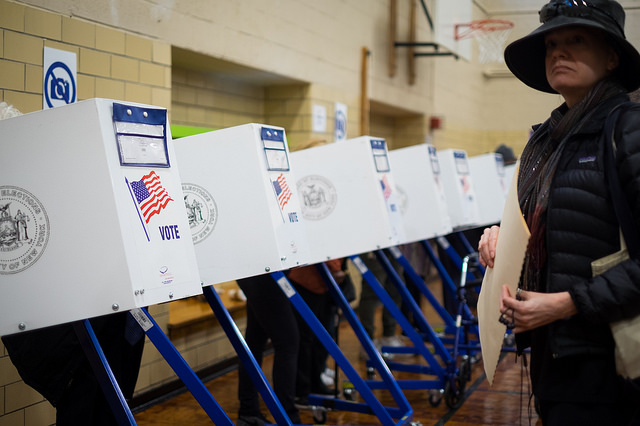 New Yorkers cast their votes for President (photo: Edwin J. Torres/Mayoral Photo Office)
---
New York has joined the ranks of states refusing to comply with a request for voter information sent yesterday by Kris Kobach, the Kansas Secretary of State and vice chair of the newly-created federal Presidential Advisory Commission on Election Integrity.
"We will not be complying with this request and I encourage the Election Commission to work on issues of vital importance to voters, including ballot access, rather than focus on debunked theories of voter fraud," said Governor Andrew Cuomo in a statement on Friday afternoon.
The letter, which asks that each state provide the administration with available data including the names, addresses, social security numbers, voter registrations, and voting histories of every voter in the state, immediately prompted concern over voter suppression and privacy.
N.Y.U. School of Law's Brennan Center for Justice put out a statement calling on states to carefully review their legal obligations before turning over the data. While voter data is technically public, accessing it generally requires adhering to special protocols and making payments, such as submitting requests in writing for specific data. In New York, accessing public voter data requires mailing a completed form to the state's Board of Elections, leaving a record of who is requesting the information.
In the statement, Mryna Pérez, the center's deputy director, recommended that secretaries of state have "frank conversations with their lawyers about the privacy and other implications of complying with Kobach's extensive request."
Several voting rights organizations have also condemned the request, including the League of Women Voters, whose president, Chris Carson, called it a "fishing expedition" and a "distraction from the real issue of voter suppression" in a statement.
Activists worry that the data will be used to target voters based on their political affiliations as opposed to the stated purpose of investigating voter fraud. The commission was created by President Donald Trump to investigate non-citizens casting ballots following his widely discredited claim that three to five million people voted illegally in the 2016 presidential election.
As Kansas Secretary of State, Kobach ran a multi-year campaign and developed new computer systems to crack down on illegal voting, which ultimately resulted in only nine convictions, mostly of older Americans who had voted in two states or otherwise violated procedural laws. Dale Ho, director of the American Civil Liberties Union Voting Rights Project once referred to Kobach as the "king of voter suppression" because of his efforts to limit voter registration in Kansas.
New York joins California, Kentucky, Virginia, Massachusetts, and Connecticut in turning away Kobach's request, which is not legally binding.