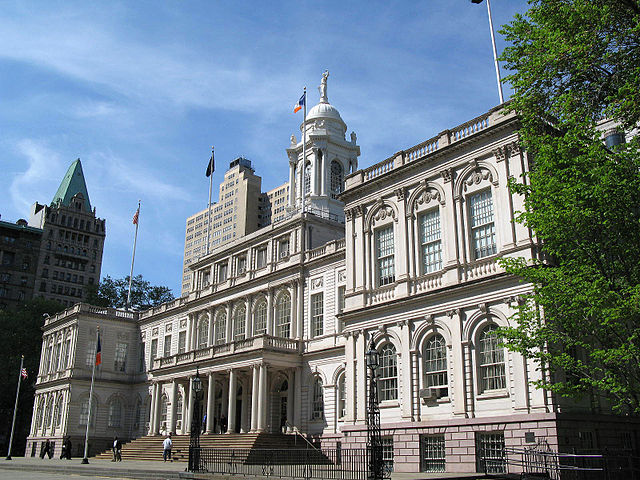 New York City Hall
---
What to watch for this week in New York politics:
Mayor Bill de Blasio was due back in New York City on Sunday after a trip to Germany, where he spoke at the "Hamburg Zeigt Haltung" protest rally in support of democratic values outside the G20 summit of world leaders, along with several other appearances and meetings the mayor took part in. De Blasio, who left the city Thursday evening, was criticized for giving little advanced notice of his travel plans to the press or the public, for leaving town soon after the murder of NYPD Officer Miosotis Familia, and for continuing to take trips outside New York that don't appear to have a clear purpose in terms of helping the city.
De Blasio said he only fully accepted the offer to speak at the rally when he learned that services for Familia wouldn't be held until the beginning of this week (the wake for Familia will be Monday, the funeral Tuesday) and that it is essential that cities and their leaders take action in the face of the Trump administration and other global forces, on issues like climate change, health care, immigration, and more.
De Blasio is likely to have a busy week back in the city after a quiet one last week that included the July 4th holiday and the trip to Germany. (The week after this week (July 17-21) the mayor and his team will be holding "City Hall in Your Borough" in Queens, the third stop on that five-borough tour.)
It's a very quiet summer week at The City Council, and the state Legislature is not in session the rest of the calendar year, though there are some legislative hearings, like one happening this week. It's unclear if Governor Andrew Cuomo will be active this week.
As always, there are several political events to be aware of this week - see our day-by-day rundown below. And, with city election season in full swing, there will no doubt be a variety of campaign events by different candidates as the week progresses.
***Do you have events or topics for us to include in an upcoming Week Ahead in New York Politics? e-mail Gotham Gazette editor Ben Max: This email address is being protected from spambots. You need JavaScript enabled to view it.***
The run of the week in detail:
Monday
As mentioned, Monday will see the wake for murdered NYPD Officer Familia. Mayor de Blasio will pay his respects in the evening.
On Monday at 10:30 a.m., Lieutenant Governor Kathy Hochul will make an announcement at Graycliff Estate in Derby.
On Monday "at 3:00 PM, Brooklyn Borough President Eric L. Adams will honor a diverse array of Brooklynites as his latest "Heroes of the Month," highlighted by 19-year-old Mark Kindschuh of Bay Ridge, a college student who saved a man fighting for his life amid a June terror attack in London. Other honorees include NYPD Officer Numael Amador, whose anonymous tip while off duty led to an arrest in the case of the violent attack on Bedford-Stuyvesant cyclist Domingo Tapia; animal activist Anne Levin, who saved an injured cat huddled on the side of the Brooklyn-Queens Expressway, and high schooler Alina Estrella, who started a community campaign to revitalize Rainbow Playground in Sunset Park."
Mayor de Blasio will make his weekly appearance on NY1's Road to City Hall on Monday evening.
There will be a reception at Gracie Mansion Monday evening for former Mayor David Dinkins' 90th birthday, with Mayor de Blasio giving remarks.
On Monday evening, Brooklyn Borough President Eric Adams is holding a public hearing at Borough Hall on the redevelopment plan for the Bedford Armory. According to a media advisory from a coalition of groups, "Crown Heights residents and stakeholders will hold a rally against the Bedford Armory Project ahead of Brooklyn Borough President's public hearing Monday. Residents will be calling on Borough President Eric Adams to reject the plan for Bedford Armory..."
At 7 p.m. Monday, U.S. Representative Tom Suozzi will hold a "Heard in the Third" town hall meeting.
Tuesday
As mentioned, Tuesday will see the funeral for NYPD Officer Familia.
At 9 a.m. Tuesday, the New York City Board of Correction will hold a public meeting at 125 Worth St in Manhattan.
Rep. Adriano Espaillat is holding a small business summit on Tuesday. Manhattan Borough President Gale Brewer is among those who will speak.
At 10 a.m. Tuesday, Lieutenant Governor Kathy Hochul and State Labor Commissioner Roberta Reardon will host the second of three hearings on gender pay equity on the governor's agenda. This hearing will take place in Syracuse, at the Rosamond Gifford Zoo.
At 6 p.m. Tuesday, the Urban Land Institute will host "A Building Boom in the Bronx" as part of its "Borough Development Series" at the Bronx Museum of the Arts, examining the recent development boom in the Bronx and exploring "the development landscape throughout the borough as well as the driving factors that are pushing the Bronx towards an ever-brighter future."
At 6:30 p.m. Tuesday, City & State will host "Still Standing," honoring 10 military veterans "who continue to serve the communities through their work."
On Tuesday at 7 p.m., "First Lady Chirlane McCray will travel to NewYork-Presbyterian/Morgan Stanley Children's Hospital to host the fourth of five Community Conversations across the City. The conversation will focus on mental health, including combatting stigma and supporting those struggling with addiction. She will be joined by Deputy Mayor for Health and Human Services Dr. Herminia Palacio, Department of Health and Mental Hygiene Executive Deputy Commissioner Dr. Gary Belkin and Columbia University Professor of Medicine, Dr. Rafael Lantigua. Council Member Ydanis Rodriguez, Manhattan Borough President Gale Brewer and Assemblywoman Carmen De La Rosa will also attend."
Wednesday
At 8 a.m. Wednesday, the state Senate Joint Task Force on Heroin and Opioid Addiction will meet at the Minnie Gillette Auditorium at Erie Community College in Buffalo to "examine the issues facing communities in the wake of increased heroin abuse."
At 10 a.m. Wednesday, the City Planning Commission will hold a public meeting at 22 Reade St in Manhattan.
At 6:30 p.m. Wednesday, Citizens Union will host "A Closer Look: New York Constitutional Convention" at the Cooper Union, discussing why CU believes New Yorkers should vote "yes" for a constitutional convention when the question is on the ballot this November.
At 6:30 p.m. Wednesday, the Civilian Complaint Review Board will hold a public board meeting at I.S. 323 in Brownsville.
At 7 p.m. Wednesday, Mayor de Blasio will hold a town hall meeting at the Creston Academy in the Bronx. Joining the mayor will be City Council Member Fernando Cabrera, U.S. Representative Jose Serrano, Bronx Borough President Ruben Diaz Jr, State Senator Gustavo Rivera, and Assembly Member Victor Pichardo.
Thursday
At 8 a.m. Thursday, City & State will host "State of NY Smart Cities: Transportation & Infrastructure" at the New York Academy of Medicine, highlighting "economic development in Smart Cities, tech and innovation in urban development, and smart infrastructure" in panels consisting of elected officials, government officials, and advocates. Panelists include City Council Members Ydanis Rodriguez and Dan Garodnick, Assemblymembers Michael Blake and Clyde Vanel, Department of Transportation CTO Cordell Schachter, MTA Deputy CIO Daniel Queally, and others.
At 8:30 a.m. Thursday, the New York League of Conservation Voters will host the third policy forum of its four-part "Getting to 80x50" series at the NYU Wagner Graduate School of Public Service. This forum will focus on waste.
At 10 a.m. Thursday, the New York City Campaign Finance Board will hold a public board meeting.
At the City Council on Thursday, the Committee on Rules, Privileges, and Elections will hold a hearing at 10:30 a.m. to provide advice and consent on the mayor's nomination of Thomas Sorrentino to the Taxi and Limousine Commission.
At 3 p.m. Thursday, the CUNY Center for Community and Ethnic Media will host a panel discussion on covering the 2017 New York City elections at the CUNY Graduate School of Journalism. NY1's Errol Louis will moderate a panel that includes Dick Dadey of Citizens Union; Rong Xiaoqing of Sing Tao Daily; Javier Castano of Queens Latino; Zenaida Mendez of the Manhattan Neighborhood Network; and Gotham Gazette's Ben Max.
On Thursday evening at 6:30 p.m., Manhattan Borough President Gale Brewer is hosting a public hearing on two proposals for East Harlem: a large-scale rezoning of much of the area (96 blocks) and one specific proposed development.
Friday and the weekend
No events on our radar as of Sunday evening, but Mayor de Blasio may make his weekly Friday morning appearance on WNYC's The Brian Lehrer Show.
***
Have events or topics for us to include in an upcoming Week Ahead in New York Politics? E-mail Gotham Gazette executive editor Ben Max any time: This email address is being protected from spambots. You need JavaScript enabled to view it. (please use "For Week Ahead" as email subject).
***
by Ben Brachfeld and Ben Max
@GothamGazette