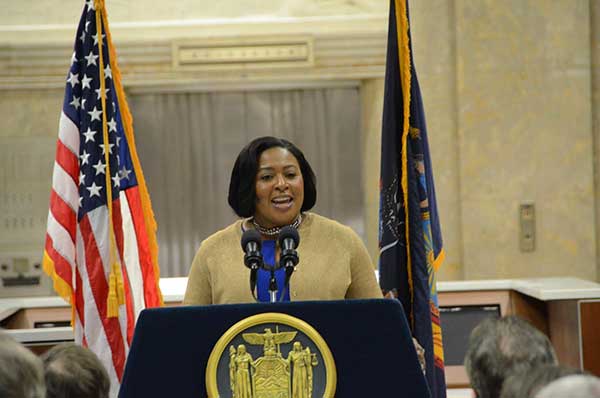 Rochester Mayor Lovely Warren (via Facebook)
---
Rochester Mayor Lovely Warren is drawing scrutiny for apparently using a political action committee she founded in 2015 help finance her 2017 re-election campaign and for repeatedly accepting over-the-limit contributions from business interests, as shown by her campaign finance records.
The Warren for a Strong Rochester PAC can accept virtually unlimited donations, but like other donors, the PAC is prohibited from contributing to Warren's re-election campaign beyond the combined primary and general election limits set by the Monroe County Board of Elections, or $8,557 per four-year election cycle. These limits apply to monetary and in-kind donations.
Warren, a first-term Democrat who is facing two primary challengers, created the PAC without a clear objective beyond fundraising for Rochester initiatives and supporting local candidates, but similar spending patterns by her re-election campaign, Friends of Lovely Warren, and the PAC suggest the two pools of money are improperly being used to advance the same political objectives, which would be in violation of state election law.
Since 2015, the PAC has raised $325,020 and spent $105,314, largely on what appear to be campaign-related activities, according to a review of its expenditure reports. The spending significantly surpasses the $8,557 cap on what the PAC is allowed to contribute to the campaign. While elected officials occasionally start their own leadership PACs, typically the committees are created to advance a particular cause and support other candidates, rather than backing the individual's own electoral endeavors, according to a spokesperson for the state Board of Elections.
Both of Warren's committees have been infused with cash from interests with business before the City of Rochester, with several donors exceeding campaign finance limits, according to campaign finance reports reviewed by Gotham Gazette.
A formal letter of complaint sent to State Board of Elections Chief Enforcement Counsel Risa Sugarman in April by one of Warren's primary challengers alleges illegal coordination between the campaign committee and the PAC and calls for an investigation.
James Sheppard, a Monroe County legislator and former Rochester police chief who is running for mayor on the Working Families Party line and competing in the Democratic primary, charges in the letter that Warren's two organizations "maintain common operational control with the same individuals exercising actual and strategic control over the day to day activities of both organizations," and that Friends of Lovely Warren has received from the Warren PAC "goods, services and funds well in excess of what is permissible."
Sheppard identifies overlapping expenditures by the two entities, pointing to an annual fundraiser typically organized by Warren's electoral campaign which in 2016 was organized by, and benefited, the Warren for a Strong Rochester PAC. Sheppard notes that the event was organized by and benefited Warren's campaign in 2015 and 2017, however, in all three years, Warren solicited contributions to benefit her own re-election bid in a note posted on the event website.
"The Mayor's Ball is my annual fundraising event. As we celebrate Rochester's accomplishments, this gathering raises money to support my vision for Rochester and my reelection campaign," the note reads.
A review of the PAC's spending since 2015 confirms that the majority of $105,314 spent went to Rochester Riverside Convention Center, which is where the Mayor's Ball event is held each year. In addition, Warren's campaign committee and PAC have made payments to 11 common vendors and payees during the four-year 2017 campaign cycle, totaling $14,577 of the PAC's spending. The PAC has contributed a comparatively small amount, slightly more than $5,000, to local candidates.
"It is apparent, therefore, that Ms. Warren is permitting the two committees to act interchangeably as vehicles to conduct campaign activity in violation of the NYS Election Law. The value of funds, goods and services received by Friends of Lovely Warren from the Warren PAC from the event well-exceeds the amount permissible under controlling law," states the Sheppard letter, which was obtained by Gotham Gazette and can be read in full below.
PACs may coordinate with and donate to a particular candidate's campaign committee, but may not spend money to "aid or take part in the election or defeat of a candidate or to promote the success or defeat of a ballot proposal, other than in the form of contributions, including in-kind contributions to candidates," according to the state Board of Elections website. PACs are also subject to the same contribution limitations as regular donors. Using a PAC to fund one's own campaign would show a disregard for campaign finance rules and, in the case of an incumbent, provide an especially unfair advantage, according government watchdog groups.
New York Public Interest Group Executive Director Blair Horner said the allegations against Warren and her groups are serious enough that they warrant scrutiny by Sugarman, whose job is to identify and investigate potential violations of campaign finance law.
"New York's campaign finance system is already riddled with loopholes. If the allegation is true, allowing this arrangement would demolish whatever limits still exist," he said of using a PAC as a second campaign committee.
Susan Lerner, executive director of Common Cause NY, said this practice is virtually unheard of, and indicates a significant lack of oversight at the county and the state levels. "It seems to be a flat out disregard for the law," she said.
Sugarman's office, which is staffed with several investigators, lawyers and supporting staff, was created in 2014 by Governor Andrew Cuomo, a second-term Democrat, after the Moreland Commission to Investigate Public Corruption determined that the board's prior investigations of election law were ineffective. It operates mostly independently from the state Board of Elections, and there have been disagreements in the past between the board's commissioners and Sugarman.
Sugarman declined to comment on whether an investigation into Mayor Warren is underway.
Aside from the questionable coordination between Warren's committees, Friends of Lovely Warren has accepted more than $20,000 in total over-contributions from at least five donors, according to filings from the last four years. Nearly a dozen more entities contributed the maximum allowed to the campaign committee and also donated to the PAC (which, again, has no contribution limits).
The list of these donors is mostly comprised of Rochester real estate companies, many with business before the city. Buckingham Properties, a development company that has benefited from a sale of city property and tax break authorized by Warren, contributed an over-the-limit total of $10,350 to Friends of Lovely Warren in 2014 and 2015, and another $5,000 to Warren's PAC in 2016.
Winn Development, which owns Rochester's historic Sibley Building and sought to have a government-subsidized photonics company headquartered there, donated a combined $20,000 between Warren's campaign ($5,000) and PAC ($15,000).
One of the most flagrant over-the-limit donations came from the powerful healthcare union 1199 SEIU, which following two $7,500 donations to Friends of Lovely Warren in early 2015, and already in excess of giving limits, wrote the campaign committee another check, for $10,000, in March 2016.
Representatives from state and local Boards of Elections said there are no routine overcontribution audits for county-level filers, because the local campaign limits are set by county boards, but filers who pull in or spend more than $1,000 typically register with the state Board of Elections.
"It's a quirk with the way things work. [Local contribution limits] are based on voter registration. There's no process in place where all the different contribution limits are provided to us," said State Board of Elections spokesperson Thomas Connolly.
He said that the agency's compliance unit instead focuses its auditing resources on state-level filers, those for the state Legislature or statewide offices, for example. "We literally have tens of thousands of filers. There's no realistic way our staff of a dozen and a half can look at every single filer," he said.
Connolly did note that both of Warren's committees had in the past received correspondence from the BOE's compliance unit for "items that were considered deficiencies and/or training issues."
Reached by phone, Monroe County Board of Elections' Democratic Commissioner Thomas F. Ferrarese said the agency does not have the authority or means to audit local filers because the agency does not have access to filers' data. "We just don't have that information," he said.
When asked if there was any routine overcontribution screening process by state and county boards of elections for local races, Ferrarese said, "No, not really."
Instead, campaign finance information is simply posted to the Board's website, and an investigation may be opened if a formal complaint is filed and the special counsel deems it worthwhile.
The county contribution limit is based on a formula set by the state and is calculated based on how many ballot lines a candidate is running on and how many eligible voters are in the district. While it may still fluctuate slightly, it's not likely to change more than a few dollars for the Rochester mayoral race, according to Ferrarese.
A spokesperson for Warren's campaign committee said that its staff works hard to comply with election law and coordinates closely with the state Board of Elections, but did not address the illegal coordination charge.
"Our all volunteer treasurer and fundraising teams always strive to be certain that contributions are within the limits set by the election board," said Brittaney Wells, campaign manager for Friends of Lovely Warren. "If any contributors have unknowingly exceeded that limit in the past we have refunded the contribution in question and believe we are in full compliance. We will continue to work closely with the Board of Elections in the future on these and other campaign issues."
However, a review of refunds made by the committee during this election cycle indicates that just $5,300 was returned to Bricklayers and Allied Craftworkers Local No. 3 in 2016 and a $2,500 donation was refunded to a nonprofit called Rochester Community TV Inc. in 2015.
There are other problems with the campaign finance filings of Friends of Lovely Warren committee that span more than a decade. Warren began her political career as aide to long-time Rochester Assemblymember David Gantt, who has described her as family. A comparison of Warren and Gantt's campaign committees shows discrepancies, including more than 10 contributions between 2005 and 2015 reported as expenditures by Gantt's committees that Warren's committees shows no record of receiving.
Warren's campaign has also reported more than $22,000 in contributions from unspecified donors between 2005 to 2016, with approximately half of those donations received by the committee after Warren won the mayoral seat in 2013, according to the filings. The donations are simply listed as "unitemized," and it is unclear if they meet the $100 threshold for including the donor's name because they are grouped together by date.
Warren has made significant campaign committee reimbursements to herself and an employee that have not been explained. Between 2007 and 2016, Warren has paid herself $17,783.98 in total from both of her committees, including at least $3,921.98 since she became mayor, records show. At least 18 reimbursements totalling $4,315.98 are either left blank or vaguely identified as "REMI" or "reimbursement."
In 2015 and 2016, Warren's committees also collectively paid 10 unexplained reimbursements totaling $1,615 to Kiara Warren (it is unclear if Kiara is related to Lovely Warren).
Finally, the campaign committee has failed to submit several filings and appears to have accepted contributions from nonprofits and other likely prohibited groups, such as a neighborhood association that is not officially registered as a corporate entity.
A representative for the Warren campaign -- erroneously assuming Gotham Gazette was tipped off to these issues by lobbyist Robert Scott Gaddy, a former supporter of Warren who has since had a falling out with the Rochester mayor -- responded by pointing out that Gaddy's lobbying firm was late in filing disclosure forms with the state's Joint Commision on Public Ethics (JCOPE).
Gaddy, who also once worked for Gantt alongside Warren, was involved in questionable campaign finance practices the first time Warren ran for mayor. In 2013, shortly before the Rochester mayoral primary, Gaddy spent more than $40,000 to support Warren through a last-minute independent expenditure committee called Rochester Rising. The committee was opened just prior to the Democratic primary and closed within one month. The practice, drew criticism from Rochester elected officials and good government groups given that it allowed Gaddy to circumvent the $3,335 contribution limits from a single individual to the Warren campaign. Gaddy is now backing Warren's other Democratic challenger, Rachel Barnhart, a former television reporter.
Areas of Upstate New York have seen outside expenditure committees infusing big money into local races for more than a decade. At times, these have been lawful but perhaps unseemly attempts for wealthy interests to influence political campaigns, but in other instances, lines appear to have been crossed. Recently, Attorney General Eric Schneiderman's office charged Erie County operative Steve Pigeon and two others with bribery and "knowingly and willfully" coordinating illegally with campaign committees through their WNY Progressive Committee.
Note: The figures in this story are from before January 2017 -- the next batch of campaign finance filings are due on July 15.