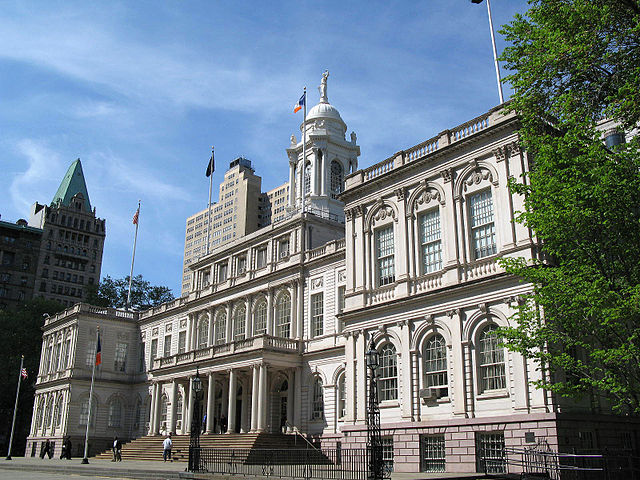 New York City Hall
---
What to watch for this week in New York politics:
From Monday through Friday, the de Blasio administration will hold the third installment of the week-long City Hall in your Borough series, wherein the mayor and many members of his administration run the city away from City Hall and in the boroughs. This installment will take place in Queens. De Blasio has already announced the borough hall-based open house-style constituent "resource fair" and one town hall that he'll hold, each of which he did during his weeks on Staten Island and in the Bronx.
De Blasio starts the week buoyed a bit politically after a weekend in which he was formally endorsed by the Bronx County Democratic Party on Saturday and Comptroller Scott Stringer on Sunday.
The City Council is more active this week than it has been thus far in July -- it will hold its lone full-body Stated Meeting this week, on Thursday, and has several committee hearings.
As always, there are a number of events to be aware of - see our day-by-day rundown below.
***Do you have events or topics for us to include in an upcoming Week Ahead in New York Politics? e-mail Gotham Gazette editor Ben Max: This email address is being protected from spambots. You need JavaScript enabled to view it.***
The run of the week in detail:
Monday
Mayor de Blasio begins his week in Queens on Monday for the latest edition of City Hall in Your Borough. De Blasio has a very busy Monday: "In the morning, Mayor de Blasio and Commissioner O'Neill will host a press conference to announce the future site of the 116 Precinct in Queens...After, the Mayor will host a cabinet meeting with senior staff in Queens. This meeting will be closed press. Prior to the meeting, the Mayor will deliver remarks...In the afternoon, the Mayor will deliver remarks at a health care rally with Governor Cuomo" in Manhattan. "Later, the Mayor will participate in an armchair discussion with Paul Krugman, Nobel Prize Winner and New York Times columnist, at the Seventh Meeting of the Society for the Study of Economy Inequality...In the evening, the Mayor will appear live on NY1's Road to City Hall...After, the Mayor and Cardinal Dolan will attend the New York Mets game at Citi Field."
At 10 a.m. Monday "Public Advocate Letitia James will host a press conference to release her report on how the City can utilize community banking, credit unions, and Community Development Financial Institutions (CDFIs) to improve its financial health."
At 10 a.m. at City Hall, "Following recent attacks that cost the lives of a New York City Police Officer and a doctor at Bronx Lebanon Hospital, Public Advocate candidate J.C. Polanco will announce a proposal aimed at preventing violent attacks by mentally ill individuals." He'll be joined by Reform Party Chair Curtis Sliwa.
At 10:30 a.m. Monday, Schools Chancellor Carmen Fariña will visit a "Summer in the City" classroom at PS 120 in Queens.
Mayoral candidate Bo Dietl will be on Staten Island Monday. At noon, Dietl "announces plan to fight opioid addiction on Staten Island" from the Center for the Prevention and Treatment of Chemical Dependency at Staten Island. At 2 p.m., "Dietl discusses issues with Staten Island senior citizens" from The Brielle at Seaview.
At the City Council on Monday:
--The Subcommittee on Zoning and Franchises will meet at 9:30 a.m. At 10:30, the subcommittee will discuss retail development at Baychester Square in the Bronx.
--The Subcommittee on Landmarks, Public Siting, and Maritime Uses will meet at 11 a.m.
--The Subcommittee on Planning, Dispositions, and Concessions will meet at 1 p.m.
The New York State Board of Regents will meet on Monday and Tuesday in Albany.
At 11 a.m. Monday, the Poor People's Campaign and Rev. William Barber will hold a rally at the City Hall steps to condemn "the Trump administration and state elected officials' ongoing, proven acts of racist voter suppression and gerrymandering."
At 6:40 p.m. Monday, Schools Chancellor Carmen Fariña will deliver remarks at a Remarkable Achievement Award ceremony at Citi Field.
At 7 p.m. Monday, the Manhattan Democratic Party will host the "Demmy Awards" at the School of Visual Arts Theatre.
At 7 pm. Monday, Comptroller Scott Stringer will give the keynote speech at the Urban Justice Center's "Cashing In On Incarceration" panel discussion.
Tuesday
At 9 a.m. Tuesday, Mayor de Blasio and Queens Borough President Melinda Katz will hold a "city resource fair" at the Helen Marshall Cultural Center at Queens Borough Hall, as part of the Queens "City Hall in your Borough" week.
At 6 p.m. Tuesday, Public Advocate Tish James, Comptroller Scott Stringer, City Council Member Laurie Cumbo, Assemblymember Walter T. Mosley, and HPD Commissioner Maria Torres-Springer will "announce the creation of nearly 600 affordable apartments in Prospect Heights." The announcement will take place at the Brooklyn Jewish Hospital Complex.
At 7 p.m. Tuesday, the Department of Consumer Affairs will host a "town hall for immigrant small business owners" at Elmhurst Hospital in Queens. Attendees will include DCA Commissioner Lorelei Salas, SBS Commissioner Gregg Bishop, MOIA Commissioner Nisha Agarwal, and others.
Wednesday
At the City Council on Wednesday: the Committee on Land Use will meet at 11 a.m.
At 8 a.m. Wednesday, Staten Island Borough President James Oddo, former HUD regional commissioner Holly Leicht, and others will host a symposium at Baruch College "exploring recommendations for improving government's approach to disaster recovery and preparedness."
At 8:30 a.m. Wednesday, the Manhattan Chamber of Commerce will host its "Chairman's Breakfast featuring a conversation with Melissa DeRosa, Secretary to Governor Cuomo" at the Southwest Porch at Bryant Park.
At 10 a.m. Wednesday, the Manhattan Institute will host "The Drug-Pricing Challenge: Expanding Access, Accelerating Innovation, Growing The Economy," featuring former US Senator Tom Coburn of Oklahoma.
At 4 p.m. Wednesday, the Senate Joint Task Force on Heroin and Opioid Addiction at the NYU Winthrop Research and Academic Center in Mineola to "examine the issues facing communities in the wake of increased heroin abuse."
At 6 p.m. Wednesday, the Panel for Education Policy will hold a public meeting at Murry Bergtraum High School in Manhattan.
At 6:30 p.m. Wednesday, City Council Member Rafael Salamanca and NYC Housing Preservation and Development will host a tenant resource fair at Casita Maria in Hunts Point, Bronx.
At 7 p.m. Wednesday, Mayor de Blasio will host a town hall at PS 70 in Astoria with Queens Borough President Melinda Katz, City Council Member Costa Constantinides, State Senator Michael Gianaris, and Assembly Member Aravella Simotas.
At 7 p.m. Wednesday, State Senator Michael Gianaris will participate in a "Stand Up Staten Island" town hall with Indivisible NY, discussing the "inner workings of the oft-dysfunctional" Senate, with particular emphasis on the IDC, at Duzer's Local in Stapleton.
Thursday
The full City Council will meet at 1:30 p.m. in the Council Chambers. The meeting is expected to be prefaced by a press conference by Speaker Melissa Mark-Viverito. Also at the City Council on Thursday: the Finance Committee will meet at 10 a.m.
At 6 p.m. Thursday, the Bronx Democratic Party will hold its annual dinner at the Marina del Rey.
At 6 p.m. Thursday, Civic Hall and Vote Run Lead will host "Run As You Are," a workshop for those interested in running for office in New York City or elsewhere.
Friday and the weekend
No events on our radar for Friday or the weekend as of Sunday night, but the mayor will conclude his week in Queens and is likely to make is weekly appearance on WNYC's The Brian Lehrer Show on Friday morning.
***
Have events or topics for us to include in an upcoming Week Ahead in New York Politics? E-mail Gotham Gazette executive editor Ben Max any time: This email address is being protected from spambots. You need JavaScript enabled to view it. (please use "For Week Ahead" as email subject).
***
by Ben Brachfeld and Ben Max
@GothamGazette