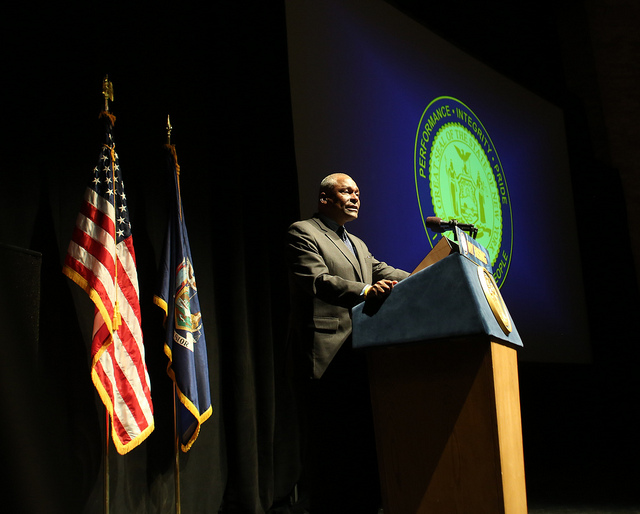 Manhattan Democratic Party Chair Keith Wright (photo: Governor's Office/Flickr)
---
A Manhattan Democratic club is calling on Assemblymember-turned-lobbyist Keith Wright to either resign from his role as chair of the Manhattan Democratic Party or give up his lucrative job at the lobbying firm Davidoff Hutcher & Citron LLP, arguing that the dual role creates a conflict at the "very top of our County Democratic Party."
A letter sent last month by the Village Independent Democrats (VID), obtained by Gotham Gazette, explains that holding the Democratic Party leadership position while working for private clients who deal with government agencies "reflects poorly" on the Democratic Party at a time when it is trying to "rebuild and present itself as an alternative in the upcoming 2018 elections."
The missive, which is signed by the group's executive committee and club president Erik Coler, followed a meeting at VID's West Village clubhouse in late June, during which committee members raised concerns with Wright about the job he accepted as government affairs director at the firm earlier this year.
"After [an] exhaustive discussion, VID felt that we had to take a bold stance to strengthen public trust in our public and political institutions," Coler told Gotham Gazette. "We respect all that County Leader Wright has done for the Democratic Party and for the people of New York, and felt that we had to communicate our views to him."
Wright's role at the firm, which began in January, is in a consulting capacity since the state's Public Officers Law prohibits him from lobbying before the state Legislature for two years after leaving the Assembly. Davidoff Hutcher & Citron, which bills clients $550 an hour for Wright's services, represents a bevy of government relations clients including Fortune 500 companies, nonprofits, real estate developers and labor groups. Among those are also a number of clients whose interests tend to conflict with the goals and values of the Democratic Party, such as the National Tobacco Company, and Metropolitan Package Store Association, which actively opposed raising the minimum wage in New York last year.
The VID letter stops short of a giving Wright an ultimatum, but Coler said the committee hopes that other Democratic clubs will join them in calling on Wright to resign. Wright was not made available for comment on this article.
VID, which is one of the oldest Reform Democratic clubs in Manhattan, according to its website, has among its ranks just one district leader, Keen Berger, who wields six of 24 votes for county leader in the 66th Assembly District. (Each of Manhattan's 12 Assembly districts get 24 votes, and each district leader is granted an appropriate fraction of that vote, according to a spokesperson from the Manhattan Democratic Party. AD 66 has four district leaders, which allows each one a quarter of the district vote.) However, if other political clubs follow VID in its call, it could pose a problem for the well-liked county leader, who is up for re-election in September.
Government watchdogs, who have in the past criticized Wright's dual role and called on him to drop one of his posts, commended the political club for speaking out.
"If ever there was a time for Democrats to step up and lead on clean government, it's now, given what's happening nationally," said John Kaehny, executive director of Reinvent Albany. "You can't reconcile being the county political boss with what is functionally lobbying. It's impossible; there is an inherent conflict of interest."
The position taken by VID reflects a national trend, in which Democratic Party leaders who have worked as lobbyists representing entities like tobacco or pharmaceutical companies -- which have interests directly conflicting with their stated progressive goals -- faced blowback from their left-leaning base. Prior to his run for Democratic National Committee chair, Jaime Harrison resigned from his lobbying position at Podesta Group -- which reps tobacco companies, coal companies and banks -- for that reason.
In California, progressives are challenging the election of state Democratic Party Chair Eric Bauman, previously the party's vice chairman, over their preferred candidate because of actions they percieved as lobbying. Last year, through a private consulting firm he runs with his husband and another partner, Bauman accepted $12,500 a month to aid pharmaceutical companies in fighting a Democratic initiative to reduce drug costs, while also working full-time as an adviser to California Assembly Speaker Anthony Rendon.
Barry Weinberg, executive director of the New York Democratic Party said Wright has no intention of stepping down from either post, citing the former Assemblymember's 30-year record of public service, and reputation for integrity. He noted that during Wright's 24 years in the State Assembly, he voluntarily eschewed any outside income from the private sector.
"Similarly, after leaving elected office and before joining the firm, he made sure that his job at Davidoff Hutcher & Citron did not have any conflicts of interest with his role as County Leader, an unpaid party position," said Weinberg.
A statement from Wright's firm, Davidoff Hutcher & Citron, noted that the company has a full-time ethicist on staff to consider potential conflicts of interest.
"The firm will not allow its principles to be compromised, nor will the firm allow Keith to compromise his principles. DHC does not comment on matters regarding specific clients," the statement reads.
Correction: An earlier version of this article described Bauman as a lobbyist. A spokesperson for the California Democratic Party clarified that Bauman's company is a consulting firm.
Read the VID letter below:
June 27th, 2017 - Village Independent Democrats