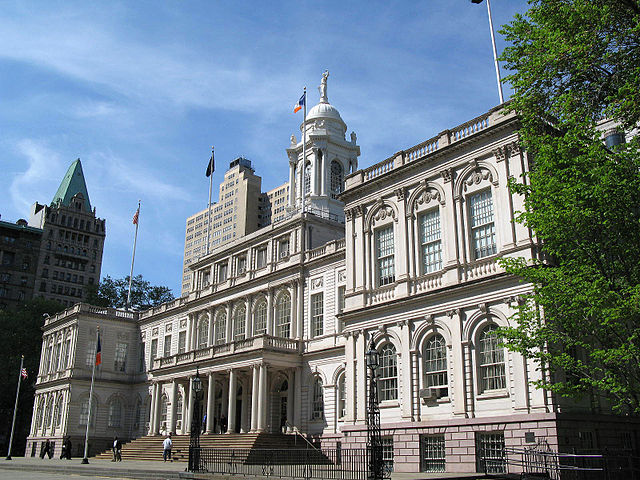 New York City Hall
---
What to watch for this week in New York politics:
This week has fewer scheduled political events than usual, indicative of the first week of August. The City Council has just one hearing scheduled for the week, before it gets somewhat busy again the week of August 7.
Mayor Bill de Blasio was in Maine and Massachusetts over the weekend visiting family, he returns to the city and the ongoing debate over funding the subway system emergency plan put forth by MTA Chair Joe Lhota. Transit continues to be a major focus of city and state politics, and there are related events this week.
De Blasio will hold a town hall in Upper Manhattan this week, on Wednesday -- see details below.
Meanwhile, we're only about six weeks from primary day in the city election cycle. See the candidartes running in each race here.
As always, there are several other events to be aware of - see our day-by-day rundown below.
***Do you have events or topics for us to include in an upcoming Week Ahead in New York Politics? e-mail Gotham Gazette editor Ben Max: This email address is being protected from spambots. You need JavaScript enabled to view it.***
The run of the week in detail:
Monday
At 9 a.m. Monday at Lincoln Center, city schools "Chancellor Fariña will deliver brief remarks to students and parents at the Middle School Arts Audition Boot Camp, a two-week program that provides intensive audition prep to Title I middle school students interested in applying to arts high schools."
At 11 a.m. Monday, "Bronx residents opposed to the opening of a homeless shelter that was initially promoted as a "market rate" apartment building for middle-income working families will rally with NYC Council Member Andy King and neighboring elected leaders and businesses on Monday, July 31, 11 a.m., outside the building at 3677 White Plains Road, Bronx, to demand that the City and the developer, the Stagg Group, return to the original plan as stated in 2015 by developer Mark Stagg."
At 11 a.m. Monday at City Hall: "As the City Council continues discussing ways to increase construction safety, the Associated Builders and Contractors, Empire State Chapter and dozens of construction workers will hold a press conference...urging the Council to introduce and pass legislation mandating drug and alcohol testing on all New York City construction sites."
"On Monday, July 31st elected officials and advocates will stand at the City Hall R train subway stop to rally and provide details for the "Riders Respond Transit Tour," organized by Council Member Ydanis Rodriguez & Assembly Member Jeffrey Dinowitz. The officials & advocates Will ride the rails to hear directly from subway commuters in advance of a City Council hearing on August 8th. This event is supported by a growing list of elected officials and advocates, including NYC Public Advocate Letitia James, NYC Comptroller Scott Stringer, Manhattan Borough Presidents Gale Brewer and Eric Adams, NYS Assemblywoman Carmen De La Rosa, Council Member Carlos Menchaca, Riders Alliance, Straphangers Campaign and TWU Local 100, among others. Tour participants will gather on Monday at a press conference at 12:00 noon at the City Hall R Train stop to release details about the tour, including the route and more."
Mayor de Blasio will appear on NY1's Road to City Hall in his usual Monday evening segment, at 7 and 10 p.m.
Tuesday
On Tuesday, there will be numerous events all across the city related to "National Night Out Against Crime." Mayor de Blasio will participate in National Night Out Against Crime at the 34th, 46th, 103rd, and 60th precincts and on Staten Island." Public Advocate Letitia James is speaking at six events, all in the Bronx. Comptroller Scott Stringer will speak at five events in Brooklyn and Manhattan.
At 8:30 a.m. Tuesday, Comptroller Scott Stringer will appear on The Weather Channel. At noon, Stringer will release a new policy report and hold a roundtable, at The Door on Broome Street.
At 10 a.m. Tuesday, Public Advocate James will be among those at City Hall for a press conference "to Protect Immigrant Delivery Workers."
On Tuesday at 10 a.m. at City Hall, City Council Member Margaret Chin "will announce legislation calling on the State Legislature to pass legislation to protect delivery workers by increasing penalties on their attackers. Council Member Chin introduced Res. 1586 in response to a growing number of incidents where delivery people, including limited English-proficient workers from Asian and immigrant communities, have been targeted in neighborhoods across the city, state and nation." Chin will be joined by Public Advocate Letitia James; former City Comptroller and City Council Member John Liu; Council Member Peter Koo; and other elected officials, advocates and community members.
Governor Cuomo is set to make three announcements Tuesday: in Oneida County, Columbia County, and Onondaga County. At 10:15 a.m. at Boulevard Trailers in Whitesboro; at 12:15 p.m. at Hudson Hall at the Historic Hudson Opera House in Hudson; and at 2:30 p.m. at Tessy Plastics in Baldwinsville.
On Tuesday at 10:30 a.m., "Mayor de Blasio, Chancellor Fariña and Commissioner O'Neill will visit a restorative justice circle at J.H.S. 88. After, the Mayor will hold a media availability to make an announcement about school safety."
At 11:30 a.m. Tuesday, Politics Reborn will host a "Rally for Election Integrity" at the City Hall steps to protest against the lack of action regarding election reform following the controversial purge of voters in Brooklyn in 2016.
At 6 p.m. Tuesday, U.S. Representative Jerry Nadler will hold a "Get Organized" town hall at the Peter Jay Sharp Theater on the Upper West Side.
Wednesday
At 11 a.m. Wednesday, The City Council Committee on Rules, Privileges, and Elections will meet to discuss two nominations to city agencies: Nasr Sheta to the Board of Standards and Appeals, and Michael Rivadeneyra to the Civilian Complaint Review Board.
At 7 p.m. Wednesday, Mayor de Blasio will hold a town hall meeting at the Police Athletic League Harlem Center, with City Council Member Bill Perkins, Manhattan Borough President Gale Brewer, U.S. Representative Adriano Espaillat, State Senator Brian Benjamin, and Assembly Member Inez Dickens.
Thursday
On Thursday at noon in Brooklyn, State "Senator Jesse Hamilton will call on Governor Andrew Cuomo to sign legislation that helps mobility impaired NYCHA residents alongside, disability rights advocates, and NYCHA residents at a press conference at the Van Dyke Community Center."
At 2 p.m. Thursday, the New York City Campaign Finance Board will hold a board meeting.
At 7 p.m. Thursday, NOW NYC will hold a forum for Brooklyn District Attorney candidates at the YWCA in Downtown Brooklyn. Confirmed attendees are Acting DA Eric Gonzalez, Ama Dwimoh, Pat Gatling, and Anne Swern.
On Thursday and Friday, from 7 a.m. to 7 p.m., Public Advocate Tish James, City Council Member Ydanis Rodriguez, Assemblymember Jeffrey Dinowitz, Riders Alliance, TWU, and others will ride the subways for 24 hours to "hear directly from subway commuters in advance of a City Council hearing on August 8th."
Friday and the weekend
At 9:45 a.m. Saturday, City Council Member Margaret Chin will host a "Lower Manhattan Community Day" on Governors Island.
Mayor de Blasio is likely to make his weekly Friday morning appearance on WNYC's The Brian Lehrer Show, at 10am.
***
Have events or topics for us to include in an upcoming Week Ahead in New York Politics? E-mail Gotham Gazette executive editor Ben Max any time: This email address is being protected from spambots. You need JavaScript enabled to view it. (please use "For Week Ahead" as email subject).
***
by Ben Brachfeld and Ben Max
@GothamGazette