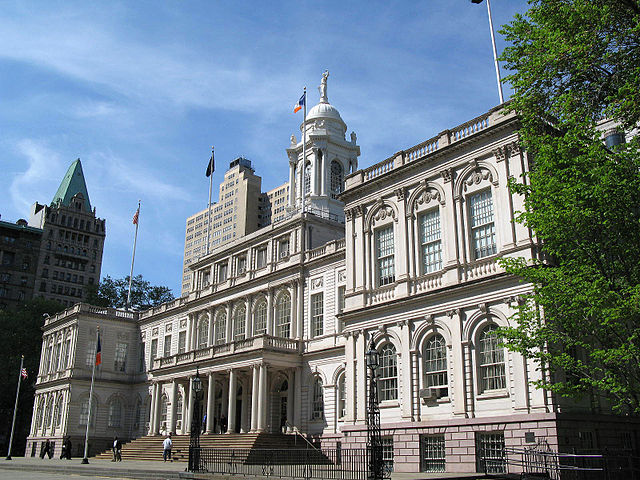 New York City Hall
---
President Donald Trump will be in New York City on Monday, Tuesday, and Wednesday; he will stay at Trump Tower before returning to his golf course in New Jersey on Wednesday. No events are scheduled; the president will be holding meetings at Trump Tower. The president's visit to his hometown will likely be met with continuing protests following a massive solidarity march that took place on Sunday for the victims of the Charlottesville attack, in which one anti-racist protestor was killed and 19 injured when an Ohio man drove a car into a crowd of protestors on Saturday. Trump is facing increasing criticism for failing to strongly condemn white supremacist violence in the wake of the incident.
Also on Sunday, elected officials and mayoral candidates marched in the 35th annual Dominican Day Parade. Mayor Bill de Blasio took the opportunity to address the violence in Charlottesville and also Trump's visit to the city. "President Trump is coming back to his hometown. I hope while he's here he thinks about the values of this place," de Blasio said. "I hope he thinks about New Yorkers and what we believe. I hope he thinks about the people he grew up with who would never tolerate a white supremacist movement, who would never tolerate innocent protestors being mowed down out of hatred."
In other news, the deadline to register to vote in September's primary election is on Friday, August 18. The primary will take place on September 12.
Monday
At 10 a.m. Monday, Assemblymember Nicole Malliotakis, the presumptive GOP mayoral nominee, will hold a news conference at the steps of City Hall to release her "Treatment B4 Crisis Plan to help New York City's mentally ill."
At 1:30 p.m. Monday, State Senator Brian Benjamin will host a rally "in support of the first black female senate leader in New York State history, the Honorable Andrea Stewart-Cousins." The rally will take place on West 122nd St between St. Nicholas Ave and Frederick Douglass Blvd in Harlem. New York City Comptroller Scott Stringer and Public Advocate Letitia James will attend the rally.

Mayor de Blasio does not have any events scheduled on Monday. In the evening, the mayor and First Lady Chirlane McCray will leave for Rhode Island, where they will be on vacation till Friday.
Tuesday
At 10 a.m. Tuesday, Public Advocate Letitia James will host a news conference in Brooklyn "announcing the banks that fund the Worst Landlords Watchlist. She will be joined by tenants, advocates, and elected officials."
At 6 p.m. Tuesday, Civic Hall and Citizens Union will host "A Constitutional Convention for New York - Yes or No?" Gotham Gazette's Ben Max will moderate a panel of supporters and opponents to discuss the question of whether New York State should vote to hold a constitutional convention.
Wednesday
At 8 a.m. Wednesday, City & State will host "On Education," which will "gather leaders in education, government, advocacy, and business to discuss the implementation of technology in classrooms and STEM curriculum across New York, and the current debate regarding evaluations, testing, school closures and more." New York City Schools Chancellor Carmen Fariña will deliver the opening remarks. Others speaking or participating on panels throughout the day include James Milliken, Chancellor of CUNY; MaryEllen Elia, State Education Commissioner and SUNY president; Janella Hinds, Vice President of the United Federation of Teachers; Betty Rosa, Chancellor of the Board of Regents; Carl McCall, Chairman of SUNY; and others.
At noon Wednesday, Assembly Speaker Carl Heastie and Assemblymember Amy Paulin will hold a press conference at the White Plains Metro North station to announce a "major new investment to expand mass transit in Westchester County."
Thursday
At 10 a.m. Thursday, the Campaign Finance Board will hold a public meeting.
At 2 p.m., the New York State Urban Development Corporation will hold a directors meeting.
Friday and the weekend
No other events on our radar for Friday or the weekend as of Sunday night.
***
Have events or topics for us to include in an upcoming Week Ahead in New York Politics? E-mail Gotham Gazette executive editor Ben Max any time: This email address is being protected from spambots. You need JavaScript enabled to view it. (please use "For Week Ahead" as email subject).
***
by Ben Brachfeld and Samar Khurshid
@GothamGazette