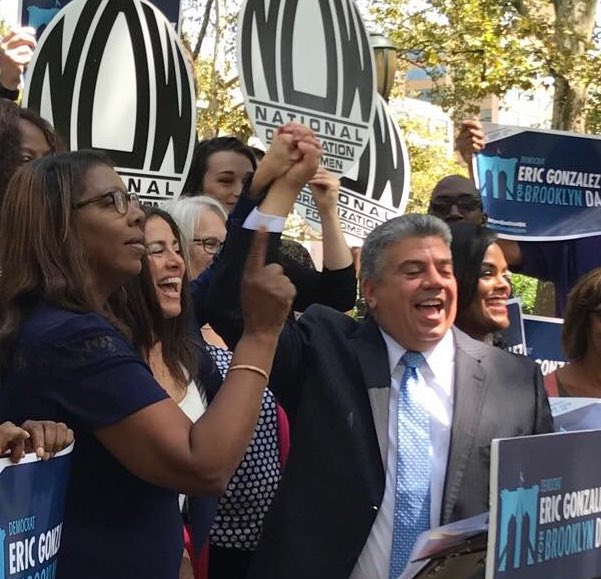 Acting Brooklyn DA Eric Gonzalez with Public Advocate Tish James
---
With just days before Brooklynites head to the polls and decide who will be the borough's next district attorney, a position briefly held and transformed by the late Kenneth Thompson, the field is crowded with Democratic candidates, each vying to present him or herself as the most progressive, best-suited option to carry on Thompson's legacy.
Of the six Democratic candidates who will be on Tuesday's ballot, the frontrunner -- having raised the most money and scooped up endorsements including from elected officials, major labor unions, political clubs, and women's' rights groups -- is Eric Gonzalez, who was annointed as acting district attorney by Thompson before he died of cancer at age 50 in 2016. Though several of his challengers are energetic debaters and well-qualified for the role, unless someone has differentiated him or herself enough and gets out the vote in a big enough number, Gonzalez's built-in credibility as Thompson's "heir" may largely carry him to a full first term of his own.
Thompson, Brooklyn's first black district attorney, beat out longtime top prosecutor Charles Hynes -- who held the seat for two and a half decades -- in 2013 by campaigning on a platform of reform, and by most accounts was making impressive strides in transforming the criminal justice system in Brooklyn, including by overturning several of Hynes' faulty convictions, before his death.
While district attorneys have historically kept a low-profile, those who hold the seat wield significant influence and discretion over the borough's crime fighting policies, and without term limits, the same person may control the office for decades. However, in Brooklyn, the seat could potentially change hands for the third time in five years, and with crime statistics at a record low, the conversation has taken a drastic turn from cracking down on crime to compassionate law enforcement, removing structural racial bias, and ending the school-to-prison pipeline.
The election comes during a period of heightened public awareness about police and prosecutorial treatment of communities of color, cementing a shift energized by Thompson's victory, where the conversation in Brooklyn is not about which candidate will be toughest, but who will most dramatically reform the office, building on Thompson's accomplishments, which include ending the prosecution of certain low-level offenses and beginning the process of negating hundreds of thousands of outstanding arrest warrants related to such offenses. Thompson's conviction review unit, which has exonerated 23 wrongfully convicted people, has become a model for prosecutors around the city and country, something Gonzalez has continued to prioritize..
The other candidates, including prosecutors Marc Fliedner, Patricia Gatling, Ama Dwimoh, Anne Swern, and City Councilmember Vincent Gentile, who is term-limited, have largely sought to present themselves as the most progressive of the bunch. However, with similar messaging and overlapping resumes -- all except for Gentile worked under Hynes during his scandal-marred tenure -- the candidates have largely failed to distinguish themselves from each other during forums and in interviews. The only one striking a slightly more moderate tone is Gentile, who touts the accomplishments of City Council to reform the system legislatively.
The fact that Gonzalez was hand-picked by Thompson helped him accrue extensive institutional support early in the race, and made him an easy favorite among unions and donors. Helen Schaub, New York State policy and legislative director of 1199SEIU, the large and powerful healthcare workers union, noted that the union was an early backer of Thompson and therefore naturally trusted his chosen successor to continue his work as Brooklyn's lead prosecutor.
"We met with a number of the candidates, and [Gonzalez's] ability to actually make the changes and the fact that Ken Thompson trusted him to make those changes made him the obvious choice for endorsement," said Schaub.
Gonzalez won over feminist icon Gloria Steinem, who cited his initiative to tackle sexual assault on college campuses, his efforts to protect immigrants in courts, and his history as a domestic-violence prosecutor. Gonzalez also had a head start on fundraising, pulling in well over $1 million over the course of his campaign. Swern has raised about half that, but the other candidates fall far behind, with Fliedner consistently lagging farthest. Fliedner held just $11,000 in his account at the time of his 11-day pre-primary Board of Elections filings.
Dwimoh, one of two black women in the race along with Gatling, has a compelling story and some name recognition in the borough as a top aide to Borough President Eric Adams, but her claim that she left Hynes' office because she disagreed with the direction it was headed in did not ring true after her fellow candidates -- some of them former colleagues -- pointed out that she had been investigated and pressured to resign for allegedly mistreating her subordinates.
"Ama is the only candidate who publically rejected Joe Hynes and supported Ken Thompson and worked on the campaign with Ken to develop his agenda," said Dwimoh's spokesperson, Evan Thies, repeating his client's refrain from throughout the campaign. Citing her work at Adams' office, Dwimoh says her focus would be on fixing the root causes of crime, like lack of adequate housing or social programs in low-income communities.
Fliedner, who as former chief of Thompson's civil rights bureau successfully prosecuted then-NYPD officer Peter Liang for the shooting of an unarmed black man, Akai Gurley, in 2016, has presented some of the most ambitious plans for incarceration alternatives and elimination of predatory bail practices. Fliedner left Thomson's office to start his own civil rights practice last June, and has expressed disappointment Liang's conviction was downgraded from manslaughter to criminally negligent homicide. Thompson ultimately recommended no jail time for the officer. Fliedner has support from Gurley's family and other relatives of victims of police violence, but has failed to raise a significant amount of money to help get his message out and build more name recognition.
Gatling has her own civil rights record as former head of the city's Human Rights Commission, though the agency was criticized for inaction on her watch, and critics have noted that she moved back to Brooklyn from Manhattan fairly recently.
Swern, who at the district attorney's officer ran its Drug Treatment Alternative-to-Prison (DTAP) program and is active in local political clubs, has the backing of several prominent Democrats in Northern Brooklyn, including state Senator Daniel Squadron, Assemblymember JoAnn Simon, and City Council Member Stephen Levin. She's also been endorsed by the Independent Neighborhood Democrats.
Several progressive political clubs in Park Slope, Carroll Gardens, and other more affluent, mostly white areas of Brooklyn formally endorsed Gonzalez, though at least one club said its members were nearly split between the acting district attorney and Swern.
While no candidate came to the race with significant name recognition and no one has made a huge splash to garner more media attention, Brooklyn progressives say they welcome the lively discussion about reducing arrests for low level offenses, alternatives to incarceration, police accountability, expediting the closure of Rikers Island jails, bail reform strategies, and ideas for protecting undocumented immigrants amidst federal crackdowns.
Thompson's 2013 victory was seen as a major upset in Brooklyn, and was the first in a series of victories for progressives and police reform advocates at district attorney offices across the nation.
Last year, Chicago's Cook County elected its first black district attorney, Kim Foxx, who vowed to reform the county's criminal justice system. In fall 2016, in Austin, Texas, progressive reformer Margaret Moore was elected to replace retiring District Attorney Rosemary Lehmberg and took steps to immediately restructure the office by firing and reassigning dozens of staff attorneys. In May, Philadelphia voters picked Larry Krasner, a political outsider and former civil rights attorney who has defended Black Lives Matter and Occupy Wall Street protesters free of charge, over six other Democratic newcomers, after disgraced "reformer" DA Seth Williams, also a Democrat, decided not to seek reelection following a federal corruption trial.
"Nationally, people are paying a lot more attention to prosecutor accountability. Through the non-indictments of high profile cases involving officers, the public has learned what a prosecutor's powers can be and the direct influence they have on the way the criminal justice system works," said Alyssa Aguilera, Co-Executive Director of VOCAL-NY Action Fund, which endorsed Gonzalez.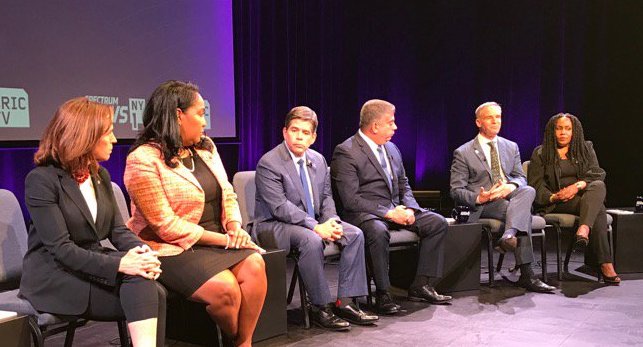 All of the candidates appear well aware of these political currents. Even Gentile, a former Queens prosecutor who represents one of Brooklyn's last areas of Republican prowess and might have been expected to take a more moderate, tough-on-crime perspective, has preached a similar message of ending mass incarceration and the "broken windows" approach to aggressively enforcing quality of life offenses.
While the philosophical consensus may make for inconclusive debates, the conversation marks continued shift for the borough and is still fairly unprecedented, according to Brooklyn College sociology professor and criminal justice expert Alex Vitale.
"It's remarkable that for the most part the candidates seem to be vying against each other over who is the most progressive reformer. It's the most shocking development in terms of the DA race. Typically the debate is about who is the toughest on crime," said Vitale.
Aguilera said that regardless of the outcome, she anticipates that the Brooklyn district attorney's office will continue to set the tone across the nation.
The election also coincides with the early presidency of Donald Trump, whose administration has targeted immigrants, including those who may have committed low level, nonviolent offenses, which has blown political winds in New York City farther to left, so much so that even political foes on varying points of the Democratic spectrum are beginning to sound the same. During his tenure, Gonzalez has directed the attorneys under his charge to pursue charges in ways that limit exposure to possible immigration enforcement.
As the determinative primary vote approaches, ambivalence about the candidates is reflected across the borough. The New Kings Democrats, a progressive reform club that meets in Fort Greene and has pushed for the sort of changes being discussed in the district attorney race, met with all the candidates and along with other Democratic clubs in the area held a candidates forum in June. However, despite a "rich discussion" and extensive interviews with the six contenders, New Kings ultimately did not endorse anyone for district attorney, because no single candidate hit the NKD requirement for endorsement.
"Nobody meet the two-thirds threshold, so there was no consensus. But whoever wins we'll see what they do in office and hold them accountable to it," said Anusha Venkataraman, president of NKD.
Among civil rights and police reform advocates serving Brooklyn's communities of color, the sentiment is similar.
"Unlike when Thompson was running, and there were very clear distinguishing features, there's no one who makes many of the folks I know want to run out and embrace a particular candidate," said Mark Winston Griffith, executive director of the Brooklyn Movement Center, who noted that each candidate has issues with his or her campaign.
The Brooklyn Movement Center, which does not make endorsements, advocates for a variety of issues that impact low-to-middle-income neighborhoods in Central Brooklyn. According to Griffith, the rhetoric has been uninspiring to politically active black New Yorkers. "If you are not part of the political establishment or have some sort of compelling interest, I think that people are having a hard time distinguishing one from the other or feeling particularly enthusiastic about one or the other. There's not a lot hinging on purely philosophical grounds. Gonzalez is clearly the frontrunner and it's easy to see why some might find it expedient to support him."
While Gonzalez's public appearances at forums and debates are less impassioned and memorable than some of his challengers, he has showcased his competence and experience in one-on-one interviews, according to a member of the local Working Families Party chapter.
Aguilera, whose organization endorsed Gonzalez early on, agreed. "He is a smart person, he spent a lot of time with us talking a lot about policy, knows how to run the office, and he's followed through on some commitments already to enact some reform. He grew up poor in Brooklyn from a Latino community; he understands directly and that carries a lot of weight in a race where everyone is saying the same thing," Aguilera said. "We see comradery and potential from a person who has lived through what low-income communities of color have been through."
While Swern and Fliedner bring passion and stage presence to debates, whereas Gonzalez is relatively subdued, their remarks may come across as disingenuous pandering to communities of color. At a recent forum hosted by Faith in New York Action Committee in Bedford-Stuyvesant, Swern appeared to be the favored candidate of those in attendance. Her impassioned criticism of the injustices with predatory bail practices were punctuated by cheers from the crowd, including shouts of "We love you, Anne!" Outside, a disproportionate number of canvassers for Swern, clad in "Black Lives Caucus" shirts, handed out fliers.
Later, Gatling's campaign accused Swern of paying the canvassers at the event -- a claim Swern and the Black Lives Caucus, a spinoff group of the Black Lives Matter movement, denies.
"This is essentially making a mockery of the Black Lives Matter movement," said Gatling in a statement. "This kind of behavior fosters an ongoing climate of racial tension when someone uses the deaths of African-American men as a political ploy to gain entrance and votes from the African-American community."
At the same event, Dwimoh called out Fliedner, who is white, after he declared that he was the only person on the stage willing to say "Black Lives Matter" out loud.
"I don't have to say 'Black Lives Matter,'" Dwimoh retorted. "I live it. I am a black woman in America. How dare you!"
While he said he doesn't necessarily doubt any candidate's sincerity, when it comes to this type of pandering, Griffith believes "the average, progressive, politically active black person is going to roll their eyes."
Local elections often come down to money and endorsements -- and the canvassing and get out the vote efforts they can both produce -- and other factors that can sometimes tip the scales in favor of one candidate. With a crowded field of little-known candidates in what is expected to be a low-turnout primary, it is hard to decipher how the election will go, other than to say that Gonzalez has had several clear advantages.
The primary election for Brooklyn District Attorney takes place on Tuesday, September 12, and the Democratic nominee will be the presumptive winner of the seat.