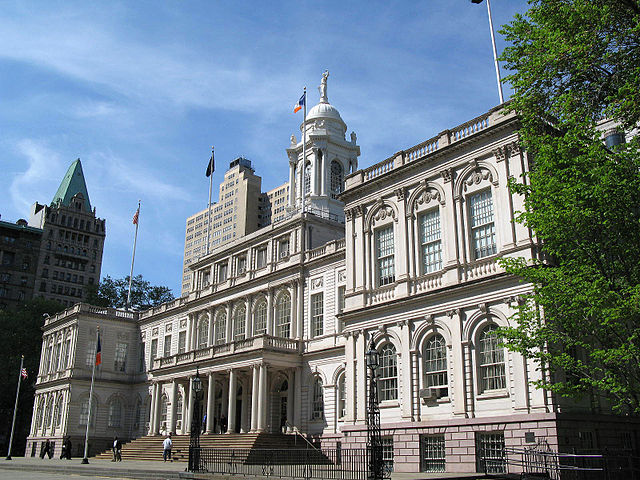 New York City Hall
---
What to watch for this week in New York politics:
This week, the spotlight remains on relief efforts in Puerto Rico, where more than half the population is without clean drinking water and the entire island is without power after the devastation caused by Hurricane Maria. Elected officials in New York continue to criticize the Trump administration for its slow response to the crisis and are urging the federal government to step up assistance, while also rallying New Yorkers to donate supplies and money to the aid effort. Mayor Bill de Blasio's reelection campaign sent out an e-mail blast on Sunday appealing for charitable donations for Puerto Rico, and City Council Speaker Melissa Mark-Viverito, who is Puerto Rican, is set to appear live on MSNBC in the morning to discuss the issue.
The municipal general election is only five weeks away, and the first of two mayoral debates is scheduled for next week, October 10. Mayor de Blasio will be debating Republican challenger Nicole Malliotakis, an Assemblymember from Staten Island, and independent candidate Bo Dietl, a former NYPD officer who runs his own private investigation firm.
As always, there's a great deal happening all over the city, with many events to be aware of - see our day-by-day rundown below.
***Do you have events or topics for us to include in an upcoming Week Ahead in New York Politics? e-mail Gotham Gazette editor Ben Max: This email address is being protected from spambots. You need JavaScript enabled to view it.***
The run of the week in detail:
Monday
At 10 a.m. on Monday, Public Advocate Letitia James will host a news conference "calling for Workers' Rights Protections & Releasing Report on Mandatory Arbitration," at the steps of City Hall.
At approximately 10 a.m., City Council Speaker Melissa Mark-Viverito will appear on MSNBC Live with Hallie Jackson to discuss Hurricane Maria relief efforts in Puerto Rico. At 11:30 a.m., Mark-Viverito will speak at a news conference in Manhattan on Puerto Rico "relief and assessment" with U.S. Rep. Adriano Espaillat and other members of the New York congressional delegation, as well as Puerto Rican leaders and advocates. Comptroller Scott Stringer will also deliver remarks.
At the City Council on Monday: The Committee on Veterans will meet at 1 p.m. for an oversight hearing on the Department of Veterans' Services.
At 10:30 a.m. on Monday, Mayor de Blasio will "host a community conversation on school safety with parents"
At noon Monday, the New York State Board of Elections will hold a commissioners' meeting in Albany.
At 7 p.m. Monday, Mayor de Blasio will hold a town hall meeting at P.S. 13 in East New York with Brooklyn Borough President Eric Adams, U.S. Rep. Hakeem Jeffries, and State Senator Roxanne Persaud.
Tuesday
At 8:30 a.m. Tuesday, the Queens Chamber of Commerce will host a seminar on the New York State Paid Family Leave Program at its headquarters in Jackson Heights.
At 6 p.m. Tuesday, the New York City Bar Association will host "Police Officer Testimony: A Quarter of a Century After the Mollen Commission." Manhattan DA Cyrus Vance will join a panel consisting of Harvard professor Alan Dershowitz, former New York Supreme Court justice Barry Kamins, NYPD Deputy Commissioner for Legal Matters Lawrence Byrne, managing director of Bronx Defenders Justin Olderman, and Brooklyn Supreme Court justice Dineen Riviezzo to "discuss police testimony and whether the subject has become an issue for the courts; what type of training do new police officers receive on this subject; challenges by the defense; and what role should be played by the prosecution and judiciary."
Wednesday
At 8 a.m. Wednesday, the Albany Times Union, New Yorkers Against Corruption, and Effective NY will host "Capitol Confidential Breakfast Forum: A Constitutional Choice," discussing the prospect of a New York State Constitutional Convention. Casey Seiler, senior editor at the Times Union, will moderate a panel consisting of convention supporters Gerry Benjamin, director of the Benjamin Center at SUNY New Paltz, and Bill Samuels, chairman of Effective NY, and convention opponents Donna Lieberman, executive director of NYCLU, and Jerry Kremer, chairman of Empire Government Strategies and a former Assembly member. The forum will take place at the Hearst Media Center in Loudonville.
At 10 a.m. Wednesday, the City Planning Commission will hold a public meeting at Spector Hall.
At 6:30 p.m. Wednesday, the New York City Bar Association will host "The Future of Reproductive Rights and the Importance of Bar Engagement." Attorney General Eric Schneiderman will be a featured speaker. Schneiderman will sit on a panel with Berkeley Law professor Melissa Murray and Center for Reproductive Rights president Nancy Northup for a conversation on the "current state of reproductive rights law." The panel will be moderated by Slate Magazine's Dahlia Lithwick.
At 7 p.m. Wednesday, Mayor de Blasio will hold a town hall meeting at I.S. 254 in Belmont, the Bronx. He will be joined by City Council Member Ritchie Torres, Bronx Borough President Ruben Diaz Jr., U.S. Rep. José E. Serrano, State Senator Gustavo Rivera, and Assemblymember José Rivera.
Thursday
At 8 a.m. Thursday, Crain's will host its "2017 Entertainment Summit" at the New York Marriott Downtown, discussing New York City's film and TV boom.
At 8:30 a.m. Thursday, the Association for a Better New York will host Republican mayoral nominee Nicole Malliotakis for a "power breakfast" at the Roosevelt Hotel. Malliotakis will "discuss her current campaign for New York City Mayor, her time in the Assembly and priorities for Staten Island, and her overall vision for the City."
At 10 a.m. Thursday, Brooklyn Borough President Eric Adams will host "Building Brooklyn Right," a forum on "faith based development" for houses of worship, at Brooklyn Borough Hall.
At 10 a.m. Thursday, the New York City Campaign Finance Board will hold a board meeting at 100 Church Street.
Friday and the weekend
On Friday, the Council for Economic Education will hold its 56th annual "Conference on K-12 Financial and Economic Education" in Brooklyn. Featured speakers will be Schools Chancellor Carmen Fariña, New York Federal Reserve Bank President and CEO William Dudley, and journalist Beth Kobliner. Fariña will be presented with a Lifetime Achievement Award.
At noon Saturday, New York City students will join students from around the country for the "Youth Action March," demanding a voice in "the political system they will inherit."
It is Columbus Day weekend, the next Week Ahead will be published Monday evening, October 9, with the first general election mayoral debate the next night: Tuesday, October 10.
***
Have events or topics for us to include in an upcoming Week Ahead in New York Politics? E-mail Gotham Gazette executive editor Ben Max any time: This email address is being protected from spambots. You need JavaScript enabled to view it. (please use "For Week Ahead" as email subject).
***
by Ben Brachfeld and Ben Max
@GothamGazette