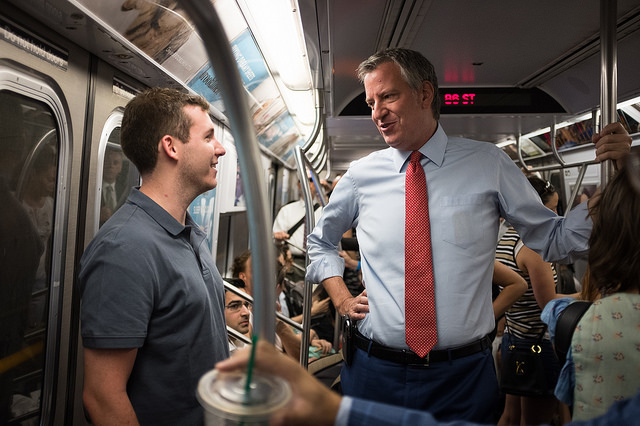 De Blasio on the train (Edwin J. Torres/Mayor's Office)
---
Amid an ongoing feud -- between the Mayor Bill de Blasio on one side and Governor Andrew Cuomo and the MTA on the other -- over funding for mass transit infrastructure in New York City, 27 New York City Council Members on Thursday announced support for the mayor's proposal to tax wealthy New Yorkers to raise money for subway and bus improvements.
The mayor has pitched a tax increase on the top-most earners in the city as part of his "Fair Fix" plan, which would raise about $700 million in 2018 from 32,000 city residents, according to the de Blasio administration. That figure would rise to $820 million annually by 2022, according to city estimates, by increasing the highest income tax rate from 3.876 percent to 4.41 percent for individuals making more than $500,000 a year and couples making more than $1 million.
The revenue would be used for the subways and buses, but also to fund the "fair fares" plan to subsidize half-priced MetroCards for the city's lowest-income residents, something de Blasio has expressed support for in principle, but refused to fund out of city budget money while saying it should be the responsibility of the state-controlled MTA.
More than half the 51-member City Council, including five of the seven members running to be the next speaker, backed the plan in a letter to MTA Chair Joe Lhota and the MTA board, on which the New York City Mayor has four appointees of the 14 seats (the Governor has a plurality of six and also appoints the chair). However, two leading speaker contenders did not sign, nor did current Speaker Melissa Mark-Viverito, though she has expressed support for de Blasio's plan.
"It's called the Fair Fix because rather than ask working New Yorkers already feeling the pressure of rising fares and bad service to foot the bill on their own, we are asking the millionaires and billionaires in our city to chip in a little extra to help move our transit system that helps make them some of the wealthiest people in the world," reads the letter, which was sent out by Council Majority Leader Jimmy Van Bramer's office. "This plan is the right approach and it must advance without delay."
"We need more cost-effective capital construction for the MTA and must think of ways to generate more revenue for the exclusive purpose of bringing our mass transit system to the 21st-century," said Council Member Ydanis Rodriguez, chair of the transportation committee, in a statement Thursday. "I am confident that Fair Fix, along with other plans proposed at the city and state levels, would raise desperately needed funds for a sustainable plan of improvements."
Of the new revenue raised from the mayor's proposal, $500 million would be dedicated each year to capital infrastructure improvements and the city estimates that it would allow them to borrow about $8 billion more for upgrades. At least $250 million would help provide half-price MetroCards for 800,000 low-income New Yorkers, which is based on the "Fair Fares" proposal created by a group of transit advocates who insisted that the city fund those MetroCards in the budget this year. De Blasio refused to add Fair Fares to the budget, even eschewing a smaller pilot proposal made by the City Council, but included it later in his tax increase proposal, insisting throughout that the state should bear the burden.
Any tax increases are seen as unlikely to move through Albany, especially during a state-level election year, which 2018 is, due to opposition from both Gov. Cuomo, a Democrat, and the Republican-controlled state Senate. De Blasio and all 27 signers of the new letter are Democrats.
The 27 Council Members who support that notion include most of the Council's Progressive Caucus, with a few notable exceptions. Speaker Mark-Viverito did not sign the letter, nor did Council Members Corey Johnson and Mark Levine, both of whom are prominent speaker candidates. Robin Levine, a spokesperson for Mark-Viverito, said in an email, "The MTA is in need of immediate fixing and the Speaker has long supported both the millionaire's and commuter taxes."
A spokesperson for Council Member Johnson did not return a request for comment on why he did not sign the letter.
"I'm fully supportive of the millionaires tax as I believe we desperately need new revenue for the transportation system, which is also why I support congestion pricing," said Levine in an email. "I didn't sign on to the letter because Joe Lhota and the MTA board don't control the income tax rate."
De Blasio has been an ardent opponent of a congestion pricing scheme, some version of which Cuomo has indicated he will offer in January when he unveils his executive budget proposal and the state's legislative session begins. Congestion pricing typically includes mechanisms to raise money for mass transit while altering the city's toll system and implementing measures to reduce street congestion in Manhattan.
The fate of de Blasio's proposal is largely uncertain. It would have to be approved by the state Legislature, and Republicans who control the state Senate and have an acrimonious relationship with the progressive Democratic mayor have already thrown cold water on any tax increases. At the same time, the governor and MTA's Lhota continue to pressure de Blasio to fund half of a $836 million emergency action plan for the city's subways that Lhota unveiled shortly after retaking the helm at the MTA at a crisis point in subway service. De Blasio has refused, citing money that Cuomo has raided from the MTA and offering his tax plan.
Cuomo has set up a task force to explore congestion pricing but did not initially invite de Blasio, or any other elected official from New York City, to join it. Cuomo made an invitation to de Blasio during a recent NY1 interview, which de Blasio shot down, with his spokesperson calling the task force a "charade" and the mayor saying it is set up for the governor's own purposes. De Blasio has consistently rejected congestion pricing as a "regressive tax" that would hurt outer borough commuters, despite the facts that while the most prominent plan, Move New York, would institute tolls on the now-free East River bridges, it would also lower tolls on some bridges, and that car owners tend to be wealthier than those who solely rely on public transportation.
"New Yorkers want real solutions and that's why they're rallying around the mayor's plan to ask the wealthiest 1% to chip in a little extra," said Austin Finan, a mayoral spokesman, in a statement when asked for a response to the City Council members' letter.